Joshua Tree National Park, with its otherworldly rock structures and unique plant and animal life, is one of the most awe inspiring place to go hiking in Southern California. There are a lot of great Joshua Tree hikes throughout the park, which very widely in difficulty, distance and visual interest – so you can choose what strikes you the most and head out into the wilderness.
Along the way, you'll get stunning mountain views, wander through dense Joshua Tree groves, and scramble over interesting rock formations that will leave you in awe of nature.
Joshua Tree can be a daunting place to visit and explore without some guidance from a seasoned pro. Because activities can vary depending on season read here for the best times to visit.
When the cooler months come around, and you feel ready to explore all the beauty the desert has to offer, refer to this list of handpicked hikes and destinations to get you started on your Joshua Tree adventures.
If you're visiting Joshua Tree as part of a larger California road trip, check out our guides to nearby Palm Springs and Los Angeles.
» Find the perfect hiking clothes. I love these weather resistant, breathable shorts by Arcteryx (for women | for men) paired with a light performance shirt (for women | for men).
Before You Go
All hikes inside the National Park require an entrance fee into the park, so be sure to have money on hand. The park entrance fee is $30 per vehicle or $25 per motorcycle. An annual park pass is $55.
No advanced reservations are required to enter the park, but if you plan on camping, you'll want to reserve in advance as there are only a few unreserved spots. Dogs are not allowed on trails.
Hiking Etiquette & Tips
It is essential to always be prepared for hiking by wearing the appropriate clothing, packing the right gear, and being aware of hiking etiquette whenever you're out on the trail. Here are some of our tips for ensuring your hike is a good one:
Park only in designated spots, not off-road or in unpermitted areas.
Wear the appropriate clothing for the time of year – bringing a layer in case of sudden temperature changes. Be sure to wear sturdy shoes (flip flops are never a good idea).
Do not feed or approach any wildlife. Be aware there might be bears mountain lions, bobcats, or rattlesnakes on the trail.
Bring a good amount of water, some food, and sunscreen with you.
Never leave trash behind.
It's best not to hike alone, but if you do tell a friend where you're going and when to expect you back.
Top Joshua Tree Hikes
The Maze Loop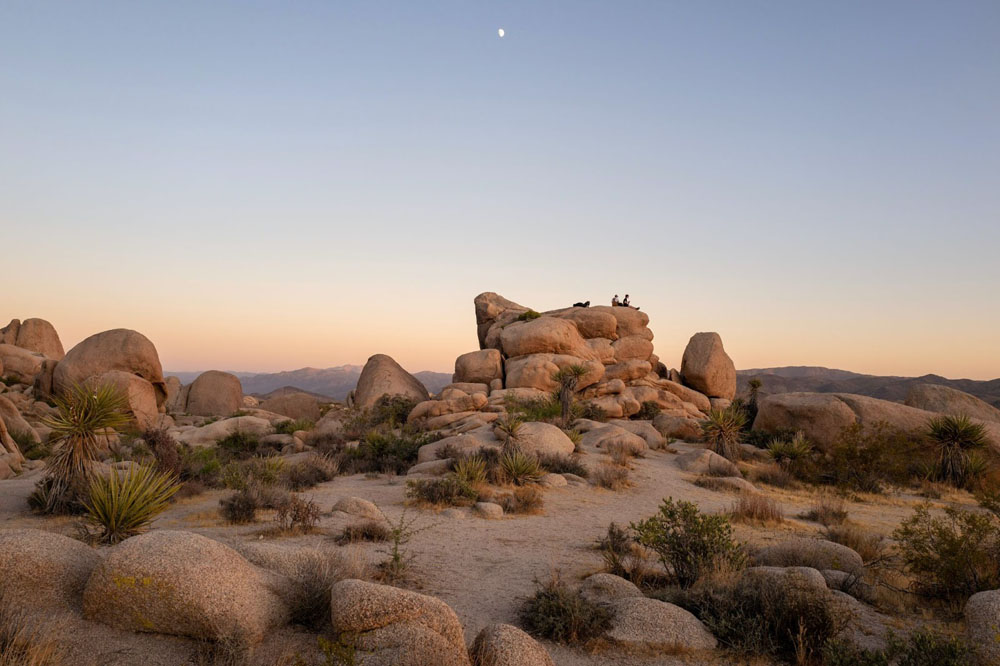 The Maze Loop is a 4.9-mile moderately difficult trail that takes hikers through a variety of the natural landscapes that the area has to offer. From rock formations to tons of animal life and wildflowers at the right time of year, this trail is ideal for hikers being introduced to the beauty of Joshua Tree.
This trail includes various terrains such as soft sand and rocky stretches. It's considered a moderately challenging route that winds through large boulder formations, desert washes, slot canyons, and Joshua tree forests.
The Maze Loop is known for offering virtually no shade, so be prepared for blistering heat if you decide to venture out mid-day. Most experienced hikers will recommend early mornings or evenings for taking on desert trails. Regardless, don't forget to pack water, sunscreen, and a shady hat to avoid the intensity of the sun.
Elevation gain: 375 feet
Difficulty: Moderate
Time to finish: 1:50
Willow Hole
This 7.2-mile out-and-back Joshua Tree hike is a hugely popular spot for those hiking, wildlife watching, and trail running. Sandy with a low incline, this trail is rated as moderately difficult and well known for winding through some of the most epic views of the desert's famous Joshua trees.
Like most trails on this list, there is limited shade available, and it is recommended to avoid mid-day hikes in the hot season from May to October. However, early morning hikes are always an option and a great way to beat crowds. Make sure to pack plenty of snacks, as this is one of the longer hikes on the list.
Many hikers report seeing more wildlife on Willow Hole trail than on any other hike, especially in cooler hours of the day. If you do notice wildlife, be sure to pack binoculars and admire from afar to follow desert etiquette.
Elevation gain: 242 feet
Difficulty: Moderate
Time to finish: 2:20
Hidden Valley
Hidden Valley is a highly recommended hike for anyone new to the Joshua Tree area. Being a loop of only a mile, this is also an excellent option for those who prefer a shorter hike for themselves or their children.
The trail is hidden in a famous rock valley with towering formations on either side. It's easy to let your imagination wander as this valley is often said to have been a hiding place for cattle rustlers in the 19th century. Read interpretive panels along the way that tell you all about the valley's cultural history, biodiversity, and geological formations.
Because this hike is nestled between large rock structures, there tend to be more options for shade throughout the short trek, making it one of the few hikes that are still recommended in the Summer months.
Elevation gain: 118 feet
Difficulty: Easy
Time to finish: 0:25
Arch Rock Trail
Arch Rock Trail is another popular option for those who appreciate Joshua Tree's incredible rock formations. Hikers take this trail for a little over a mile before coming upon its famous granite arch rock structure and looping back to its starting point.
These one-of-a-kind rock structures make for fantastic photo opportunities with loved ones, and climbing around on the boulders is a favorite activity for adults and children alike.
Another unique aspect of this easy hike is the many cholla cacti that grow along the path, known for breaking off in large balls of treacherous spines. Admire from afar!
Park at Twin Tanks/Arch Rock Trailhead rather than White Tank Campground, as campground parking is only for paying campers. Do not forget to pack sunscreen and a camera, as this trail is full of great photo opportunities.
Elevation gain: 375 feet
Difficulty: Moderate
Time to finish: 1:50
Lost Palms Oasis
Lost Palms Oasis is located in Mecca, California, on the southern side of Joshua Tree National Park. This shady paradise serves as a reward and a great place to catch your breath and eat lunch after completing the first half of this 7.5-mile out-and-back hike.
While this hike may lack the traditional draws of Joshua Tree, it is a great way to add some variance to your exploration. There is something truly magical about coming upon a cluster of trees in the middle of expanses of desert, making this hike worth the drive out to its location.
Although the oasis provides shelter, the rest of the hike lacks shade, so it is recommended to follow the same guideline as any other desert hike: Bring more than enough water and avoid peak sun hours.
Elevation gain: 1045 feet
Difficulty: Moderate
Time to finish: 3:15
Cholla Cactus Garden
For those in search of photo opportunities and a leisurely stroll, The Cholla Cactus Garden is a great option. This trail is a 0.2-mile loop in the transition area between the Colorado and Mojave Deserts. When the sun hits these cacti right at dusk or dawn, this is one of the most beautiful and photogenic sights you can see in the desert.
Always be careful as "jumping cholla" are often known to break off in chunks of spines that stick into victims who stray too close. Removing these cactus balls is no easy task and can put a wrench in a day of desert activities.
Often, a visit to the garden comes with a show, as many photographers use this spot for unique engagement and wedding photos.
Elevation gain: 10 feet
Difficulty: Easy
Time to finish: 0:05
Skull Rock
Skull Rock is a well-known landmark visible from the road to Joshua Tree tourists who recognize the boulder by its hollowed-out eye sockets. If you'd like a more interactive experience with this attraction, a 1.7-mile loop explores the boulder and surrounding area.
This hike is generally considered easy with a few steep and narrow stretches and takes hikers on a tour through various boulder piles and desert washes. Skull Rock loop is one of the few trails recommended year-round; however, it is still wise to complete this hike before 9 AM in the Summer months.
Find the trailhead to Skull Rock just across from the entrance to Jumbo Rocks Campground.
Elevation gain: 1141 feet
Difficulty: Moderate
Time to finish: 2:20
Barker Dam
This 1.1 miles loop trail takes you past iconic monzogranite boulders, plenty of namesake Joshua trees, and past the historic Barker Dam. You'll even catch a glimpse of San Gorgonio Mountain in the distance.
This is one of the best hikes to take for families and if you want something short but great. You'll see wildlife along the trail, and you'll do only a bit scrambling over boulders, but it's an easy trail with very little elevation gain.
The trail covers many of the highlights of the Mojave Desert and enables you to see evidence of the methods of early ranchers in the area. Interpretive signs along the trail will help you get the most out of it.
Elevation gain: 50 feet
Difficulty: Easy
Time to finish: 0:45
Indian Cove
This trail sets out from the Hidden Valley picnic area. It's a loop trail that's less than a mile long and will only take about 30 minutes to complete. We like this trail because it helps you get a closer look at desert plants and learn about their traditional uses by Native Americans.
The trail is short and flat, so it's perfect for families or anyone looking for an easy, but great trail. There are some interpretive signs along the way so you can learn more about the plants. And you'll also get views of the massive monzogranite towers of Indian Cove.
Elevation gain: 72 feet
Difficulty: Easy
Time to finish: 0:35
Conclusion
If you're going to be out in Joshua Tree hiking, one of the best ways to enjoy it is on the trail where you can catch a rare glimpse at the incredible landscape. We hope you enjoy these Joshua Tree hikes as much as we do.
Like this article? Save it on Pinterest so you can find it again.
FOLLOW US on Pinterest and Facebook for more California travel inspiration and tips!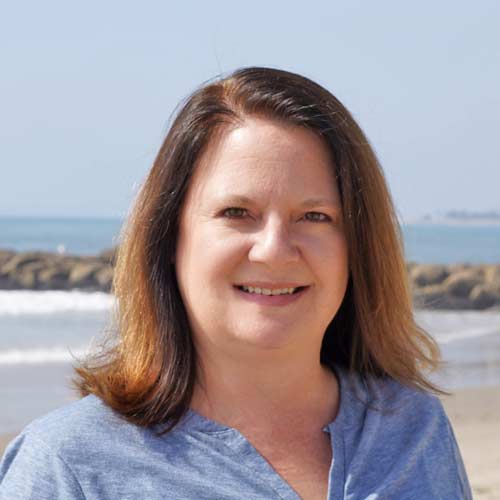 Laura is a travel fanatic who loves seeing and doing new things. She lives in Ventura, CA, and spends a lot of time exploring California's cities, beaches, and national parks.