One of the sunniest, most beautiful spots in California is Santa Barbara, the mild-weathered beach town with countless outdoor activities, vibrant festivals, and sprawling beaches.
If you're planning a trip for the future and want to know what is the best time to visit Santa Barbara, you probably won't be shocked to hear that it's actually rather pleasant all year round. That being said, we do think there are better times for *you* to go depending on what you're hoping to get out of your trip.
Generally speaking, the best time overall for most visitors to enjoy Santa Barbara is during the spring and fall. That's when the weather is at its absolutely best, the prices aren't too high, and the streets aren't too crowded.
But that's just generally speaking. What may be the best time for you might not necessarily be the same for another person, which is why we like to break it down a little further and dig deeper into what makes certain times of year better in Santa Barbara.
» Check out these 8 Luxury Hotels in Santa Barbara.
» Looking for more info to build your Santa Barbara itinerary? Check out our full Santa Barbara travel guide, the best times to visit, and see the top 25 Things to Do in Santa Barbara. Get active with these SB hikes.
Why Visit Santa Barbara
Santa Barbara is a stunning destination full of natural beauty and cultural experiences, making it an ideal vacation spot for both adventurers and beach-goers alike. Located on the central coast of California, just north of Los Angeles, Santa Barbara boasts sunny weather year-round and a variety of attractions that will appeal to all types of visitors.
One of the best activities to do in Santa Barbara is visit its many beautiful beaches, including East Beach and West Beach which provide plenty of opportunities for sunbathing, beachcombing, surfing, bodyboarding and other water activities.
Visitors can also explore the stunningly clear waters of the Channel Islands National Park located just off the coast of Santa Barbara. There are multiple day trips, like this one, that are within an easy drive of Santa Barbara.
Our Recommended Santa Barbara Hotel
Best Time to Visit Santa Barbara
Good Deals and No Crowds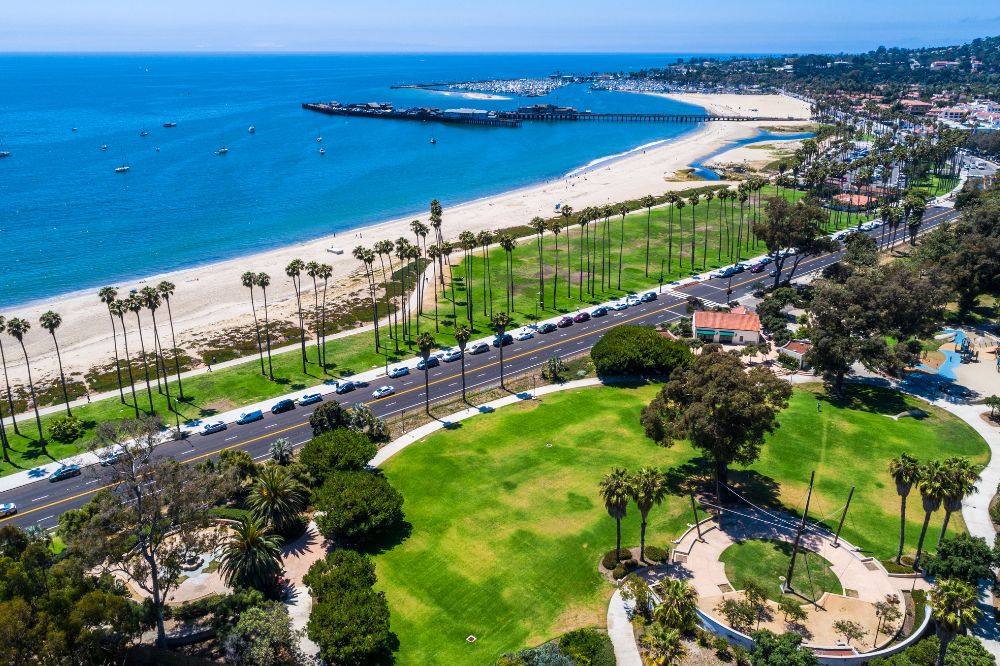 I personally think that visiting Santa Barbara in the winter can be very rewarding. It's the lowest season for tourism, so it actually just feels like a normal town, not the overrun sun mecca that it is in the summer.
In winter, the streets are nearly empty of the crowds that usually flood the place in summer. From December to February, you can find lower prices on hotel rooms and you won't have trouble getting reservations at top restaurants.
Its not prime beach weather, but I can attest to the fact that they often get temps in the 70s with full sun, even in December, so you can still enjoy the calm, peaceful beaches. You just might not want to get in the water, but let's be honest – the water is pretty cold year round anyways.
During the winter, it's more likely to rain than in other months of the year, but the highs can often get up to 70ºF, while the lows don't usually go below 45ºF.
If you're looking for things to do, the Santa Barbara Parade of Lights takes place in December, and Christmas light tours on the Santa Barbara Trolley are a must-try! The Santa Barbara International Film Festival is in February.
Summer Fun
Visiting Santa Barbara in summer, you will be rewarded with several things like deliciously warm water, cheerful city vibes, and long sun-filled days.
It's impossible not to appreciate all the fun that summer brings to Santa Barbara. Anytime from June to early September, the prices are high, the streets are filled, and the beaches are more crowded. But that's all party of the fun.
Since this is high season, you'll find way more things to do including festivals like the California Wine Festival in July and the Old Spanish Days Fiesta in August. Since the days are longer, you can pack in a lot of sightseeing, hiking nearby, and day trips around the area.
Wondering about the weather in summer? Well, you can expect the highs to be no more than 80ºF and the lows around 60ºF. Pretty much perfect, if you ask me. During the summer you can get in the water, do some swimming, standup paddle boarding, and kayaking without a wetsuit. Water temps get into the lower 60s in August, which is 10ºF warmer than in March and April.
Shoulder Season
Truth be told, shoulder season is my favorite time to visit Santa Barbara. This is the period of time on either end of summer, from March to June and September to November. Prices are lower, temperatures are very moderate, days are still long, less crowds.
In spring and fall, you'll still need to wear sunglasses and sunscreen during the day and a light jacket in the evenings, but that's it. You can enjoy the beaches, walk around on State Street, head out to enjoy the blooming wildflowers in spring and the harvest season at the nearby vineyards in fall.
With temperatures that stay mostly in the 70s during the day and 50s at night, both spring and fall are pretty glorious in Santa Barbara. It's the Goldilocks time to visit. Not too hot, not too cold. Not too many people, not too few people. It's just right.
In spring there's the Santa Barbara Vintners Spring Festival, the International Orchid Show in March and Santa Barbara's Earth Day festival in April. In the fall, you can enjoy pumpkin patches and farmers' markets, harvest is in full swing, and there are Oktoberfest celebrations.
» Looking for more inspiration along the route? Check out all our guides to San Francisco, Los Angeles, Santa Barbara and San Diego. Find the best beaches in Monterey, waterfalls in Southern California, and national parks.
Travel Planning Guide
🚙💨 Where should I book my rental car?
Renting a car is one of the best ways to get around in California, no matter where you're visiting. Public transportation can only get your so far, even in big cities. I always rent with Discover Cars, which checks the prices of all major rental car companies, so you get the best rates.
🛌 What's the best way to book my accommodations?
For hotels and vacation rentals, Booking.com or Expedia.com are the best sites, but you can also book through TripAdvisor. If you're considering renting a house instead, don't forget to also check VRBO, which is often cheaper than Airbnb.
🧳 What do I pack for California?
Head to the our California Packing List or Disneyland Packing List to get all the info on packing.
✈️ What's the best site to buy flights to California?
For finding cheap California flights from around the world, I recommend Skyscanner. I've also had pretty good luck with Kayak.com.
FREQUENTLY ASKED QUESTIONS ABOUT SANTA BARBARA
Is parking a problem in Santa Barbara?
Parking isn't terrible in downtown Santa Barbara, except on busy weekends. You can find street parking, if you look for it. There are also a ton of beach parking lots. On the street, you'll pay from to 9am to 6pm every day, but it's free after that.
Some spots are metered with limited time, some are free with limited time during the day. Most hotels will charge anywhere from $25 to $45 a night for parking.
What are some good wineries in Santa Barbara?
There are a ton of great winery tasting rooms in downtown Santa Barbara in the Funk Zone and Paseo Nuevo shopping center. Our favorites are Riverbench and Pali Wine Co in the Funk Zone; Happy Canyon and Jamie Slone in Paseo Nuevo.
Outside of Santa Barbara, we like to visit Solvang, Los Olivos, and the Foxen Canyon Wine trail for wine tasting, especially at E11even, Bien Nacito Winery, and SamSara in Los Olivos, and Zaca Mesa and Riverbench up in Foxen Canyon.
Is Santa Barbara worth the money?
Yes, Santa Barbara is a very expensive city, especially if you want to stay in 4- to 5-star hotels or right on the beach. Whether that expense is worth it to you is very subjective. I feel that Santa Barbara is definitely worth a visit, though you don't necessarily need to stay in the expensive downtown hotels.
The town has a lovely setting along the California Coast with beautiful surrounding mountains. The architecture is California Spanish Revival and there is year-round foliage of natural plants, flowers, and cactus to enjoy. If you like wine tasting, some of the best central coast wineries are located nearby.
Final Words
The best time to visit Santa Barbara highly depends on what you're hoping to enjoy most in this city. In winter, you'll get low prices, no crowds, and an overall laid-back vibe in the beach town.
For warmer weather and to get the best of both worlds, aim for spring and fall. However, if you're ready to party and don't mind the crowds, summer will always have a special place for you in Santa Barbara!
Like this article? Save it on Pinterest so you can find it again.
FOLLOW US on Pinterest and Facebook for more California travel inspiration and tips!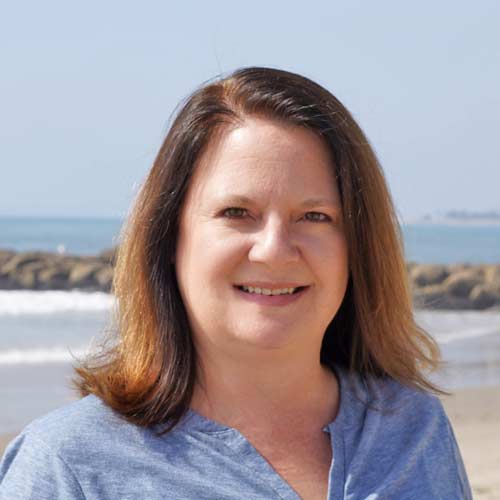 Laura is a travel fanatic who loves seeing and doing new things. She lives in Ventura, CA, and spends a lot of time exploring California's cities, beaches, and national parks.