Without a doubt Los Angeles is packed with sweeping views and landscapes. It's one of the best locations in California to feast your eyes on both the insanely large skyscrapers and the serene beauty of nature.
If you want to know where to find the best views in LA, read on as we break down the top 11 scenic viewpoints in Los Angeles. Many of these viewpoints also come with a hike, whether it's an easy jaunt or a harder hike that rewards you with amazing views of the city.
» Looking for more help with your Los Angeles trip planning? Check out our full Los Angeles travel guide as well as this useful 2-day LA itinerary. Here's where to find the best views!
#1 Vista Hermosa Natural Park
Address: 100 N Toluca St, Los Angeles, CA 90026, United States
First of all, vista hermosa means 'beautiful view' in Spanish, which is exactly what Vista Hermosa Natural Park offers its lucky visitors! Vista Hermosa Natural Park is a stunning urban park that has tons of sweeping vistas in Los Angeles, making it a favorite park for both locals and tourists.
This 10.5-acre park is located just west of Downtown Los Angeles and is home to a variety of stunning gardens, native trees, and sloping green lawns from which you can see LA's incredible skyscrapers. It's also an excellent place to escape from the hustle and bustle of the city, thanks to the various hiking trails it features.
You can walk through streams and meadows via the lovely walking trails of the park and sit down for lunch when you no longer have energy on the park's natural picnic grounds or just relax on any of the seats while enjoying a picturesque view of the city.
See Also: 30 Fun Things To Do In Los Angeles
#2 City Hall Observation Deck
If you're looking for the best views in Los Angeles, you'd absolutely love the breathtaking vistas that City Hall Observation Deck offers. The 138-meter tower is the largest base-isolated building in the world and the 3rd-tallest building in LA. It also boasts the regal look that was super cool in LA during the roaring 1920s!
Keep in mind, though, you'll need to go through security when visiting this large building because it belongs to the government at the end of the day. But everything should go smoothly as long as you have identification on you and no weapons!
Address: 414 E 12th St., Kansas City, MO 64106
#3 Top of Topanga Overlook
The San Fernando Valley is a super famous entertainment hub in the city that is home to NBC Studios and Warner Bros. The Valley also features fancy hotels, chic alternative event spaces, and conference facilities, in addition to wide streets and plenty of parking areas.
As for the stunning views, it's offered by the Top of Topanga Overlook, which gives visitors sweeping views over the San Fernando Valley. Additionally, it's an excellent place to observe some stunning wildlife there. There's also something for hikers in the location—take a trip to O'Melveny Park and enjoy the most breathtaking views!
#4 Echo Park Lake
Address: 751 Echo Park Ave, Los Angeles
Echo Park Lake, a former reservoir, is now a popular spot for canoeing and fishing. It has a special place in the hearts of both locals and tourists as a family-friendly park that offers the famous swan pedal boats and a wide playground on the north end of the lake.
The park also has a reputation for being a hippest neighborhood in LA owing to its music venues, stylish pop-ups, and vintage stores. Echo Park Lake is an excellent place if you want to get some fascinating, ground-level views of the City of Flowers and Sunshine!
Related: 15 Top Attractions in Los Angeles
#5 Griffith Park
Address: 2800 E Observatory Rd, Los Angeles, CA 90027, United States
Boasting 4,210+ acres of natural picnic areas and terrain and chaparral-covered landscaped parkland, Griffith Park is proudly one of the biggest parks featuring urban wilderness areas in the entire country. The elevation of the Park, which is located in the eastern Santa Monica Mountain, ranges from 384ft-1,625ft above sea level.
Plan a thrilling hike along one of the park's 53 miles of stunning trails to take in the scenery and enjoy the breathtaking view of Los Angeles. You'll also enjoy the journey as you feast your eyes on the park's native plants, including lilac, oak, walnut, mountain mahogany, sages, sumac, and toyon.
#6 Baldwin Hills Scenic Overlook
6300 Hetzler Rd, Culver City, CA 90232
This overlook is in a state park near Culver City. There is a long set of stairs leading up to the overlook that locals often refer to as Culver City Stairs. The hilltop park has stunning panoramic views of Santa Monica Bay, the San Gabriel Mountains, and the Hollywood Hills, plus skyscrapers in downtown Los Angeles.
There are two ways to get up to the overlook. You can hike about 0.3 miles up to the stairs and hoof it up the 282 steps to the top, or you can take the Baldwin Hills trail that does a bunch of switchbacks to the top, avoiding the stairs. It's a moderate hike, but a tough ascent of about 300 feet gain over a mile.
#7 San Gabriel Mountains from Elysian Park
Address: 929 Academy Road, Los Angeles, CA 90012
From Elysian park in Los Angeles, you will get a beautiful view of northeast Los Angeles and the San Gabriel Mountains. Elysian Park is Los Angeles' oldest public park and it's enormous, with plenty of walking trails to enjoy. In fact, it's also LA's second largest park after Griffith Park.
You can view all sides of LA from this park, if you traverse the whole thing. You can even see the Hollywood sign, all within a stone's throw of Dodger Stadium.
#8 Getty Center
Address: 1200 Getty Center Dr, Los Angeles, CA 90049, United States
The Getty Center is a special place that combines modern architecture by Richard Meier with the serene nature, featuring open areas, gardens, and breathtaking vistas of Los Angeles
On a hilltop in the Santa Monica Mountains, not far from the San Diego Freeway, is where you'll find the popular Getty Center. The center allows you to fully experience Los Angeles' stunning landscape, including the San Gabriel Mountains and the Pacific Ocean. You can get a fantastic view over the westside of Los Angeles from the top of the Getty. You're welcome!
#9 Mulholland Scenic Overlook
Address: 8591 Mulholland Dr, Los Angeles, CA 90046
Mulholland Scenic Overlook, one of the best overlooks in Los Angeles, is named after the famous road that runs along the top of the Santa Monica Mountains in the Hollywood Hills. As you drive along, you'll see all the beautiful houses that are perched on the hillside.
Along the drive there are actually many view points, not just the designated overlook. From these points, you can see Los Angeles Basin, the San Fernando Valley, and even the Hollywood Sign.
#10 Nancy Hoover Pohl Overlook
Address: 8401 Mulholland Dr, Los Angeles, CA 90068, United States
For a view of the San Fernando Valley up in the Hollywood Hills, you have to check out Nancy Hoover Pohl Overlook while you're there. This overlook has a 40-car parking lot, a physical fitness course, and access into the canyon trails. It's named for a local activist who fought for nearly 60 years to curtail development and create more local parkland in the Santa Monica Mountains.
#11 Jerome C. Daniel Overlook
Address: 7036 Mulholland Dr, Los Angeles, CA 90068, United States
If you like Mulholland Scenic Overlook, you'd fall in love with Jerome C. Daniel Overlook, also known as the Hollywood Bowl Overlook. This overlook provides its lucky visitors with sweeping views of downtown LA and the iconic Hollywood sign.
Final Thoughts
Are you convinced now that Los Angeles is a hub of panoramic views in the entire country? We're glad you are! Now go ahead and pick your favorite spot on the list and discover the fascinating beauty of Los Angeles!
Did you find this article useful? You can learn more about traveling in the Golden State by visiting our extensive blog Gotravelcalifornia.com!
Like this article? Save it on Pinterest so you can find it again.
FOLLOW US on Pinterest and Facebook for more California travel inspiration and tips!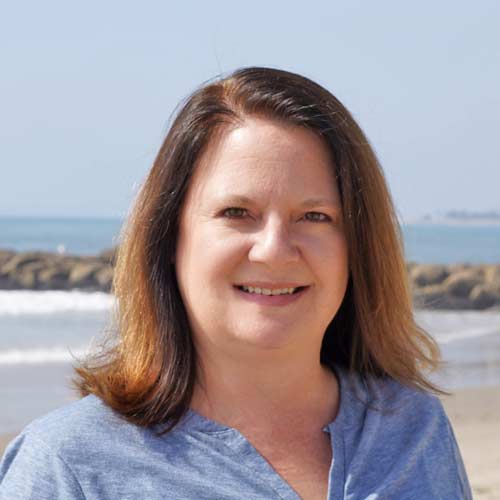 Laura is a travel fanatic who loves seeing and doing new things. She lives in Ventura, CA, and spends a lot of time exploring California's cities, beaches, and national parks.