If you're a fan of hiking, LA is one of the best places to be. The city features a wealth of hiking trails, most of which offer spectacular views of its skyline and the Pacific Coast.
Not all the trails will suit your fitness level, however. So we've broken them up so this article has just the moderate to difficult level hikes. Click to see our guide to easier hikes in the area.
Each trail has something unique and special to offer, so we recommend getting around to as many as you can. Some have waterfalls and special features along the way, and all of them will get your heart pumping.
» Looking for more help with your Los Angeles trip planning? Check out our full Los Angeles travel guide as well as this useful 2-day LA itinerary. Here's where to find the best views!
Hiking Etiquette & Tips
It is essential to always be prepared for hiking by wearing the appropriate clothing, packing the right gear, and being aware of hiking etiquette whenever you're out on the trail. Here are some of our tips for ensuring your hike is a good one:
Park only in designated spots, not off-road or in unpermitted areas.
Wear the appropriate clothing for the time of year – bringing a layer in case of sudden temperature changes. Be sure to wear sturdy shoes (flip flops are never a good idea).
Do not feed or approach any wildlife. Be aware there might be bears mountain lions, bobcats, or rattlesnakes on the trail.
Bring a good amount of water, some food, and sunscreen with you.
Never leave trash behind.
It's best not to hike alone, but if you do tell a friend where you're going and when to expect you back.
Moderate to Difficult Hikes Near Los Angeles
The Los Angeles area is packed with hundreds of hiking trails of different length and elevation. See the details in the list below.
1. Runyon Canyon Park
Level: Moderate to Difficult
Distance: 2.7 miles
Elevation gain: 748 ft
Time: 1.5 hours
The Runyon Canyon Park trail, right in the middle of Hollywood, is one of the most well-known hiking spots in the City of Angels. It's a fun hike, but can be difficult due to the steep spots on the descent that can be challenging due to loose ground shifting. To avoid the steep descent, you can take the trail counter clockwise.
This trail is incredibly rewarding with its spectacular views of the Pacific Coast, Catalina Island, Santa Monica mountains, and the Los Angeles landscape. Parking can be difficult to find, so best to go early and keep in mind that there is no shade on the trail.
2. Hollywood Sign Via Canyon Drive Trail
Level: Moderate
Distance: 6 miles
Elevation gain: 1,171 ft
Time: 3 hours
The iconic Hollywood sign is synonymous with LA culture, and you can get up close and personal with it by hiking a number of different trails that lead to the sign. However, we prefer the Canyon Drive Trail, which is about 6 miles out and back.
Don't be confused by the fact that the trailhead is actually Brush Canyon Trail at the north end of Canyon Drive. There are two parking lots – if you get there early enough, you might get a spot in the smaller lot at Canyon Drive Trail.
The first part of the hike, about 40 minutes, is steady uphill on a wide road, then it narrows a bit and flattens out for the second part on Mulholland Trail. Follow the signs up to Tyrolian Tank to see the sign head on, or go up the Mt. Lee Summit trail (another mile), to go behind the sign.
If you're planning on hiking this trail, you should probably get there early to beat the crowds on the weekend, or go on a weekday when it's less crowded.
3. Mandeville Canyon Trail
Level: Moderate to Hard
Distance: 7 miles
Elevation gain: 1,102 ft
Time: 3 hours
This trail can get quite crowded with lots of bikers and dogs as well, so it's not our favorite, but it does reward you with a dazzling view of the LA skyline as well as the gorgeous Pacific Ocean.
Another thing I like about this trail is that there are two parallel trails that you can switch between. One is a flatter fire road and one is a much more strenuous ridge trail that has a lot more ups and downs and greater elevation changes. You can switch between the two if you want to mix it up a bit.
Since this trail is located in Brentwood, you may very well see some of Hollywood's biggest names getting their morning workout in along the way.
4. Paseo Miramar
Level: Moderate
Distance: 4.9 miles
Elevation gain: 1,237 ft
Time: 2:45 hours
Paseo Miramar is park of Topanga Canyon State Park and is a highly popular trail amongst locals for early morning hikes. The reason for this is the vantage point you get when you reach the top. It's a strenuous workout with some steep spots, but on a wide dirt road, and pretty much no shade, so be prepared with plenty of water and sunscreen.
At the summit of Paseo Miramar, you'll be able to take in the stunning coastal scenery of Los Angeles in all its glory. It's also quite the alternative workout if you've recently skipped leg day at the gym.
Keep in mind that there's no parking on weekends (you will get a ticket) and you might have to park further down the hill, adding some distance to your hike.
5. Mount Baldy
Level: Hard
Distance: 11 miles
Elevation gain: 3,990 ft
Time: 7 hours
The Mount Baldy trail, in the San Gabriel Mountains National Monument, is probably the most difficult one on this list and is for experienced hikers only and requires careful planning and technical gear.
However, once you've reached its summit, you'll be able to proudly say that you're standing at the highest point in Los Angeles. The elevation at the peak is 10,064 feet.
Hiking the trail from May to October is your best bet to not run into snow on the peak. Hiking when there's snow can be dangerous, so it's not recommended. For more information on preparing for an executing a hike on Mt. Baldy, check out this article on hikingguy.com.
6. Switzer Falls
Level: Moderate
Distance: 4.5 miles
Elevation gain: 695 ft
Time: 7 hours
If you're a fan of waterfalls, you'll definitely enjoy Switzer Falls trail, near Pasadena. This moderately challenging hike features three main waterfalls, as well as numerous smaller ones – provided you're hiking during a time of year that they aren't dried up.
Switzer Falls is one of the most popular trails in LA, so you should expect it to be crowded. The trail is nicely shaded and there is a picnic area at the trailhead that leads down to Switzer Falls, which is actually quite hard to reach from the end of the trail.
There is parking, but a National Forest Adventure Pass is required to park at the San Gabriel Mountains trailhead, though no hiking permit is needed.
7. Bridge to Nowhere
Level: Moderate
Distance: 9.5 miles
Elevation gain: 1246 ft
Time: 7 hours
Despite its eerie name, this trail is quite an adventure and a very unique one at that.
This gorgeous 120-foot-high bridge spanning the San Gabriel River was built in 1936 to connect the San Gabriel Valley with Wrightwood, but just two years later the road was washed away by massive flooding and all that was left was the bridge.
You can take this hike year-round, but you'll want to avoid any time when heavy rains have occurred, as the water rises quickly and you'll be unable to cross the river. The trail is mostly gradual with some rugged terrain and rock scrambling. You will have to wade through water at a few points to get there.
This trail is best to visit in the summer, as the winter weather on this trail can be rather unpleasant and sometimes outright dangerous.
8. Fern Dell to West Observatory Loop Trail to Griffith Observatory
Level: Easy/Medium
Distance: 2.6 miles (round trip)
Elevation gain: 610 ft
Time: 7 hours
The Griffith Observatory is a must-visit when in LA. Some people opt to drive up to the observatory. However, hiking there is way more fun.
The hike up to the Griffith Observatory starts at Fern Dell at the lower end of Griffith park. This trail meets up with West Observatory Trail, which will add about half a mile to the typical hike. The trail is wide and well maintained, but will definitely get your heart pumping.
The intersection of the two trails has a bench with fantastic views over Los Angeles. To the other direction is Griffith Park and the Hollywood sign.
9. Wildwood Canyon
Level: Hard
Distance: 2.3 miles (out and back)
Elevation gain: 918 ft
Time: 1:40 hours
If you're seeking a challenge, the Wildwood Canyon trail will definitely provide you with one. Despite being less than 3 miles long, this trail is very steep. We guarantee you that your hamstrings will be on fire once you get to the summit.
However, the views you'll have of the mountains while you're up there will undoubtedly be worth the effort, with views overlooking Burbank and Glendale.
Be prepared for the lack of shade on this short and steep trail, and for the butt-kicking you're going to get in the last half mile of elevation climb.
10. Devil's Backbone
Level: Hard
Distance: 14 miles (out and back)
Elevation gain: 4269 ft
Time: 8.5 hours
Being part of the ascent up Mount Baldy, Devil's Backbone is an especially challenging trail to hike and should only be done by experienced hikers. It traverses a ridge-top trail at the summit of Mount Baldy in the San Gabriel Mountains.
The Devil's Backbone trail itself is just 3.3 miles long with 2,350 feet of elevation gain. It can be reached by a number of different methods, but the most likely is by doing the Mount Baldy hike to Baldy' Notch then climbing up to the summit. Other ways to do it are to ride the ski lift up or hike up the dirt road from Manker Flats.
This trail gets its name from its topography. It's a narrow, steep trail that will quickly get your adrenaline levels soaring. It's also a trail you should only hike when there is no snow because the summit is at 10,064 feet and it can be very dangerous hiking in the snow.
11. Grotto Trail
Level: Moderate
Distance: 2.5 miles (out and back)
Elevation gain: 561 ft
Time: 1:19 hours
The Grotto Trail hike is a 2.5-mile trail near Malibu that's moderately challenging due to the scrambling you must do over large boulders to get to the bottom of the canyon.
The path leads to the Grotto, but when you get near the bottom some scrambling is required. There are lots of flowers and greenery on the trail, but during the summer months the waterfalls and creek will likely be dried up. Beware of poison oak.
12. Cahuenga Park to Wisdom Tree
Level: Moderate
Distance: 3 miles
Elevation gain: 872 ft
Time: 2 hours
Not only does this trail offer spectacular bird's eye views of the beautiful city of LA, but it also gives you a chance to witness the Wisdom Tree.
This tree is the only one that survived a wildfire 15 years ago and is still standing strong all by itself at the peak of the Cahuenga Park trail.
The trail is pretty rugged, steep, and eroded in parts. Plus it's almost entirely unshaded, so be prepared to get a good work out. There are really great views of Griffith Park
» Find the perfect hiking clothes. I love these weather resistant, breathable shorts by Arcteryx (for women | for men) paired with a light performance shirt (for women | for men).
Conclusion
The city of Los Angeles has no shortage of hiking trails for ages and levels of experience. With its extensive mountain ranges and coastal views, the city is a dream come true for hikers.
The best hikes in Los Angeles for experienced hikers include Mount Baldy, Devil's Backbone, Wildwood Canyon, and Castle Peak. If you've just gotten into hiking, you're better off taking on trails such as Inspiration Point, Escondido Canyon, Bronson Cave, and Eaton Canyon.
Like this article? Save it on Pinterest so you can find it again.
FOLLOW US on Pinterest and Facebook for more California travel inspiration and tips!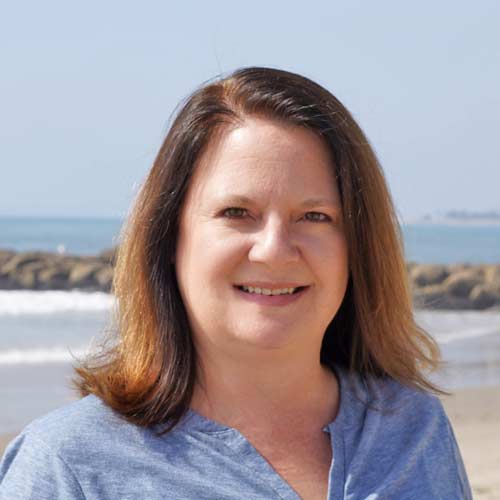 Laura is a travel fanatic who loves seeing and doing new things. She lives in Ventura, CA, and spends a lot of time exploring California's cities, beaches, and national parks.