This enchanting theme park, nestled within the magical Disneyland Resort, offers a captivating blend of thrilling attractions, immersive storytelling, and beloved Disney characters. If you've never been before, you're in a treat. We love visiting California Adventure, almost more than Disneyland. It has a solid place in our hearts.
Having been there so many times ourselves, we know just how difficult it is to plan your first visit, especially if you only have one day to spend, which is pretty typical due to the high cost of tickets.
We've put together what we believe is the best Disney's California Adventure One Day Itinerary, for first timers and returning visitors alike. This itinerary will take you on a whirlwind adventure through DCA, ensuring you experience all the must-see attractions, indulge in delectable treats, and create unforgettable memories that will last a lifetime.
Planning your trip? We've got tons of helpful Disney planning guides from our awesome list of 40 essential tips, to how to get to Disneyland, where to stay near Disney, what to pack, what to wear, where to park, and what to eat in both Disneyland and California Adventure.
Best Time to Go: Day / Month
There really isn't a "best time to go" to Disney's California Adventure, for a few reasons. One is that it's almost always packed at the park, with very few exceptions. The other is that the weather is pretty good year round, with no big fluctuations in temperature, except for July/August and December.
My recommendation is to go when it best fits your schedule. If you have kids, the best time to go will be when they are out of school. If you are a couple without kids, you might want to go at a time when the kids are in school.
Another thing that makes a "best time to go" is when special things are happening in the park. My cousin goes every year for the Oogie Boogie Bash and the Halloween decorations in October. Disneyland celebrates all kinds of special events and holidays. Another consideration is that while the shoulder months may see less traffic, major rides may be down for refurbishment, there are less celebrations, parades etc. 
Where to Begin
Your ultimate plan for the day should depend on which rides are most important to you. Here are the major attractions in each area:
Cars Land – Mater's Junkyard Jamboree, Radiator Springs Racers, and Luigi's Rollickin' Roadsters.
Pixar Pier – Incredicoaster, Toy Story Midway Mania!, Jessie's Critter Carousel, Inside Out Emotional Whirlwind, and Pixar Pal-A-Round.
Avengers Campus – Guardians of the Galaxy- Mission: BREAKOUT and WEB SLINGERS: A Spider-Man Adventure.
Grizzly Peak – Redwood Creek Challenge Trail, Grizzly River Run, and Soarin'.
Paradise Gardens Park – Silly Symphony Swings, Goofy's Sky School, Jumpin' Jellyfish, Golden Zephyr, and The Little Mermaid – Ariel's Undersea Adventure.
Hollywood Land – Monsters, Inc. Mike & Sulley to the Rescue!
Breakfast
If you are thinking about rope dropping, then your early morning is going to be very busy. Just getting everyone up and out that early is crazy but then throw in trying to get breakfast as well may be too much.
Breakfast options are pretty limited in this park. In fact we suggest eating breakfast before you enter the park or bring it in with you. Take advantage of the free breakfast in your hotel or grab breakfast at Panera Bread as you walk to the park.
If this isn't an option then here are some good options once you are inside the park.
Fiddler, Fifer & Practical Café on Buena Vista Street- If you are a Starbuck's person, you can find it here. Grab and go or have a seat at one of the outdoor tables. They have beverages, pastries, and breakfast sandwiches.
Corndog Castle in Paradise Gardens – Corn dogs rule at this Medieval themed eatery. Try a breakfast sausage and egg corn dog topped with powdered sugar and raspberry jelly.
Shawarma Palace in Avengers Campus – This food cart is a fun nod to The Avengers movie. Impossible(™) Breakfast Sha-warm-up, plant based breakfast sausage and egg omelet served with spiced maple syrup.
Cappuccino Cart in Paradise Gardens – This cart offers a great pick-me-up any time of day. Try their chorizo breakfast burrito along with an assortment of coffee drinks like cold brew, coffee cocktails, and pasties.
Pym's Test Kitchen in Avengers Campus – They have the most breakfast offerings. Pym's Test Kitchen has fun and inventive foods that you really must try. It's so fun you will want to go back for lunch and dinner!
Rope Drop: What is it and is it Worth it?
Rope drop happens every morning in the park. Each area of the park has a separate entrance with a rope that's put up by cast members. If you get there early and line up, you'll be one of the first to enter.
It's one of the easiest ways to experience low to no wait times on rides. Plus it's a fun experience, as the anticipation of the park opening creates an enthusiastic buzz. In our opinion it is TOTALLY worth it!
Here's how it goes. Guests are allowed through security between 7:00-7:20am (it seems to vary every day!). You then queue up at the ticket gates. At 7:30am they officially begin allowing guests in. If it's your first time at California Adventure, you might be tempted to poke into all the shops on the main street, but don't. You need to get to the rope drop! You can always come back later to check out the shops.
Head toward the area of the park where you want to start. When the park opens, a song plays and the cast members roll the rope back so you can beeline to your destination of choice.
One Day Itinerary
You can easily see and do everything in Disney's California Adventure in one day. Don't worry about missing anything and don't rush. That is one of the things that makes this park different from Disneyland. It is smaller, often less crowded, and can easily be enjoyed in a day.
The magic time in the park can be those first 3-4 hours before the crowds are at their height. This is the time to do all of the big rides that will have long lines later. Then you can go back to each land and find all of the fun shops and neat little nooks and crannies.
If you are interested in riding as many rides as possible then you might want to use Genie+. It will help you skip long lines so you can move on to the next ride. More on that below.
What path you take next may depend a lot on the ages of those you are traveling with.
Rope Drop
There are 2 good options for starting your day with rope drop in Disney's California Adventure.
OPTION 1:
We suggest heading straight for Radiator Springs Racers in Cars Land. The line for this ride can be two hours pretty consistently. When we rope dropped this ride we only waited 20 minutes. The line for this ride is a lesson in patience so any chance you have of making it shorter is strongly suggested – which is why we love to hit it at rope drop!
At this point you should head off to the other big rides that have long lines like Incredicoaster, WEB SLINGERS, and Guardians of the Galaxy- Mission: BREAKOUT because the first 3-4 hours can have shorter lines before the park fills up. Once things get busy you can come back to Cars Land to explore.
Pro Tip – The single rider line for Radiator Springs Racers is a great way to do this ride without waiting in a long line.
Option 2:
Our other suggestion for where to start at rope drop would be to head to Guardians of the Galaxy- Mission: BREAKOUT in Avengers Campus. We wouldn't suggest this ride for the faint of heart or younger children. Also, maybe don't go on a full stomach :).
In both scenarios, Pixar Pier should be next. You will be able to ride Incredicoaster and Toy Story Midway Mania! with little to no line!
Here are some tips and tricks for each area to make your experience more fun and maybe save you some time along the way.
Buena Vista Street
As you enter Disney's California Adventure you arrive on Buena Vista Street. Experience the golden age of Hollywood with a nostalgic and charming atmosphere inspired by the bustling streets of 1920s Los Angeles.
Buena Vista Street offers a variety of unique shops and dining options.
One of the notable landmarks on Buena Vista Street is the Carthay Circle Theatre, an iconic building that pays homage to the theater where "Snow White and the Seven Dwarfs," Disney's first full-length animated feature, premiered in 1937.
Where To Eat
Carthay Circle – Upscale Mediterranean-California seasonal fare. Reservations required.
Fiddler, Fifer, & Practical Café – Breakfast sandwiches, pastries, and coffee.
Snacks
Trolley Treats – Cookies, candy, and seasonal offerings.
Clarabelle's Hand Scooped Ice Cream – All kinds of ice cream treats.
Cars Land
As you step into the town of Radiator Springs, you'll feel like you've been transported directly into the charming town depicted in the film. The attention to detail is remarkable, with intricately designed buildings, familiar landmarks, and even life-sized replicas of Lightning McQueen and Tow Mater.
The standout attraction in Cars Land is Radiator Springs Racers, an exhilarating ride that takes guests on a high-speed adventure as you race alongside other cars, experiencing thrilling twists and turns before culminating in a heart-pounding finish.
As we mentioned above, we think that starting your day with rope dropping Radiator Springs Racers is a great way to go. From the moment the park opens there will be a long line at this ride.
This ride has a surprisingly fast-moving single rider line. We never waited longer than 10 minutes in the single rider line and if you don't really want to ride alone, most times we ended up in the same car as our friends.
Mater's Junkyard Jamboree is a delightful and whimsical ride that takes you on a whirlwind spin as you ride in one of Mater's towing tractors.
The tractors dance and swing to the toe-tapping tunes of Mater himself, creating a lively and playful atmosphere. It is just plain fun and you will want to ride it again and again, trust us.
The last ride in Cars Land is Luigi's Rollickin' Roadsters. Enjoy the colorful and festive Italian village setting as you step into Luigi's casa della tire. Hop into one of Luigi's charming little cars, which come to life and glide across the floor in a synchronized dance routine to the rhythm of lively Italian music.
Pro Tip: Make sure to check out the magical ambiance in Cars Land at Sunset. Experience "Lightning McQueen's Pit Stop," where the song "Life Could be a Dream" is played just after Sunset as the neon lights come on.
Where To Eat
Cozy Cone Motel – Indulge in an array of delectable sweet and savory treats at five windows, each whimsically designed as orange traffic cones. Our favorites are the soft serve cones at motel #2 and the bacon mac n' cheese in a bread cone from motel #3.
Flo's V8 Café – This diner is inspired by route 66. It is a fun place to explore and their steak fries are delicious.
A Quick note – The Cozy Cone Motel is mobile order only. They will turn you away if you try and walk up to the window to order.
Snacks
Fillmore's Taste-in – Quick grab and go snacks like fresh fruit and veggies along with drinks and chips.
Pro Tip: If you are looking for somewhere to sit and eat try walking around the corner to the Pacific Wharf. There is a large area of tables there.
Pixar Pier
One of the highlights of Pixar Pier is the Incredicoaster, a high-speed roller coaster themed around the popular Pixar film The Incredibles. You will zoom through loops and twists looking for Jack Jack. Use the single rider line to get through the line more quickly.
For those seeking a more relaxed adventure, Toy Story Midway Mania! is a fantastic choice. This interactive 4D shooting game takes you into the world of Toy Story, where you can compete against for the highest score.
This is a fun ride to challenge your friends and family and see who comes out with the highest score. The line can be long for this ride but the line is mostly inside and air conditioned.
Pixar Pal-A-Round aka, the Mickey Ferris Wheel, can be boarded in Pixar Pier. Unless you are an adventure seeker, we suggest choosing a car that don't swing. This ride gives incredible views of the Park and is fun for the whole family.
Where To Eat
The Lamplight Lounge – This is a great place to rest and savor delicious dishes while surrounded by Pixar artwork and memorabilia. Make a reservation in advance or get a walk-up reservation quite easily.
Make sure to try the Lobster nachos and the donuts. Yum!!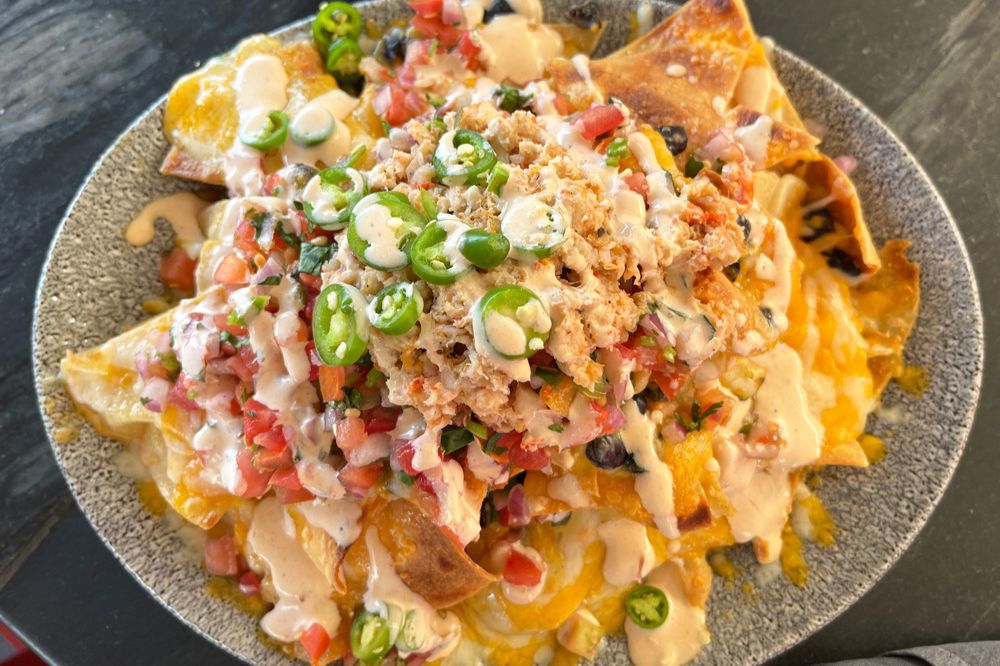 Snacks
Adorable Snowman Frosted Treats – This treat is straight out of the Monsters Inc. movie. Sully and Mike Wazowski are offered snow cones by the abominable snowman. These vegan-friendly soft serve cones come in flavors like lemon, mango, or swirl and you can get it in a cone or cup.
Jack-Jack Cookie Num Nums – If you've seen The Incredibles 2 you know that the Par family has to entice baby Jack-Jack with cookie num nums to behave. Well, this is the theme park version of that treat. These large chocolate chip cookies are warm and melty right out of the oven. It is definitely big enough to share.
Grizzly Peak
Grizzly Peak is a picturesque and immersive land that captures the beauty and grandeur of California's wilderness.
Grizzly River Run is a thrilling whitewater rafting experience. Hop aboard a circular raft and prepare to brave the rapids as you navigate twists, turns, and exhilarating drops.
It is a great way to cool off during those hot days. Make sure you have a change of clothes or don't mind being wet (on hot days you'll be dry before you know it).
Pro Tip: There are lockers located just outside of the ride, behind the giant Bear!
In our opinion, Soarin' is a ride you must experience. This breathtaking journey will take you across some of the world's most iconic landscapes. The combination of awe-inspiring visuals, realistic motion, fragrances, and a specially curated musical score make you feel as if you are there.
Consider riding Soarin' in the morning or evening unless there is no line. The sun hits this queue in a brutal way that can make the line outside unbearable.
If you have elementary aged children, the Redwood Creek Challenge Trail is always a hit. This area has a simulated forest, complete with bridges, climbing walls, and interactive play areas. Adults will love the trees and places to sit and kids will soak in the chance to play and enjoy the area.
Where To Eat
Smokejumpers Grill – There is plenty of indoor and outdoor seating at the Smokejumpers Grill, so you can sit and relax while you eat. Smokejumpers is located right next to Soarin'. The grilled chicken sandwich was delicious and keep an eye out for their seasonal drinks.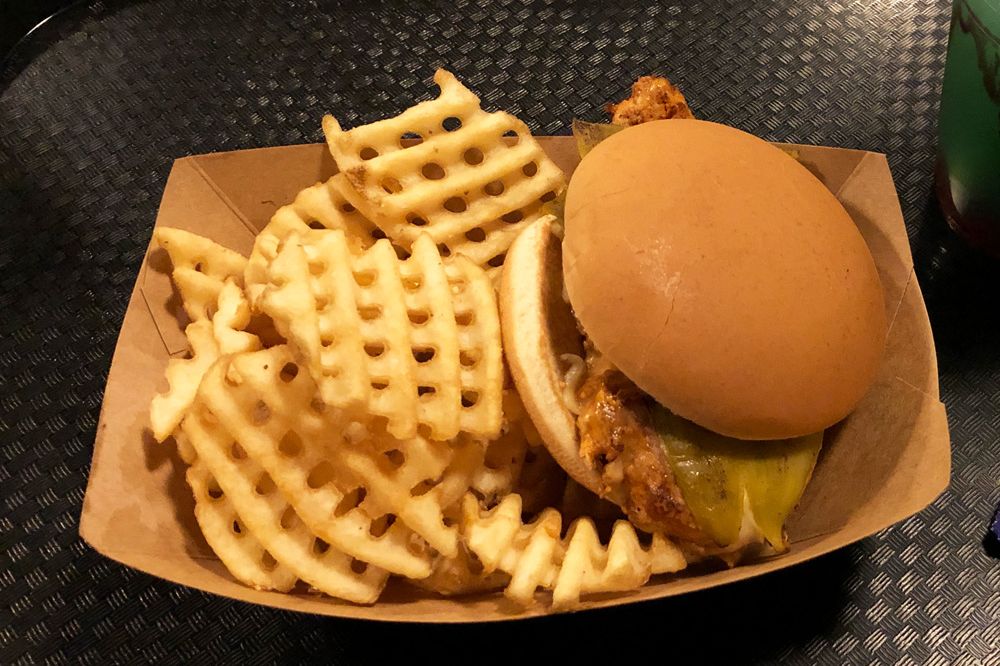 Paradise Gardens Park
The Little Mermaid – Ariel's Undersea Adventure greets you as you enter this area of the park. Ride through the movie, see all the characters you love, and sing along. Don't wait more than 10 minutes in line for this ride. You will find times where you can just walk right on.
Past this point there are a couple of rides for smaller kids that have relatively short lines. You can hit them all at once. The Golden Zephyr, Jumpin' Jellyfish, Silly Symphony Swings, and Inside Out Emotional Whirlwind.
Goofy's Sky School is a fan favorite, and not to be missed. Enjoy this 3 story high rollercoaster as you "learn to fly the Goofy way"! Look for the single rider line to save some time.
Plaza de la Familia is a nice place to have lunch and find shade. Día de Los Muertos celebration brings extra pageantry to the area from early September to early November. You can often catch parades in front of this location and meet Coco!
Where To Eat
Paradise Garden Grill -Enjoy seasonal offerings at this convenient outdoor counter-service restaurant. The food is always good and there is plenty of seating available nearby.
Bayside brews – Located between Jumpin' Jellyfish and Silly Symphony Swings, enjoy a Mickey-shaped pretzel and an alcoholic or non-alcoholic drink by the water.
Cappuccino cart – Need an afternoon caffeine boost? Delicious beverages of all kinds to get you through the rest of the day.
Avengers Campus
WEB SLINGERS: A Spider-Man Adventure is a fun ride to do as a group. You will enjoy a video presentation as you enter the building. Challenge your friends and family for the highest score. The real tip for this ride is that you can use the single rider line and skip a big part of the line. This is great for couples or people who want to go a second round but don't want to wait in the long line.
Make sure to see Spiderman's show that happens on the roof of this ride. It is performed multiple times a day, check the app for showtimes.
The other big ride in this land is Guardians of the Galaxy- Mission: BREAKOUT. Try and ride it early in the day before the park really fills up as the line will be long most of the day. Enjoy a spectacular view of the park any time of day but at night you have a chance to glimpse the fireworks.
The real fun of this land, especially for Marvel fans, are all of the Marvel characters from current marvel movies and shows walking throughout Avengers Campus.
Pro Tip – If you are looking for Marvel gear make sure to check out the superstore featuring Avengers Campus at the end of Hollywood Land by Monsters, Inc. Mike & Sulley to the Rescue!
Where To Eat
Pym's Test Kitchen – This is one of our absolute favorite places in the park. Enjoy the atmosphere surrounding Pym's and the fun of Antman and The Wasp. The not so little chicken sandwich is a crowd favorite and the tater tots are amazing!
Shwarma Palace – Check out New York's tastiest, a grab and go wrap filled with seasoned chicken, pickled vegetables, and coconut yogurt-tahini sauce.
Snacks
Pym's Tasting Lab – This beverage laboratory has specialty drinks and snacks. Avengers Campus is a great place to sit with a cocktail and people watch.
Terran Treats Cart – This food cart located outside of Guardians is a must stop! You really must try a Cosmic Orb.
Hollywood Land
At the end of Hollywood Land is Monster's Inc, Mike and Sulley to the Rescue!. Little kids enjoy this ride. It's probably a skip for teens and adults unless you are a big Monster's Inc fan or have plenty of time to kill.
One of our favorite places in DCA is the Animation Academy building. In this beautiful space, you will find air conditioning, comfy seating, a magnificent display of your favorite Disney films displayed on the walls of the auditorium, and so much more. This is the best place to beat the heat, rest your legs, or escape a downpour.
Beast's Library is located in the building along with Turtle Talk with Crush (fun for everyone), Anna and Elsa's Royal Welcome and the Animator Studio sessions.
Across the street is Mickey's PhilharMagic theater. There is often no wait for this 4D short film. You get to sit down, in theater seats, air conditioned and enjoy a short and wacky film. Everyone enjoys this respite and we highly recommend it as a reprieve from the busy day.
Where To Eat
Award Wieners – They have really great hot dogs but we thought the real winner was the Asada Fries. Film strip fries topped with carne asada, cheese, cilantro, onions, and salsa.
Snacks
Schmoozies – The perfect afternoon stop! Try a fruit smoothie or my favorite, an Affogato.
Looking For More Food?
We think DCA has the best food of the two parks in California. Check the app for seasonal delights as well!
Pacific Wharf is an ideal food location in the park, catering to families with its diverse dining options that are sure to please everyone in your group. With a wide range of choices available, there is something to satisfy every palate and craving.
Where To Eat
Pacific Wharf Café – You definitely won't leave hungry after having their clam chowder served in a sourdough bread bowl. It is creamy and delicious, just as clam chowder should be. You can watch the bread bowls being made and even sample the bread at The Bakery Tour right behind the Café.
Lucky Fortune Cookery – A delicious Asian menu with something for everyone. Try the pork wonton nachos for a shareable snack or the beef bulgogi burrito.
Cocina Cucamonga Mexican Grill – The QuesaBirria Tacos were one of my favorite things in the park. I could eat these every day! Each order contains 2 braised beef and cheese tacos with tomatillo salsa and a bowl of consommé for dipping. Because they are so popular you are limited to 2 orders per transaction.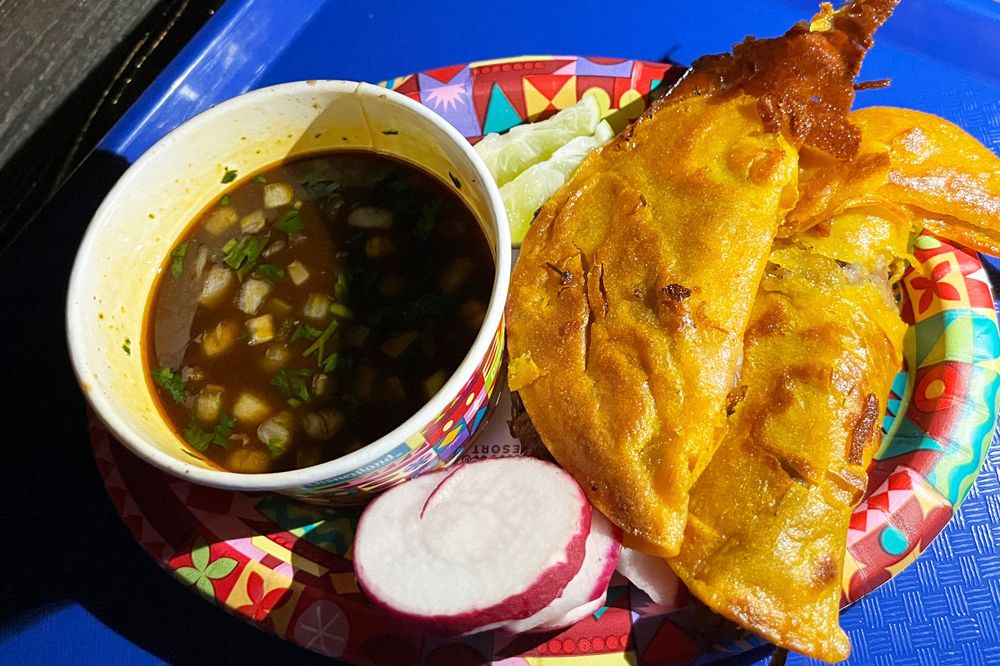 Pro Tip: Mobile ordering is the way to go here. The standby line can get really long. Make sure to click "prepare my order" as soon as your window opens because it can take a while. This was our longest wait time in the park.
Snacks
Ghirardelli Soda Fountain and Chocolate shop – Satisfy your sweet tooth with the many sweet treats that Ghirardelli has to offer. I don't think you can go wrong with any treat from this shop. Everything looks amazing.
Rita's Baja Blenders – Cool down with frozen drinks, both alcoholic and non-alcoholic. Located near Lucky Fortune Cookery.
Pacific Wharf Distribution co – A drink cart with Karl Strauss beers on tap. Located right next to Cocina Cucamonga Mexican Grill.
Mobile Dining
This is one of our favorite tips. Mobile ordering is so fast and easy. From the park map in the Disneyland app simply click the plus icon at the bottom of the screen and select "order food". From there you can choose the restaurant and pick-up time, choose your food and pay.
You will receive a notification when you are within your order window. Then you press the button for "make my order" and pick it up at the mobile order pickup window they assign you.
You need to be aware that the pick-up time may be out an hour or two during busy times of day. It is a good idea to check times in advance in case wait times are longer than expected. You don't want to wait until you are hungry to find this out.
Pro Tip: Once you have placed your order, and are within the window of time chosen, you will receive a push notification that your order is ready to be prepared. Even if you are still walking to your destination, start the preparation process by clicking "I'm here".
Is Genie+ Worth It?
If you don't mind waiting in lines, you can plan your trip using the free Genie service. It will tailor your attractions and dining experiences according to wait times and your preferences. We have found this to be quite helpful in avoiding longer lines. While it's really nice to be able to make a reservation and skip more lines, it's not absolutely necessary.
If you choose to pay the extra fee to purchase Genie+, you can have an easier time getting on some rides, but you do have to be on your game. You will be constantly watching the app to make the next reservation so you get the most out of it. You can spend the whole day making reservations.
In our opinion, Genie+ is worth the extra money during times when the park is very busy. It gives you the most flexibility to skip long lines. If the park isn't that busy, it's likely not necessary and won't even help you that much.
Pro Tip – PhotoPass is a fun way to get amazing photos of your experience in the park. It is included when you purchase Genie+.
Tips for Visiting Disneyland
Getting to and into Disneyland can be a challenge but not one that you can't master with a few of our top tips. Here are some of the things we recommend everyone do to make their trip to Disneyland exciting and smooth. Read all of our 40+ Disneyland Tips.
1. Download the Disneyland App
You can and will do everything from the Disneyland app (Apple Store | Android store) before you leave, while you are there, and even when you get home. Mobile ordering snacks and meals is super easy. Check ride times, use the map to get around, and reserve lightening lane passes through Genie+.
2. Get acquainted with the park map.
If you notice that a ride's line time is short and it is in a land that is close to where you are, you should head there.
3. Use the lockers
Take advantage of the lockers that are in the park. There is one set in the cul-de-sac between Market House and Disney Clothiers and another to the left of the ticket turnstiles before you enter the park.
4. Go on the popular rides first
The first 2-3 hours the park is open are the golden hours when the lines will be the shortest. Go on the most popular rides early to avoid long lines later.
Take Pictures Along The Way
Watch for park photographers and PhotoPass spots located throughout the park, it is a great way to get wonderful picture souvenirs. It is included when you purchase Genie+ or you can purchase it per day. You also have the option of purchasing individual photo downloads.
Mickey, Minnie, and friends can often be found on Buena Vista Street as you enter DCA. Buena Vista street characters rotate all day, with some walking through the land and others located on the small plaza in the center.
This area has a churro cart, several fun shops and benches to rest. It makes a good area for people watching and taking in the magic of Disney.
If you are looking for Marvel characters they wander though Avengers Campus throughout the day.
World Of Color Show
Prepare to be captivated by this awe-inspiring spectacle as the imaginative worlds of Disney and Pixar materialize before your eyes. Water jets ascend, releasing mists of water that serve as a canvas for the vivid portrayal of these beloved shows. Lasers ignite the darkness, and meticulously synchronized pyrotechnics burst forth in a magnificent display of vibrant hues.
You have two chances to see this show each night. The first showing is at 9pm and is usually very packed. The second at 10:15pm and is easier to get a good viewing place for. Don't worry that the park closes at 10, you won't be kicked out.
There are multiple ways to experience this show but all take a bit of planning.
You can get arrive early and stake out your spot. People start looking for spots an hour before the show so beware. There are good viewing spots that don't require a reservation. The bridge to Pixar Pier is one of those spots.
You can enter the virtual queue through the Disney app at noon. Be in the app and ready to hit the button right at noon as it fills up quickly. You will be assigned a colored viewing area (yellow or blue). You will receive a notification through the app to enter your assigned area, 30-45 minutes before the show. Look for your colored sign like the ones below.
World of Color Dessert Package is a fun way to enjoy the show. Make a reservation for this on the Disney app or online up to 60 in advance. You will be given an assigned showtime, it could be the early show or the late show. The dessert seating is 60 minutes before the show starts and you will check in at the water wheel near the Redwood Creek Challenge Trail.
World of Color dining packages are available through Wine Country Trattoria or Storyteller Café. Eat lunch or dinner at one of these places and tell your host that you would like the dining package. You will receive a voucher to enter a special viewing area separate from the dining location for the show.
Note: The dining package isn't available online or through the app. You have to mention it when you show up for your dining reservation. Dining packages aren't guaranteed and are subject to availability.
Where To Stay
If you're planning a vacation to Disneyland and are researching where to stay while you're there, you should definitely consider staying close by. There are plenty of great Disneyland hotels within walking distance of the park, and this will ensure you don't spend any unnecessary time getting back and forth.
There are many options for great places to stay near Disneyland, but we definitely recommend staying at a Disney hotel if at all possible.
The three Disney-owned on-site hotels are The Disneyland Hotel, The Grand Californian and Paradise Pier. All three offer early entry to both parks for their guests. The Disneyland Hotel and The Grand Californian offer wonderful dining options as well as character dining.
If you want to stay right across the street from the park, try the Park Vue Inn (3-minute walk) or the Best Western Plus Park Place Inn-Mini Suites (4-minute walk).
How To Get There
These are the main airports to choose from to get to Disneyland (read our full guide on the airports nearest to Disneyland):
John Wayne Airport in Orange County (SNA) – 20 Miles from the park.
Long Beach Airport (LGB) – 25 Miles from the park.
Los Angeles International Airport (LAX) – 35 Miles from the park.
Hollywood Burbank Airport, Bob Hope Airport (BUR) – 40 Miles from the park.
Drive times vary depending on the time of day. On-site car rental, taxis, and rideshares are available at all airports.
Uber and Lyft are convenient options. Consider checking the price of both before deciding. Prices will vary depending on the time of day.
Shuttle services can be reserved in advance. Lansky shuttle car service has a complimentary 30 minute grocery/fast food stop on the way to the hotel and they provide car seats. Karmal Shuttle car service only goes to LAX and John Wayne Airport and they don't provide car seats.
Travel Planning Guide
🚙💨 Where should I book my rental car?
Renting a car is one of the best ways to get around in California, no matter where you're visiting. Public transportation can only get your so far, even in big cities. I always rent with Discover Cars, which checks the prices of all major rental car companies, so you get the best rates.
🛌 What's the best way to book my accommodations?
For hotels and vacation rentals, Booking.com or Expedia.com are the best sites, but you can also book through TripAdvisor. If you're considering renting a house instead, don't forget to also check VRBO, which is often cheaper than Airbnb.
🧳 What do I pack for California?
Head to the our California Packing List or Disneyland Packing List to get all the info on packing.
✈️ What's the best site to buy flights to California?
For finding cheap California flights from around the world, I recommend Skyscanner. I've also had pretty good luck with Kayak.com.
Like this article? Save it on Pinterest so you can find it again.
FOLLOW US on Pinterest and Facebook for more California travel inspiration and tips!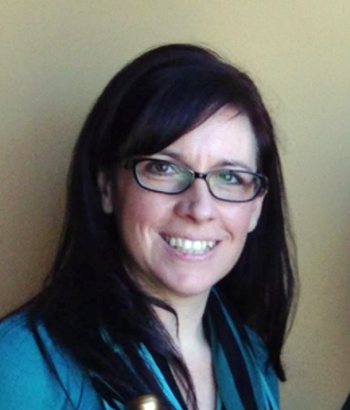 Angie is a long-time California fan, having lived in the Monterey area for many years. She loves reading, cooking, and hanging out with her two kids.