If you're wanting an escape form the city where you can connect with nature and get out on the trail, you might want to consider heading to the beautiful Point Reyes National Seashore. Aside from all the other great things to do in Point Reyes, there are trails that stretch over 150 miles making this California haven a must-visit for anyone who likes a good hike.
Whether you're into forest trails, breathtaking ocean views, or lush sand dunes, it's all there for you to explore. We've listed our 10 favorite Point Reyes hikes below to help get you out there faster.
» Find the perfect hiking clothes. I love these weather resistant, breathable shorts by Arcteryx (for women | for men) paired with a light performance shirt (for women | for men).
Some things to remember before you go hiking, make sure you're prepared for the weather with the appropriate clothing and shoes. Pack plenty of water and sunscreen, and always let someone know where you're going and when you expect to be done, just in case.
About Point Reyes National Seashore
Point Reyes National Seashore is a huge expanse of protected coastline in Northern California's Marin County. There are dozens of great things to do in Point Reyes.
Being just an hour away from San Francisco, this gorgeous park, with expansive sea views, unpredictable rolling coastal fog, and gorgeous beaches, is a great place to escape from the city and enjoy the splendid natural beauty that surrounds you.
Inside the park, there are waterfalls, a lighthouse, beaches, campgrounds, 3 visitor centers, and many hiking opportunities. No fee is charged to get into the park.
You'll want to learn about the various parking lots in the park – when they're open, which one to use for your specific hike, and when they are most busy. There aren't any parking fees, but you'll want to get there early to get a spot.
Hiking Etiquette & Tips
It is essential to always be prepared for hiking by wearing the appropriate clothing, packing the right gear, and being aware of hiking etiquette whenever you're out on the trail. Here are some of our tips for ensuring your hike is a good one:
Park only in designated spots, not off-road or in unpermitted areas.
Wear the appropriate clothing for the time of year – bringing a layer in case of sudden temperature changes. Be sure to wear sturdy shoes (flip flops are never a good idea).
Do not feed or approach any wildlife. Be aware there might be bears mountain lions, bobcats, or rattlesnakes on the trail.
Bring a good amount of water, some food, and sunscreen with you.
Never leave trash behind.
It's best not to hike alone, but if you do tell a friend where you're going and when to expect you back.
Great Hikes in Point Reyes National Seashore
1. Chimney Rock Trail Hike
We'll kickstart our Point Reyes best hike list with a fairly easy trail that even a beginner can manage to take without facing many obstacles. The Chimney Rock trail is a popular hiking route among adventure enthusiasts, and there are many reasons for that.
First off, the trail extends over coastal grassy cliffs that offer you a fantastic view of the waves below. Talk about dozens of scenic pictures and countless Instagram likes afterward!
Second off, the trail doesn't stretch for long, only as far as 1.6 miles. To most people, the distance is manageable without breaking a heavy sweat.
Best of all, this hike promises sightings of elephant seals and gray whales, but only if you time your visit right. Make sure to hit the trail during spring and winter for higher chances of witnessing these magnificent creatures.
2. Bear Valley Trail Hike
Next up, we've got the Bear Valley trail, which is another path favored by hikers. Due to its popularity, you'll probably find it teeming with other people with as much wanderlust as you have!
Slightly more challenging than the previous trail, Bear Valley takes you through multiple terrains. You'll start your journey with a forest lush with fir and alder trees, which will soon give way to the Divide Meadow.
From there, a stream will be your faithful guide to a canyon, and your adventure will end at coastal grasslands. Here, you can finally settle down at Coastal Trail junction to rest and call it a day, or, if your energy levels are still high, you might want to explore the Coastal Trail, too!
If you're wondering about the overall distance of this hike, it's a little more than eight miles. It surely isn't a piece of cake, but a seasoned hiker will definitely love the challenge.
3. Muddy Hollow Trail Hike
Our third favorite trail that you may want to give a try is Muddy Hollow. Despite the unpromising name, this trail is one of the easiest in Point Reyes, especially after it was rerouted with footbridges to keep hikers away from the muddy areas.
This trail is perfect for people who want a glimpse into wildlife in its natural habitat; a large group of tule elk was relocated to this area. In addition to that, your chances of witnessing wild birds will also be high, so, cheers to that!
The trail lets you take a good look at everything from coastal shrubs to clearings surrounded by picturesque trees. Plus, it's pretty short, with a distance of only four miles. This means that you can squeeze other hikes into your day besides this one.
4. Tomales Point Trail Hike
Tomales Point is a trail worth taking if you want to witness the true beauty of Point Reyes, not that the other trails aren't beautiful. It just simply sums up the entire experience of the national seashore.
Before you hit this trail, keep in mind that it's rather long, as it stretches for a little less than ten miles. While it may be intimidating for a first-timer, it should pull the heartstrings of an experienced hiker!
Now, the first thing to like about this trail is that it goes straight through the Tule Elk Reserve, so you can witness those beasts in all their glory. You'll most likely catch an elk herd grazing the hillsides peacefully; that's definitely a picture-perfect view.
Besides the fascinating wildlife, the trail offers you breathtaking views of the blue ocean below. That's another point to Tomales Point!
However, you must remember to stick to the trail and refrain from wandering off in other directions. This ensures your safety as heading deep into the habitat of the elks might trigger unwanted reactions.
5. Mount Wittenberg Trail Hike
Our fifth greatest Point Reyes hike trail is that one that stretches over Mount Wittenberg, which is the highest peak in Point Reyes. You can't resist the captivating coastal views at an elevation of 1,407 feet!
While the distance of the trail itself isn't that long —only five miles, the path is still considered of moderate difficulty because the elevation gain is a roaring 1,299 feet. So, you can expect to take several breaks to drink water and catch your breath before you reach the top.
Once you get to the highest point of the mountain, you'll have a glorious sight in front of you: the crashing waves of the ocean seen through pockets of lush trees!
6. Point Reyes Lighthouse Trail Hike
Without a doubt, the Point Reyes Lighthouse is one of the most popular attractions that people visit the national seashore to see. So, why not follow its trail on your hike, too?
The 1870s lighthouse is a must-see for its historical value as well as how it looks against the dramatic backdrop of the bluffs and ocean. Sure, this trail is the shortest you'll come across, with a distance of a little more than a mile, but its challenge lies in your return journey.
To get to the lighthouse, you'll have to descend 308 steps, which will be tough when you go back up. But you can brag about it later to your friends, so it should be worth it!
7. Abbotts Lagoon Trail Hike
Want to take things down a notch and take a break from mountains, cliffs, and hundreds of steps? Well, you may want to consider exploring the Abbotts Lagoon trail instead, which is less of a hike and more of a stroll.
The two-mile trail lets you sweep by the peaceful lagoon on a dirt path, which is sometimes interrupted by wooden boardwalks. Almost halfway through the trail, the terrain will turn sandy, taking you to the beach.
After taking some rest or having a snack, you could retrace your steps or stay a while longer for a dip in the water!
8. Earthquake Trail Hike
Earthquake Trail lets you witness the effects of the San Andreas Fault. It's perfect for curious kids as it offers them details on what happened during the 1906 earthquake, not to mention that it's short enough not to tire their tiny feet.
There, you'll find a fence that moved 20 feet from its original position thanks to the earthquake!
Better still, if you want to have the full experience of this trail, you could book a guided tour for a thorough exploration of the Earthquake trail.
9. Bass Lake Coast Trail Hike
Another trail that promises a good dip in refreshing water is the coastal trail to Bass Lake. It stretches for six miles and allows you to venture through coastal shrubland with awesome views of the ocean.
Then, when you finally reach your destination, you could don your swimsuit and take a swim in the lake to shake off the strain of walking all this distance.
Your swim will feel heavenly since you'll be surrounded by rich-green Douglas fir trees!
10. Woodpecker Trail Hike
Last but not least, don't forget to pay Woodpecker trail a visit while you're at it. The path winds through a grassy meadow and a forest rich with evergreens and deciduous trees; the perfect places to disconnect from your busy life.
While it only extends for 0.7 miles, the fun of this hike lies in its natural appeal. From letting you try to identify different species of trees to witnessing a wild bird or two, this area can feed your love for nature!
For example, you might come across various animals like woodpeckers and foxes. You may also pass by different kinds of mushrooms next to decomposing logs.
Final Thoughts on These Point Reyes Hikes
Visiting Point Reyes should definitely be on your bucket list, whether you're a seasoned hiker or a newcomer. The national seashore can offer you a huge number of trails that pass by forests, grasslands, meadows, cliffs, lakes, and lagoons.
Plus, the 10 great Point Reyes hikes mentioned on our list have varying degrees of difficulty to suit all types of hikers. Their distances range from 0.7 to around ten miles, so you get to pick the one that works best for you.
Some of our favorite trails include Chimney Rock, Bear Valley, Tomales Point, Mount Wittenburg, and, of course, the scenic descent to Point Reyes Lighthouse!
Now that you have a good idea about what each one of those hiking trails offers, are you ready to go on an adventure?
Like this article? Save it on Pinterest so you can find it again.
FOLLOW US on Pinterest and Facebook for more California travel inspiration and tips!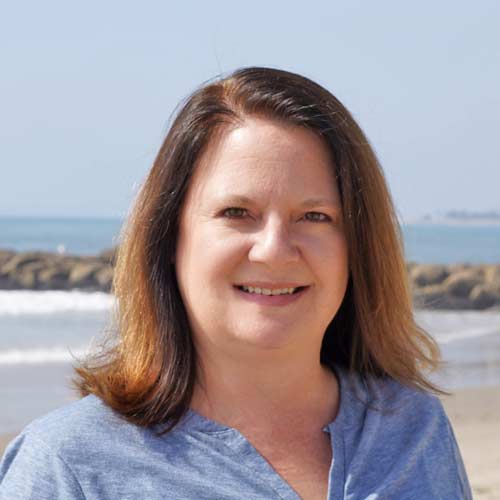 Laura is a travel fanatic who loves seeing and doing new things. She lives in Ventura, CA, and spends a lot of time exploring California's cities, beaches, and national parks.