Embarking on a road trip from San Francisco to Yosemite is an exciting way to explore the beautiful state of California. The journey takes you through some of the most scenic routes and offers plenty of opportunities to explore charming towns, historic landmarks, and natural wonders.
From San Francisco, you can rent a car and hit the road to explore the Bay Area and beyond. Along the way, you'll discover hidden gems and iconic landmarks that make this journey a once-in-a-lifetime experience.
Some of the highlights of this trip include San Francisco itself, the charming college town of Berkeley, the historic town of Groveland, and the ultimate destination, stunning Yosemite National Park.
How Long is a Road Trip from SF to Yosemite?
The road trip from San Francisco to Yosemite National Park takes approximately 3 to 4 hours, depending on the specific route, traffic conditions, and the stops you make along the way.
The distance between San Francisco and Yosemite Valley, the main area of the park, is approximately 170 miles (275 kilometers). Since we're giving you stops along the route, it's assumed that you won't be driving straight through. You'll be making stops. So I would recommend giving yourself two full days to complete the trip, so you can enjoy the stops.
Keep in mind that road conditions and weather can also affect travel times, especially during the winter months when some mountain passes may be closed or require chains.
Where to Rent a Car
When considering renting a car for your trip, you have two main options: San Francisco International Airport (SFO) or Oakland International Airport (OAK). Here are some factors to consider when deciding between the two:
San Francisco International Airport (SFO):
Convenience: If you are flying into SFO, renting a car from the airport can be convenient as you won't have to travel far to pick up your vehicle.
Larger Selection: SFO is one of the busiest airports in the United States, so you'll likely have a wider range of car rental companies and vehicle options to choose from.
Potentially Higher Rates: Due to its high demand, car rental rates at SFO may be slightly higher compared to other locations.
Oakland International Airport (OAK):
Potentially Lower Rates: Car rental rates at OAK may be more competitive compared to SFO, as it is generally a smaller and less busy airport.
Less Crowded: OAK is usually less crowded than SFO, which may translate to shorter lines and quicker service at the car rental counters.
Access to Both San Francisco and East Bay: If your travel plans involve exploring both San Francisco and the East Bay (including Berkeley, Oakland, etc.), renting a car from OAK could provide more convenience for your itinerary.
Ultimately, the decision depends on your specific needs and preferences. Consider factors such as airport location, rental rates, vehicle selection, and your planned itinerary. Compare prices and availability from both airports, and choose the option that best suits your travel plans and budget.
Best Stops on a San Francisco to Yosemite Road Trip
The journey from the Bay Area to Yosemite National Park is filled with scenic beauty, outdoor activities, and historic towns to stop at. While many people just drive on through, without stopping, I think it's a huge shame not to take your time and enjoy this road trip.
Here are some of the best stops to make along the way.
San Francisco
The first "stop" on your SF to Yosemite road trip is the city itself. If you've already explored San Francisco and just want to hit the road, that's fair, skip this part of the itinerary. You might even start your journey in Oakland if you can get an equally good flight into the Oakland airport. It'll save you having to drive through the city.
If you haven't spent much time in San Francisco, I'd recommend spending the remainder of your first day checking out all the great things to do.
One of the most vibrant and picturesque cities in the United States, San Francisco is known for its delicious seafood, world-famous attractions and glorious views. San Francisco offers a significant number of cultural attractions and world famous landmarks, all in the surroundings of impressive natural beauty. You will want to try a few of these San Francisco bakeries while you are there.
Golden Gate Bridge (visitor center with exhibits and guided tours)
Golden Gate Park is much more than just a park. It has lakes and hiking forests, even some bison live there. It's a great place to spend a few hours and enjoy the scenery.
Fisherman's Wharf is one of the main attractions for visitors, though it is a little overly touristy in my opinion, you'll still go there to see the sea lions and eat some seafood.
Take a boat tour out to Alcatraz – America's most famous (now-closed) prison in an island.
Check out some of the city's neighborhoods, like North Beach, Union Square, Mission, and Chinatown.
» Try this tour: San Francisco Love Tour
Our Recommended Hotel
⭐️⭐️⭐️⭐️⭐️
InterContinental San Francisco
✔️ Indoor pool
✔️ Pet friendly
Berkeley
Known for its rich history, intellectual atmosphere, and diverse culture, Berkeley offers a unique blend of academic prowess, artistic expression, and natural beauty. Home to the renowned University of California, Berkeley, this city is brimming with energy, creativity, and an open-minded spirit.
Exploring Berkeley means immersing yourself in a dynamic blend of stimulating intellectual discussions, engaging cultural events, and outdoor adventures. From the beautiful UC Berkeley campus to the eclectic Telegraph Avenue, there's something for everyone to enjoy.
There are plenty of fun things to do in Berkeley, even if you only have a few hours. Here are some suggestions:
Take a walk around the beautiful University of California, Berkeley campus. You can visit the iconic Sather Tower (also known as the Campanile), and check out the various museums and galleries.
Head to the Berkeley Marina, located on the eastern shore of the San Francisco Bay. Enjoy a stroll along the waterfront, rent a kayak or paddleboard, or have a picnic in the park.
Tilden Regional Park is located in the hills above Berkeley. You can hike the scenic trails, visit the Little Farm to see the animals, or take a ride on the antique carousel.
If you're interested in art and film, the Berkeley Art Museum and Pacific Film Archive (BAMPFA) is worth a visit. It showcases a variety of contemporary and historical art exhibitions, as well as screenings of classic and independent films.
Take a walk along Telegraph Avenue, a vibrant street that runs through the heart of Berkeley. Explore the unique shops, and grab a bite to eat at one of the many restaurants and cafes.
Located in the hills, the Berkeley Rose Garden offers a beautiful setting with stunning views of the San Francisco Bay. Take a leisurely stroll among the rose bushes and enjoy the tranquil ambiance.
Berkeley has a thriving food scene with a wide range of culinary options. Explore the various restaurants and cafes, from trendy eateries to ethnic cuisines, and savor the flavors of the city.
Livermore
Livermore Valley is known for its picturesque vineyards and excellent wineries. Take a wine tasting tour and explore the region's award-winning wineries, such as Wente Vineyards, Concannon Vineyard, and Steven Kent Winery. Enjoy the scenic views, learn about the winemaking process, and sample a variety of wines.
Livermore hosts various events and festivals throughout the year, including weekly farmer's markets. The Livermore Rodeo, Downtown Street Fest in May, and Taste! The Livermore Valley Wine Experience are just a few examples of the exciting events you can participate in.
Groveland
Groveland, California, located near the western entrance of Yosemite National Park, offers a mix of outdoor adventures, historical charm, and opportunities to connect with nature. Whether you're exploring the park, enjoying water activities, or immersing yourself in the town's history, there's plenty to see and do in Groveland.
As the gateway to Yosemite, Groveland provides easy access to the park. It's surrounded by stunning landscapes and forests, making it an ideal destination for outdoor enthusiasts. You can enjoy hiking and backpacking along the numerous trails in the area, such as the Tuolumne Grove Trail, where you can see giant sequoias, or the Merced River Trail for scenic river views.
Pine Mountain Lake is a reservoir that offers various recreational activities. Enjoy swimming, boating, fishing, or kayaking on the lake. The lake also has picnic areas and sandy beaches where you can relax and soak up the sun.
Explore the historic downtown area of Groveland, which has maintained its Old West charm. Visit the Groveland Yosemite Gateway Museum to learn about the region's history, browse unique shops, and dine at local restaurants.
The historic Groveland Hotel and the adjacent Iron Door Saloon are landmarks worth visiting. The hotel offers a glimpse into the area's past, and the saloon claims to be the oldest continuously operating saloon in California.
Gold Rush Towns and History
The San Francisco to Yosemite route passes through some of California's most historic gold rush towns. This is a great opportunity to learn about that part of California history, and see of the historic spots that defined the era.
There are several historic gold rush towns near Yosemite National Park that are worth exploring. Here are a few notable ones:
Jamestown: Located in the Sierra Nevada foothills, Jamestown is a charming gold rush town with a rich history. Visit Railtown 1897 State Historic Park, where you can take a ride on an authentic steam train and explore the preserved historic railway facilities.
Columbia: Known as Columbia State Historic Park, this living gold rush town offers a glimpse into the 19th-century California Gold Rush era. Stroll along the main street lined with restored buildings, visit the gold panning area, and experience the atmosphere of a bygone era.
Sonora: Just a short distance from Yosemite, Sonora is a vibrant town with a fascinating history. Explore the historic downtown area with its colorful buildings, antique shops, and local eateries. Don't miss the Tuolumne County Museum, which exhibits artifacts and documents related to the area's gold rush past.
Mariposa: Located near the western entrance of Yosemite, Mariposa is the largest town in the area and offers a glimpse into its gold mining history. Visit the Mariposa Museum and History Center to learn about the region's past, including its Native American heritage and the gold rush era.
Yosemite National Park
Of course, the main attraction on a San Francisco to Yosemite road trip is Yosemite National Park. The park is home to stunning natural wonders like El Capitan, Yosemite Valley, and Tioga Pass. We have a great 2-day itinerary for Yosemite that will make sure you see all the top sights.
One of the top activities is hiking. Two of our favorites are Tuolumne Grove to see giant sequoias and the views from Glacier Point. Don't miss the iconic Tunnel View, which offers a breathtaking vista of the park's granite cliffs.
Before you go, be sure to read our guides on the best time to visit Yosemite and where to stay while you're there. It gets very busy, so you'll want to plan ahead.
Transportation and Logistics
Getting to Yosemite National Park from San Francisco is easy with several transportation options. You can fly into either San Francisco or Oakland International Airport, rent a car and drive from there. Oakland is a bit closer and will save you some time, but you'd have to backtrack to see San Francisco.
You can take a Greyhound bus from San Francisco, but it will take just over 9 hours to reach the park. You can also work out a series of transfers on regional buses that will get you there for pretty cheap, but of course you're not going to be able to stop at anywhere along the route. If that's what you want to do, read about the options here.
Once you reach the park, the YARTS shuttle is a convenient option for getting around the park. Check out all the options here.
Tips and Recommendations
The best time to visit Yosemite is from May to September. Winter can be beautiful but also treacherous. Pack for all weather conditions, including layers and sturdy shoes for hiking. Don't forget to bring a camera to capture all the stunning views along the way.
If you're driving an electric car, be sure to map out the options for chargers along the route before you go, so you can plan for stops. You'll often find a charging station near a restaurant or activity in one of the towns we mentioned above, so that's a convenient way to save time.
Plan Your Route: Decide on the route you want to take. The most common routes are via Highway 120 (through Manteca) or Highway 140 (through Merced). Consider the distance, road conditions, and any scenic detours you may want to make along the way.
Check Road Conditions: Before your trip, check the current road conditions and any potential closures or construction updates. The California Department of Transportation (Caltrans) website or their app can provide real-time information to help you plan your route accordingly.
Allow for Ample Driving Time: The journey from San Francisco to Yosemite takes approximately 3 to 4 hours, but traffic and other factors can affect travel time. Leave early in the morning to avoid rush hour traffic and give yourself enough time to reach your destination.
Pack Essentials: Make sure to pack essentials for your road trip, including a map or GPS device, a roadside emergency kit, snacks, water, and a fully charged cell phone. It's also a good idea to have a physical copy of the Yosemite National Park map and guide.
Make Accommodation Reservations: Yosemite is a popular destination, especially during peak seasons. To ensure you have a place to stay, make your accommodation reservations in advance, whether you plan to stay within the park or in the surrounding areas.
Check Weather Conditions: Keep an eye on the weather forecast for both San Francisco and Yosemite. Pack appropriate clothing and gear for varying weather conditions, especially if you plan to visit during the winter when snowfall is possible.
Follow Park Guidelines: Once you arrive at Yosemite, familiarize yourself with the park guidelines and regulations. Respect wildlife, practice Leave No Trace principles, and follow safety guidelines for hiking, camping, and other activities.
Plan Your Activities: Decide on the activities you want to do in Yosemite ahead of time. Whether it's hiking to specific viewpoints, visiting waterfalls, or participating in ranger-led programs, planning your activities will help you make the most of your time in the park.
Be Prepared for Limited Connectivity: Some areas within Yosemite may have limited or no cell phone reception or Wi-Fi access. Plan accordingly and have offline maps or physical directions available to navigate the park.
» Looking for more inspiration along the route? Check out all our guides to San Francisco, Los Angeles, Santa Barbara and San Diego. Find the best beaches in Monterey, waterfalls in Southern California, and national parks.
Travel Planning Guide
🚙💨 Where should I book my rental car?
Renting a car is one of the best ways to get around in California, no matter where you're visiting. Public transportation can only get your so far, even in big cities. I always rent with Discover Cars, which checks the prices of all major rental car companies, so you get the best rates.
🛌 What's the best way to book my accommodations?
For hotels and vacation rentals, Booking.com or Expedia.com are the best sites, but you can also book through TripAdvisor. If you're considering renting a house instead, don't forget to also check VRBO, which is often cheaper than Airbnb.
🧳 What do I pack for California?
Head to the our California Packing List or Disneyland Packing List to get all the info on packing.
✈️ What's the best site to buy flights to California?
For finding cheap California flights from around the world, I recommend Skyscanner. I've also had pretty good luck with Kayak.com.
Like this article? Save it on Pinterest so you can find it again.
FOLLOW US on Pinterest and Facebook for more California travel inspiration and tips!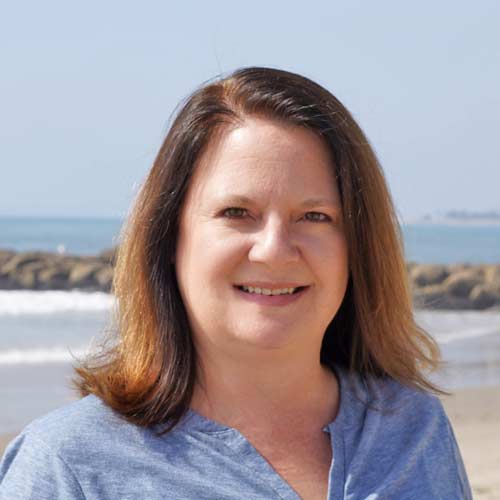 Laura is a travel fanatic who loves seeing and doing new things. She lives in Ventura, CA, and spends a lot of time exploring California's cities, beaches, and national parks.