Downtown Santa Barbara is a great place to explore, with its many shops, restaurants, and historic buildings. It's one of our favorite places to take a day trip to in Southern California because of all the wonderful things to do in a day.
If you have just one day to spend in Santa Barbara, you're in for a busy day of sights, cafes, shopping, and great wine. Of course, one of the main reasons people visit Santa Barbara is for its beautiful beaches, so you should also plan for plenty of beach activities like swimming, sunbathing, surfing, and more.
Our Santa Barbara day trip itinerary is packed full of all the best things we always do when we go to the city. You can adjust it, add to it, or just use it as a guide.
» Looking for more info to build your Santa Barbara itinerary? Check out our full Santa Barbara travel guide, the best times to visit, and see the top 25 Things to Do in Santa Barbara. Get active with these SB hikes.
When to Go to Santa Barbara
In my opinion, there's never a bad time to go to Santa Barbara. The temperature is fairly mild year-round, the beaches are open, the wineries are open, and there are plenty of things to do, no matter the season. However, the best time to visit Santa Barbara depends on what you're looking for.
If you want to enjoy the beaches, then the summer is the best time, when the weather is warm and there's plenty of sunshine.
If you're looking for a quieter experience, then winter may be a better choice, when fewer people are in town, prices are slightly lower, and you don't have to compete so much for restaurant reservations. There's a chance of seeing some rain, though.
How to Get to Santa Barbara
The most convenient way to reach Santa Barbara is by car, but you don't need to have a car to get around the downtown area, which is where our itinerary is centered. By car, Santa Barbara is just and hour and a half from Los Angeles along Rt 101. It's 3 hours 20 minutes from San Diego and about 6 hours from San Francisco.
If you don't have a car, you can reach Santa Barbara's downtown via train on the Amtrak. The Pacific Surfliner goes from San Diego up through Los Angeles, Ventura, Santa Barbara, and San Luis Obispo, so it's a very convenient way to get around.
The train station is right outside the Funk Zone. The only thing you'll have a difficult time getting to is the Mission, which is about 2.4 miles from the train station, but you can also get a ride share (Uber or other) there and back.
Santa Barbara One-Day Itinerary
Downtown Santa Barbara is a great place to explore, with its many shops, restaurants, and historic buildings. But your first stop should be the Santa Barbara Mission, an 18th-century Spanish mission that's now a museum.
Here's our itinerary of some of the best things to do in Downtown Santa Barbara in just one day.
Santa Barbara Mission
The Santa Barbara Mission is one of the most popular tourist destinations in the city, and for good reason. The mission was built in 1786, making it one of the oldest Spanish missions in California.
It's now a museum, and you can explore its many exhibits and learn about the history of the mission and Santa Barbara. beautiful Mission Church, Historic Cemetery and Mausoleum, a nine-room museum of historical artwork and artifacts, and multiple lush gardens.
Info: Self-guided tours between 10am-4pm daily, no reservations required; admission $15 – adult, $10 -child
» Tour to try: Private Santa Barbara History and Architecture Walking Tour
Paseo Nuevo
Stroll through Paseo Nuevo, a beautiful outdoor shopping mall that's located right in the center of the walking zone on State Street.
This vibrant shopping center is one of the most popular destinations in Santa Barbara, with dozens of stores and restaurants to choose from. Some of the most popular stores at Paseo Nuevo include Apple, H&M, and Zara, so be sure to check it out if you're looking for some new clothes.
The shopping center is also home to a number of delicious restaurants, including Mexican, Italian, and Thai options. However, I would recommend holding off on eating until you get to the next stop.
Santa Barbara Public Market
The Santa Barbara Public Market is another great place to visit while in the city and my favorite place to eat lunch. This great local market has dozens of stalls selling everything from fresh produce to full lunches, and pastries or ice cream for dessert. You'll also find a number of restaurants and food trucks here.
For lunch, I love the Thai- and Taiwanese-inspired noodle bowls and dumplings at Empty Bowl Noodle, or Mexican food from Corazon Cocina. For dessert, grab some ice cream from Rori's Artisanal Creamery (some say it's better than McConnell's).
» If you have time think about booking a food tour. It's a great way to get to know a city. Check out some great options here.
Hit the Beach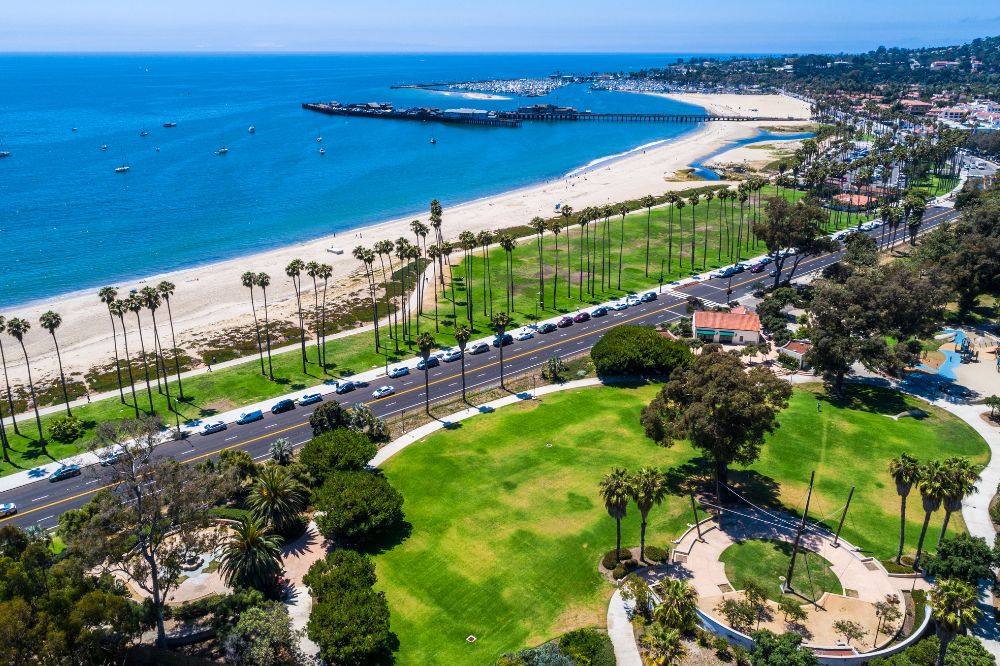 The beach in Santa Barbara is a great place to relax and enjoy the sun and sand. The beach is well-maintained and has plenty of parking, making it easy to get to. West Beach and East Beach are both great options, and you can find plenty of beach activities like swimming, sunbathing, surfing, and more.
My strategy to enjoy the beach for a few hours in Santa Barbara is to bring my own sun chairs and umbrella. You can park right next to the beach and set up your spot for a few hours. If you don't have this gear with you, you can rent them from Wheel Fun Rentals at the Hilton Beachfront Resort.
» Try this: Kayak or Stand Up Paddle Board Rental
Rent Beach Cruisers or Take a Bike Tour
Instead of just hanging out on the beach, why not take a bike ride? You can rent all types of bikes at Wheel Fun Rentals. Check out their full selection of bikes and specialty cycles.
We also love going on a Santa Barbara bike tour. The typical tour can be done in the morning or afternoon, lasts about 2.5 hours, and takes you around to all the top sights and along the beach on a comfortable beach cruisers. They limit numbers to just 5, so it's easy and fun.
Go on a Kayak Tour
You might want to try a kayak tour in Santa Barbara. It's a great way to explore the marine life and landmarks of Santa Barbara Harbor and to get out on the ocean for a few hours. This 1.5- to 2.5-hour tour is led by an experienced kayak guide who points out natural features and customizes the speed of the ride according to your skill level.
Wine Tasting in the Funk Zone
The Funk Zone is like a mini Disneyland for adults in Santa Barbara. There are so many great wineries to visit, like Riverbench (one of my personal favorites), Oreana, Paradise Springs Winery, Margerum Wine Company, and so many others.
The Funk Zone isn't just about wine, though we can usually spend hours at tasting rooms trying new wines. There are also breweries, boutique stores and art galleries to pop into. Not to mention plenty of places to eat.
We always stop at Rincon Brewery and Brass Bear Brewing while we're there. Brass Bear has great food, including the most amazing tri tip skewers. There's also Culter's Artisan Spirits (137 Anacapa St Ste D) Santa Barbara's first post-Prohibition distillery.
Another great things to do in Funk Zone is stop in to some of the art galleries. Green House Studios (136 E Yanonali St) is a great place to start. There are a handful of artists sharing space there, and you can stop by Dart Coffee Co. nearby where one of the artists is a co-owner. They occasionally open up the garden space, that used to be Funk Zone Farm, to customers of Dart Coffee Co. and Tyger Tyger, so be sure to ask when you're there.
» Try taking a wine tour. Check out some great options here.
Dinner
To end your perfect day in Santa Barbara, make a reservation for dinner at The Lark (131 Anacapa St.). It's right next to the Funk Zone, so there's not too much walking required. I am always impressed with the meal, as well as the atmosphere. It's just something special.
The menu is locally sourced and responsibly grown, using seasonal ingredients based on what's available on the Central Coast. It's served family style, which just means you can try more things.
If you can't get in to The Lark, other options that I really like are Black Sheep (26 East Ortega Street). It's just a block off State Street and has a really solid local menu, plus a veggie and non-veggie tasting menu. And Shalhoob's Funk Zone Patio, which is a great place to go for a casual meal on a nice day.
Santa Barbara also has some great Mexican food. We really like the burritos at Rudy's Restaurant (138 E Canon Perdido St).
After dinner, if you haven't had enough sweets for the day, head over to McConnell's Ice Cream to join the line waiting for a scoop of their locally made ice cream that everyone loves so much.
Have Longer in Santa Barbara?
If you have a few more days to spend in Santa Barbara, here are a few more activities we recommend doing while you're there. With the beach, and the endless wine tasting nearby, you can easily fill 5-7 days in and around Santa Barbara. You might need one of these 8 luxury hotels in Santa Barbara.
Hiking in Santa Barbara
Santa Barbara is a prime location for hikers. This county is home to some of the most picturesque (albeit physically demanding) Santa Barbara hiking trails. Here are some of our best hiking recommendations in the Santa Barbara area, we've got them here. We've chosen our personal top 10 hiking trails in Santa Barbara to help you find your next adventure!
Wine Tasting Near Santa Barbara
Santa Barbara County is one of my favorite wine regions in the United States and in California. It's fantastic for a wine tasting trip with enough AVAs and wineries spread throughout the region to keep you busy for a week or longer. These Santa Barbara wineries are our favorites.
Explore Around Santa Barbara
Just outside of the city is the beautiful Santa Ynez Mountains, where there are endless opportunities to hike and bike with amazing scenic vistas to boot. There are opportunities for rock climbing, surfing or paddleboarding, golfing, kayaking, fishing… pretty much you name it and you can do it nearby.
FREQUENTLY ASKED QUESTIONS ABOUT SANTA BARBARA
Is parking a problem in Santa Barbara?
Parking isn't terrible in downtown Santa Barbara, except on busy weekends. You can find street parking, if you look for it. There are also a ton of beach parking lots. On the street, you'll pay from to 9am to 6pm every day, but it's free after that.
Some spots are metered with limited time, some are free with limited time during the day. Most hotels will charge anywhere from $25 to $45 a night for parking.
What are some good wineries in Santa Barbara?
There are a ton of great winery tasting rooms in downtown Santa Barbara in the Funk Zone and Paseo Nuevo shopping center. Our favorites are Riverbench and Pali Wine Co in the Funk Zone; Happy Canyon and Jamie Slone in Paseo Nuevo.
Outside of Santa Barbara, we like to visit Solvang, Los Olivos, and the Foxen Canyon Wine trail for wine tasting, especially at E11even, Bien Nacito Winery, and SamSara in Los Olivos, and Zaca Mesa and Riverbench up in Foxen Canyon.
Is Santa Barbara worth the money?
Yes, Santa Barbara is a very expensive city, especially if you want to stay in 4- to 5-star hotels or right on the beach. Whether that expense is worth it to you is very subjective. I feel that Santa Barbara is definitely worth a visit, though you don't necessarily need to stay in the expensive downtown hotels.
The town has a lovely setting along the California Coast with beautiful surrounding mountains. The architecture is California Spanish Revival and there is year-round foliage of natural plants, flowers, and cactus to enjoy. If you like wine tasting, some of the best central coast wineries are located nearby.
Travel Planning Guide
🚙💨 Where should I book my rental car?
Renting a car is one of the best ways to get around in California, no matter where you're visiting. Public transportation can only get your so far, even in big cities. I always rent with Discover Cars, which checks the prices of all major rental car companies, so you get the best rates.
🛌 What's the best way to book my accommodations?
For hotels and vacation rentals, Booking.com or Expedia.com are the best sites, but you can also book through TripAdvisor. If you're considering renting a house instead, don't forget to also check VRBO, which is often cheaper than Airbnb.
🧳 What do I pack for California?
Head to the our California Packing List or Disneyland Packing List to get all the info on packing.
✈️ What's the best site to buy flights to California?
For finding cheap California flights from around the world, I recommend Skyscanner. I've also had pretty good luck with Kayak.com.
Conclusion
Most people who have been to Santa Barbara will tell you how wonderful it is. It's absolutely perfect for a day trip or a weekend away, because it's a charming small city that's easy to get around, with a lot of things to enjoy doing. We hope you'll love your trip as much as we always do.
Like this article? Save it on Pinterest so you can find it again.
FOLLOW US on Pinterest and Facebook for more California travel inspiration and tips!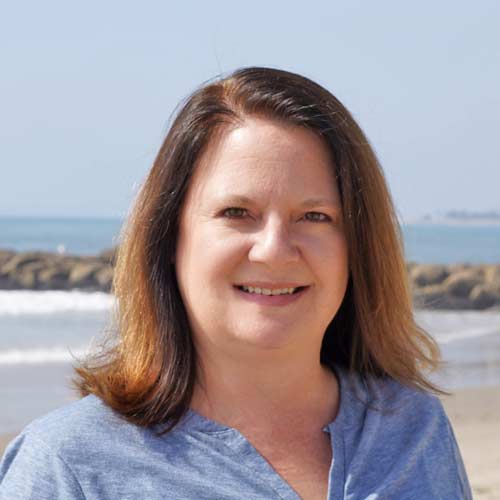 Laura is a travel fanatic who loves seeing and doing new things. She lives in Ventura, CA, and spends a lot of time exploring California's cities, beaches, and national parks.