While Southern California may be known for its expansive coastline of beautiful beaches and
weather that resembles an endless summer to most of the world, there is a secret hidden in the
often desert-like landscape. A handful of scattered waterfalls remain relatively unknow, even to many lifelong locals.
These hidden gems are often only found through tips from a friendly source and a hike to their
location, making for an enriching adventure.
Whether you are visiting on vacation, out for a hike while camping, or live right next door, next time you find yourself looking for an active day and some unique views, refer to this guide to get you there! Here are 9 beautiful waterfalls in Southern California.
» Find the perfect hiking clothes. I love these weather resistant, breathable shorts by Arcteryx (for women | for men) paired with a light performance shirt (for women | for men).
Waterfalls to See in Southern California
1. Tenaja Falls
Tenaja Falls is one of Southern California's more well-known waterfall hikes. It is located slightly
inland near Murrieta, CA, in the San Mateo Canyon Wilderness. In the Spring, the hills
surrounding these falls are full of blooming wildflowers that are impossible not to enjoy on the
hike in.
The waterfall is about 150 feet between its several tiers of rock and pools at each level. Climb to
the top, and you may enjoy a picnic with a view. The flow of this waterfall can vary greatly
depending on the rainfall in the area.
Being a moderate difficulty level and only a 1.5-mile round trip, this hike is great for an active
outing with kids. Depending on the time of year, the area can be warm, so be sure to pack hats,
sunscreen, and water. The hike also offers a shady oak grove that is a perfect spot to rest.
2. Escondido Falls
As you take a scenic drive up the Malibu Coast, a simple pull-of of PCH can lead you to this
beautiful destination that feels worlds away. The trail to Escondido Falls begins on a paved path
and turns into a scenic hike through Escondido Canyon Park.
The course is only 3.8 miles round trip with an easy to moderate rating, so it is a nice detour to add to a day of surfing and shopping in Malibu. The only thing to watch out for is a bit of slippery mud in the rainy season.
Escondido Falls is made up of upper and lower falls, so once you reach the base, there is
always the option to make the climb up. A small shelf also sits hiding behind the lower falls. If
you're willing to find a path up to it, you are rewarded with a refreshing mist and shady seat to
enjoy the view. However, climb at your own risk, as the water and moss can make for difficult
terrain.
» If you have time try this Malibu Waterfall Electric MTB & Hiking Adventure
3. Paradise Falls
Paradise Falls is a popular 2.8-mile loop outside of Thousand Oaks, California. It is surrounded
by various other hiking trails, making the area perfect for a day outside. Some surrounding sites
include Indian Creek, Indian Cave, and Lizard Rock.
Runners, hikers, and even those on a casual stroll are fond of the area, so the trails can
become somewhat busy depending on the day of the week and the weather. Although hard to
resist, swimming and climbing are prohibited at Paradise Falls.
If you decide to venture into Thousand Oaks after your hike, The Gardens of The World is a
magnificent botanical garden in the city's downtown area.
4. Eaton Canyon Waterfall
Eaton Canyon Falls is a well-loved waterfall and swim hole just outside Pasadena. The hike to
this scenic spot is 3.5 miles round trip with a moderate rating, remaining relatively easy until
boulders appear closer to the falls. Scattered boulders lay just outside the waterfall's pool,
making perfect seats for visitors.
Unlike many of the waterfalls in Southern California, Eaton Canyon Falls are flowing
year-round. This makes up much of their appeal to locals who often see years without much
rain. Planning around peak hours and days is wise as the trail can be heavily trafficked.
If you find yourself showing up at the wrong time of day, bide your time vintage shopping or
checking out the many places to grab a bite in Pasadena.
5. Ortega Falls
Ortega Falls is a seasonal waterfall off Highway 74 outside San Juan Capistrano. These falls are right off the road, so naturally, they draw quite a bit of attention from those driving by and
stopping to take a look. While the falls are easy to view, it is harder to get up close and
personal.
While a hike up to the waterfall is only a few hundred meters, it is a challenging hike through
technical terrain. This is part of what makes the site so popular among rock climbers in the
off-season.
At the base of the waterfall is a large pool that appears ideal for swimming but, unfortunately, is
often too dirty and vandalized due to being off the side of the road. Nonetheless, when fed with
enough rain, this waterfall can become truly impressive and remains a beautiful destination.
6. Black Star Canyon Falls
Black Star Canyon is a popular day-hiking and mountain biking destination for residents of
Orange County. It is a watershed of the Santa Ana River in the Santa Ana Mountains named
after a mining company that used the area many years ago.
Black Star Canyon falls are relatively hard to find as the trails are often overgrown and tricky to navigate, so a hike to the falls can be a bit like a treasure hunt. The path is 6.5 miles round trip with a moderate to hard rating, so this hike requires a full day and the proper supplies like plenty of water and lunch.
Luckily, this location is one of the more lush areas of Southern California, providing large amounts of shade to rest in and making the hike comfortable. The Falls and surrounding trials are also of the few that welcome dog visitors!
7. Bonita Falls
Bonita Falls is awe-inspiring, dropping 495 feet down a sheer cliff face. There is no set trail to
find the waterfall, but green arrows are spray painted throughout the Lytle Creek area of the San
Bernardino National Forest to point you in the right direction. Once you are close, the sound of
voices and rushing water will confirm you have reached your destination.
The 2-mile round trip hike is relatively short, but there is little shade and a bit of boiler-hopping
to be aware of before making the trek. Because of the sun exposure, many people choose this
hike for cloudy days or the rainy season.
8. Dana Point Harbor
While you won't find this on any travel website or guided tours, if you stop by after a decent storm, the entrance of the Dana Point Harbor is the sight of a truly magical surprise. A large and lush waterfall gathers crowds of locals, as this sight only takes place once every couple of years. It falls off of the historic bluffs of Dana Point and figures in a large pool.
Being right inside the harbor, you can make a day trip out of your visit. Get lunch at the many restaurants in Dana Point, or hop on a whale watching tour. While inconsistent, this waterfall is truly worth the trip after a good rain.
9. Big Falls
Big Falls, near Forest Falls, California, is one of the best falls in Southern California, with a nice hike leading up to it. The reason we like this waterfall so much is the sheer size of it. The main falls has a 150 to 200 feet drop, and there are a few smaller ones below it that make it look like it's extremely tall.
The falls are at the end of a short 1 to 2-mile hike that takes you from the parking lot, across a small river, and up to the viewpoint. You can no longer go up higher to the top of the falls, due to safety concerns.
The hike is fairly easy, taking about 30 minutes, with a mostly rocky path. Be sure to wear sturdy hiking shoes. This is a USDA/NFS fee use area, so bring an Adventure pass. The unfortunately things are that there is some graffiti and trash along the route and it can be pretty packed during peak times.
Conclusion
As you can see Southern California has a ton of amazing waterfalls and these aren't even all of them. It's definitely worth the trip and the trek out to see these beautiful waterfalls.
Like it? Pin it!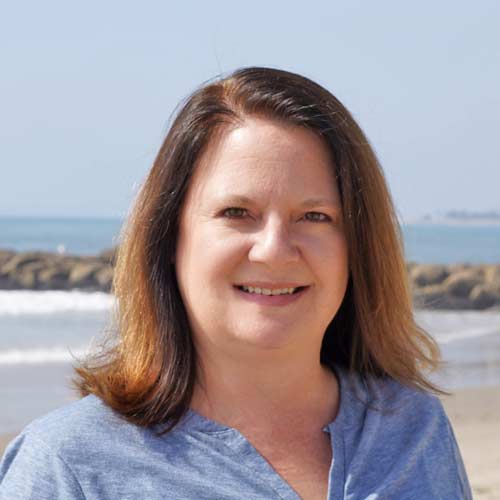 Laura is a travel fanatic who loves seeing and doing new things. She lives in Ventura, CA, and spends a lot of time exploring California's cities, beaches, and national parks.