An area of protected natural beauty since 1890, Yosemite National park is situated in the dramatic mountain area of the Sierra Nevada mountains in California, and it's one of the most popular U.S. National Parks.
The variety of things to do at Yosemite National Park is huge, from taking a drive up to Glacier Point to see the awe-inspiring panoramic views of Yosemite National Park, to serious hiking, biking and mountain climbing. This Yosemite 2-day Itinerary will help you plan what to do with a few days in the park.
Yosemite National Park is one of the most popular parks of America and visited by over 3.5 million tourists each year who experience the beautiful landscape, waterfalls and steep cliffs of this place. Although the park spans over a huge area of 1189 square miles, the most popular section among tourists is the 7 square miles of Yosemite Valley.
Where is Yosemite National Park?
Yosemite National Park is located in California, in the Sierra Nevada mountain range. The park covers 747,956 acres and was designated a UNESCO World Heritage Site in 1984. Yosemite is famed for its dramatic granite cliffs, waterfalls, and sequoia forests, and is one of the most popular national parks in the United States.
The park is located about 200 miles east of San Francisco (SFO), which is about a 3 to 4 hour drive. It is easiest to reach it by car, but you can also go by bus or take a guided tour from San Francisco.
Once you arrive at the park, it takes about an hour to drive from the park entrance to Yosemite Valley and the Village.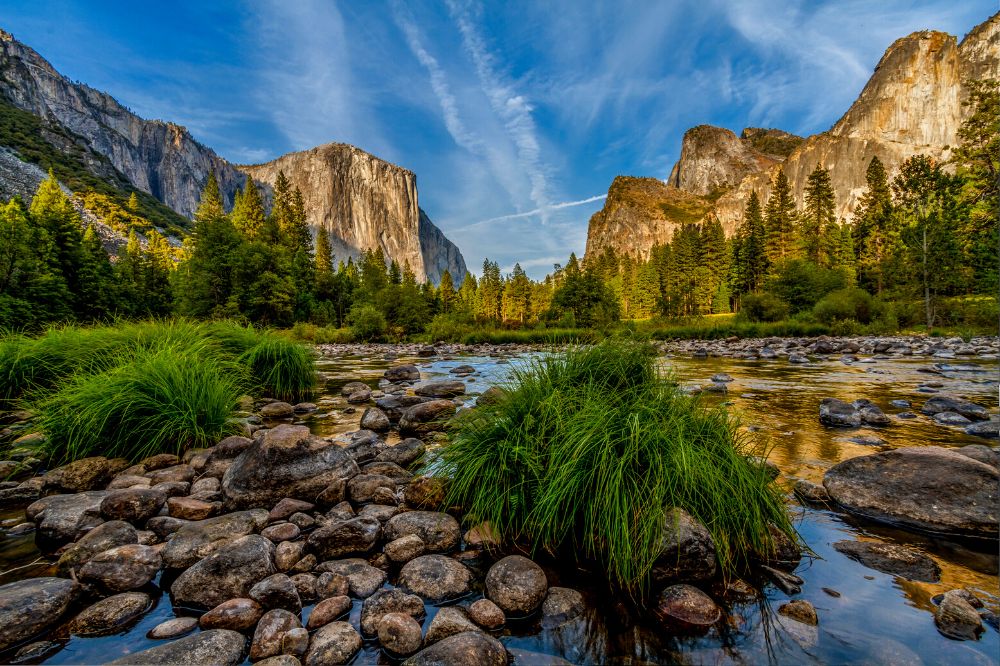 When to Go
Yosemite Valley receives most of its visitors in early spring to early summer, which is when the waterfalls are in full intensity and the weather is at its prime. From June to September the park can get very crowded, especially on weekends and while school is out for summer.
If you're looking for a more peaceful visit, try visiting in the fall when the leaves are changing color. In the winter, while some roads will be closed due to weather conditions, there is still quite a bit of the park open and it can be a beautiful time to take photos with the snow cover.
How Much Does it Cost?
The park entrance fee is $35 per car and it's valid for 7 days. You have the option to drive around yourself around the park, but to maintain the natural beauty of the park and to keep it a pollution-free zone, there is a free shuttle buses to most of the popular spots.
High amounts of traffic is common especially at the entrance, but once you get inside, it will start to spread out and not cause as many issue. Still, I highly suggest taking the shuttle bus to the sights anyways.
» Note: Reservations are required to enter or drive through the park from May 20th – September 30th between the hours of 6 am and 4 pm. Check the parks website for more information.
Where to Stay in Yosemite
Yosemite National Park provides a variety of lodging and camping. Official discounted Yosemite National Park lodging ranges from basic tent cabins with nearby toilet facilities to the more luxurious lodging in The Ahwahnee Hotel is a distinctive hotel that is the pride of Yosemite National Park.
You can examine the variety of Yosemite National Park lodging online and make reservations. It's always best to book way ahead of your visit to get the lodging you want.
Yosemite's Key Attractions
This 2-day itinerary of Yosemite National Park includes as many of the key attractions as possible in a short time. The attractions that are open during your visit will vary, so be sure to check the NPS website before you go to make sure they are open.
Yosemite Valley
Glacier Point
Tuolumne Meadows
Mariposa Grove
Half Dome
Bridalveil Falls
El Capitan
Check out the web story for the 9 Top Attractions in Yosemite National Park.
Yosemite 2-Day Itinerary
Since most visitors will arrive in the park mid-morning on their first day, you'll need to jump right in to get the most of your time in the park. Below are two days worth of activities that you can choose from to fill your time, depending on what you feel like doing.
Day One
Yosemite Valley Visitor Center
Your first stop should be to the Valley Visitor Center so you can prepare for your visit in the park and get your questions answered. There are rangers to answer questions, some exhibits about the park, brochures and lots of information to get you started.
Village of the Ahwahnee
While the famous naturalist John Muir is often credited for his lifelong dedication towards defending the natural beauty of Yosemite and eventually helping it be turned into a national park, long before Muir the Ahwahnee indigenous people lived and cared for the land.
For folks interested in the history of the region and how its original inhabitants carved out a way of life that revered and protected the natural wonders of the mountainous landscape, a trip to the indigenous village of the Ahwahnee is well worth your time.
Glacier Point Hike or Drive
One of the best panoramic views of Yosemite National Park is at Glacier Point which you can either hike up to or drive up to. Since this is one of the top viewpoints, you'll be joined by plenty of other tourists doing the same thing you are, but don't let that stop you from enjoying this spectacular view of Half Dome and Yosemite Valley.
Driving
Typically, driving up Glacier Point Road to the viewpoint is possible, however the road is closed until approximately May 2023 for road work. This is the only way to get up to Glacier Point, Sentinel Dome, Taft Point, and other Glacier Point Road destinations unless you want to hike it.
Four Mile Trail Hike
Distance: 9.6 mi (15.5 km) round trip
Elevation gain: 3,200 ft (975 m)
Difficulty: Strenuous
Time: 3-4 hours one-way, 6-8 hours round trip
Views of Half Dome
One of the most iconic sights in Yosemite National Park is Half Dome. While it's literally just a huge rock shaped like a dome, it has an incredible presence throughout the park, towering over everything. It's one of the things that visitors are most eager to see and photograph, so don't miss out on the best views!
While you can see Half Dome from all over the park (even outside the park), the best views are from Tunnel View at the park's entrance or from Mirror Lake.
Tunnel View
This iconic view of El Capitan, Bridalveil Falls and Half Dome, made famous by Ansel Adams, can be found just outside the Wawona Tunnel on State Highway 41. You don't need to hike there, it's a viewpoint that is reachable by car. The parking lots and vista are often quite crowded. Arrive early to get the best views.
Mirror Lake
This is also a great spot to view Half Dome because it's a different perspective, from below. The Mirror Lake Trail is accessible year round and is a very popular hike for visitors to the park because it's much easier to accomplish than others.
Distance: 2 miles (3.2 km) round trip to lake and back
Elevation gain: 100 feet
Difficulty: Easy to Moderate
Begin at: Mirror Lake Trailhead (shuttle stop #17) – there is no parking
Day Two
Morning: Hike to Vernal Falls
Vernal Falls is a spectacular 317-foot waterfall and one of the top sights in Yosemite. The hike down and back up is steep and strenuous but the views and the mist on your face are worth it.
I suggest starting this hike as early as you can because of a number of reasons: it can get crowded later in the day and the sun can be quite hot after mid-morning.
There are 3 options you can take for this hike. This information come directly from the NPS.
Vernal Fall Footbridge
Distance: 1.6 mi (2.6 km) round trip
Elevation gain: 400 ft (120 m)
Difficulty: Moderate
Time: 1-1.5 hours
Top of Vernal Fall
Distance: 2.4 mi (3.9 km) round trip (via Mist Trail)
Elevation gain: 1000 ft (300 m)
Difficulty: Strenuous
Time: 3 hours
Top of Nevada Fall
Distance: 5.4 mi (8.7 km) round trip (via Mist Trail)
Elevation gain: 2000 ft (610 m)
Difficulty: Strenuous
Time: 5-6 hours
You can also take the John Muir Trail to the top of Vernal Fall (via the Clark Point cutoff) and the top of Nevada Fall, or combine the Mist Trail and John Muir Trail into a loop.
El Capitan
After hiking the Vernal Falls Trail in the morning, you'll want something less strenuous for the afternoon. Finding the best views of El Capitan is a great way to fill the time.
As most of us won't be able to climb the face of El Capitan, we must settle for views of the iconic granite wall that dominates the valley. There are a few great spots to get views.
Two facts you might not know: El Capitan is 2.5 times as tall as the Empire State Building, or more than 3 times as high as the tip of the Eiffel Tower.
El Cap Meadow
As you head out of the valley, there are a few spots where you can pull off the road near the meadow to view El Capitan from up close. The meadow is under construction, so you may not be able to go into the meadow. Bring your binoculars and try to spot climbers on the rock face.
Tunnel View
This iconic view of El Capitan, Bridalveil Falls and Half Dome, made famous by Ansel Adams, can be found just outside the Wawona Tunnel on State Highway 41. You don't need to hike there, it's a viewpoint that is reachable by car. The parking lots and vista are often quite crowded. Arrive early to get the best views.
Mariposa Grove of Giant Sequoias
If you have time left in your day, the drive to Mariposa Grove of Giant Sequoias is a great way to fill it. The area is filled with hundreds of towering sequoias, some over 200 feet tall. It's an incredible sight to see.
The Grizzly Giant Loop Trail is a great way to see the sequoias and appreciate their height from above. It's a moderate 2-mile hike.
Conclusion
If you're looking for an unforgettable experience in a stunning natural setting, look no further than Yosemite National Park. With its awe-inspiring scenery and plethora of activities to enjoy, you'll be hard-pressed to fit everything into just two days.
However, with this detailed itinerary as your guide, you can at least get a taste of all that Yosemite has to offer. So what are you waiting for? Start planning your trip today.
Like this article? Save it on Pinterest so you can find it again.
FOLLOW US on Pinterest and Facebook for more California travel inspiration and tips!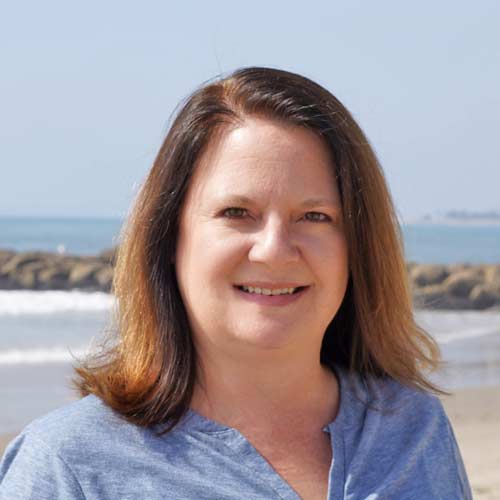 Laura is a travel fanatic who loves seeing and doing new things. She lives in Ventura, CA, and spends a lot of time exploring California's cities, beaches, and national parks.