Known as "America's Finest City," the year-round warm weather, laid-back beach atmosphere, and picturesque ocean views make San Diego a tourist mecca. This San Diego trip planner will help you plan out your trip, with the top things to see and do in this beachside city.
If this is your first time in San Diego, you'll quickly learn that all the options for food, entertainment, accommodations, and everything in between can make your head spin. Regardless of how long you stay, it's nearly impossible to cover everything.
» Check out these 10 Best National Parks Near San Diego.
Are you planning your trip to San Diego?
If you're traveling to San Diego, ensure you have lodging and tours booked ahead of time! Below are some of our top picks to help you plan!
Where to Stay in San Diego:
Best Tours and Experiences in San Diego:
However, if you plan it out right with our San Diego trip planner, you can experience the best of San Diego and avoid thoughts of "I wish we'd done that." If you want to get right to it, see our post on the top things to do in San Diego.
Need a little more planning advice? Start with our San Diego Trip Planner, then be sure to check out these 26 fun things to do in the city, some easy hikes in San Diego, as well as which beaches are great for families. Then head out on a few days trips or see which national parks are nearby.
Tips for Planning a Trip to San Diego
1) Consider the Timing
San Diego is one of the most popular tourist destinations in the United States. During the summer months, the streets, beaches, hotels, bars, restaurants, and all the hot spots are going to be packed to the gills.
If you don't mind the crowds or paying top dollar for travel expenses, by all means, plan your stay between May and September. You will be treated to the quintessential Southern California vibes, warm beaches, all sorts of events and festivals, and much, much more.
San Diego makes a great addition to a California road trip, which is perfect for spring or fall. Also see our Northern California road trip guide to extend your trip.
However, if you prefer smaller crowds and a more "local" experience, there is nothing wrong with traveling to San Diego in the off season. After all, the weather is sunny and beautiful all year long.
Many experts will tell you that the best times to visit San Diego are from March through May or September through October. Travel rates are lower, there are less people, and the weather is great.
In general, wherever you choose to vacation, there are typically two lenses you can choose to see the destination through: the local or the tourist. The time of year is a primary factor differentiating the two.
When you are planning, take your time and choose which one you want to see San Diego through.
2) Bring Warm Clothing
One of the biggest mistakes San Diego tourists make is assuming that the weather is always 75 degrees and sunny. While this is more or less true during the daytime, it's important to remember that San Diego is located on the edge of a desert.
This means the temperature will change drastically once the sun goes down. In general, you should plan for a 20 to 30-degree difference in temperature after sunset.
Regardless of what time of year you visit, be sure to pack a sweatshirt/jacket and pants. If you travel in the offseason, the nights are guaranteed to get chilly. Pack your clothing accordingly.
3) Book a Centrally-Located Hotel
San Diego is huge. This is both a blessing and a curse, depending on how you look at it. There are nearly 3.5 million people in San Diego and the county is spread across 4,526 square miles.
On the bright side, the area is so spread out that there are very few places that are overwhelming in terms of crowds or hustle-and-bustle. The down side is that getting just about anywhere will require a bit of a drive.
When you're planning out your stay in San Diego, whether you're staying in a hotel, Airbnb, resort, or anything else, be sure to find accommodations that are near the middle of what your itinerary includes. Unless, of course, you like spending lots of time in the car.
Our Recommended Hotel
⭐️⭐️⭐️⭐️⭐️
Embassy Suites by Hilton San Diego Bay Downtown
✔️ Great city views
✔️ Downtown
If you want to hit the essential San Diego tourist spots downtown and this is your first time to the area, I always recommend staying downtown. We recommend the Embassy Suites by Hilton San Diego Bay Downtown location. It's walking distance to most things downtown, great views, upscale hotel.
If you want to check out some of the area's best beaches, breweries, hikes, and also head up to La Jolla, booking a hotel in Old Town San Diego is a good way to go. We like staying at the Courtyard by Marriott Old Town. For views and beaches, we recommend the Tower 23 Hotel in Mission Bay.
4 star property
8.6/10 Excellent
BOOK
3-star hotel
8.6/10 Excellent
BOOK
5-star beachfront property
9.4/10 Exceptional
BOOK
4) Research the Food Scene Beforehand
San Diego is very much a "melting pot" of America. You can find all types of cuisines if you look hard enough. However, seafood and tacos are the mainstay on every menu. To try a little of everything think about booking a food tour.
If you love seafood, The Fish Market on North Harbor Drive is a must. This San Diego staple is located next to the USS Midway Museum and overlooks the Bay. There's also The Fishery north of Mission Bay and El Pescador Fish Market in La Jolla. We also recently found Rockin Baja Lobster in Old Town San Deigo.
Some of the best tacos in San Diego can be found at The Taco Stand, which has locations in Downtown, North Park, and La Jolla. You'll find high end tacos at Puesto in Mission Bay (try the Guacamole Nogada), or Michelin-honored Tuetano Taqueria
San Diego is located very close to the border with Mexico, so obviously there are great Mexican food options. One of the best kept secrets is Mariza's Mexican Food for some of the best carne asada in the city. Also try a California Burrito from Nico's, filled with Carne, guacamole, pico de gallo, French fries, sour cream, and cheese.
There's also a thriving Asian food scene in San Diego. Try Dumpling Inn & Shanghai Saloon for Chinese comfort food (try the Xiao Long Bao) or Menya Ultra for Japanese ramen.
Tour you may enjoy: Tequila, Tacos and Tombstones Culinary Tour of San Diego
5) Check Out the Many Breweries
No trip to San Diego would be complete without a brewery trip or two. With one of the best craft beer scenes in the country, it would almost be a crime not to try something new.
There are 219+ breweries and tasting rooms in San Diego. This number is on a steady climb and has no signs of slowing down.
If this is your first time in San Diego, there are a handful of breweries that should be on your absolute list. This includes Ballast Point, Stone Brewing, Green Flash, Coronado Brewing Company, and our favorite Deft Brewing. Now, this is just a starting off point; there are MANY more that could be named on this list.
Regardless of how long your San Diego vacation is; you likely won't be able to try the entire catalogue. However, experiencing the craft beer culture is a must
Tour you may enjoy: San Diego Brewery Tour
Top San Diego Attractions
Tourist attractions in San Diego are excellent and include many superb beaches, which make San Diego the perfect holiday destination for all ages. Facilities include a number of notable buildings, museums and art galleries, countless must-see sights and family attractions, and a number of large parklands and gardens.
Top attractions include Mission Beach and Pacific Beach, which both offer a range of water sports and coastal walks. Also worth a visit in the city are:
The world-famous San Diego Zoo
SeaWorld San Diego
Museum of San Diego History
Museum of Art
Cathedral of the Basilica San Diego de Alcala
Knott's Soak water park
Legoland California
Also a popular excursion from San Diego is the city of Anaheim, home to the spectacular Disneyland Resort, which can be reached by car, with the journey lasting around 90 minutes.
If you have a few more days to spend, check out these great weekend trips from San Diego that are also just a short drive away.
Balboa Park
San Diego is quite popular for its Balboa Park. The park is spread across 1200 acres and is home to the famous zoo as well as quite a few museums. Balboa Park is also the cultural center of the city. It's a great place to hang out, no matter when.
The San Diego Zoo in the park is a home to more than 4,000 animals of various species. It is a habitat for some of the most exclusive or rare species of birds and animals on earth, including lions, rhinos, and the California condor.
Besides the zoo, there are many museums like the San Diego Museum of Art, the largest museum of San Diego that displays many great artists.
The San Diego Natural History Museum presents an exclusive collection of environmental habitats such as desert, ocean and shore habitats. Beautiful and sparkling gems and minerals can also be seen here.
A visit to the Reuben H. Fleet Science Center and the San Diego Air & Space Museum in Balboa Park is also extremely informative.
» Tour you may enjoy: Private Balboa Park Segway Tour
USS Midway Museum
The USS Midway is an historical naval aircraft carrier, decommissioned in 1992, turned museum right on the waterfront in San Diego. It was voted the number one family activity in San Diego and I have to agree with that.
It's a really educational and interesting museum, where you can walk through the whole ship, see the aircraft on the top deck, and even talk to people who served on the boat in wartime.
To visit the museum, just rock up to the ticket booth and grab a ticket. The price is $26 for adults and $18 for kids. If you're not staying downtown, you can park right next to the museum.
Hiking in San Diego
The first of the treks worth your time is the beach hike. It is relaxing, easy and will remind you why it is great to visit San Diego. You can start and stop just about anywhere.
A personal favorite is to head north starting at the beach in front of restaurant row in Cardiff. Depending on how far you want to go, you can just cruise up past Swami's through Encinitas and up into relaxing Leucadia. The really great thing is you can just pop up off the beach and take in lunch on a patio whenever you feel like it.
If you are looking more for a hiker's hike, there are plenty to fit the bill. A trip up the San Diego River, particularly in spring, is candy for the eyes. No, I am not talking about the section of the river down in the city.
Instead, we are looking at the area out by Ramona. This is a 10 mile hike that takes 10 hours or so. It begins at the Inaja Picnic Area or Ramona Oaks Road on the other end. The hike is 10 miles one way, so you either need to have two cars or turn around at some point.
Regardless, you will see waterfalls, hike through canyons, groves of oaks, granite grottos and do some boulder hopping. You will have to exert yourself on this trail, so be warned.
The Gaslamp Quarter
The Gaslamp Quarter in San Diego is a bit of a throw back to the 18th century, though it hasn't been quite as well preserved in the theme as I'd like it to be. Today it's particularly well known for its nightlife, bars and clubs.
There's a mix of chain and independent stores and restaurants in the neighborhood, with many options for dining, like Cafe 21 Gaslamp, Rockin Baja Lobster, and La Puerta (my favorite taco place in San Diego).
Horton Plaza Park has grassy lawns, ice cream and coffee vendors, and an interactive fountain. Really, it's just a fun place to go and walk around. Stop in any shops that look fun, and maybe stay for a fun evening out.
» Tour you may enjoy: Gaslamp Quarter Downtown San Diego Food Tour
La Jolla
From the long white sand of La Jolla Shores to the quiet and relaxing beach off Marine Street, you'll have plenty to enjoy and find your very own piece of paradise.
La Jolla restaurants are world class, playing host to some of the finest chefs and coming chefs in the entire country. With its year round growing season, these chefs have some of the finest products to work their collective magic with – creating some of the best meals you'll ever taste.
If you're hoping to spot some wildlife, you can spend hours watching the sea lions and seals on the rocks from Ellen Browning Scripps Park. A jaunt down to the La Jolla Caves to see them in their natural habitat is also pretty amazing (you get down there from The Cave Store).
Aside from beaches, you'll want to eat some fresh seafood at El Pescador Fish Market (casual) or George's at the Cove (upscale). We love taking a walk along the waterfront from La Jolla Cove to the Children's Pool, or up along the bluff on the Coast Walk Trail.
CONCLUSION TO SAN DIEGO TRIP PLANNER
Within the first few seconds of looking out over the Pacific, you'll know you made the right choice visiting San Diego. The most dangerous part of vacationing in San Diego is you won't ever want to leave.
Like this article? Save it on Pinterest so you can find it again.
FOLLOW US on Pinterest and Facebook for more California travel inspiration and tips!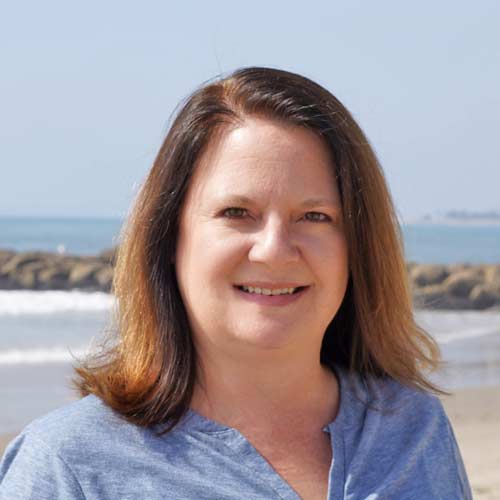 Laura is a travel fanatic who loves seeing and doing new things. She lives in Ventura, CA, and spends a lot of time exploring California's cities, beaches, and national parks.