One of the best activities to do in Carmel-by-the-Sea, aside from walking on the beach and popping into the many boutique shops in town, is wine tasting. There are about a dozen wine tasting rooms in town that you can enjoy as you're walking about.
For weekend wine tasters, the small town of Carmel-by-the-Sea is the perfect place to taste the wines of the Monterey and Carmel Valley. It's easy to get around, you don't even need a map!
There are around 20 wineries in about 1 square mile, so wine tasting in Carmel-by-the-Sea is definitely the thing to do if you have even just a few minutes in your itinerary. It's so great because you can just walk around and stop in where ever moves you and you can often meet the winemakers too. See how the Carmel-by-the-Sea Wine Walk works here.
How to Get to Carmel-by-the-Sea
Getting to Carmel-by-the-Sea is super easy. You might include it as part of a Central Coast road trip or pop down on a day trip from San Francisco. It's also very close to the gorgeous Monterey beaches and 17-Mile Drive, so there are numerous other things to add to your itinerary.
If you're flying in, San Jose International Airport is the quickest. It's about 1:20 minute drive to Carmel. San Francisco airport is 1:45.
The best part about Carmel-by-the-Sea is that everything is within walking distance. We parked our car when we arrive on Saturday and didn't get back in it until we left town.
As soon as you walk into the center of town, you'll see how extremely easy it is to get around to all the tasting rooms. None of them are more than a few blocks away. Spread out in between tasting rooms are tons of fantastic restaurants, bars and cafes. You won't find any Starbucks Coffee on offer in Carmel-by-the-Sea. Instead, there are many cute and cozy coffeehouses to visit.
» Try this tour: Guided 2-Hour Walking Tour in Carmel by the Sea
Wineries to Visit in Carmel-by-the-Sea
Scheid Vineyards
The Scheid Vineyards tasting room is bright and modern, with plenty of room to stand at the bar or sit at a table for your tasting. They have two wine tasting flights to choose from each day – usually a white-only and red-only tasting flight. We really liked their Merlot and the refreshingly light Sauvignon Blanc.
Location: Corner of 7th & San Carlos
Manzoni Cellars
There are three wine rooms located right next door to each other, including Manzoni Cellars. It's a small space, but with a lot of character.
We pulled up stools to the elaborately carved wooden bar and had a fantastic time talking with the wine pourer about the wines and the vineyard/winery located about an hour south in the the heart of the Santa Lucia Highlands. We absolutely fell in love with the Syrah and Zinfandel. A definitely must-visit on your wine walk.
Location: Between San Carlos & Dolores on 7th in the Hampton Court area
De Tierra
We really liked the vibe of this tasting room. It's a little outside the main core of the city, by a block or two and it feels a bit more laid back and friendly. You can sit at the bar or sit at one of the few table and hang out with some wine from their small boutique winery. They take reservations on line to ensure you can get in when you want to.
Location: Mission & 5th
Caraccioli Cellars
The only place in town where we found sparkling wines was Caraccioli Cellars, which also happens to be one of the tasting rooms that's open late on the weekends. It felt more like a regular bar than a wine tasting room with its dark wood and dimmed lights.
We could have sat there for hours enjoying the wine. The staff was very friendly and helpful. Caraccioli most makes Pinot Noir and they know how to do it very well. f you're a sparkling wine fan, you must try their sparkling Pinot Noir Rose. The Chardonnay is also very good.
Location: Dolores between Ocean and 7th
Galante Vineyards
Another great stop for bold reds is Galante Vineyards. They started producing grapes for wine in the early 1980s, though the family has been in the Carmel Valley for over a hundred years. With a philosophy of letting the grapes speak for themselves, they quickly grew a reputation for making great Cabernet Sauvignon. They also produce really nice Merlot, Pinot Noir and Sauvignon Blanc. The tasting room has a Western theme and they're very friendly.
Location: Dolores between Ocean and 7th
Hours: Sunday through Friday 1:00-6:30pm; Saturday 1:00-7:30pm
Wrath Wines
We had fantastic service at Wrath. The wine pourer was very knowledgeable and was talkative and happy to tell us about the wines. We really liked their Pinot Noir and Sauvignon Blanc, which we purchased to drink with our lunch.
The tasting room is in a cute shopping center, and The Cheese Shop is right next door (you absolutely want to stop there to taste a few cheeses and buy a hunk to take to the beach for picnic.)
Location: Carmel Plaza
Blair Estate Tasting Room
Blair Wines specializes in Pinot Noir, as some of their estate vineyards are located in the Arroyo Seco District of Monterey County that has the perfect soil and climate conditions to make a great Pinot Noir. The Blair Estate tasting room is located on the lower level of Carmel Plaza, so it's an easy stop when you're out shopping, or to combine with Wrath winery nearby. Along with your tasting of their regular line, you might also get a special tasting-room only pour as well.
Location: Carmel Plaza
Where to Eat in Carmel-by-the-Sea
Vino Napoli Wine Bar
There are few tasting rooms that are open late in Carmel, including Vino Napoli, which is both a tasting room and Italian eatery/wine bar, where you can get a wine flight with your late-night pizza. We ate there twice, while sipping on a few of the featured Pèpe Winery wines.
The pizza was outstanding. And there were lots of other snacks and wine flights to choose from. In between wine tastings, we also tried out a few great restaurants. I would return again to all of these restaurants. The food was great at each.
Location: 7th Street between Dolores and San Carlo
Cantinetta Luca
Cantinetta Luca is a busy little Italian eatery with rustic, homemade favorites like burrata with crostini, heaping bowls of pasta – like the bowl of Tagliatelle Alla Bolognese, pictured above – and hand-tossed pizza from the wood-fired oven. You can even sit at the pizza counter and watch the tossing of the dough.
Location: Dolores Street between Ocean and 7th
La Bicyclette
This is the perfect little bistro to sit down and have a nice lunch. It's a French-inspired bistro, but with more of a European fusion aspect (they serve wood-fired pizza). They source fresh, local ingredients and the food is always delicious. Great service, cute decor and nice ambiance.
Location: Corner of Dolores & 7th
» Try this tour: Carmel Small Group Walking Food & Cultural Tour
Where to Stay in Carmel-by-the-Sea
As I mentioned earlier, there are no big chain hotels in Carmel, though there are a few brands you will recognize, which provide a boutique experience. If you're traveling with a dog, you'll be happy to hear that many properties are dog-friendly. Here are our top recommendations for places to stay in Carmel.
L'Auberge Carmel: For couples looking for a quiet, romantic weekend, we recommend ⇒ Book or read reviews now on: Trip Advisor | Expedia
Tradewinds Carmel: For a slightly less expensive stay in a lovely renovated boutique hotel ⇒ Book or read reviews now on: Trip Advisor | Expedia
Quail Lodge & Golf Course Located slightly outside of town ⇒ Book or read reviews now on: Trip Advisor | Expedia
Final Thoughts on Wine Tasting in Carmel-by-the-Sea
There is some great opportunities for wine tasting in Carmel-by-the-Sea, where there are many tasting rooms within a one-mile radius in town. After you've been, you'll definitely agree that it was a fun idea. We go back again and again, just for the great day out with a nice glass of wine in hand.
Like this article? Save it on Pinterest so you can find it again.
FOLLOW US on Pinterest and Facebook for more California travel inspiration and tips!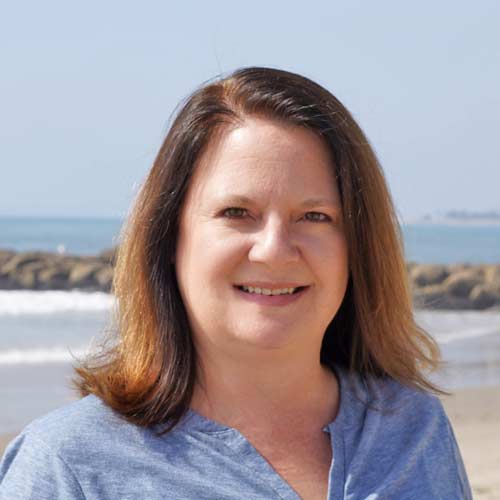 Laura is a travel fanatic who loves seeing and doing new things. She lives in Ventura, CA, and spends a lot of time exploring California's cities, beaches, and national parks.