A northern California road trip is one of our favorite ways to see the northern part of this beautiful state. This trip covers 1,000 miles, but it can be split up into separate legs to make it shorter or to fit your interests.
The road trip starts and ends in either San Francisco or Sacramento, as these are major hubs for national and international flights. You can fly in, rent a car, and get started on the road trip immediately. Of course, you can also start anywhere along the way, as well.
» Check out these 9 National Parks in California and put one on your itinerary.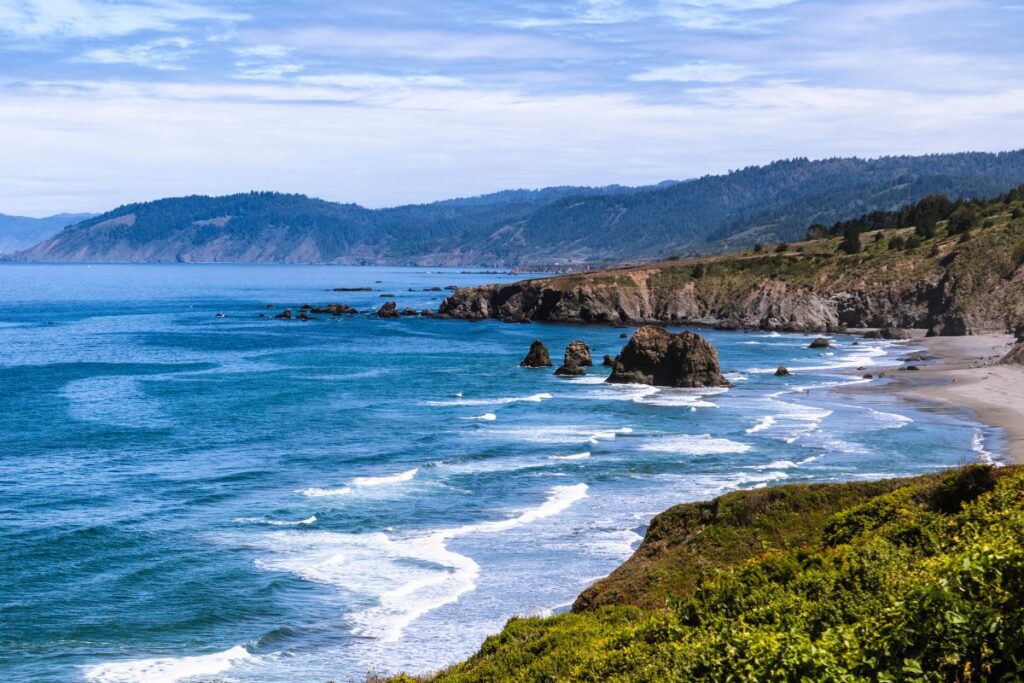 Northern California does not disappoint with its grandeur and magnificence at every turn. Pack up the car and head out to explore this unbelievable part of California. Like camping? Check out these great campgrounds in Northern California.
PRO TIP: You can purchase a California State Parks Pass in advance. Most parks charge $8-10 a day for parking. If you plan to visit many parks, it might be more economical to buy the pass for $125.
Stops on the Itinerary
The itinerary begins in San Francisco (or Sacramento, if you wish) and will take you to Lassen Volcanic National Park, Shasta-Trinity National Forest, Lava Beds National Monument, and over to Redwoods National & State Parks.
It's a total of 1,000 miles driven, which can be really overwhelming so be sure to leave yourself a lot of time to do it in. If you don't want to drive that far, I would suggest trying to fly into Redding to start instead and skipping everything south of the Avenue of the Giants. This will result in a 500-mile itinerary.
Suggested Duration
This Northern California road trip is best done in two weeks. Do keep in mind that the driving distances between each stop are relatively long (California is a big place), so you will need time to explore the destination and drive on to the next stop, all without overwhelming yourself.
You can do this road trip in either direction, but I do recommend the counter-clockwise route, because then you get the longest drive out of the way at the beginning of the trip. The last part is all gravy.
Suggested Accommodations
There are plenty of places to stay along the route – varying from hotels, to glamping, to car camping areas. You can choose what fits you best. We will include hotel recommendations in each major hub below.
Another way to do it is to rent a camper van from Escape Campervans, the largest in North America with 600+ campervans and lots of good reviews. Escape your routine and embrace your adventurous spirit by exploring the world in a campervan.
If you choose camping, you can find camp sights at the major California State Parks or in forest land. There are some free camping sites. You can also find places to park your RV overnight.
Highlights of the Trip
San Francisco is a great city to explore on its own. Take a day to see the sights before starting your journey.
Learn all about volcanoes at Lassen Volcanic National Park
Explore the most beautiful waterfall in California: Burney Falls
Climb through the lava tubes at Lava Beds National Monument
See Redwoods National and State parks where you can drive through a tree and stare up in awe at these giant trees.
Stop in Sonoma wine country for some wine tasting
Enjoy the coastline and beaches at Point Reyes National Seashore
The Route
Starting Point: San Francisco
San Francisco is one of the most vibrant and picturesque cities in the United States, with a significant number of cultural attractions and world famous landmarks, surrounded by impressive natural beauty.
The sights in San Francisco are as diverse as its history. Map out the seascape of San Francisco from atop Telegraph Hill, where Coit Tower stands as a former beacon to sailing ships.
From there, drop down to North Beach where Fisherman's Wharf buzzes with street performers, sea lion shows, and delicious seafood (clam chowder bowls!). Stop by one of these amazing bakeries for fresh baked sourdough bread.
Golden Gate Park, larger than Central Park, has numerous gardens, exhibits and memorials. You can catch views of the sunset over the Golden Gate bridge nearby. And don't forget the iconic Alcatraz island – the former prison on an island in the middle of San Francisco Bay.
» Try this tour: Straight to the Gate Access: San Francisco Bay Twilight or Sunset Cruise
»» ACCOMMODATION: See hotels in San Francisco. We stayed at Hyatt Regency San Francisco on the waterfront.
DISTANCE TO NEXT STOP: 235 miles = 3:45
Lassen Volcanic National Park
Lassen Volcanic National Park is a treasure trove of geologic wonders, including bubbling mud pots, steaming fumaroles and other unique volcanic structures. Add to this pristine mountain lakes, tumbling waterfalls and jagged mountain peaks, and you'll soon be entranced by this parks often overlooked beauty.
Drive along the scenic main highway, which is about 30 minutes one way. You can stop at any viewpoints that interest you. If you stop for some sights along the way, it will take about 3 hours total, round trip.
For hiking, the Bumpas Hell trail is a fairly easy 3-mile roundtrip trail that access the largest hydrothermal area in the park, with beautiful steaming pools at the surface.
After Lassen, your next stop will be possibly the most beautiful waterfall in California; Burney Falls located in McArthur-Burney Falls Memorial State Park.
Note: There is a $30 7-day pass fee (high season).
»» ACCOMMODATIONS: Manzanita Lake Campground and Cabins and Highlands Ranch Resort
DISTANCE TO NEXT STOP: 70 miles = 1:40
McArthur-Burney Memorial State Park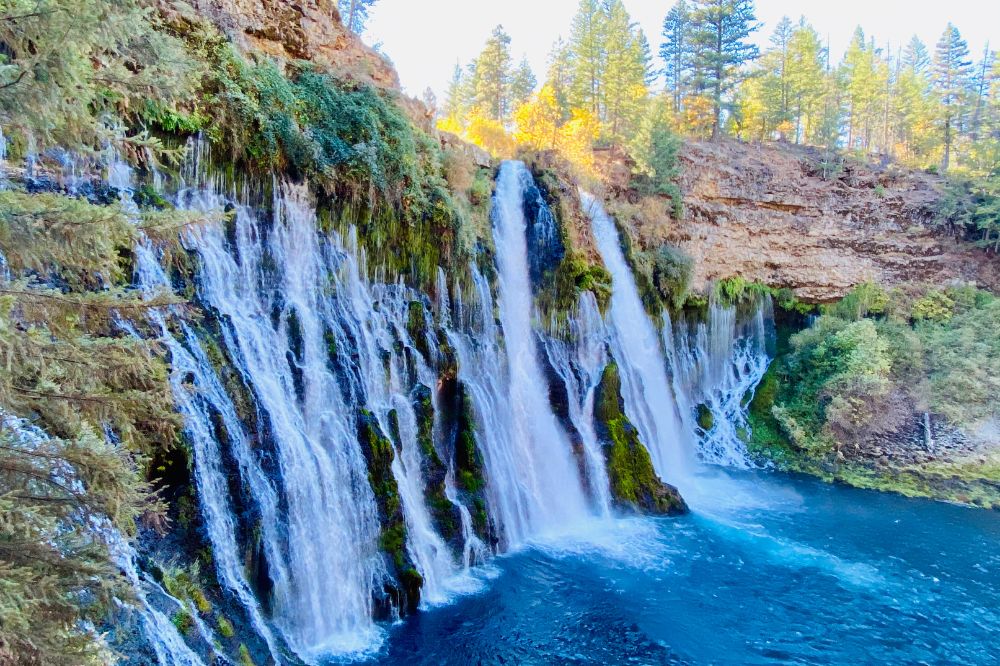 McArthur–Burney Falls Memorial State Park is the second oldest state park in the California State Parks system. As the name suggestions, the magnificent thing to see here is Burney Falls.
The falls were once called the Eight Wonder of the World by President Theodore Roosevelt. The water comes from underground springs above and at the falls, and provides an almost constant flow rate of 379 million liters per day.
As well as marvelling at the 129-ft high cascading falls, there are also some incredible hikes. The best place to hike in is Burney Creek Trail, a 1-mile easy trail that takes you to the falls. Another easy trail is the 2.5-mile Burney Creek Headwaters Trail, with slightly steeper grades, that takes you to the falls. You can expect all of these trails to be quite busy.
Note: it costs $10 for parking.
»» ACCOMMODATIONS: McArthur-Burney Falls Memorial State Park Campground
DISTANCE TO NEXT STOP: 50 miles = 1:10
Shasta-Trinity National Forest
Your next stop is Shasta-Trinity National Forest. This National Forest encompasses an enormous 2.2 million acres with an almost infinite amount of wilderness walks available. The centerpiece of it all are the picturesque twin peaks of Mt Shasta and Mt Shastina.
You might want to play in the water at Lake Shasta, go on a tour of the Lake Shasta Caverns to see incredible displays of stalagmites and stalactites, or head to Castle Lake for a few photogenic hikes. For a moderately challenging hike, the Heart Lake trail is a 3-mile round trip that leads to beautiful views of Mount Shasta and the iconic lava cone known as Black Butte in the distance.
The Castle Lake Trail is one of the longer hiking trails in the Mount Shasta area at about 11 miles round trip. It's a more strenuous hike that boasts uninterrupted vistas of Mount Shasta and the Klamath Mountains.
»» ACCOMMODATIONS: While disbursed camping is free all around the vast National Forest, if you need hookups or showers/toilets, Fowlers campground is located along the hiking trail between the lower and middle McCloud waterfalls. See hotels in Redding | Mount Shasta
DISTANCE TO NEXT STOP: 116 miles = 2:15
Lava Beds National Monument
Even if you've never heard of it before, Lava Beds National Monument is definitely worth a visit. The monument lies on the northeastern flank of Medicine Lake Volcano and has the largest total area covered by a volcano in the Cascade Range.
This park is one of the best kept secrets in the National Park System. When you arrive, go to the visitor center for a cave permit (it's free). The very friendly rangers will give you all the info you need, as well as a flashlight which you'll need to explore the caves, and then send you off to explore on your own.
There are a vast range of easy to difficult caves all within a mile or two radius. In fact, there are up to 500 known lava tube caves within the boundaries of Lava Beds National Monument. You can go inside the easy caves for a look around, or if you're fully prepared with the right gear, you can go exploring in the more difficult caves.
»» ACCOMMODATIONS: Indian Well Campground or Best Western Plus Olympic Inn in Klamath Falls (30 miles)
DISTANCE TO NEXT STOP: 239 miles = 4:45
Redwoods National & State Parks
Redwood National Park is home to the world's tallest trees and old-growth redwood forests. Many of the trees in the forest are over 300 feet tall and 2,000 years old. You will be astounded by the size of these trees!
Redwoods is actually a complex of one national park and three state parks: Del Norte Coast, Jedediah Smith, and Prairie Creek. It's $30 to get into Redwoods National park. Online advanced permits are needed for most of the state parks and there's a cost of $12 for a day-use pass. If you're staying at the campground or have a pass, it's free.
At Jedediah Smith, Stout Grove is one of the most majestic and photographed groves of redwoods. In Redwoods National Park is the famous Lady Bird Johnson Grove. Redwoods Creek Overlook is also nearby.
Fern Canyon is a 1-mile loop with an elevation gain of 150 feet, taking about 30 minutes. The trail takes you through a canyon with two-story walls of ferns. You will get your feet wet! Gold Bluffs Beach nearby is a remote beach where you can spend the day at the beach, have a picnic, and enjoy the natural beauty. There's also a campground.
As you drive south away from the Redwoods National Park, you can't miss the Avenue of the Giants – a 31.5-mile drive through Humboldt Redwoods State Park. There are tons of things to see along the way, so prepare for a lot of stops as the mood strikes you.
»» ACCOMMODATIONS: Gold Bluffs Beach Campground, Elk Prairie Campground, or Holiday Inn Express Arcata/Eureka
DISTANCE TO NEXT STOP: 192 miles = 3:30
Sonoma County Wine Region
I never pass up an opportunity to sip delicious wine in one of the best wine regions in the world. Sonoma County has some seriously good wine tasting options, as well as great restaurants to try. I think it deserves at least a day and an overnight.
You can do wine tasting in any of the many AVAs from Geyserville down to Santa Rosa. You don't need a reservation at many of them, and since you're only there for a day (or two, if you stretch it), you can just stop where ever you see signs for wine tasting.
My favorites are Kendall Jackson, Rodney Strong, J Vintners, and the many small tasting rooms in Healdsburg. We also love the Oakville Grocery for picnic supplies.
» Try this tour: Sonoma Wine Rides — Sonoma County Wine Tasting Tours
»» ACCOMMODATIONS: The Sandman Santa Rosa or splurge for Harvest Inn St. Helena
DISTANCE TO NEXT STOP: 35 miles = 1:00
Point Reyes National Seashore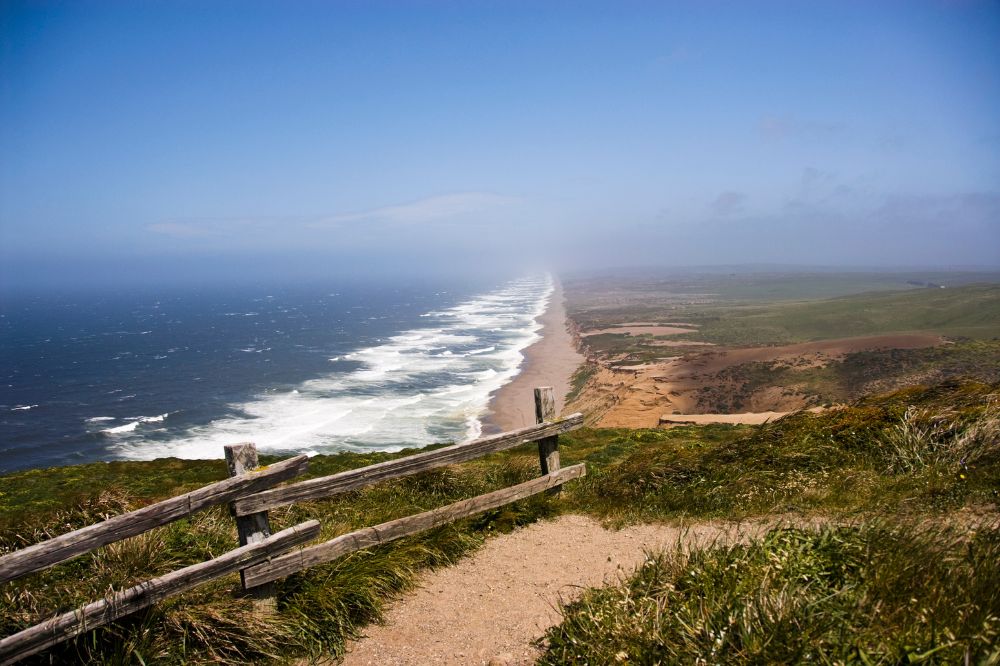 Point Reyes National Seashore is a vast expanse of protected coastline north of San Francisco. There are thunderous ocean breakers crashing against rocky headlands, expansive sand beaches, open grasslands, brushy hillsides, and forested ridges.
For beaches, there's 80 miles of shoreline, including dozens of miles of sandy beach, like Wildcat Beach, that you can explore and enjoy. There are seemingly endless hiking possibilities, including forest and coastal hikes of all different length and ability level. Out on the rocky point is the 1870 Point Reyes Lighthouse.
»» ACCOMMODATIONS: Coast Campground and Sky Campground
DISTANCE TO NEXT STOP: 24 miles = 0:45
Mount Tamalpais State Park
Just north of San Francisco's Golden Gate Bridge is Mount Tamalpais State Park. The primary feature of the park is the 2,571 feet Mount Tamalpais. It's a very picturesque place that is definitely worth of a stop to take some photos.
The mountain is easy to access. You can drive nearly all the way to the top. Once you get there, a few short trails take you up and around the mountain.
DISTANCE TO NEXT STOP: 15 miles = 0:35
Back to San Francisco
The End
This Northern California road trip likely totally wore you out and you're ready to head home. After 7-14 days driving around in this beautiful state, seeing all the beauty, I'm sure the experience will never leave you. You'll need to come back for another road trip very soon.
Like this article? Save it on Pinterest so you can find it again.
FOLLOW US on Pinterest and Facebook for more California travel inspiration and tips!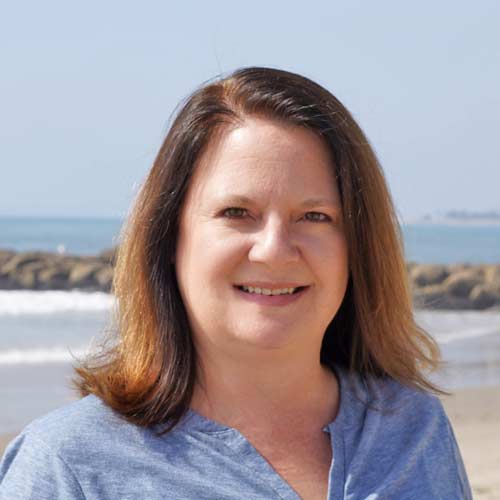 Laura is a travel fanatic who loves seeing and doing new things. She lives in Ventura, CA, and spends a lot of time exploring California's cities, beaches, and national parks.