Los Angeles is a huge city with plenty to do and see, not just beautiful beaches and Hollywood, but almost always sunny skies, and many popular attractions. We've put together this perfect Los Angeles 2 day itinerary so you can get the most out of your few days in the city.
Contrary to what most people think, Los Angeles is a melting pot of culture and history. This guide includes some of the best things to do in the city, as well as where to stay, and what to eat. So, whether you're a first-time visitor or you come back often, you'll find something fun to do.
» You might be interested in these 13 Free Museums in Los Angeles and 7 National Parks Near Los Angeles.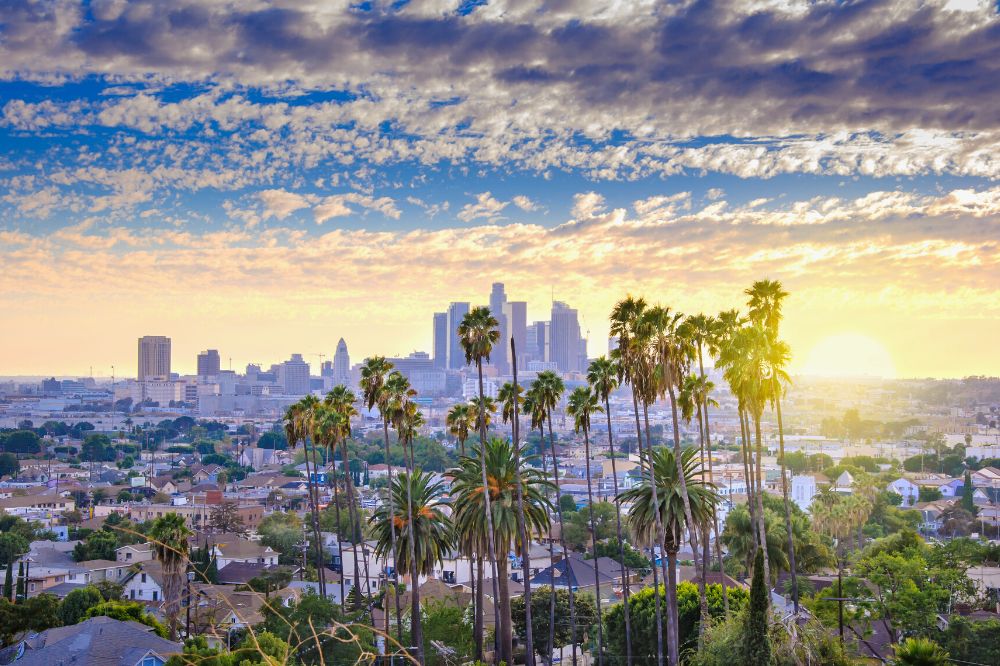 While many of these attractions are geared towards tourists and are sometimes cheesy and overpriced, they can still be enjoyable. We like to mix a few of the tourist things together with the cultural activities and some outdoorsy stuff, so you can see all the different sides of the city.
If you'd rather skip some of the activities we've listed, that's fine because we've offered alternatives so you can choose what fits you best.
» Looking for more inspiration along the route? Check out all our guides to San Francisco, Los Angeles, Santa Barbara and San Diego. Find the best beaches in Monterey, waterfalls in Southern California, and national parks.
Why Two Days?
You might be wondering what the right amount of time is to spend in Los Angeles and to that I would say two to three days. You can see a lot of the sights in the city in just two days, so it makes for a great weekend trip or addition to a longer California road trip.
It's a very busy city and the traffic that exists around the sprawl is intense. Once you've been in the city for a few days, you'll be ready to get away and stop fighting the traffic.
» Check out this web story of the perfect 2-day Los Angeles itinerary.
How to Get Around in Los Angeles
Los Angeles is a huge city, and getting around can be difficult if you're not familiar with the area. There is public transportation, but it's not great and might not be possible to get everywhere you want to go in a convenient or timely fashion.
Renting a car is going to be the easiest option, but be mindful that it will cost a lot to park at your hotel and it can be difficult at best to find parking at top attractions. That's not even mentioning the traffic.
For a 2-day trip, I always recommend just getting around via taxis and ride shares. A ride from the airport to Hollywood will cost around $40-50. Shorter rides around town will cost around $20. That could be a huge savings over a $300 2-day car rental plus parking fees.
Here are some tips for getting around LA:
Since you only have 2 days, I would plan for activities that are somewhat close together so you don't spend a lot of time getting around.
Avoid traveling at peak times. Traffic is usually heaviest on the freeways during the morning and evening commute, which is weekday mornings from 7 a.m. to 10 a.m, and evening from 4 p.m. to 7 p.m.
Be flexible and willing to change around your plans if there is a traffic jam along your route. Always check before setting out.
If you're staying in Hollywood, the best way to get around is by foot or by using the Hollywood subway station.
If you're staying in Santa Monica, the best way to get around is by car or bike. There is also a bus system that runs throughout the city.
If you're staying in Downtown Los Angeles, the best way to get around is by foot or by using the metro system.
» You might like Where to Find the Best Views in LA.
Los Angeles 2 Day Itinerary
This itinerary is made easy by staying in Hollywood. I recommend staying at the Hollywood Roosevelt, and you can spend almost the whole first day walking, which will save a lot of time and hassle. We've suggested other areas to stay below, if you don't want to stay in Hollywood.
Day 1
Hollywood Boulevard
Hollywood Boulevard, which is one of the most well-known sights in Los Angeles, was formerly home to the greatest studios where you would see renowned celebrities on the regular. Nowadays, it's a street filled with pricey souvenir shops and boutiques as well as ordinary, expensive eateries. For me, it's a bit of a let down. You'll want to be prepared for it to be underwhelming, then maybe you can enjoy it for what it is, rather than what you expect it to be.
However, it's worth going to view Hollywood Blvd.'s Walk of Stars and Grauman's Chinese Theatre. They are two parts of historic Hollywood Boulevard that are worth seeing and free to visit. Take a leisurely walk on Hollywood Blvd., enjoy the sites.
Walk of Fame
The Hollywood Walk of Fame is one of the city's most popular tourist destinations. This iconic sidewalk is home to more than 2,600 stars, each of which is dedicated to a celebrity or group of celebrities. The Walk of Fame stretches for 15 blocks and is located in the heart of Hollywood.
If you're visiting Los Angeles, be sure to walk down the Hollywood Walk of Fame and take a picture with your favorite star! You can find the Walk of Fame between Gower Street and La Brea Avenue.
Melrose Avenue
Melrose Avenue is one of Los Angeles' most popular destinations, with high-end dining and plenty of shopping. It's great for people watching, grabbing a coffee or some food, and some retail therapy.
Melrose runs north of Beverly Boulevard and south of Santa Monica Boulevard. If you like cats, make an appointment for some play time at the Crumbs and Whiskers cat cafe. Catch some really great street art along the avenue, explore the Melrose Trading Post Flea Market, and grab a coffee at Alfred Coffee in Melrose Place.
For lunch, we recommend grabbing a bite at one of the many food trucks on Melrose Avenue. With so many different options, you're sure to find something to your taste!
Farmers Market
The Grove Farmers Market is a fantastic location to spend your time in Los Angeles. Cruises for fresh fruit and vegetables, as well as great cuisine from local food booths, are all good options. You're more likely to spot a star at the farmer's market in Hollywood than Melrose Avenue.
The Grove
The Grove is a small shopping center with a variety of high-end boutiques, excellent cuisine, and an ideal location for people watching and window browsing. There is also great basic shopping available, with some nice discounts to be had if you seek around a little.
With Kids: Le Brea Tar Pits
If you have kids, you might want to stop by the La Brea Tar Pits, an active paleontological research site, where you can learn about ancient animals like the saber tooth tiger, woolly mammoths and others that have been preserved here, in the very spots they were found. Inside, watch as paleontologists dust off bone fragments or take a tour inside and look at the dinosaur bones on display. If your kids love dinosaurs, they're going to love this.
Hours: Monday-Sunday from 9:30am – 5:00pm
Location: 5801 Wilshire Blvd
Cost: Adult – $15; Child – $7
Walt Disney Concert Hall
The new Walt Disney Concert Hall designed by Frank Gehry is home of the L.A. Philharmonic Orchestra and considered to be one of the most acoustically sophisticated concert halls in the world.
If you can get a ticket to a show, definitely make this your evening plan. You can also just visit the building, which is architecturally stunning.
See what's on and get tickets here.
Day Two
Griffith Observatory
Griffith Observatory is a public observatory that is located in the Griffith Park. The observatory is open to the public every day of the week, and offers free admission. Plan to spend around 2-3 hours looking around.
The Griffith Observatory is a great place to visit to learn more about the universe. It's a unique and magical place that you shouldn't miss. From the observatory, you can get a great view of the Hollywood Sign and the Los Angeles skyline.
Griffith Park
If you have kids in tow, you might want to stop in the park for a little rest. There's a Merry-Go-Round, built in 1926, and the mini railroad to ride. The train station has many types of trains from throughout history and even two special trains for the kids to enjoy.
If you're up for a hike, you can pick up the Mount Hollywood trail at the north side of the Observatory parking lot. It's a 40-minute hike that will take you to the top with a 360° view of Los Angeles.
You can also hike up to the Hollywood sign if you want another challenge. It takes about 2-3 hours, depending on your fitness level. Learn more about it here.
» If you like to hike check out these 10 Easy Hikes in Los Angeles.
Los Angeles Zoo
Another option, if you don't want to go hiking is the zoo. The zoo is home to more than 1,100 animals from 250 different species and there are a variety of exhibits and attractions, including the LAIR, the Elephants of Asia exhibit, and the Rainforest of the Americas exhibit. The zoo also offers a variety of educational programs for students and families.
Advanced reservations are required. Last entry is at 3:45. Most of the animals head in for the night around 4pm.
Hours: Daily from 10 am – 5 pm
Location: 5333 Zoo Drive, Griffith Park
Cost: Adult $22; Child $17
Warner Bros Studio Tour
Also nearby to Griffith Park is the Warner Bros. Studio Tour, where you can take a tour to glimpse behind the scenes of one of the oldest film studios in the world. It's also one of the busiest working studios in Hollywood. The tour takes you through the long history of the studio and even has reconstructed sets from Harry Potter and DC Universe. Get your tickets here.
Hours: Every day 8:30am to 3:30pm
Location: 3400 Warner Blvd, Burbank
Cost: Studio tour for adults $69; child $59
Santa Monica Pier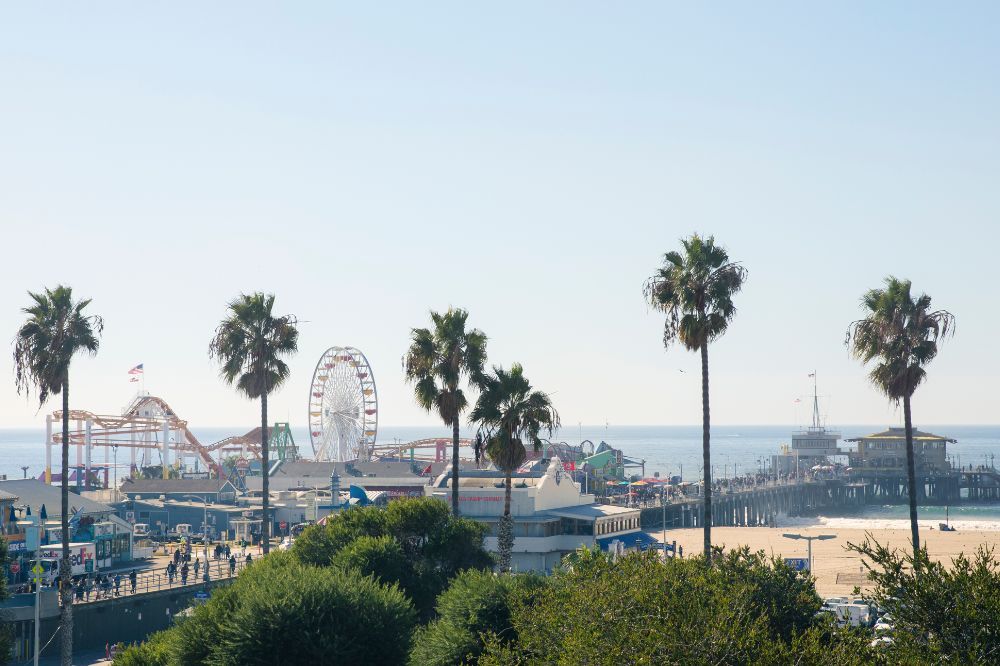 This historic pier is home to an amusement park, restaurants, and shops. It's the perfect place to watch the sunset over the Pacific Ocean.
The Santa Monica Pier never closes, so you can arrive at night or bright and early in the morning. Children will love the Playland Arcade which has over 200 different types of games. There's also a beautiful antique carousel, designed in 1916. Aside from the carnival, there are restaurants, vendors, shops, the Santa Monica Pier Aquarium and Pacific Park.
Venice Beach
If you want a more relaxed beach day, head to Venice Beach for a day of fun in the sun. Rent a bike, learn to surf, or go for a swim, then relax on the sand and enjoy the beautiful California weather.
Venice Beach is known for its vibrant and eclectic atmosphere. It's a popular destination for tourists and locals alike, and is home to a variety of shops, restaurants, and attractions.
Some of the most popular attractions in Venice Beach include the Venice Boardwalk, Muscle Beach, and the Venice Canals. The Venice Boardwalk is a popular spot for people watching, and is home to a variety of shops and restaurants. The Venice Canals are a series of canals that run through Venice Beach, and offer a picturesque setting for visitors.
Where to Eat in Los Angeles
Where to Lunch
With this itinerary, we recommend eating lunch at a cafe near to where you are at the time. On day one, the best place to eat is on Melrose Avenue, at the Farmer's Market, or near the Grove. I like Monsieur Marcel for French food in the market and I always save room for Dominique Ansel's pastries at the Grove for dessert.
On day two, it's best to eat lunch near Griffith Park. There's Franklin's Cafe and Market, Little Dom's for Italian, and the Trail Cafe, which is my preference.
Where to Dine for Dinner
For dinner, you have pretty much the whole of Los Angeles dining open to you. I know that makes it extremely hard to decide.
For casual dining, head to Olvera Street or down the Sunset strip for the best Mexican restaurants serving some of the best tacos in town. Or try the delicious pastrami sandwiches that are popular in Los Angeles. Pico Blvd is lined with yummy Jewish delis. There's also the famous In-n-Out Burger, which usually makes it onto the menu at least once.
For higher end dining and something a little special, there's Bestia by Ori Menashe that's a lovely walk through multi-regional Italian food, there's Damian, a Mexican fine-dining restaurant in the Arts District from world-renowned chef Enrique Olvera of Mexico City's Pujol (definitely worth it!), and Wolfgang Puck's flagship Spago in Beverly Hills.
Tips to Save Time
If you're planning a trip to Los Angeles, be sure to download the Waze app. This app helps you find the best routes to your destination and avoid traffic jams.
Another great way to save time in LA is by using the city's metro system. The metro is affordable and covers a large area of the city.
If you're driving in LA, be sure to check out Google Maps or Waze for real-time traffic updates. This will help you avoid traffic jams and get to your destination faster.
Where to Stay in Los Angeles
When it comes to accommodations in Los Angeles, there are plenty of options to choose from. If you're looking for a centrally located hotel, we recommend the Hollywood Roosevelt. This hotel is within walking distance of Hollywood Boulevard and the Walk of Fame, and offers stunning views of the city.
It can actually be best to stay in Downtown L.A. for a short 2-day trip to Los Angeles, because there are a lot of activities and sights that are walking distance so you can see and do more with your time. We recommend Hotel Figueroa or The Hoxton Downtown LA
If you want to stay at the beach, some great options include Hotel Erwin on Venice Beach or the JW Marriott in Santa Monica.
Conclusion
Once you've spent a few days in Los Angeles, you'll feel super accomplished that you've now tackled one of the most famous cities in the world. We hope you've enjoyed the activities we included on this itinerary. Share your favorite parts in the comments!
Like this article? Save it on Pinterest so you can find it again.
FOLLOW US on Pinterest and Facebook for more California travel inspiration and tips!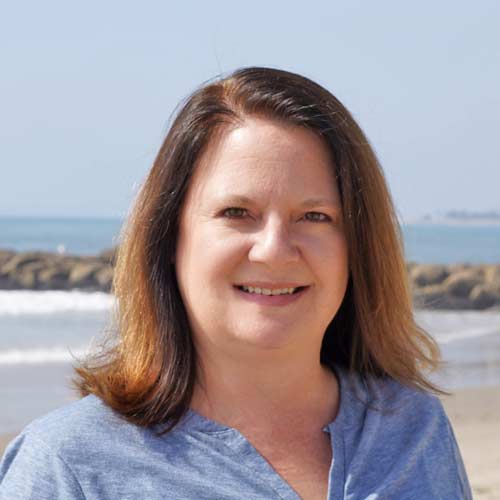 Laura is a travel fanatic who loves seeing and doing new things. She lives in Ventura, CA, and spends a lot of time exploring California's cities, beaches, and national parks.