Yosemite Valley's expansive landscapes, soaring mountains and cliff faces, thundering waterfalls, and deep river gorges are the perfect backdrop for exploring Yosemite's trails.
You don't even have to be an advanced hiker to enjoy the experience, as there are everything from leisurely walks through meadows to more challenging treks along exposed ridges and sheer cliffs. You can find all kinds of hiking options based on your experience level with these easy hikes in Yosemite.
No matter what season you choose to visit Yosemite, there will be trails open for you to enjoy. I particularly enjoy the late spring for hiking because the temperature is mild, the trails are less busy, and the sun starts to stay out later.
In the summer months, Yosemite Valley is filled with beautiful wildflowers, vibrant meadows, and plenty of opportunities to spot Yosemite's diverse wildlife. However Yosemite's bears are especially active during this time of year when they search for food and mate so you need to stay alert while hiking.
Yosemite is also home to a variety of other animals such as mule deer, coyotes, marmots, and many more. If you're lucky, you'll spot a few along the route.
If you're looking for a challenge, Yosemite Valley has plenty of strenuous trails that offer rewarding views from Yosemite's highest peaks including Half Dome, Clouds Rest and Yosemite Falls – Yosemite's tallest waterfall.
Yosemite also offers a variety of camping options ranging from backcountry camping, where you can really immerse yourself in Yosemite's wilderness, to front country camping which allows visitors to stay in Yosemite Valley itself.
PLAN YOUR ITINERARY: Use our guides to prepare your entire Yosemite itinerary.
Hiking Etiquette & Tips
It is essential to always be prepared for hiking by wearing the appropriate clothing, packing the right gear, and being aware of hiking etiquette whenever you're out on the trail. Here are some of our tips for ensuring your hike is a good one:
Park only in designated spots, not off-road or in unpermitted areas.
Wear the appropriate clothing for the time of year – bringing a layer in case of sudden temperature changes. Be sure to wear sturdy shoes (flip flops are never a good idea).
Do not feed or approach any wildlife. Be aware there might be bears mountain lions, bobcats, or rattlesnakes on the trail.
Bring a good amount of water, some food, and sunscreen with you.
Never leave trash behind.
It's best not to hike alone, but if you do tell a friend where you're going and when to expect you back.
» Find the perfect hiking clothes. I love these weather resistant, breathable shorts by Arcteryx (for women | for men) paired with a light performance shirt (for women | for men).
9 Easy Hikes in Yosemite to Try
Yosemite Valley is 7 miles long and filled with gorgeous scenery all the way through. However, it's a popular place, so if you want to avoid crowds, it's best to visit during weekdays, in the shoulder season, and not during school holidays.
You can also head over to Southern Yosemite for some quieter trails or Glacier Point to see the valley from up high.
Either way, get ready to see some of the most stunning views you've ever laid eyes on.
1. Bridalveil Fall Trail
Did you know that the Bridalveil Fall name comes from the mist that surrounds the waterfall, which is reminiscent of a bride's veil?
This trail is a short hike on paved ground, at just 0.5 miles for a round trip. Overall, the hike is pretty easy, so expect it to be crowded on most days.
You'll most likely get a little wet from the waterfall's spray, but it'll all be worth it once you see the breathtaking sight. Keep in mind that the waterfall is at its strongest during the springtime, when the snow has just melted, joining the water flow in full force.
2. Mirror Lake and Tenaya Canyon Trail
Mirror Lake is a popular spot in Yosemite, especially in the summer when people can take a dip in the water. It gets its name thanks to the mirror image of Half Dome in the reflection.
The round-trip hike to Mirror Lake is 2 miles long on a paved trail, but it's considered easy to moderate. If you want to keep walking to the end of the trail to reach Tenaya Canyon, it'll be 4 miles long. So, the full hike can take 1 to 3 hours, depending on where you'll end it.
Add Mirror Lake to your bucket list if you want to swim in a pool that reflects the view of Yosemite Valley back at you. However, it doesn't always have a lot of water, so try to visit in the spring or early summer to see the lake at its fullest.
3. Cook's Meadow Loop
If it's your first time at Yosemite, the Cook's Meadow loop can be a great introduction to the place. After all, the hiking trail takes you through a green meadow and has views of Yosemite Falls and Half Dome.
Plus, the trail is only a flat mile-long loop, so you won't have to do any climbing. It's also paved, making it suitable for kids and older visitors, but it can be a bit crowded.
Still, the scenery along the whole stretch of the trail is beautiful, so you don't have to crowd around one spot. Just try to visit in the springtime to see the flowers in full bloom and the waterfall at its strongest.
4. Lower Yosemite Fall Trail
If you're already at the Cook's Meadow loop, the Lower Yosemite Fall trailhead is just nearby. Go there to see the best views of the waterfall in a mile-long loop that will take you around 30 minutes to walk.
Once you get there, you'll be able to enjoy the sight of one of the tallest waterfalls in North America. You can also stand on the footbridge at the foot of the waterfall to feel the spray of water!
You might want to visit during the spring because the waterfall could dry up in the late summer and fall, though.
5. Mariposa Grove's Big Trees Loop
There are several trails within Mariposa Grove, including the Big Trees loop, the Grizzly Giant loop, the Guardians loop, and the Mariposa Grove trail to Wawona Point.
However, the Big Trees loop is the one that's best for beginners at a mere 0.3-mile distance from the trailhead. It's also wheelchair accessible.
As the name implies, the trail features hundreds of giant sequoia trees, but the Fallen Monarch is the most popular one there. No one knows how old it is or when it fell, but it's surely worth the short hike to see it!
6. Wawona Meadow Loop
The Wawona Meadow hike is a 3.5-mile long loop that takes you through a green meadow filled with wildflowers in the spring. The trail is less busy compared to others in Yosemite, perhaps because of the golf course around it.
However, if you want to bring your leashed pets along for a hike, this is one of the few trails that you can add to your list.
7. Wawona Swinging Bridge Loop
Hiking to the Wawona's Swinging Bridge is easy and takes you on a 4.8-mile loop if you're coming from the Wawona Store parking area. Unlike the Bridge in Yosemite Valley, this one will actually swing while you cross it, so brace yourself.
The Wawona Swinging Bridge is also a popular destination because visitors can swim in the river below. So, you might want to visit in the summer to enjoy the warm and calm water.
8. Glacier Point Road
The short route to Glacier Point is only a mile-long round trip. You can easily drive to the trailhead and then walk to the viewpoint. From there, you can see the Half Dome in the distance.
Just note that Glacier Point Road is closed throughout 2022 (and into 2023 early season) for rehabilitation. The only way to access Glacier Point at the moment is through more strenuous hikes. You can check the National Park Service's website to see when the road is open again.
9. Sentinel Dome Trail
The usual trail (a moderate 2.2-mile hike) to Sentinel Dome is also closed during Glacier Point Road's rehabilitation project. However, if you visit once it's open, the whole hike could take you around two hours to walk.
The viewpoint at the top of Sentinel Dome offers panoramic views of Yosemite Valley. Yet, it can get slightly difficult at the end, going up the side of the Dome itself.
At the top, you'll also find a fallen Jeffery pine tree that you might remember from Ansel Adams' photo. The tree died in a drought in 1977 but only fell over in 2003.
Where to Stay in Yosemite
Yosemite National Park provides a variety of lodging and camping. Official discounted Yosemite National Park lodging ranges from basic tent cabins with nearby toilet facilities to the more luxurious lodging in The Ahwahnee Hotel is a distinctive hotel that is the pride of Yosemite National Park.
You can examine the variety of Yosemite National Park lodging online and make reservations. It's always best to book way ahead of your visit to get the lodging you want.
Wrapping Up
Yosemite is home to many feats of nature, including meadows, waterfalls, lakes, giant trees, and breathtaking mountains. The best part is that you don't have to endure strenuous hikes to enjoy the area since you can just opt for any of the easy hikes we covered here.
Before deciding on a trail to try out, you can check the National Park Service's website to see if there are any closures or other important announcements. When hiking, it's always better to stay on the trails, as they're always the safest way to your destination. Just remember to be mindful of the environment there so we can enjoy the beauty of Yosemite for generations to come!
» Looking for more inspiration along the route? Check out all our guides to San Francisco, Los Angeles, Santa Barbara and San Diego. Find the best beaches in Monterey, waterfalls in Southern California, and national parks.
Like this article? Save it on Pinterest so you can find it again.
FOLLOW US on Pinterest and Facebook for more California travel inspiration and tips!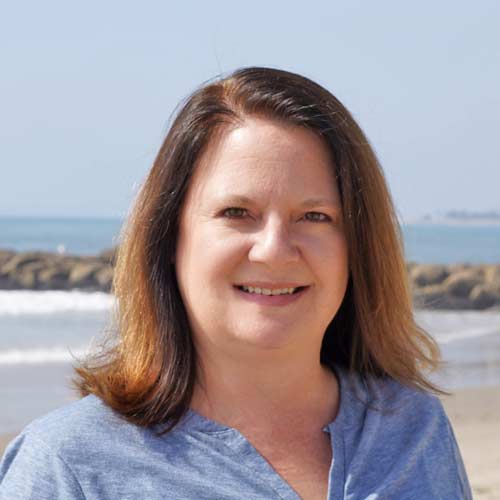 Laura is a travel fanatic who loves seeing and doing new things. She lives in Ventura, CA, and spends a lot of time exploring California's cities, beaches, and national parks.