California is a place where you can enjoy many different activities, thanks to the vastly changing terrain, but one of the things we love to do most is hiking. The dramatic mountain ranges, beautiful lakes, and vast forests provide incredibly opportunities to get outdoors and enjoy that constant California sun.
There are some incredibly popular hikes in Southern California and you don't even have to go that far to get there. Whether you're visiting the Los Angeles area, spending a weekend in San Diego, or you live in the area, there are nearby hikes that you can enjoy without taking a day trip to get there.
» Check out these Camping Spots in Southern California and 10 Big Bear Hiking Trails.
Keep reading to learn about the best hikes in Southern California and how to make sure you're prepared to make the most out of the experience. You might also want to check out hikes in southern California with waterfalls.
Before You Go
All hikes inside a National Park require an entrance fee into the park, so be sure to have money on hand. The park entrance fees vary from free to $30.
No advanced reservations are required to hike throughout Southern California, but the parking lots tend to fill up rather quickly so keep that in mind when you plan your hike.
Plan to hike as early in the morning as possible, to avoid the crowds and get you off the trail before the it starts to get really hot. If you do plan to hike midday, take plenty of water and sunscreen.
Go prepared with sturdy shoes, a full cell phone battery, a whistle in case you get lost, sunscreen, and water.
Hiking Etiquette
It is essential always to be aware of hiking etiquette when you're out in the wilderness, so you don't do damage or leave anything behind. Some of which include:
Do not climb on or hang anything from the trees.
Have common sense and common courtesy.
Do not drive off of established roads.
Do not feed or approach any wildlife.
Never leave trash behind.
» Find the perfect hiking clothes. I love these weather resistant, breathable shorts by Arcteryx (for women | for men) paired with a light performance shirt (for women | for men).
Easy Hikes in Southern California
There are many different types of terrain in California, from forested areas, to rocky ground, to sandy beaches to traverse. For this reason, there are also many different levels of hiking available, so you can find something that suits your ability level. We've broken out the hikes in Southern California from easy to hard.
1. Paradise Falls
Paradise Falls is a popular hiking destination outside of Thousand Oaks, California. It is surrounded
by various other hiking trails, making the area perfect for a day outside.
This hike is a moderately challenging route. It will take around an hour and 20 minutes to complete. If your goal is to reach Paradise Falls, there are several routes you can take, including a 2.15-mile out and back hike and a 2.55-mile loop that visits a small cave.
It is a downhill hike from the trailhead to Paradise Falls with 260 feet of elevation change. In Wildwood Park, there are other attractions besides the falls that you might want to add on to your hike. We particularly like, Lizard Rock, which will extend your hike to just over 4 miles.
Runners, hikers, and even those on a casual stroll are fond of the area, so the trails can
become somewhat busy depending on the day of the week and the weather. Although hard to
resist, swimming and climbing are prohibited at Paradise Falls.
If you decide to venture into Thousand Oaks after your hike, The Gardens of The World is a
magnificent botanical garden in the city's downtown area.
2. El Dorado Nature Center in Long Beach
The El Dorado Nature Center is a great place to find a few short and easy hikes and I can guarantee it'll be one of the most picturesque hikes you'll take in the area.
The nature center trail is a 2.3-mile loop trail that will take about 45 minutes to complete. It's a popular and well-maintained trail that's loved by birders, trail runners, and walkers, so you can expect it to be a little busy, even though it's a bit of a hidden gem in Long Beach.
The park includes two miles of dirt trails and a ¼-mile paved trail that wind around two lakes, a stream and forested areas.
There is a fee for parking and the park closes at 5pm. Dogs are not allowed.
3. Torrey Pines State Reserve in La Jolla
There are dozens of trails surrounding San Diego, but Torrey Pines State Reserve is one of our favorite places to find easy trails with amazing views. There are actually around 12 different trails at this state reserve and all of them are spectacular.
The Torrey Pines Beach Trail Loop is a 2.3-mile trail with spectacular ocean views, firming this up as one of the most scenic easy hikes in Southern California. It will take a little over an hour to complete, with very little elevation gain. Part of the trail is even paved.
When you're done with this hike, you can tack on another short hike in the area, like Yucca Point Hike at just over one mile, or the Guy Fleming Trail at just under one mile.
4. Eaton Canyon Falls Hike
Eaton Canyon Falls is a well-loved waterfall and swim hole just outside Pasadena. The hike to this scenic spot is 3.5 miles round trip with a moderate rating, remaining relatively easy until boulders appear closer to the falls. Scattered boulders lay just outside the waterfall's pool, making perfect seats for visitors.
Unlike many of the waterfalls in Southern California, Eaton Canyon Falls are flowing year-round. This makes up much of their appeal to locals who often see years without much rain. Planning around peak hours and days is wise as the trail can be heavily trafficked.
If you find yourself showing up at the wrong time of day, bide your time vintage shopping or checking out the many places to grab a bite in Pasadena.
5. Sturtevant Falls Hike
This popular waterfall hike is 3.2 miles round trip, taking about 1.5 hours to complete. It's not hard to see why it's so popular, and often crowded, because it leads into gorgeous Santa Anita Canyon and the brilliant 40-foot-high Sturtevant Falls.
The hike goes from Chantry Flats down into the canyon, past some private cabins by the stream, then up to the waterfall. There are two things to be aware of here. One – the parking lot can fill up fast because this is a popular trail; Two – the waterfall is usually fairly strong, but in late summer it might be only a trickle.
You can park at the Forest Service parking lot, or the pack station lot for $5, and there is some side street parking if the lot is full.
6. Red Rock Canyon
You wouldn't believe this canyon hike is actually in Orange County and not in Arizona somewhere. It's absolutely gorgeous with the enormous red boulders that you'll walk through and it only takes 45 minutes to get there from the center of Los Angeles.
This is a 4.6 mile hike that will likely take you about 1 hour 45 minutes to complete. The total elevation change is just 470 feet, so it's considered an easy, mostly flat hike.
It sounds counter-intuitive, but sunset is a great time to tackle this hike because the lighting is really dramatic on the rocks. You might see less wildlife in the evening though.
7. Barker Dam Nature Trail
Barker Dam Nature Trail is a mild hike through Joshua Tree's famous landscape. Enjoy the otherworldly trees and rock formations with your whole family, as this hike is only an easy 1.3-mile loop. The Barker Dam trailhead is located on Park Boulevard, 12 miles west of an intersection with Pinto Basin Road.
The trail takes its visitors to one of the few bodies of water found in the area: Barker Dam. However, this manmade lake can disappear in the dry season, so visiting in the colder months is recommended. Avoiding the Summer months is often smart when planning to visit Joshua Tree, as the temperature can soar well into the 100s.
Another way to avoid the heat is to hike at sunrise or sunset, allowing you to soak in the vibrant orange and pink skies that the desert is known for. This is also a great way to avoid any crowds that may gather on this popular route.
Near the Dam, you can also find petroglyph-covered boulders that reflect the history of Native Americans in the area. As always, be sure to respect the nature around you and its history. Joshua tree locals are very protective of the desert and are often on the lookout for those who don't follow desert etiquette.
After your hike, head into downtown Joshua tree to cool off in the air-conditioned shops and get lunch at a local eatery. There is no shortage of eccentric roadside attractions to enjoy along the well-known 29 Palms Highway.
Harder Hikes
8. Sandstone Peak, Santa Monica Mountains
A moderate hike that's just an hour to the northwest of Los Angeles is the Sandstone Peak hike. At 3,111 feet, Sandstone Peak is the tallest point in the Santa Monica Mountains. This 6.5 mile loop trail takes you up to the top and back in about 2 hours. There are also a few other options to shorten the hike, if you want.
This is a popular hike with a somewhat rocky path that has a steady elevation gain for a total of 1000 feet of elevation gain. Near the end you'll have to scramble a bit to get up to the peak. Be aware that there is nearly no shade on this route, so going in the middle of a hot and sunny day is not advised.
9. Mt. Whitney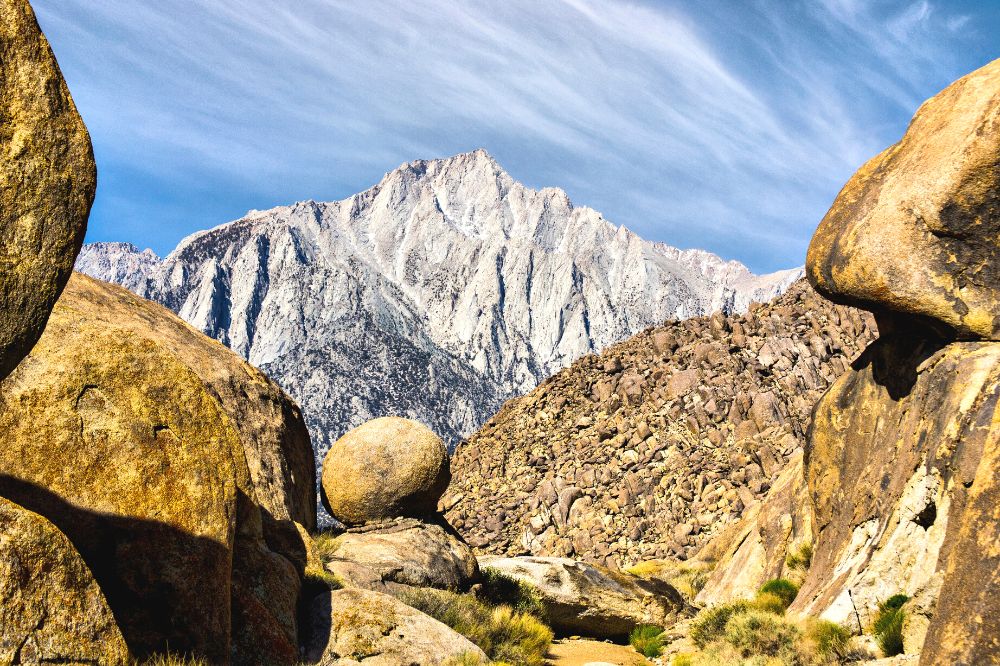 Mt. Whitney is one of California's most challenging hikes, the highest mountain in the contiguous United States and Sierra Nevadas. Hikers often train for weeks to months prior to taking on the trail. A permit is required, along with a backpack of supplies in case of an emergency for you or another hiker.
This expert hike is 22 miles total and takes, on average, 12-16 hours to complete. The most popular route up the mountain is on Mt. Whitney Trail from Whitney Portal. This trail allows campers to complete the course of the hike in one go or to split it up between two or several days. Those who often struggle with altitude sickness may choose the latter to allow more time for acclimation.
There are multiple camps on the way up the mountain, each providing water. There are, however, no porta-potties, so campers must carry out waste in a WAG bag. The lower camps often see visits from bears, so be sure to store your food safely. It is also common to keep larger bags before climbing the summit so that hikers only have to carry a small pack for the final ascent.
There are many ways to complete the final stretch to the summit, varying in difficulty. Mt. Whitney Trail is class one, allowing a hiker to complete it in hiking boots; however, any higher classes begin to require climbing gear and experience. Whether camping or hiking it all in a day, make sure to pack warm clothes as it can be chilly higher on the mountain.
10. The Hollywood Sign
Hikers often underestimate Los Angeles's famous hike due to its prevalence in the media. While this trail is heavily populated and missing some of the natural elements of the other hikes on this list, it can still be rather tiring between its steep incline and often hot weather.
The hike is 6.4 miles out and back and full of sights, often including other hikers. Don't be surprised if you see a celebrity or two getting their workout in for the day. This trail is well marked and should be easy to follow as it takes you right up behind the famous landmark.
The trailhead that will get you started is Bush Canyon Trail to Mt. Lee. There are many options for parking in surrounding lots and neighborhoods, but if you do park inside Griffith Park, its gates close at sunset and may trap your car inside.
While the total hike gets you to the Hollywood sign, the first few miles are very popular as a daily walking and running path for LA residents, so don't be surprised if the crowds thin as you make your way farther along.
11. Mount Baldy Hike
Even though this hike is quite difficult, it's one of the most popular in the Los Angeles area because it takes you to the highest point in Los Angeles, at 10,064 feet. Imagine the views from up there!
Located on Mt San Antonio – Mount Baldy's real name – the hike is about 11 miles and will take you about 7 hours to complete. It's located in the new San Gabriel Mountains National Monument which is quite popular. It's best to set out as early as possible for this hike because it can get crowded, and since it'll take most of the day, you don't want to get caught up there after dark.
Remember also that there can be snow at the summit, so the best time to hike it without snow is May to October. Get there by driving just past the Manker Campground, which is just over an hour's drive east of downtown LA.
12. Echo Mountain Hike
If you're looking for a difficult hike that's close to Los Angeles, the Echo Mountain hike fits the bill. It's a 5.6 mile hike that steadily winds uphill and is not for the untrained. You'll climb up the east side of Los Flores Canyon.
According to HikingGuy.com, "As you climb the trail, your route will parallel some of the old Mount Lowe Railway route, the only electric mountain railway ever built in the USA. When it was built in 1893, it was considered a modern marvel and welcomed over 3 million riders during its lifetime."
It has a lot of history, that trail. It was the site of a luxury resort and astronomy observatory at the turn of the 20th Century. The views are stunning.
13. Trans Catalina Trail
Catalina Island sits off the coast of Southern California, offering a getaway for many residents from Orange County to Los Angeles. Most visitors travel to the island by their personal boats or the few public, ferry-like boats that carry passengers to and from.
Every year, a portion of these visitors are those making the voyage to backpack the Trans Catalina Trail, which leads hikers on a 38.5-mile hike across the island's entire length. This trail is challenging, not only because of its length but also due to the dry heat and lack of shade that it is known for. It is recommended that only experienced and prepared hikers take on the nearly 40-mile journey.
While the trek begins and ends in small towns on the edges of Catalina, the entire trail in between is a far cry from any sort of civilization. The journey should take 3-5 days, depending on the pace and distance covered each day.
You must have a permit to traverse the Trans Catalina Trail, and it is essential to make campground reservations for each night of your hike ahead of time as they can get busy. One big draw of this trail is that giant bison have covered the island for many years, which is a sight unfamiliar to many Californians.
Avalon Harbor and Two Harbors are the finishing points for this journey, depending on which direction you decide to complete the hike. Either town provides its own places to eat, drink and celebrate before you journey back to the mainland. If you are of age, make sure to try one of Catalina's "buffalo milk" cocktails.
14. Bridge to Nowhere
An iconic Southern California hike is the 10-mile round trip that follows the banks of the East Fork of the San Gabriel River. It will take about 6 hours to complete.
This gorgeous 120-foot-high bridge still spans the San Gabriel River. It was built in 1936 to connect the San Gabriel Valley with Wrightwood, but just two years later the road was washed away by massive flooding and all that was left was the bridge.
You can take this hike year round, but you'll want to avoid any time when heavy rains have occurred, as the water rises quickly and you'll be unable to cross the river. The trail is mostly gradual with some rugged terrain and rock scrambling. You will have to wade through water at a few points to get there.
Be sure to go early to get a parking spot, avoid the crowds, and the late-afternoon heat. Water shoes or hiking sandals can be a good alternative to boots because they'll be getting wet. Bring plenty of water because there is no shade on the trail.
15. Channel Islands National Park
For the ultimate hiking experience, you should get off the mainland for a while and experience the crazy beauty of the Channel Islands, just off the coast of Ventura. You have to take a ferry to get there, so there's some advanced planning required, but it's very much worth it.
There are dozens of hikes you can do in the Channel Islands National Park. There are four islands you can visit: Santa Cruz, Santa Rosa, Anacapa, or San Miguel. The biggest of these, and easiest to get to is Santa Cruz island.
For a moderate hike, the Cavern Point Loop Hike is perfect. It's 2 miles, round trip from Scorpion Beach, which is easy to reach on foot. To avoid a steep climb at the beginning, hike clockwise starting at site #22 in the campground and then looping back to Scorpion Anchorage.
Conclusion
While this list only glosses over some of the thousands of amazing hikes Southern California has to offer, I hope it makes you want to put your hiking boots on and get out there. If you collect enough stories and photos along the way, you may even find yourself writing your own blog one day.
Remember, the most important part of each hike is to take in the beauty around you and the company you share it with, as few are lucky enough to experience the beauty of the golden state first hand.
Like this article? Save it on Pinterest so you can find it again.
FOLLOW US on Pinterest and Facebook for more California travel inspiration and tips!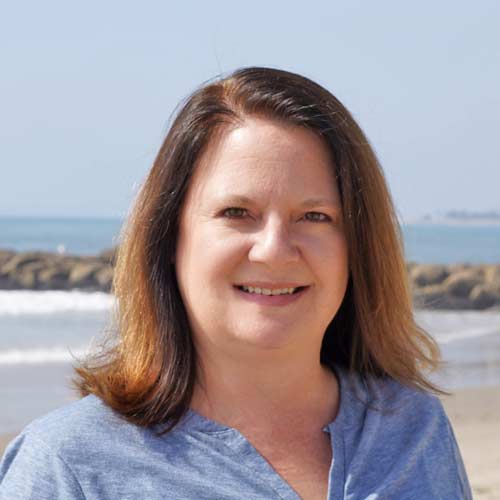 Laura is a travel fanatic who loves seeing and doing new things. She lives in Ventura, CA, and spends a lot of time exploring California's cities, beaches, and national parks.