If you're looking for the quintessential California road trip then you cannot go wrong with the Pacific Coast Highway. Also known as Highway 1, this San Francisco to San Diego road trip will take you by some of the most iconic towns and jaw-dropping scenery in California. It is truly a trip to be remembered.
The drive along Highway 1 is about 570 miles total and it's recommended that you plan to spend five to seven days (at least) enjoying the highlights of this iconic road trip. This will allow you to take your time and really experience the beauty of the California coast without feeling too rushed.
Our itinerary starts in San Francisco and ends in San Diego. The reason I recommend doing your Pacific Coast Highway road trip north to south is that you'll be on the coastal side of the road. When you're driving and can see the ocean the whole way, you'll thank me.
You can do this road trip in your car, staying overnight at hotels or campsites, or you can rent an RV that you can camp overnight in. Rent a camper van from Escape Campervans, the largest in North America with 600+ campervans and lots of good reviews.
The way we've laid out the itinerary is just one way to do it. There are dozens of possibly stops along the way, and you can really configure it however you want to suit your tastes. So just mix and match and have a good time!
» Looking for more inspiration along the route? Check out all our guides to San Francisco, Los Angeles, Santa Barbara and San Diego. Find the best beaches in Monterey, waterfalls in Southern California, and national parks.
What is the Pacific Coast Highway?
This highway actually traverses the entirely West Coast, from the top of Washington all the way down to the Mexico border. It runs along two highways – US 101 in Washington, Oregon, and the northern part of California and US 1 from there until San Diego. In total, it's 1,675 miles and it goes past some of the most beautiful parts of the United States.
The typical Pacific Coast Highway road trip is from Leggett, CA, in the north, to San Diego, but for most people that's quite far, so we've decided to define ours as San Francisco to San Diego. You can save the northern part for a Northern California road trip later on.
Pacific Coast Highway Road Trip Route
Distance: 571 miles
Suggested Duration: 5-7 days
Suggested Stops on this San Francisco to San Diego Road Trip
San Francisco
Monterey
Carmel-by-the-Sea
Big Sur
Pismo Beach
Santa Barbara
Ventura
Malibu Beach
Los Angeles
San Diego
Highlights
Some of the highlights of a PCH road trip include visiting the beautiful bay area and San Francisco, where you'll also want to spend a few days exploring, taking time to see the Golden Gate Bridge, visit Alcatraz, and walk along the Pier at Fisherman's Wharf.
Moving a little bit further south, the Monterey Bay area including the charming town of Carmel-by-the-Sea and the gorgeous Monterey beaches both have a lot to offer travelers.
Another highlight of the PCH is visiting the incredible natural area of Big Sur and taking in it's stunning scenery, from the dramatic Bixby Creek Bridge to dramatic cliffs, and the insane views.
Santa Barbara and the surrounding wine country is one of our favorite places to spend time. Then you're off to the charming town of Ventura with untouched beaches and tons of local craft breweries. The beaches of Malibu, and all the dozens of sights to see in Los Angeles and San Diego.
Day-by-Day Itinerary
San Francisco
San Francisco is the starting point of this road trip itinerary. There are tons of things to do in this city, including the following. So you might choose to spend a few days here before you start your road trip. On your way out of town look for these places to see Redwood trees, they really are a sight to see.
One of the most vibrant and picturesque cities in the United States, San Francisco is known for its delicious seafood, world-famous attractions and glorious views. San Francisco offers a significant number of cultural attractions and world famous landmarks, all in the surroundings of impressive natural beauty. You will want to try a few of these San Francisco bakeries while you are there.
Golden Gate Bridge (visitor center with exhibits and guided tours)
Golden Gate Park is much more than just a park. It has lakes and hiking forests, even some bison live there. It's a great place to spend a few hours and enjoy the scenery.
Fisherman's Wharf is one of the main attractions for visitors, though it is a little overly touristy in my opinion, you'll still go there to see the sea lions and eat some seafood.
Take a boat tour out to Alcatraz – America's most famous (now-closed) prison in an island.
Check out some of the city's neighborhoods, like North Beach, Union Square, Mission, and Chinatown.
» Try this tour: San Francisco Love Tour
Monterey
Monterey is a gorgeous place that you really shouldn't miss on your road trip. You can stop on Cannery Row and take a walk from the Aquarium down to the other end, passing all kinds of shops along the way. If you stop in at the aquarium and eat lunch or dinner, you should expect to spend about 3-4 hours here.
Discover Old Fisherman's Wharf with its great restaurants, seafood, and unique shops.
Visit the Monterey Bay Aquarium with over 200 award-winning galleries and exhibits and approximately 550 different species of marine life.
Visit some of Monterey's amazing beaches
Take one of the numerous whale watching boat cruises to see Grey and Killer whales, dolphins, turtles, porpoises, sea lions and more.
Take the incredibly scenic 17-mile drive past Pebble Beach
» Try this tour: Half-Day Whale Watching Tour From Monterey
17-Mile Drive
I think you can't miss the 17 mile drive while you're on a road trip in this area. It will take you a little bit out of the way, but you're going down to Carmel anyways, so why not take the scenic route?
This short but super scenic drive goes through Pacific Grove and Pebble Beach, along the Monterey Peninsula, past beautiful beaches, the famous Pebble Beach golf course, and incredible mansions. There is a gate fee of $11.25 per vehicle.
» Try this tour: 17 Mile Drive Guided E-bike Tour Pebble Beach From Monterey
Carmel-by-the-Sea
Just south of Monterey lies the beach city of Carmel, also known as Carmel-By-the-Sea. Although the city has a population of less than 4,000 people it has over 90 art galleries, numerous antique shops, 14 churches, more than 50 hotels, resorts and inns, 2 golf courses, several restaurants and outdoor cafes, over a dozen wineries and tasting rooms, and numerous souvenir and boutique shops.
Go wine tasting in nearby Carmel by the Sea, one of the cutest little towns you'll ever visit.
Go shopping at the many high-end boutique shops.
Spend some time on the gorgeous beach – have a picnic, enjoy the weather.
Visit the Carmel Mission Basilica Museum.
» Try this tour: Guided 2-Hour Walking Tour in Carmel by the Sea
Point Lobos State Marine Reserve
Just a few miles south of Carmel is the Point Lobos State Marine Reserve. If you leave Carmel in the morning, you can take advantage of the things the park has to offer and get on to Big Sur as well.
Point Lobos has so much to offer, not just in amazing views, but in sheer number of things to do. You're definitely going to want to have your camera ready because this jutted piece of land just south of Carmel-by-the-Sea is absolutely stunning.
Kayaking, snorkeling, scuba diving, and swimming are all permitted in Point Lobos. It's a top spot for birding, hiking, and trail running. The Point Lobos trail is a 6.7 mile hike that takes about 3 hours to complete.
The reserve has eight beaches: Gibson Beach, Headland Cove, Hidden Beach, Moss Cove, Sea Lion Cove, Weston Beach, Whalers Cove, and China Cove.
Big Sur
When you think of the Pacific Coast Highway road trip, you're likely picturing Big Sur. Bixby Creek Bridge, also known as Bixby Canyon Bridge, on the Big Sur coast, is one of the most photographed bridges in the United States. You're going to want to get there around midday to get the best light for pictures.
Big Sur is actually the whole stretch of coastline between Carmel and San Simeon. Highway 1 carves along the steep cliffs with dramatic views and the road is beautiful, but hazardous. It's really only best to drive it in good weather conditions.
McWay Falls is an 80-foot waterfall created by McWay Creek that falls down off the cliff onto a beach below. The turquoise cove and wonderfully green cliffs make a stunning backdrop for the waterfall.
Pfeiffer Beach is a purple sand beach, created by particles of manganese garnet washing down onto the sand. It's a very photographable beach, especially at sunset.
Sand Dollar Beach, about 30 miles south of the bridge is this great crescent shaped, gorgeous beach that's great for a stop.
There are just dozens of other things to do that we won't mention here. Go to this post to see more.
Overnight in Big Sur
If you're camping or in an RV, stop at Pfeiffer Big Sur Campground on the north side or San Simeon Creek Campground to the south.
Morro Bay
There are no large attractions, theme parks or crowds of people, just twenty three miles of beautiful sandy, uncrowded beaches and sand dunes surrounded by golf courses, wooded areas and small towns.
Lie on a white sand beach soaking up the sun during the day.
Go for long moonlit walks along the oceans edge at night.
Go whale watching for gray, humpback and killer whales. View dolphins, sea otters, sea lions, pelicans and seagulls.
See huge colonies of giant elephant seals up close.
Dig your own clams for lunch or dinner.
Visit one of the most spectacular Monarch Butterfly Groves in the country
Go hiking – there are 13 very scenic hiking trails in the area
» Try this tour: Guided E-Bike Tour of Morro Bay
San Luis Obispo
If you're into wine tasting, a stop for the rest of the afternoon and an overnight in San Luis Obispo is just the thing. We love going wine tasting in San Luis Obispo. You can through town and down Orcutt Road to hit up wineries like Tolosa, Baileyana, Saucelito Canyon, and Edna Valley Winery.
This is also a great place to stop for the night if you've chosen to do some wine tasting. There are plenty of good hotels to choose from and we really highly recommend going to Firestone Grill for their super popular Tri Tip Sandwich, which is so very good. For me, it's truly one of the highlights of this San Francisco to San Diego road trip itinerary.
» Try this tour: Taste of SLO – Downtown Walking Food Tour
Pismo Beach
If you're up early, go for the short drive to Pismo Beach and head straight down to the beach for a morning walk. Visit the Monarch Butterfly Grove, which shelters monarch butterflies that migrate to Pismo State Beach in the cooler months. It's really incredible. Trust me.
The historic Pismo Beach Pier extends 1,200 feet into the ocean and connects to downtown where you can find some of the area's best clam chowder at Splash Cafe. Also be sure to see the Dinosaur Caves Park, which has some really stunning views.
» Try this tour: Pismo Beach, California, Surf Lessons
Santa Barbara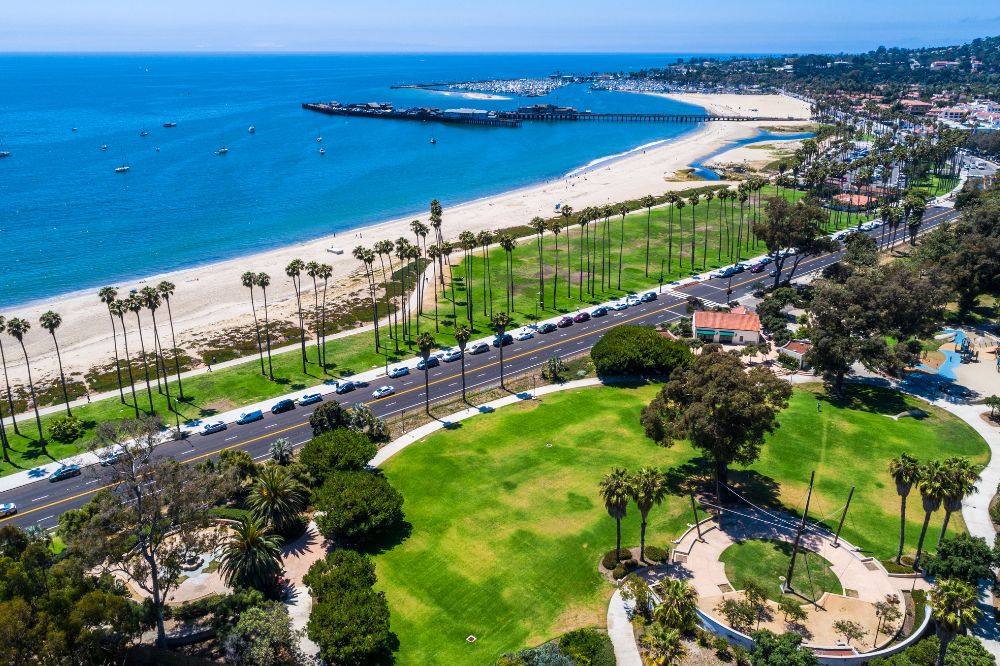 Located among the striking Santa Ynez Mountains, Santa Barbara is a coastal wonderland like no other. With deep turquoise waters dipped in a small-town feel, this city is a top choice for travelers seeking to enjoy adventures with some beautiful backdrops and amazing wine to go with it..
Whether you prefer sipping fine wine while the sun sets on the shimmering bay or you're looking to sail the seas for some whale watching, you're in for a treat.
Ready to embark on an island adventure? Santa Barbara is situated close to Channel Islands National Park. This network of five islands is filled to the brim with outdoor activities, such as kayaking and scuba diving.
» Try this tour: Downtown Santa Barbara Food Tour
Ventura
You might not have heard of Ventura before. Its not one of the regulars on the California travel list. Originally called San Buenaventura, this small city has been overlooked for a long time, and that's probably just how the locals prefer it. But it's changed quite a bit over the years and is now a destination not to miss.
Located halfway between Santa Monica and Santa Barbara, Ventura is one of the last remaining untouched beaches. There are very few resorts here, and the beach – which is almost always uncrowded – still very much belongs to the locals. If you're looking for a quiet, peaceful and uncrowded place to hang out on the beach, this is definitely where you should go.
The Main Street has gone to pedestrian only and the number of great restaurants and shops that line the street are ever increasing. The old San Buenaventura Mission is an interesting place to visit. There are also 11 craft breweries in Ventura, which is perfect for a beer crawl.
Los Angeles
Los Angeles, California is a place of beautiful beaches, sunny skies, and many popular attractions. Contrary to what most people think, Los Angeles is a melting pot of culture and history. There is always something to do in L.A. and its surrounds.
One of the most popular attractions in LA, Hollywood Boulevard was once home to the greatest studios and a milieu of popular celebrities and visitors. Now, it is a street lined with pricey souvenir shops and boutiques, as well as generic, expensive restaurants.
Universal Studios is a great place to come if you have kids. However, while the rides are amusing, are not as great as they're made out to be.
If you have some time to kill, hike up to the Hollywood sign. It's a somewhat strenuous hike, so be prepared.
One of LA's most visited locations, Melrose Avenue boasts expensive dining and lots of shopping.
The grove is a small shopping center with a number of high end boutiques, good food, and an excellent place for people watching and window shopping.
The farmer's market at the Grove is an excellent way to enjoy your trip to Los Angeles.
» Try this tour: Full-Day Iconic Sights of LA, Hollywood, Beverly Hills, Beaches and More
Our Recommended Hotel
San Diego
In 1769 a small Spanish colony became the first European settlement in California. It is often referred to as the birthplace of this great state. One of the most beautiful cities in California, the urban playground of San Diego is the perfect destination for travelers looking for a beach vacation with a twist.
Make your way through the intricate tapestry of San Diego's neighborhoods and delve into a wide array of nooks and crannies to explore. That should include checking out the vibrant food scene either on your own or through a food tour. If you're looking for the best things to see in California, Balboa Park is embellished with Spanish Colonial Revival architecture and has up to 17 museums to explore.
Balboa Park has various famous attractions in the vicinity to experience and enjoy. A San Diego Zoo tour is a great experience for travelers who love animals. This walk on the wild side endeavor includes an interactive excursion with some of the cutest critters in the world.
See the USS Midway Museum and walk along the waterfront
Visit Balboa Park, where you'll find the San Diego Zoo, more than 16 museums, and a performing arts venue.
Spend a day walking around La Jolla, eating at El Pescador Fish Market, seeing the sea lions, and the La Jolla Caves.
Do a brewery crawl to Ballast Point, Bolt, and Stone Brewing.
Visit San Diego Zoo Safari Park, SeaWorld San Diego, and LEGOLAND California.
» Try this tour: Skip the Line: USS Midway Museum Admission Ticket in San Diego
Our Recommended Hotel
How long does it take to drive from San Francisco to San Diego?
It takes roughly 10 hours to drive the full 570 miles of this road trip from San Francisco to San Diego, but that doesn't take into account any stops or any traffic, and I'm sure there will be plenty of those two things in your trip. It is suggested that you take 5 to 7 days to complete this California road trip from San Francisco to San Diego.
Where should I stop on the road trip from San Diego to San Francisco?
I've included a lot of possible stops on this road trip itinerary. The reason I give options in each area is so that you can choose the things you want to do in each area. You can also skip a stop, or add in a stop that I didn't include. There is a great amount of flexibility in your road trip. I do recommend at least venturing into each of the areas I've included because they are all very much worth a stop.
What is halfway between San Diego and San Francisco?
San Luis Obispo is about the halfway point on this road trip to San Diego from San Francisco. It's a small town, but there are lots of great restaurants and bars to spend an evening while you rest up for the second leg of your trip.
How much would it cost to drive from San Diego to SF?
Gas prices will greatly dictate how expensive the drive itself is. With gas prices at around $5.50, you can expect it to cost around $120 to drive the whole trip.
Conclusion
Traveling on the Pacific Coast Highway is one of those momentous things that you'll never forgot. It's always one of the trips that people tell me they enjoyed the most of anywhere they've been. It's easy to see why once you've done it. The sheer number of epic views you'll come by are enough to cement it in your mind forever.
Start planning your San Francisco to San Diego road trip with this guide. You'll be so glad you didn't put it off. California has so much to offer in the way of scenery and views.
Like this article? Save it on Pinterest so you can find it again.
FOLLOW US on Pinterest and Facebook for more California travel inspiration and tips!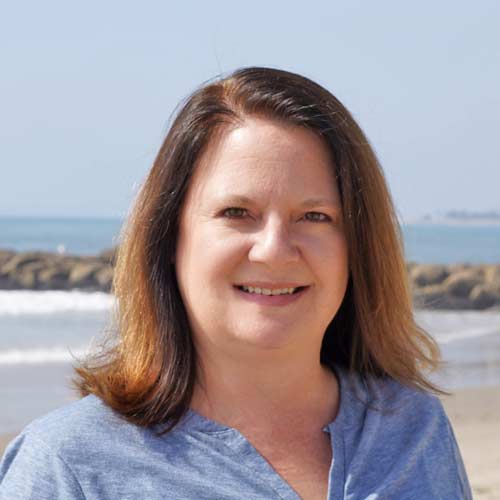 Laura is a travel fanatic who loves seeing and doing new things. She lives in Ventura, CA, and spends a lot of time exploring California's cities, beaches, and national parks.