San Francisco is a city with endless possibilities for things to do. You really could spend weeks exploring even just the main attractions in this city, and that's why people love it so much. No matter how many times you've been back, or even if you've lived there for years, there's always something new and fun to do.
» You might like What To See In Yosemite In One Day.
Are you planning your trip to San Francisco?
If you're traveling to San Francisco, ensure you have lodging and tours booked ahead of time! Below are some of our top picks to help you plan!
Where to Stay in San Francisco:
Omni San Francisco Hotel (4.5-star luxury hotel near Pier 39)
Hotel Emblem (4-star boutique hotel near Golden Gate Bridge)
1 Hotel San Francisco (5-star luxury hotel near Ferry Building)
Best Tours and Experiences in San Francisco:
Most visitors start with the typical tourist attraction, like the Golden Gate Bridge and Alcatraz when they come to San Francisco for the first time, and that's what I would recommend doing. Those sights are iconic for a reason. Check them out, but then if you're looking to scratch a little further past the surface, dig into some of the other things on our list.
» Check out the San Francisco CityPASS which gives you admission to some top area attractions and activities as well as discounts while shopping.
Our Recommended San Francisco Hotel
Need a little more planning advice? Start with our 2-day San Francisco itinerary, then be sure to check out San Francisco's best bakeries, and when you're done exploring inside the city, here are some weekend getaway ideas.
50 Things to Do in San Francisco
The Golden Gate Bridge
The Golden Gate Bridge is also a source of interest for visitors and there's more to it than just its bright color. The Golden Gate bridge is named for the Golden Gate Strait, the turbulent waterway below the bridge. You can visit Golden Gate Park, which has gardens, museums and trails to explore.
It's free to walk across the Golden Gate Bridge, which will offer a pretty fantastic view. You can also check out the visitor center and gift shop. And if you can't get that close, here are some other viewpoints of the Golden Gate Bridge where you can go to view it from afar.
Golden Gate Park
Spend some time exploring Golden Gate Park, which is much more than just a park. It has lakes and hiking forests, museums, gardens, hiking trails, and even some bison live there. It's a great place to spend a few hours and enjoy the scenery.
The park is actually larger than New York's Central Park and in my opinion equally grand. There is so much to do and see in Golden Gate Park that you could spend a good portion of your vacation here alone.
⇒ Book a Golden Gate Bridge to Sausalito Bike Tour
Alcatraz
Alcatraz might be the best-known (former) prison on earth. It's built on a rock on an island in the middle of San Francisco Bay. Now it's a museum exhibiting objects made by notorious inmates, historic photographs and documents.
If you must make a trip out to Alcatraz, the only way to get there is to take one of the ferries operated by the Alcatraz Cruises company. It's a self-guided tour when you arrive, though you can get an audio guide, which is definitely worth it.
When you go, make sure to plan ahead for your visit and give plenty of time. It's a very busy attraction.
⇒ Combine your Alcatraz ferry ticket with a city tour and save money.
Fisherman's Wharf
Fisherman's Wharf is also an iconic activity that you must do when visiting San Francisco, particularly for the first time. You can walk from Pier 47 down to Pier 35 or vice versa. Here's a self-guided walking tour to check out. In between, you'll find dozens of souvenir shops, food vendors selling clam chowder in a bread bowl, and even a bunch of barking Sea Lions.
You can stop off at numerous places to eat, wander out onto the piers, pop into Ripley's Believe it or Not, or just dodge all the other tourists who are sharing the sidewalk.
Try this tour leaving from Fisherman's Wharf: San Francisco Movie Sights City Tour
Ride the Cable Car
There are three possible routes to take. Two of them start at Powell & Market and go toward the Fisherman's Wharf area at Hyde and at Mason. The third line goes from California toward Van Ness Avenue. The Powell/Mason line is the most popular. If you board at Powell and Market, you'll get to see the cable car turnaround from the video above.
You can get on the car at any stop along the route, so you can avoid the long line at the turnaround by going to a nearby stop, though you may have to hang on to the side of the car, rather than sitting down. That's all part of the fun anyway!
» Find more information on ticket prices and hours of operation here.
San Francisco's Chinatown
Head over to Chinatown for lunch. This neighborhood is home to one of the largest Chinese communities in the world outside of China, and it's a great place to sample authentic Cantonese cuisine.
It's about a mile walk or you can take the 8 bus from Powell & Bay St. Head towards Delicious Dim Sum on 752 Jackson Street. This is our favorite place to go for dim sum. It's very small and often packed, so be prepared for a wait, or try Good Mong Kok Bakery instead.
Ghirardelli Square
Ghirardelli Square was once home to the chocolate factory of the same name, but when the manufacturing was transferred to a different location, the square was turned in a retail location that preserved it as a go-to destination in San Francisco. In 1982 it was granted National Historic Register status.
While the Ghirardelli chocolate experience store is still located in the square, the area offers so much more than that. There are restaurants like Barrio and McCormick & Kuletos, San Francisco Brewing Co, lots of shops, and even a mini golf experience.
San Francisco Bay Cruise
One of the best things San Francisco has going for it is enormous views and spectacular scenery. The best way to take it all in is on a bay cruise. There are cruises of all kinds you can go on, during the day, at night, a food cruise, a cocktail cruise, etc.
One of our favorite ways to see the bay is on a sunset cruise. It takes about 2 hours, and makes its way through the bay to see the Golden Gate Bridge, Alcatraz and Sausalito. Some cruises even have light buffets and drinks on board that you can enjoy while listening to the commentary.
⇒ Book a San Francisco Bay Twilight and Sunset Cruise or a Sunset Catamaran Cruise.
Ferry Building Marketplace
Located along The Embarcadero at the foot of Market Street, the Ferry Building Marketplace has been re-purposed into a massive marketplace showcasing some of the city's finest produce, seafood and specialty food purveyors.
The market is perpetually packed with tourists and locals (especially on Saturdays when the farmer's market is also open) trying samples, picking out fresh meats at Golden Gate Meat Company or seafood at San Francisco Fish Company, and crowding into restaurants like Hog Island Oyster Co and Slanted Door.
If you're a foodie or a shopper, you'll be in heaven here. There are tea shops, cafes, ice cream shops, fresh bread, salami, cheese and chocolate, etc.
⇒ Go on a San Francisco food tour of the ferry building marketplace.
Union Square
Union Square is the city's premier shopping district, with tons of boutique and luxury shops, restaurants, cafes, art galleries and things to explore. Start the morning out with some window shopping on your way to breakfast at Sears Fine Food.
The earlier you get your shopping fix on in this neighborhood the better, as it gets pretty packed after lunch. While there isn't much of nightlife in Union Square, it stays busy with restaurant and theater goers.
You'll find all the top retailers from Tiffany & Co., Louis Vuitton, Dior, Bulgari, Macy's, Saks Fifth Avenue, Neiman Marcus and Nike. And you can augment your energy levels between shops at the Clock Bar, in the Westin St. Francis, or Iron Horse coffee shop on the (mostly) pedestrian-only Maiden Lane.
Painted Ladies
The Painted Ladies are a row of Victorian houses, build in 1892, that are located in the Alamo Square Park. The houses are a popular tourist attraction, and are often photographed due to their bright colors and unique architecture.
Each home was built in the Queen Anne architectural style, with distinct features like gingerbread gables and stained-glass paneling. The houses were given their current name in the 1960s, when they began to be used as a backdrop for photographs.
Treasure Island
Treasure Island is a district in San Francisco that is best known for its views of the Bay Bridge and the Golden Gate Bridge.
Some of the most popular attractions on Treasure Island include the Bay Bridge Viewpoint, the Golden Gate Bridge Viewpoint – both spots where you can take great pictures of the bridges – and the Yacht Harbor – a spot where visitors can take in stunning views of San Francisco's skyline from the water.
Some of the most popular restaurants on Treasure Island include the Crow's Nest Restaurant, the Fog Harbor Fish House, and the Wrecking Ball Coffee Roasters.
The Castro
If you're looking for a fun and eclectic district to explore in San Francisco, be sure to check out the Castro district.
Some of the most popular attractions in the Castro district include the Castro Theatre, best known for its architecture and its movie selections, the GLBT History Museum, dedicated to celebrating the history and accomplishments of the LGBTQ community, and the Harvey Milk Plaza, a plaza that is named after Harvey Milk, who was the first openly gay person to be elected to public office in California.
Some of the most popular shops in the Castro district include the Cliff's Variety Store, the Good Vibrations Store, and the Leatherby's Family Creamery. Popular restaurants include the Starbelly, Fable (with a great garden patio) and Blind Butcher.
Mission District
The Mission District is another great place to explore San Francisco's counterculture. The district is home to a large number of Mexican restaurants, taquerias, and bakeries. You can also find some great bars and clubs in the area.
This neighborhood is home to some of the best burritos in the city, as well as murals, art galleries, and live music venues. If you're looking for a place to have some fun, the Mission District is definitely the place to go.
» Try this tour: Secret Food Tour of San Francisco's Mission District w/ Private Tour Option
Haight-Ashbury
Haight-Ashbury is a district in San Francisco that is known for its hippie culture. If you're looking for a place to explore San Francisco's counterculture, the Haight-Ashbury neighborhood is the place to go. The district is home to numerous vintage shops, music venues, and art galleries. You can also find some great restaurants and cafes in the area.
Brewery Tour
There are so many craft breweries in San Francisco now – over 30 in San Francisco proper. You can't really go there without trying a few. The best way to see as many as possible and learn about the craft beer movement in San Fran at the same time is on a brewery tour.
With so many breweries, you can make a day of touring around to various breweries in different neighborhoods. Some that we like the most are Anchor Brewing Company, Speakeasy Ales & Lagers, 21st Amendment Brewery, Black Hammer Brewing, Local Brewing Co., and The Seven Stills Brewery & Distillery.
⇒ Book a tour
Free Walking Tour
A walking tour of one of San Francisco's many fascinating neighborhoods or districts may be the perfect activity for you while visiting San Francisco.
Some of the more popular walks are the Golden Gate Bridge walking tour, the Ferry Building walking tour, and the Coit Tower Murals walking tour, which allows peeks at murals that aren't always opened to the public as well as a glimpse into the murals that depict famous scenes from the 1930's.
The Presidio
The Presidio is a park and former U.S. Army post on the northern tip of the peninsula. You really can spend a whole day visiting the attractions here, but I suggest at least stopping at the visitor center to see what there is to do, so you can decide what strikes you.
I recommend Crissy Field for the views and walking through Battery Bluff's to see the historic gun batteries nestled in the hillside. There are lots of hiking trails, beautiful beaches, museums and restaurants.
Exploratorium
This is definitely one of those destinations that disguises education as fun. The great thing is that the Exploritorium will not only appeal to the little ones but also offer education and fun for the grown ups in your group. If I were to point out one 'must do' thing for your family trip to San Francisco this would be it.
» Get tickets here.
Muir Woods
Muir Woods is a national monument located in San Francisco. The woods are part of the Golden Gate National Recreation Area and are named after John Muir, a naturalist and environmentalist who helped to establish the park.
The Muir Woods are home to a variety of plant and animal life, including the endangered redwoods. Visitors can enjoy hiking, picnicking, and camping here. The Muir Woods are also a popular spot for weddings and other special events.
Angel Island State Park
If you love nature, this is a great place to get a good dose of it while in the big city of San Francisco. Not only can you enjoy the sea animals on the ferry ride over (if you choose a ferry for your transportation) but you get to enjoy the plant and animal life on the island as well. Don't forget the air animals either though. There are many varieties of birds that are well represented here as well.
Twin Peaks
Twin Peaks is a 64-acre hilltop park in a neighborhood of San Francisco. It's a popular attraction due to is hiking trails that lead up to the two 925-foot high peaks, named "Eureka" and "Noe". From up there, you'll get a 360-degree views of the Bay Area. It's free to visit.
Nob Hill
Nob Hill is an affluent neighborhood in San Francisco, with numerous Michelin-starred restaurants, boutiques, cultural institutions, and art galleries. Here you'll find those iconic steep streets, the Gothic-style Grace Cathedral, and the charming Huntington Park. The neighborhood also has many of the city's high-end hotels, like the Fairmont and the Intercontinental.
Land's End
Lands End is a park in San Francisco within the Golden Gate National Recreation Area. When you're visiting the bridge, be sure to take Lands End hike, which is a 3-mile loop trail that will take about an hour to complete and traverses around the park. However, if you have time you can stop off at a few viewpoints and memorials along the way which make the hike so much more interesting.
Legion of Honor
If you go on the Land's End hike mentioned above, you'll walk right by the Legion of Honor, an art museum located in Lincoln Park. The Legion of Honor is a museum in San Francisco that is dedicated to art from the Renaissance period to the present day. The museum has a large collection of paintings, sculptures, and other works of art. If you're interested in art, the Legion of Honor is definitely worth a visit.
Hayes Valley
Hayes Valley is a district in San Francisco that is known for its trendy and hip atmosphere. Hayes Valley is a popular destination for tourists and locals alike, and is home to a variety of shops, restaurants, and attractions.
Some of the most popular attractions in Hayes Valley include the Hayes Valley Farm, the Alamo Square Park, and the Patricia's Green Park.
The Hayes Valley Farm is a popular spot for people who want to get in touch with their agricultural side, as it offers a variety of fresh produce and vegetables. The Alamo Square Park is a park that is best known for its view of the Painted Ladies, a row of Victorian houses. The Patricia's Green Park is a park that is best known for its playgrounds and dog runs.
Japanese Tea Garden
The Japanese Tea Garden is a beautiful park in San Francisco that is worth visiting if you're in the city. The garden is home to a large number of plants, flowers, and trees. It also features a traditional Japanese teahouse that is worth checking out. If you're looking for a place to relax and take in some beautiful scenery, the Japanese Tea Garden is definitely the place to go.
North Beach
North Beach is San Francisco's Little Italy. This neighborhood is known for its red and white tableclothed trattorias, gelato shops, a lively nightlife scene, and a cluster of tourist attractions such as Coit Tower and the ferry to Alcatraz, and the unmissable Saints Peter and Paul Church spires.
Coit Tower offers 360-degree views of the city. Be sure to visit City Lights bookstore, which helped influence the 1960s counterculture movement. Grab a cannoli at Mara's Italian Pastry. And stop by the renowned Beat Museum which preserves the memory of the Beat Generation.
Aquarium of the Bay
Aquarium of the Bay is also a very interesting place for visit in San Francisco. It was opened in 1996. Now it's a unique educational and entertainment facility dedicated to the rich and diverse aquatic life of the San Francisco Bay and its surrounding waters.
It's located at the waterfront at Pier 39. You'll want to dedicate about 1 1/2 hours to browsing through the three main exhibit areas. Be sure to get tickets in advance. They are ~$30 for adults and $20 for children. They are open from 11am to 6pm.
Coit Tower
It's 210ft (60m) high and crowns the top of Telegraph Hill. The Coit Tower was built in 1933 as a monument to the firefighters of San Francisco. It's one of the best places to get a view of the whole bay area from its perch up in the clouds – which it literally is. Be sure to visit when the fog isn't thick.
Tickets cost $10 for adults and $3 or $7 for children (based on age). For this price, docent-led tours are available to visitors with a complete tour of the Tower including the murals. You can purchase tickets on site.
Jelly Belly Factory
Another fun thing to do for the entire family is to take a Jelly Belly Factory Tour at the Jelly Belly Candy Company. The 40-minute self-guided tour is free and offered daily between the hours of 9 am and 4pm. Tickets aren't necessary. While it isn't the height of educational fun, kids will definitely think it's cool to see how these tasty treats are made.
Palace of Fine Arts
San Francisco's Palace of Fine Arts dates to the 1915 Panama–Pacific International Exposition. One of the only remaining buildings from the World's Fair, the Greco-Roman–inspired ruin is a favorite Bay Area venue. Walk under the picturesque rotunda, wander the grounds, and visit lagoons that are home to ducks, swans, and geese. It's open Tuesday to Sunday 10am to 5pm.
San Francisco Zoo
If you're looking for a fun and educational zoo to visit in San Francisco, be sure to check out the San Francisco Zoo. It's always fun for the kids and is a great place to learn about the animals and see some of the most popular exhibits at the San Francisco Zoo including the African Savanna, the Australian Outback, and the Gorilla Forest.
Six Flags Marine World
Six Flags Marine World is a theme park, located in the city of Vallejo, with a variety of amusement rides, including roller coasters and water slides. Some of the most popular rides at Six Flags Marine World include the Congo River Rapids, the Roar, and the Vertical Velocity.
Six Flags Marine World is also home to a variety of shops and restaurants. Some of the most popular shops at Six Flags Marine World include the Sharks Underwater Grill Restaurant and the Souvenir Shop. Some of the most popular restaurants at Six Flags Marine World include the Catfish Cabin and the Crab House.
Lombard Street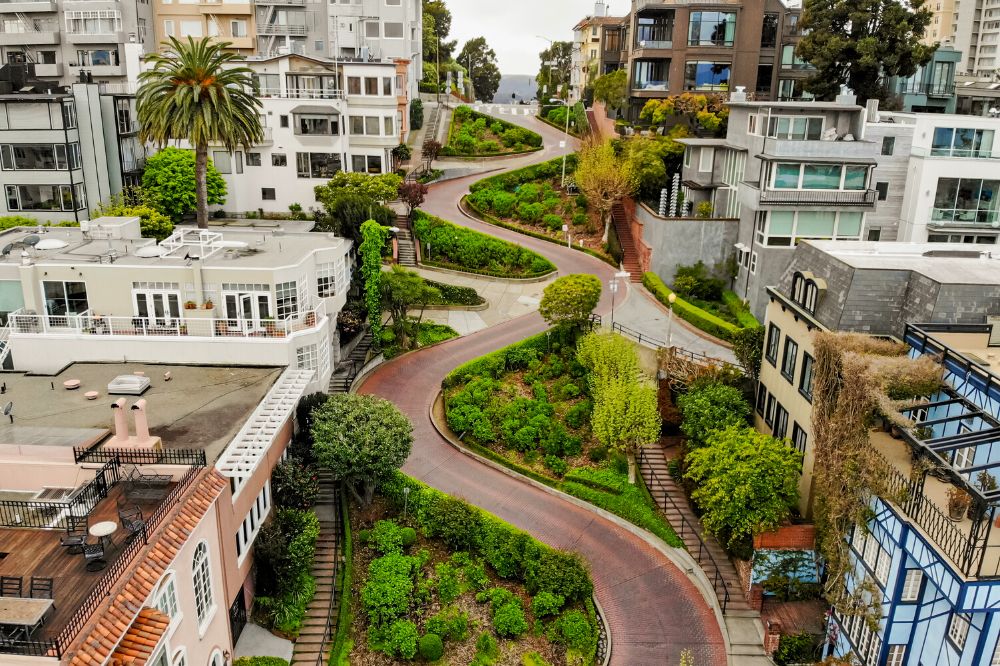 Although I can't really see how this is an actual tourist attraction, many people love to see the crazy zig-zags of Lombard Street. It is well known that San Francisco is a hilly city, and that leads to there being some really interesting streets. This one is called the "Crookedest Street in San Francisco." There are 8 switchbacks. You can walk it, which I prefer, or if you dare you can drive it.
San Francisco Botanical Gardens
The climate of San Francisco provides a unique atmosphere that allows the growth and maintenance of plants from around the world. As a result the San Francisco Botanical Gardens offers a look at plants that are rare almost anywhere else on earth. The Gardens are 55 acres and host more than 7500 plants from around the world.
Chinese Culture Center
This center offers resources about the Chinese culture in San Francisco in addition to many programs that are available to learn about the artistic and cultural contributions that the Chinese community has made to this great city.
Fort Point National Historic Site
This site has special historical significance. Its original intent was to prevent invading forces from entering San Francisco Bay. By the end of the Civil War the massive cannons that had been used for this purpose were obsolete. The last of the original 126 cannons was removed around 1900. During the 1930's, the fort was used as a headquarters for the building of the Golden Gate Bridge. This Fort has played a vital role in our history and is worth a visit, especially considering the fact that it is free.
Cable Car Museum
Kids of all ages will find the cable car museum interesting. This museum definitely offers a great deal of education and excitement for the family. In addition to learning about these historic cable cars which have become a trademark of San Francisco transportation, you'll get interesting insight into the workings and history of San Francisco's cable cars. This is one museum I would pay to go to, the fact that it is free is a bonus that I can't resist and the primary reason it is on this particular top ten list.
San Francisco Fire Department Museum
For the big kid in all of us that wanted to grow up to be a fire fighter, this museum takes the cake. Not only does it provide great historical references and artifacts but it is also really cool! I can think of no greater compliment to give a museum than that. This one, even your children will enjoy and beg to go back again and again.
Ocean Beach
Ocean Beach is a beach on the west coast of San Francisco adjacent to the Golden Gate Bridge. It's a lovely 3.5-mile stretch of white beach that is never crowded and can be a great place to go for a relaxing stroll on the beach, without all the tourists. Keep in mind that the beach is often fogged over throughout late spring and summer.
It's possible to have a beach fire here, until 9:30pm, and there are over a dozen available fire rings. It's also a good place to fly a kite.
USS Pampanito
The USS Pampanito is a World War II-era submarine that is now a museum ship in San Francisco. The submarine played a important role in the Pacific Theater of World War II. If you're interested in learning about the history of the submarine and its role in World War II, the USS Pampanito is definitely worth visiting.
Sausalito Vista Point
Sausalito Vista Point is a lookout point in Sausalito, California that offers stunning views of the Bay Area. The point is located on a hilltop and provides visitors with a panoramic view of the Golden Gate Bridge, San Francisco, and the Bay Area. If you're looking for a place to take in some beautiful views, Sausalito Vista Point is exactly that.
San Francisco Museum of Modern Art (SFMoMA)
The San Francisco Museum of Modern Art (SFMoMA) is a museum in San Francisco, California that is dedicated to modern and contemporary art. The museum features a large collection of artworks by both American and international artists. If you're interested in learning about modern and contemporary art, spend some time at SFMoMA.
Conservatory of Flowers
The Conservatory of Flowers is a botanical garden in San Francisco, California that is home to a large collection of plants and flowers. The garden features a variety of gardens, including a Japanese garden, a desert garden, and a rainforest garden. It also features a butterfly pavilion that is worth checking out.
The Cannery
The Cannery is a shopping center and restaurant complex in San Francisco, California. The complex is home to a number of stores, including a grocery store, a drug store, and a clothing store. It also features a number of restaurants, including a seafood restaurant, a pizza restaurant, and a burger restaurant.
Baker Beach
Baker Beach is a public beach at the foot of rugged serpentine cliffs west of the Golden Gate. Because of large waves and rip tides, the beach isn't good for swimming or wading, but you'll get sweeping views of the Golden Gate Bridge and the neighboring Marin Headlands. It's often considered one of the very best beaches in San Francisco.
Whale Tours
Whale watching tours are quite popular in San Francisco, due to the abundance and different types of whales you can see in the area. Just a few miles off the shore are cool waters that offer the perfect feeding ground for several varieties of whales including grays, blues, and humpbacks.
The best time for whale watching in San Francisco is from December to May, as you'll have the best opportunity to see more than one type of whale. VisitCalifornia.com says, "If you want to see whales, head to the tip of Point Reyes National Seashore from December through February. According to whale experts, an astounding 94 percent of migrating Pacific gray whales pass within one mile of this protected peninsula some 27 miles north of San Francisco."
Boudin Sourdough Bakery
Boudin Sourdough Bakery is a popular destination for tourists because of their delicious sourdough bread. Some of the most popular items at Boudin Sourdough Bakery include the San Francisco Classic Loaf, the Olive Oil Loaf, and the Cinnamon Raisin Loaf. If you were meaning to try a clam chowder bread bowl in San Francisco, this is the place to do it.
Tartine Bakery
Tartine Bakery is one of the best bakeries in San Francisco.
If there's one bakery you need to try in San Francisco, this is it. Yes, it's worth the hype. There's no sign outside on the black exterior, but the line winding out of Tartine is enough to know you're in the right spot. Waiting patiently has its rewards in the form of almond croissants, banana crème tarts and morning buns if you get there early enough.
Depending on the time of day, there's always something delicious to get, from their morning pastries, to their hot pressed sandwiches around lunchtime, and their freshly baked bread in the late afternoon. There's limited seating inside, but you can always head to Dolores Park a few blocks away for a picnic with a panoramic view of the city.
Location: 600 Guerrero St, San Francisco
Neighborhood: Mission District
» Check out this web story on how to spend 2 days in San Francisco.
Where to Stay in San Francisco
If you're planning a trip to the city, you'll want to check out a few of our recommended places to stay. We prefer different areas of the city depending on what we're there for. Since this guide involves the more touristy things to do in San Francisco, it's best to stay near the action.
Here are our top recommendations for places to stay in San Francisco during your visit. Feel free to use any of the links below for your preferred booking site.
San Francisco Marriott Union Square
Comfortable 4-star hotel with 2 restaurants located near great shopping options.
Intercontinental San Francisco
4-star hotel with a restaurant, an indoor pool and 24-hour business center.
Courtyard by Marriott Fisherman's Wharf
3.5-star hotel located in the heart of the tourist zone; fitness center and free wifi.
Conclusion
If you manage to get around to all of the top 50 things to do in San Francisco, you'll have covered a lot of ground and can safely call yourself a pro.
Like this article? Save it on Pinterest so you can find it again.
FOLLOW US on Pinterest and Facebook for more California travel inspiration and tips!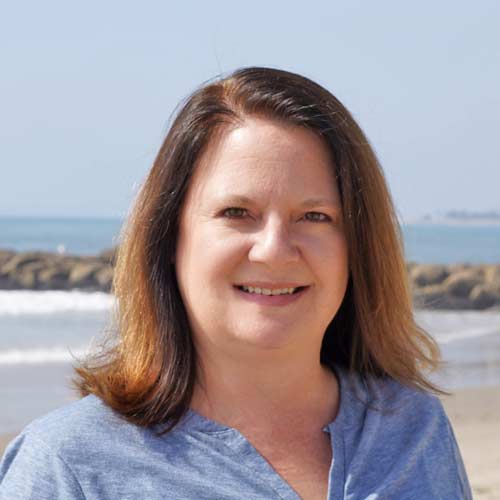 Laura is a travel fanatic who loves seeing and doing new things. She lives in Ventura, CA, and spends a lot of time exploring California's cities, beaches, and national parks.