Central California spans from San Francisco down to Ventura County and it holds some of the most beautiful landscapes, gorgeous beaches, and impressive views you'll find anywhere. Packed into this 350 miles of coastline, you'll find dozens of towns and cities to visit, each with their own unique charm, but all with a wonderful coastal vibe.
If you're looking for a great place to spend a weekend, consider one of the best coastal towns in Central California. These beach towns offer everything from stunning natural scenery and delicious seafood to vibrant nightlife and plenty of activities. Here are some of the best coastal towns in Central California to check out.
If you'd like to plan a longer trip, check out our Northern California road trip itinerary, and you can tack onto it some of these lovely Northern California coastal towns to lengthen it any way you want.
Not every town can boast an ocean view, but you'll find endless sea views in these Central California dream towns.
» Looking for more inspiration along the route? Check out all our guides to San Francisco, Los Angeles, Santa Barbara and San Diego. Find the best beaches in Monterey, waterfalls in Southern California, and national parks.
» Get a sneak peek of these coastal towns with this web story.
Best Coastal Towns in Central California
Santa Cruz
One of the more famous northern California coastal cities, Santa Cruz is a juxtaposition of old and new. Historic and old-fashioned buildings are the backdrops to a vibrant University youth culture and thriving brewery scene.
The Santa Cruz Beach Boardwalk is home to an old-fashioned funfair, complete with kettle corn, rollercoasters, arcades, and a carousel. It's open from late May until late August, so if you're visiting during the summer months make sure to attend this staple Santa Cruz attraction.
While you're near the beach, why not take a surfing lesson and be one with the waves? It's a world-famous surfing spot, after all. Natural beauty is also very precious to this ecologically-minded city though, so hiking through the Henry Cowell Redwoods State Park is a must.
Cayucos
Cayucos is a small beach town in Northern California that packs a big punch. It's a living time capsule where antique fairs are held in May and October, and artistic murals of the Old West line the walls of the town.
The town is only about 5-square miles, so it's easy enough to take yourself on a walking tour of this quaint location if you have a great pair of walking shoes. If a sea breeze is what you crave, head to the 950-foot pier and stroll along its wooden planks past the fisherman competing for their daily catch.
It's also an ideal place to grab some tubular waves (or a surf lesson or two if you're a beginner).
Morro Bay
With a protected harbor and marine sanctuary, Morro Bay is quite possibly one of the best Northern California coastal cities for wildlife encounters. Depending on the season, you'll find Humpbacks and giant Blue Whales passing through on their migratory routes. Orcas and dolphins can generally be seen year-round.
Bring your binoculars, because it's also recognized as a top spot for bird-watching. Gorgeous peregrine falcons nest on the prominent Morro Rock, an old volcanic plug that protrudes 576 feet from the mouth of Morro Bay.
But a trip to this bay isn't complete without visiting the Embarcadero, a waterfront strip replete with restaurants, cultural attractions, and retail stores. You'll even catch sight of otters and sea lions walking along its lengths.
Summer brings many tourists to the area, but the laidback vibe of the town is pervasive throughout the seasons. Experience the best of the area on a guided e-bike tour.
» Try this tour: Private Surf Lesson in Morro Bay
Monterey
Monterey is one of the oldest city in California, having been founded in 1770. It's one of the most gorgeous seaside towns you'll ever visit. In my opinion, the best way to visit Monterey is by car. Just driving through the Monterey Peninsula, with all of its beautiful scenery, dramatic ocean beaches, and old Spanish architecture, can be an experience of a lifetime.
There are so many other great things to experience in Monterey, like:
Discover Old Fisherman's Wharf with its great restaurants, seafood, unique shops, and whale watching.
Visit the Monterey Bay Aquarium with over 200 award-winning galleries and exhibits and approximately 550 different species of marine life.
Cannery Row is an unforgettable experience. Visit it's many shops, restaurants, and picturesque coastal views. Learn about it's history and how it influenced John Steinbeck's book by the same name.
Play golf at Pebble Beach Golf Links which has repeatedly been ranked the No. 1 Public Course in America.
Take one of the numerous whale watching boat cruises to see Grey and Killer whales, dolphins, turtles, porpoises, sea lions and more.
Take the incredibly scenic 17-mile drive past Pebble Beach
Go wine tasting in nearby Carmel by the Sea, one of the cutest little towns you'll ever visit.
Carmel-by-the-Sea
Carmel is a beautiful area, with beaches, vineyards, and lovely ocean views. The entire area around Central California coast is a sight to see. That's what makes traveling there in an RV so fantastic. You can set up in an RV park near the beach, then set out for day trips to Monterey and Carmel-by-the Sea.
Carmel-by-the-Sea is a small European-style village that is well loved and maintained by the community. They don't allow big-box stores or chain hotels, so wherever you choose to stay will be a locally owned inn. There are many adorable shops and restaurants to visit, in between tastings.
If you're in town for a wine tasting weekend, visit the downtown tasting rooms for a charming weekend activity. See our full guide to wine tasting in Carmel-by-the-Sea for winery recommendations.
» Try this tour: Guided 2-Hour Walking Tour in Carmel by the Sea
Pismo Beach
Pismo Beach is situated about midway between Los Angeles and San Francisco. You can get there by car or fly into San Luis Obispo. If you're considering taking a trip to Pismo Beach, you can find all kinds of fun things to do.
There are no large amusement or theme parks, just 23 miles of beautiful, uncrowded beaches and sand dunes surrounded by golf courses, wooded areas, and small towns.
Accommodations are plentiful, with everything from campgrounds and RV parks, to inexpensive motels to hotels in various price ranges to luxury beachfront resorts and spas. There is no dearth of restaurants, you can find coffee shops, family restaurants, excellent seafood restaurants and fine steakhouses.
Lie on a white sand beach soaking up the sun during the day and go for long moonlit walks along the oceans edge at night. Go whale watching, see huge colonies of giant elephant seals up close, dig your own clams for lunch or dinner, visit one of the most spectacular Monarch Butterfly Groves in the country, or spend a leisurely day fishing off the 1200 foot pier.
Santa Barbara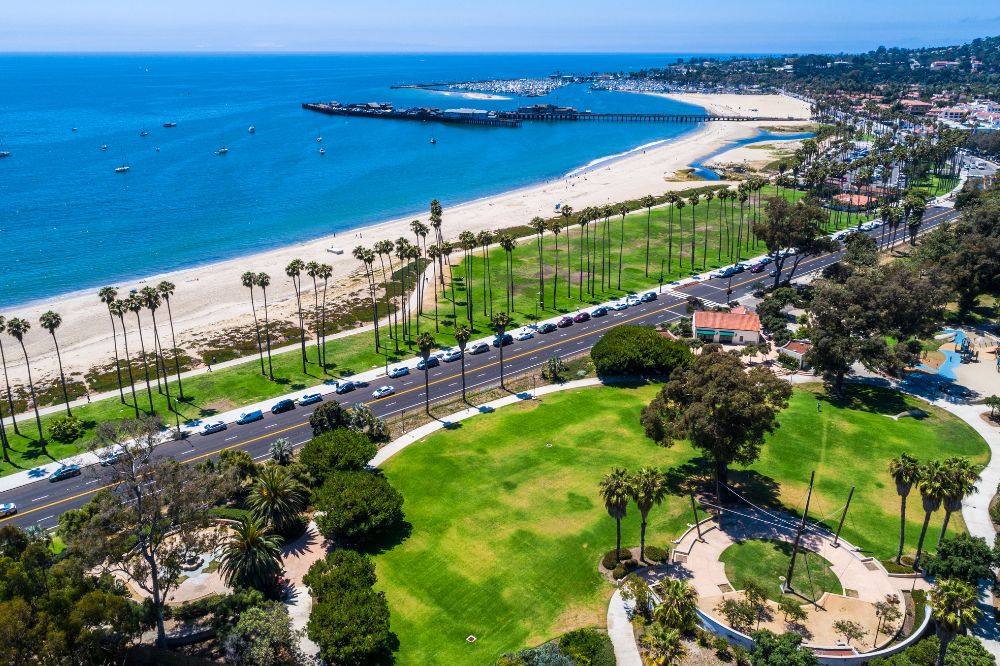 The city of Santa Barbara, which includes Hope Ranch and Montecito, has a population of approximately 90,000, and it receives millions of visitors per year thanks to its proximity to the beach and its upscale, laid back vibe.
We like to spend a day in Santa Barbara every once in a while, popping into wine tasting rooms in the Funk Zone, relaxing on the beach, and dining out with friends at one of the many excellent restaurants (many with outdoor dining).
State Street – the main street through town – is now pedestrianized, which makes it a true pleasure to walk along, stopping for a drink or a coffee while shopping at the high-end and boutique stores along the way. Tour the Mission, go sport fishing or whale watching, visit the Farmer's Market, rent a bicycle and ride the bike paths along the ocean.
» Try this tour: Downtown Santa Barbara Food Tour
Ventura
Ventura is at the southern end of what is considered the Central Coast of California. It's a lovely beach town that is often overlooked for the more well-known Santa Barbara. But just 30 minutes south of Santa Barbara is this great laid-back, low-key beach where you can actually find plenty of space to spread out on the sand.
Starting with the Ventura Pier, which is the centerpiece of the waterfront in the city. The pier is the oldest pier in California. There's a brewery (one of 11 breweries in Ventura) and beach taco restaurant at the start of it, before you wander out to the end. To the southeast is the sprawling beach and San Buenaventura Park, perfect for picnics and long afternoon BBQs.
The Ventura downtown area is a great place to stroll around, with cocktail bars, restaurants, and boutique shops along the pedestrianized Main Street.
Pacific Grove
Pacific Grove is a charming and historic town located on the Monterey Peninsula. It's known for its beautiful Victorian homes, as well as its close proximity to the Monterey Bay Aquarium and other attractions in the area. Pacific Grove is also a great place to go whale watching, and during the winter you can often see whales breaching just offshore.
With just about 15,000 residents, the town is small and quaint – a great place to visit when you're looking for a laidback place to hang out. The best way to enjoy the area when you first arrive is to start at the Monterey Bay Aquarium, drive Oceanview Boulevard to Lovers Point Park – one of our favorite parks for a picnic in the area.
Then continue on Sunset Drive to Asilomar Beach, where you can walk along the rocky coastline and enjoy the dunes. In Pacific Grove, there's a monarch butterfly grove, some great tidepools to examine, and a Museum of Natural History.
San Simeon
San Simeon is a small town located on Highway 1 in central California. It's well known for its proximity to Hearst Castle, one of the largest and most famous estates in the United States. You'll want to get tickets in advance (Adult $30, Child $15) and plan to spend about 2 hours exploring.
When you come back into San Simeon, stop by Hearst Ranch Winery for a wine tasting, take a walk out on the San Simeon pier, and along the gorgeous William Randolph Hearst Memorial Beach. If you're up for it, hike out the San Simeon Point for a spectacular view.
San Simeon is also a great place to go whale watching, and during the winter you can often see whales breaching just offshore. There's also a Friends Of The Elephant Seal Visitor Center and Gift Shop where you can observe elephant seals from the boardwalk and viewing areas.
Pacifica
Pacifica is a beautiful coastal town located halfway between San Francisco and Half Moon Bay. It's known for its rugged coastline and stunning views of the Pacific Ocean. Pacifica is also home to some of the best beaches in Northern California, and it's a great place to go surfing or whale watching.
With the 100+ miles of hiking and biking trails, and views like you wouldn't believe over the Pacific Ocean, Pacifica is a great place for outdoorsy types who want to spend their time exploring. Rockaway Beach is one spot not to miss, with many restaurant and shopping venues, plus trails to the bluffs on either side. Be sure to stop at Nick's Rockaway restaurant for some local seafood.
There are also some great hiking opportunities including Mori Point, Milagra Ridge, and Sweeney Ridge. You can also find great surfing and snorkeling opportunities if you're properly prepared to get in the water.
Half Moon Bay
Half Moon Bay is a small town located on the coast just south of San Francisco. It's known for its beautiful beaches and stunning views of the Pacific Ocean. Half Moon Bay is also home to some of the best surfing in Northern California, and it's a great place to go whale watching.
Half Moon Bay State Beach is a lovely destination along the bay. The Coastline Drive goes north to Pillar Point, which is near Mavericks, California's biggest waves. Montara Mountain rises in the protected Rancho Corral de Tierra region, and nearby is Purisima Creek Redwoods Preserve on the slopes of the Santa Cruz Mountains.
Being located along the Monterey Bay National Marine Sanctuary, you'll also enjoy plenty of marine biodiversity. At many of the local beaches, you'll see all kinds of birds and wildlife, you can spread out on the sand for a picnic, or explore the tide pools.
Conclusion
These are just a few of the best beach towns in Central California. Whether you're looking for a place to relax and enjoy the beach life or you're looking for a place to explore and experience some of the best that California has to offer, these towns are definitely worth checking out.
Once you've had your fill of cooling off at the beach, why not head to these amazing places for a dip in some Northern California hot springs?
Like this article? Save it on Pinterest so you can find it again.
FOLLOW US on Pinterest and Facebook for more California travel inspiration and tips!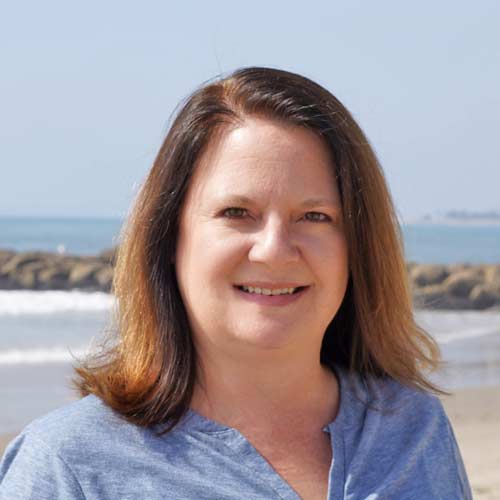 Laura is a travel fanatic who loves seeing and doing new things. She lives in Ventura, CA, and spends a lot of time exploring California's cities, beaches, and national parks.