The California coast is just packed with amazing things to see and I'd have to say that tide pools are one of my favorites. While you're visiting the area, you really have to make time for this unique outdoor experience and explore the Laguna Beach tide pools.
Located along the southern California coastline, Laguna Beach is renowned for its picturesque beaches and stunning tide pool formations, which offer an up-close look at some of the area's most fascinating marine life.
Exploring a tide pool can be an incredibly fun experience. In peak conditions, you won't be the only ones with this idea. It's a popular activity year round, whenever the tides allow. So why not get out there and enjoy!
How to Find Tide Pools
As you walk along the beach, look for areas of exposed rock that have been revealed due to low tides and have small pools of seawater collected in them.
These pockets are home to a variety of sea creatures such as crabs, starfish, anemones, and more. California is home to some of the world's most incredible tide pools, which are great places to explore and experience the beauty and diversity of marine life. 
You can walk out among the tide pools on your own to explore, or take part in a guided tour which will provide a lot of information about the local wildlife while you observe the creatures in their natural habitats.
While you're there, you can also admire the stunning views of the Pacific Ocean. I highly recommend going back out there for a sunset, if you can. It's simply beautiful.
Laguna Beach's tide pools are important to the area's marine ecosystem. They provide ecological benefits like helping to maintain the balance of food chains and by keeping predators in control. They also provide shelter for young and small fish species which helps replenish their populations over time.
Beach Etiquette & Tips
To make the most of your time at the beach and ensure that you and your family have a wonderful time, without any snags along the way, we recommend following these easy tips:
Lifeguards are staffed year-round at the permanent lifeguard stations in San Diego. They are there from 9am to dusk. However, avoid being too reliant on lifeguards. Always watch your kids and be aware of the tide.
When going to a beach with your family, always watch out for signs that indicate if the area is meant for swimming or surfing.
Glass containers are not allowed on the beach and dogs are not allowed between 9 am and 4 pm from Nov 1 through March 31, 9 am and 6 pm from April 1 through Oct 31.
Keep your kids close and bring your own beach gear to save some time and avoid hassle. 
Guidelines to Follow
While we love exploring and viewing the many things you can find in living in the tide pools, we also need to take care of that ecosystem and not cause harm.
It is important not to disturb any of the sea life that you find in the tide pools, nor to disturb their habitats. You wouldn't want someone trouncing on your home or pulling you out of bed to gawk at you, and neither do they.
What to Bring
When visiting the tide pools in Laguna Beach, it is important to wear appropriate clothing and footwear as well as bring supplies like sunscreen and water.
The sun can be very harsh in California so wearing protective clothing such as hats, long sleeves and pants is strongly advised. You might be out there for a while in the direct sun and it can burn you faster than you might think.
Additionally, make sure to bring a camera with you so you can capture images of the things you see and take home the memories with you.
Where to Find Laguna Beach Tide Pools
Here are the top four places to see tide pools that you should check out when visiting Laguna Beach.
Victoria Beach
The first must-see is Victoria Beach, which is located at the northern end of Laguna Beach. Here, visitors can find a wide variety of sea creatures in their natural habitat, as well as explore some unique formations made up of rocks and coral.
In addition to exploring the tide pool areas, visitors can also take advantage of the nearby beachside trails which provide breathtaking views while providing access to more secluded sections of the beach.
Shaw's Cove
Next up is Shaw's Cove, another great spot for seeing what Laguna's marine ecosystems have to offer. The cove is located near downtown Laguna and offers plenty of opportunities for snorkeling and scuba diving since it houses a number of small fish species due to its protected waters.
Additionally, the surrounding area has plenty of rocky crevices which make ideal homes for starfish, crabs and other sea creatures, giving visitors a chance to experience them from close range!
Heisler Park at Main Beach
Another great spot for checking out tide pools in Laguna Beach is Heisler Park at Main Beach. Just continue on to your right while on Main Beach and you will run into it. It is a large area of beach so don't worry about crowding.
Here you'll find a variety of aquatic species flourishing in large rock pools just a short walk from downtown shops and restaurants.
As you explore these shallow pools you may even catch sight of some larger predators such as sharks or barracudas swimming amidst their prey!
Crescent Bay Point Park
Finally, no trip to Laguna's tide pools would be complete without visiting Crescent Bay Point Park. Located on the southernmost tip of the city, this park provides access to one of the most pristine beaches in California with its picturesque sandy shores and crystal clear blue waters.
At low tide hours, visitors are able to wade into shallow parts of the ocean where they can observe anemones, starfish and other marine life without disturbing them or their habitats during their visit!
Laguna Beach Tours to Book
Conclusion
Exploring these beautiful sites not only provides an unforgettable experience but also offers important ecological benefits since they help maintain balance within food webs by controlling prey populations such as sardines, herring, anchovies etc.
They also act as shelters for juvenile fish species which helps replenish their numbers over time. So don't miss out on experiencing all that Laguna Beach has to offer – plan your own adventure today!
» Looking for more inspiration along the route? Check out all our guides to San Francisco, Los Angeles, Santa Barbara and San Diego. Find the best beaches in Monterey, waterfalls in Southern California, and national parks.
Like this article? Save it on Pinterest so you can find it again.
FOLLOW US on Pinterest and Facebook for more California travel inspiration and tips!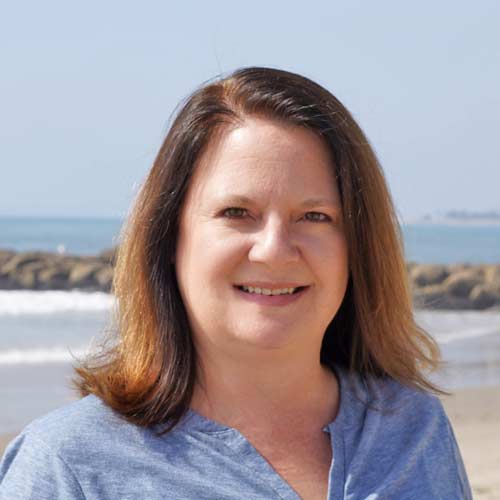 Laura is a travel fanatic who loves seeing and doing new things. She lives in Ventura, CA, and spends a lot of time exploring California's cities, beaches, and national parks.