Whale watching in California is a favorite tourist attraction for visitors from across the globe. It's a great way to experience nature up close and see some incredible creatures in one of the most beautiful settings you can imagine.
As long as the tour you choose is performed in an ethical manner, this is a great way to see the marine life (whales, sea lions, dolphins, and more) in a fun and exciting way. In this post, we'll share with you some of the best places to go whale watching in Southern California, and we'll suggest a few tours that are great.
» Looking for more inspiration along the route? Check out all our guides to San Francisco, Los Angeles, Santa Barbara and San Diego. Find the best beaches in Monterey, waterfalls in Southern California, and national parks.
Things to Know For a Successful Sighting
As I mentioned, whales have some typical patterns that you can count on to help you spot them. Even if you're not on a tour, you'll have a greater shot at seeing them if you follow these guidelines.
Always practice ethical viewing and follow all laws!
Whales are federally protected under the Marine Mammal Protection Act, so stay at least 100 yards (300 feet) away from whales – the length of a football field.
Whales are most active in the morning, so try to get an early start.
They often feed near shore, so keep an eye out for them while you're on land.
They tend to travel in groups, so if you see one, there's a good chance there are more nearby.
They're often seen breaching (jumping out of the water), which is a spectacular sight.
Remember to bring your binoculars and camera – you'll want to be prepared to capture this amazing experience.
What Whales Will I See?
The most populous whale in Southern California is the Minke whale. They can be seen year-round, but particularly in October through December.
Blue whales and finback whales: May through September. Dana Point is one of the best places in the world to see blue whales.
Gray whales can be seen January to April.
Humpback Whale season is June through December.
Whale Watching Spots in Southern California
1. Point Loma, San Diego
Point Loma is a hilly peninsula in San Diego famous for the Cabrillo National Monument, a park that displays some of California's history. It's known for its trails and tide pools, where you would want to go for whale watching.
Upon arriving, ask for a map so that you know how to navigate your way or an attendant that can guide you toward your destination. Because of the high sandstone bluffs surrounding the park and fossils filling the rock walls, walking the paths will be a rich experience.
There are a few spots for whale watching in Point Loma, but be cautious of the steep areas as they can be dangerous. You should also make sure that you visit during low tide.
» Try this San Diego Whale Watching Cruise.
2. Blacks Beach, La Jolla
Blacks Beach is a popular beach in the United States. Because it's one of the largest, there are several routes you can take if you plan to visit.
The large glider port parking area route is quite slippery and steep, so if you don't think you can handle it, you should take a different one.
South Blacks Beach is a more accessible paved path located further south at the intersection of Blackgold and La Jolla Farm roads. The only drawback is that you can only park for two hours. Nevertheless, it won't be an issue if you don't plan on staying long to watch the whales.
If you want to be more adventurous, you can take the Saigon Trail. It's known for its challenging eroded hillsides, so you must be extremely careful.
3. Fletcher Cove Park, Solana Beach
Fletcher Cove Park in Solana Beach is a lovely place to spend a good time with your close friends and family. It's not large, but it has a playground for children, a basketball court, and a grassy area.
There are also benches, picnic tables, and mosaic-painted walls to admire. Moreover, it has free parking, patrolling lifeguards, and it boasts a sunset that's truly out of this world. As a result, it's a relaxing and safe space.
4. South Ponto Beach, Carlsbad
The South Ponto Beach of Carlsbad is popular among both locals and tourists. It's one of the widest beaches in the county with lots of available activities, so you can definitely do more than just whale watching.
It's a fantastic spot for sunbathing, swimming, and surfing. Because of its expansive shore, it's also a great place to play beach volleyball.
If all of this isn't enough, South Ponto Beach is also close to some interesting attractions and amenities, such as Batiquitos Lagoon, Aviara Golf Club, and Cal Pacific Orchid Farm.
» Try this Shared Two-Hour Whale Watching Tour from Oceanside, CA.
5. Dana Point Headlands
The Dana Point Headlands are a delight to visit. There are sand-covered trails that take you to untouched areas with views of the Pacific Ocean, and this spectacular scene is a sight to behold.
From January to March, you can bring your binoculars and watch the migrating gray whales from afar. There's even a chance of spotting blue whales during the summer!
Of course, you shouldn't miss the chance to visit the preserves and parks. There are hiking trails that will take you all over and offer beautiful ocean views.
You should also check out the Dana Point Nature Interpretive Center, which is an educational facility that teaches a lot about plants and animals. It is open to the public Tuesday through Sunday from 10 am to 4 pm, though it is always wise to check their website before you go.
» Try this Whale Watching Excursion in Dana Point.
6. Goff Cove Beach
Goff Cove Beach cannot be accessed directly. It's only accessible via a stairway, which is a paved path on the bluff. Alternatively, you can also reach it by descending the ramp at the bluff's end, then going right.
Because the beach is isolated and protected by Goff Island, it's an excellent spot for admiring the scenery and relaxing in the waters. Most importantly, since the natural rocks act as boundaries in the north and south directions, parents with children know that their kids won't wander too far.
7. Crescent Bay Point Park
Crescent Bay Point Park, a small grassy area directly above Crescent Bay Beach, overlooks the ocean and Orange County's shoreline. Needless to say, it's a fantastic site for watching marine life migrating by.
Furthermore, seabirds and sea lions frequently visit a couple of surfacing rocks out in the sea. That's why you must remember to bring binoculars and not miss out on this spectacular view!
The park includes sitting areas and benches, as well as railings along the steep pathways, for the comfort and safety of all visitors. All of this makes the park an especially worthwhile location!
8. Channel Islands
The waters surrounding the Channel Islands are home to a third of the cetacean species. As a result, the Channel Islands National Park became a popular destination for whale watching.
There are gray, humpback, minke, blue, and pilot whales among the marine life that can be seen here. There are also orcas, common dolphins, and bottlenose dolphins. That's why the Channel Islands offer whale watching all year.
You can watch the sea creatures from the shores early in the morning, as well as from public and private boats. Closer viewing is also possible because some of them like to approach the boats.
However, you should make sure to book in advance if you're planning to join the tours since they only run every December 26 to April 30 each year. See why the Channel Islands made our California bucket list.
9. Newport Beach
Newport Beach is another well-known whale-watching destination. Inspiration Point is one of our favorite whale watching spots. There is a nice little park with picnic tables and a nice trail if you want to walk down to the beach. Look for parking on the street.
The Newport Landing offers visitors cruises and excursions every day. Even if you can see all kinds of marine life from the shore, it won't be nearly as exciting as riding the boats or cruises for a closer look.
As one of the largest marine life parks in the world, you can see a variety of sea creatures here. You can see many kinds of whales and dolphins almost instantly as soon as you leave the bay. You might also get a closer look at them because they're a curious bunch who often approach boats and cruises.
» Try this Whale-Watching Cruise from Newport Beach.
10. Point Fermin Park Beach
The city owns and operates Point Fermin Park. The setting is lovely and serene, with a stunning view of the ocean in front and a historical park behind.
The park includes a lighthouse, a grassy area, and a few excellent facilities. Aside from watching whales tumbling in the water, you can also see flocks of free birds, such as pelicans soaring through the sky.
Although there isn't any beach access or sand, this is what makes the place a perfect spot for beachcombing and exploring tide pools.
» Try this 2.5 Hour Premier Dolphin & Whale Adventure.
Best Months for Whale Watching in Southern California
Even though whale watching is possible all year, the best months to go will depend on the type of whale you want to see. Furthermore, it's important to note that the seasons for whale watching in Southern California may differ from those in Northern California.
From January to April, the most common to see are gray whales migrating to the south, heading toward the lagoons of Mexico. There may also be sightings of humpback whales, sea lions, and dolphins.
However, humpback whales can usually be seen from November through March, so this comes as no surprise. They're also typically found in groups of 10.
Between May and September, you can spot finback whales and blue whales. In comparison, minke whales are seen from October to December.
Safety Precautions When Whale Watching
These four safety precautions aren't only for us but also for the whales. So, keep them in mind whenever you go whale watching:
Always keep your distance and only approach from the side to avoid distressing the whales.
Don't swim, touch, or feed the whales to prevent any accidents. Just look.
Some whales like to investigate who's in their territory, so move slowly once you know you're near their vicinity.
Don't make too much noise because it may disturb and cause the whales to change their migration course.
Conclusion
These are the 10 wonderful places for whale watching in Southern California that we believe will make your trip worthwhile. Among them, the Channel Islands and Newport Beach are the more popular spots for going on tours.
The other items on the list are perfect for whale watching on the shores while also taking advantage of the many available attractions and amenities nearby.
To reiterate, if you want to see a specific type of whale, you should visit these locations during its season. Additionally, always remember the few simple safety precautions that we shared to ensure a safe and terrific whale-watching experience!
Like this article? Save it on Pinterest so you can find it again.
FOLLOW US on Pinterest and Facebook for more California travel inspiration and tips!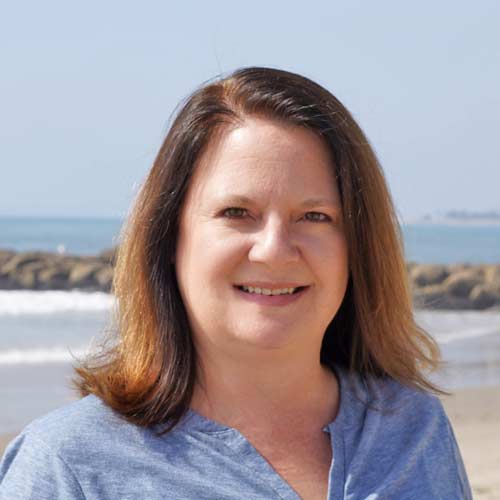 Laura is a travel fanatic who loves seeing and doing new things. She lives in Ventura, CA, and spends a lot of time exploring California's cities, beaches, and national parks.