Monterey County is one of the most scenic places on the California coast, with miles of beautiful beaches, bluffs, and overlooks that will leave your jaw on the floor. The best way to soak it all in is by visiting a few of the best beaches in Monterey.
The thing that makes these beaches to appealing to visitors is the rugged beauty, the rocky outcroppings, the high dunes, and cliffsides that jut out dramatically into the ocean. It's scenery you won't find anywhere else and it's unique, even to other California beaches.
» Check out these 10 Fun Beach Games to Play with Friends and these 16 Incredible Lighthouses in California To Visit.
If you haven't been studying the map prior to your trip, let me just say that Monterey is both a city and a county. In this post, we have laid out 15 of our favorite beaches in Monterey county, which covers all of Monterey county – not just the city. To experience more of the area check out these 16 fun things to do.
First time visitors are often a little surprised by the beach experience in Monterey. You'll want to be aware of a few quirks that will make your visit the best it can be.
Tips for Visiting Monterey Beaches
Before you go, there are a few things to be aware of. You're probably already aware that the weather in Monterey is subject to change on a moment's notice. It can be windy and rainy, with a fog layer, or gorgeous blue skies – sometimes all in one day.
Be prepared for a few things and your trip to the Monterey beaches will be spectacular:
Be prepared for weather. Take a sunhat and a windbreaker jacket. Beach umbrellas can be great on a calm day but can fly away or turn inside out quickly on – well, most days.
The water in many places is too cold and too choppy for swimming. You can wade in, but be aware of the conditions at the beach you're visiting and don't go in any further if it's a no-swimming beach or if there is a rip tide. It can be very dangerous and these beaches don't all have lifeguards.
Dogs are allowed only on some beaches, and always on a leash. Be sure you check if dogs are allowed before you go.
Parking can be difficult at the best of times. If you get there early, you won't have a problem but late in the afternoon might be difficult. You can often park in the surrounding community, but be mindful of parking rules to avoid a violation.
» Try this tour: 2.5-Hour Electric Bike Tour Along 17 Mile Drive of Coastal Monterey
The Best Beaches in Monterey
1. Monterey State Beach
Monterey State Beach, which is Monterey's largest beach, has so much to offer and it's a huge space with three beaches spread apart by about a mile each. There are separate parking lots for each of these beaches, and each has something slightly different to offer.
You'll find all the usual activities – volleyball, picnic tables, barbecue pits, and many trails – along with tide pools and a gently sloping beach that's perfect for wading in. Unlike some Monterey beaches, this one is safe to swim in.
The area is actually a complex of parks that includes Monterey Bay Waterfront Park and Monterey Bay Recreational Trail. These three together create one big playground for outdoor sports. You can rent kayaks, canoes, and bicycles nearby. Dogs are allowed on the south portion of the beach but not the north end.
2. Seaside State Beach
This is one of the main Monterey State Beaches, to the north of the Monterey Tides Hotel, and the easiest to get to, however it's not the easiest to access due to a creek that runs between the parking and the beach (with a sign that says it's not advisable to walk in the water).
There's only a small lot with about 50 parking stalls, but the beach is lovely and there's plenty of room to spread out. There's a lifeguard stand at this beach, so you can feel more comfortable swimming here.
3. Houghton M. Roberts Beach
This smaller beach is located to the south of the Monterey Tides Hotel. There's a larger parking lot and easier access to the beach because the creek doesn't run between them. There's not as much space on this beach, so I would personally prefer to go further north, but it's very easy to get to, so that might be your reason for choosing this one. Dogs are allowed on this beach.
4. Eolian Dunes Preserve
This beach is slightly further north than Seaside Beach. There's parking along the ride on either side, leading down to the beach entrance, but no official parking lot. It looks like the pavement has been mostly washed away here, and you can see some of the concrete in piles on the beach, but that doesn't make this beach undesirable at all. It's actually a really nice stretch of sand. There's a short trek down from the parking to the beach, but it's not terribly steep. There are not facilities here.
5. Marina State Beach
Located about 8 miles north of the Monterey State Beaches is the beautiful Marina State Beach. If you're willing to go a little further to the north, this is a fantastic beach to spend the day at. There are nice bathrooms, a large beach, dunes, picnic tables, and plenty of parking.
The only negative is that there can be strong rip tides so you it's not always advisable to get in the water. Dogs are also not allowed on the beach. There's no camping here, though the Marina Dunes RV Park is just around the corner. We've seen a few parasailers launching off the dunes here, which is fun to watch.
6. Lover's Point Beach
Even though the water is pretty chilly in Monterey, we still love to get in and swim once in a while at Lover's Point Beach. It's one of the few where swimming is an option, so it's a must! You can also do some kayaking or stand up paddle boarding here.
The Lover's Point Beach, located in Pacific Grove, is a bit smaller, with two sections of white sand beach on either side of the concrete jetty, but it's a very peaceful spot and the beach is sheltered by cypress trees and the cliff face.
Other activities to enjoy here are picnicking at the many dedicated picnic tables, fishing, swimming, and definitely kayaking. The water is so clear and beautiful, you'll definitely want to get in.
7. Carmel Beach
No list of Monterey County beaches is complete without Carmel Beach. It's one of the most gorgeous beaches you'll find in the area. The long stretch of soft sand goes on for quite a ways, all lined by cypress trees and wild flowers and the occasional beach house.
You'll always find a spot to sit on the sand in Carmel Beach, though it is quite popular at peak season, because it's located directly at the end of Ocean Avenue in Carmel-by-the-Sea. While the beach is often full of morning walkers, in the afternoon it's mostly families playing in the sand, locals catching some sun, and tourists taking a break from walking around.
8. Point Lobos State Natural Reserve
Considered one of the top beaches in Monterey, Point Lobos has so much to offer, not just in amazing views, but in sheer number of things to do. You're definitely going to want to have your camera ready because this jutted piece of land just south of Carmel-by-the-Sea is absolutely stunning.
Kayaking, snorkeling, scuba diving, and swimming are all permitted in Point Lobos. It's a top spot for birding, hiking, and trail running. The Point Lobos trail is a 6.7 mile hike that takes about 3 hours to complete.
The reserve has eight beaches: Gibson Beach, Headland Cove, Hidden Beach, Moss Cove, Sea Lion Cove, Weston Beach, Whalers Cove, and China Cove.
Point Lobos State Natural Reserve is managed by the Parks & Recreation Department of California and visitors must pay $10 per vehicle. You can't use the America the Beautiful annual pass here. Arrive early to ensure a parking spot. It runs on a one-in-one out system once the parking is full, so you might end up parking on the street and walking in, which is quite a ways.
9. Del Monte Beach
One of my favorite beaches in Monterey is Del Monte Beach because it's more secluded and quiet, being located off the back of a housing area. The beach is fantastic for walkers, with a long, pristine stretch of sand, plus it's fairly calm, which makes it a good swimming beach, if you dare.
This beach is officially part of Monterey State Beach. Located not far from the old Fisherman's Wharf and Cannery Row in Monterey, west of Del Monte Avenue. You'll find free parking along the roadside in the Del Monte neighborhood and easy beach access with boardwalks that lead to picnic tables that overlook the beach.
Beach-combing, surfing, and kayaking are all common activities on this laidback beach. Dogs are welcome here as well.
10. Carmel River State Beach
The thing that makes this beach unique is the lagoon that was formed by the Carmel River. Here you'll find a 1-mile-long protected beach with plenty of sand to make yourself comfortable on, just south of Carmel-by-the-Sea.
The lagoon is worth a visit, especially if you're a birder. It changes shape over time and adds an extra element of fun to the beach. You can also enjoy the walk along the bluff tops around the beach, all the way to Monastery Beach, which is part of this state beach. Be aware that the parking lot is small, but you can usually find parking nearby if it's full. Dogs are allowed on this beach.
11. Monastery Beach
This small beach is located right before you leave Carmel (it's actually part of Carmel River State Beach). It's a great little beach, but the sand is more like small pebbles here, rather than fine sand. It's open from sunrise to 10pm. There's a sign that says there's dangerous waves, so it's not possible to swim there. They actually have nicknamed it mortuary beach because so many swimmers have lost their lives there. Best to enjoy the beach and not the waves.
The parking is right in front of the beach – room for about 40 cars. There's a lifeguard stand, but no bathrooms. Dogs are allowed on a leash.
12. Asilomar State Beach
Asilomar State Beach is a narrow, one-mile strip of sandy beach and rocky coves. While it's not the prime beach location for spending a long, lazy day on the beach, it's got a lovely view and it's terrain is very interesting. It's a nice stop to make near the 17-Mile Drive along the coast.
The water is known for riptides and choppy water, and it's colder than water nearby, so it's decidedly not a swimming beach, though great for surfing. But you can go there for the view or for a walk. A 1-mile trail, running through the dunes, is open to pedestrians. There are no bathroom facilities here. Dogs are allowed on the beach here.
13. McAbee Beach
This beach is tiny but it's always very popular, not only because it's located right on Cannery Row, but because it appeals to everyone. Scuba divers use it as a launching or exit point. Families use it as a place to relax during a day out in Monterey. You can even launch a kayak from here. It's small, but it's great.
You'll find the beach just off of Hoffman Avenue on Cannery Row. After indulging in a delicious seafood lunch, you can head down the stairs to the beach for a little after-lunch rest before getting back to looking around the shops and Aquarium on Cannery Row.
Mind that there's not much parking nearby and you have to walk down the stairs to get there. It's a great beach for wading in, but not really the type of place you'd lay out your beach umbrellas for an afternoon.
14. Carmel Meadows Beach
If you're looking for a less crowded beach near Carmel, the Carmel Meadows Beach is a good bet. It's located in front of the Meadows Beach community, hence the name, and it's way less crowded than nearby Carmel River State Beach and Monastery Beach. But still with that lovely stretch of sand.
It's a wide sandy west-facing beach with rocky areas at each end. To the north is Monastery and to the south is Carmel River. Keep in mind that this is a clothing optional beach.
What we love about this area is the bluff path that goes all the way from the state park to Monastery beach. The cliffs are very scenic and the view is incredible.
Dogs are allowed on leashes at this park. There are only a few parking spots along Cuesta Way and Ribera Road. If you can't get a spot, I'm not sure you'd be able to stay because other parking isn't available. This is also pretty hard to get to, down a lot of steps, so don't bring your beach buggy with you.
15. San Carlos Beach
At the end of Cannery Row in Monterey, you'll find San Carlos Beach, next to the the Coast Guard Pier. While this isn't the most picturesque beach in the area, it's a good resting place for when you're hanging out in Monterey and need a little break.
There's a large parking area, so no worries finding a spot. It's a great area to wade in the surf, sit at the picnic tables, and enjoy the landscaped lawn and views of the Bay. You might even see a few scuba divers preparing to go for a dive offshore where the old cannery machinery lays beneath the water. We actually saw quite a few divers on our last trip.
Frequently Asked Questions
Are there any restrictions on beach activities in Monterey, California?
Yes, there are some restrictions on beach activities in Monterey. For example, fires and barbecues are not allowed on the beach, you can't drive your car on the beach, and some beaches have restrictions on dogs. It's always a good idea to check the specific rules and regulations for the beach you plan to visit.
What are some fun things to do at the beaches in Monterey, California?
There are plenty of fun activities to enjoy at Monterey's beaches, such as swimming, surfing, kayaking, and paddleboarding. You can also go for a scenic walk or hike along the coastline, have a picnic on the beach, or simply relax and soak up the sun.
Can you swim in the ocean at all Monterey beaches?
It isn't advisable to swim at all of the Monterey beaches, because conditions might not allow it. Some beaches, like Monastery beach, have a strong rip tide that make getting into the water dangerous. Other beaches like Lover's Point Beach are safe to swim at because they have a more protected cove around them.
Are there sharks in the Monterey Bay?
Yes, there are sharks in the Monterey Bay. However, the risk of shark attacks is relatively low, and most sharks in the area are not considered dangerous to humans. The most common shark species found in Monterey Bay are leopard sharks, which are harmless to humans and prefer to feed on small fish and crustaceans.
Other shark species that can be found in the area include great white sharks, blue sharks, and hammerhead sharks, but they are typically found farther offshore and are not commonly seen near the beaches.
Can you see sea lions in the Monterey Bay?
Monterey Bay is one of the best places in the world to see seals, sea lions, and otters. You can see them close to shore almost any time of year.
Can you see whales in Monterey Bay?
Yes, you can spot whales in Monterey Bay year-round if you're lucky enough to spot them. Many whale species come close to shore to feed due to the great depth of the Monterey Bay canyon. If you keep your eyes peeled on the water around the area, you might spot a whale.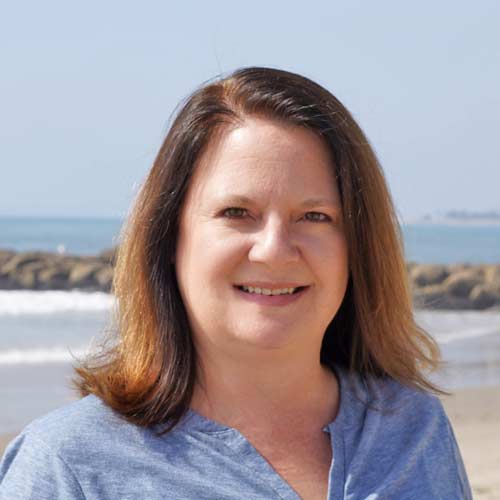 Laura is a travel fanatic who loves seeing and doing new things. She lives in Ventura, CA, and spends a lot of time exploring California's cities, beaches, and national parks.