When we arrived in Ventura, California, for the first time, aside from being completely blown away by the beautiful seaside location, we were really stoked to find so many great craft breweries. It's something they're doing really well in Ventura and it's a great place to visit if you love craft beer, so you can take full advantage of their expertise in brewing.
In town, there are 9 must-visit Ventura breweries, along with a few more in Oxnard, 2 of which we've added to our list because we think they're great and it would be a shame to miss out on them.
» Check out these California Wine Regions to Visit.
Most of these breweries, if not all, have food trucks parked outside or have a restaurant nearby where you can order food. Only two have food of their own (Rincon and Anacapa). Some of them have games that you can sit and play, some have regular trivia nights. And all of them have friendly folks who also love beer that will welcome you in!
11 Best Must-Visit Ventura Breweries
1. Poseidon Brewing Co.
Being in Ventura, you have to appreciate the sea theme about this brewery. The wall art is fantastic and the vast choice of beers, from core beers to seasonals and one-offs, is inspiring. I think a taster tray is the way to go here, so you can try a lot of different beers. There are 6 spots to fill on the board. Try their Ironclad Red Ale, the Rapture of the Deep Raspberry Blonde and Chocolate Starfish Imperial Stout.
Poseidon has a really large space in an industrial area, with a roll-up garage door, outdoor tables in the parking lot, and a huge interior. You'll find a food truck parked out the other side of the building. They also have regular events like Paint & Pint and Trivia Night.
Location: 5777 Olivas Park Dr Unit S
2. Ventura Coast Brewing
Located right in downtown Ventura, in a bright new spot just off Main Street, Ventura Coast Brewing is probably going to be one of your first stops in town. It's a great place to hang out in the afternoon, with tons of sun pouring in to the open-front brewery space. There's also a lot of extra seating in the parking lot outside the building, at picnic table with umbrellas, and a food truck.
They have a well-rounded selection of beers to suit everyone's style, from American Pale Ale to Hazy IPA, a pilsner, stout, and a sour. They have a small taster tray, if you're not sure what to try. My favorite is the sour.
Location: 76 S Oak St
3. Leashless Brewing
One of the coolest locations in Ventura is Leashless Brewing, in an old service station on E Thompson Blvd, complete with the old bay doors and clock tower. As with other breweries nearby, there's space indoor and outside in the parking lot to sit and enjoy a pint of their organic, Belgium style beers. Be prepared, there are a lot of them! The first time we were there, we got two large taster trays to try them all and it was not an easy feat.
They use 100% certified organic grains, organic yeast, and organic hops in their beer. You'll find at least 10 beers on tap, including the Sunrise Blond, Tri Fin Triple (that we all agree is amazing), and the 'Mosa Smoothie Selzter that's like drinking a mimosa. One of my favorite thing about coming here is that you can order food from Barrelhouse 101 next door and have it delivered, so you can make an evening of it. They often have live music and you might find a food truck parked out front too.
Location: 585 E Thompson Blvd
4. MadeWest Brewing
You can't visit Ventura without stopping at MadeWest Brewing on the Ventura Pier. It's one of the best locations for a brewery ever. Especially at sunset. It's co-located with Beach House Tacos so you can order some food and some beer and hang out on the pier enjoying what makes Ventura so wonderful. I can't even express how beautiful the view is from here. They do have another location in midtown as well, but I highly recommend the pier location.
As for the beer, they have a West Coast Pale Ale, a Hazy IPA, and a Standard Blonde Ale. They also sometimes have a seltzer on tap if you're looking for something lighter. You can also find many of their beers on tap at restaurants around the area, and in cans, so it's one you will become well acquainted with during your time in Ventura.
Locations: 668 E Harbor Blvd and 1744 Donlon St.
5. Seaward Brewing
If you're in the area near Poseidon Brewing, you also must stop at Seaward Brewing (and vice versa, of course). They are located in the same general industrial area. We really enjoy going to Seaward because the people are so friendly. It's one of the smaller breweries, and you can feel it in the way you're welcomed in. There are a few tables inside and an outdoor seating area in the parking lot. You can also play cornhole outside or sit down with one of the games they have for you to play.
There was a hot debate going on between their two beers: High Tide and Low Tide. Both had great citrus notes and . I personally like their Night Moves, which is a whopping 10% ABV, with flavors of créme brûlée, chocolate, and toffee.
Location: 1920 Goodyear Ave STE D
6. Topa Topa Brewing Co
There are two locations of Topa Topa Brewing Co in Ventura, which should say something about its popularity. The larger of the two locations is on the east side of town in an industrial area, where there's plenty of outdoor picnic tables to spread out and enjoy a beautiful sunny day with a pint or two of freshly brewed craft beer. They also have a food truck parked out front.
You'll need to decide between quite a few options, so be prepared. Their line up changes often and they add seasonal beers and seltzers with regularity. We always go for a taster tray first to try whatever's new, then choose a favorite for a pint. I personally love the moo bae and the Pineapple Fruited Kettle Sour, but these might not be on the list when you visit.
Locations:
4880 Colt St. and 104 E Thompson Blvd
Also located in Santa Barbara and Ojai
7. Transmission Brewing
The thing to do here is to get some beer and then go next door and order some Topper's Pizza to go with it. There's nothing better than sitting in the open window seat in the brewery, washing down your dinner with a few pints. The beer at Transmission Brewing really speaks for itself, however. Even if you don't eat it with pizza, you're definitely going to enjoy the experience.
When you arrive, you might have to stand back from the counter for a good 10 minutes trying to decide what to order from the extremely long list of beers on tap. There's somewhere around 15-20 beers. A taster tray is in order here, so you can try as many as you like. We really like the Downshift German-style pilsner, PowerGlide pale ale, the Redline Red IPA, and we've also really liked their seltzers for something light.
Location: 1098 E Front St
8. Bright Spark Brewing
Another brewery you'll find in the warehouse area off of Telephone Road is Bright Spark Brewing. It's very near to Seaward and MadeWest, which makes for a great little beer crawl. Bright Spark opened in 2022 and already has a pretty big following. The brewery is quite large, with plenty of seating, quite a few choices for beer, and even a few snacks.
Try the You're the First pale ale or if you're into darker beers, I recommend the Twilight Robust Porter. They also have wine, kombucha, seltzers, and a few guest taps, so you'll find something you like. Pair it with a pizza or some fries and you have it made.
Location: 4561 Market St
9. Rincon Brewery
Rincon Brewery opened in Carpinteria in 2014 and added another brewery in Ventura in 2018. This outpost has a large, open space with a large outdoor patio where you can enjoy a few pints alongside a pretty robust food menu. Although it has less surrounding atmosphere, on Telegraph road, than other breweries in Ventura, we like it for the large, modern space and quiet surroundings.
Their core beers include lots of IPAs, a lager, blonde, amber, fruit beer, stout, brown, and a seltzer. We always get a taster tray to decided what to try. You can get a board with 4 beers, but since they have so many we always get two and try them all. Pair it with a plate of tri tip potato skins and you have a perfect afternoon.
Location: 4100 Telegraph Rd
Also located in Carpinteria and Santa Barbara Funk Zone
Oxnard Breweries
I'm also going to add a few breweries that we really like in Oxnard. I know – they aren't in Ventura – but they are so close and it would be a real shame to miss out on them.
10. Casa Agria
The place to go for sour beers is Casa Agria. Although it's actually located out among the farmland in Oxnard, we wanted to include it in our Ventura brewery list because it's a brewery you shouldn't miss while in the area. They specialize in farmhouse and wild ales.
Their tasting room is located in a strip mall area in Oxnard, but once inside – surrounded by barrels and brewing equipment – you'd never know it. It's a friendly vibe, with families and dogs, plenty of punchy sours to choose from – we liked the oak-aged saison, the strawberry saison and the Rise & Shine farmhouse ale – and a food truck parked outside. There's also plenty of outdoor seating.
Location: 701 N Del Norte Blvd # 360, Oxnard
11. Red Tandem
This nanobrewery just off the beachfront in Oxnard is a local favorite and you can tell it by how many people are camped out here all the time. There isn't a lot of space inside, but there are a few tables outside and you can also grab a pizza to go with your beer next door at Pizza Co.
They have 7 taps with creatively named beers that go well with the beach vibe. We liked the SoCal nitro stout, the Double C-Hag IPA with a whopping 74 IBU, and the Machete Rojo red ale. They have a taster tray so you don't have to pick between these, just get them all.
Location: 1009 Harbor Blvd
Conclusion
If you're hanging out in Ventura with nothing to do, don't just scroll through the list – get out and try some! We've found the breweries to be very inviting and friendly places in Ventura. Good place to make a new friend, try some great beer, and maybe even pet a few cute dogs. If you're thinking about visiting just for the beer, I say hell yeah.
Like this article? Save it on Pinterest so you can find it again.
FOLLOW US on Pinterest and Facebook for more California travel inspiration and tips!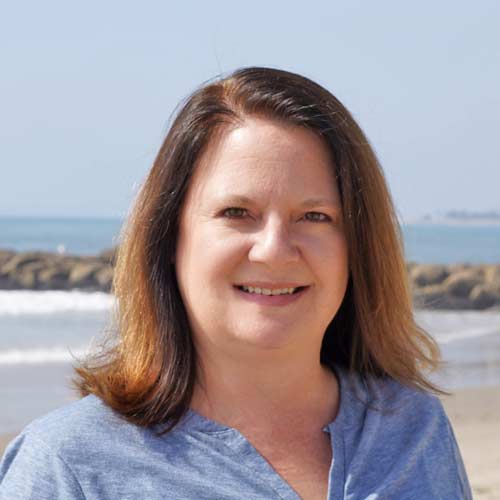 Laura is a travel fanatic who loves seeing and doing new things. She lives in Ventura, CA, and spends a lot of time exploring California's cities, beaches, and national parks.