Stretching along the Pacific Coast for miles, California is filled with redwood forests, massive mountain ranges, and pristine beaches, making California's tourist attractions the best in the country. The state offers breathtaking landscapes, each potentially the perfect setting for the ultimate California road trip.
» Check out these 10 Gold Rush Towns In California To Visit.
There's plenty to do around this gorgeous state, so strap in and get ready for an action-packed vacation. This guide to the top California tourist attractions will help you plan your next Cali itinerary. Read on to discover the top tourist attractions and the best sights in California.
» Looking for more inspiration along the route? Check out all our guides to San Francisco, Los Angeles, Santa Barbara and San Diego. Find the best beaches in Monterey, waterfalls in Southern California, and national parks.
» Check out the web story.
The Best Places to Visit in California – 25 Top Tourist Attractions
1. Disneyland
A household name around the entire world, Disneyland Resort is split into two renowned theme parks (Disneyland Park and Disney California Adventure). And, you don't have to be a kid to find something amazing here. Check here for the best times to make the trip.
The rides are based on Disney franchises like The Pirates of the Caribbean and its latest addition—Star Wars Galaxy's Edge—ensure that everyone can geek out regardless of age.
Planning your trip? We've got tons of helpful Disney planning guides from our awesome list of 40 essential tips, to how to get to Disneyland, where to stay near Disney, what to pack, what to wear, and what to eat in both Disneyland and California Adventure.
2. Yosemite National Park
Yosemite National Park is one of the most-visited National Parks in the entire US. It's an absolute masterpiece of scenic landscapes, mountains, valleys, rivers, and waterfalls.
The park is home to famous sheer granite wall faces that have drawn adrenaline junkies for years. Yosemite is also the home of Mariposa Grove—a stand that holds some of the oldest and largest giant sequoia trees ever.
See our guide to the top sights in Yosemite. Yosemite is an easy day trip from San Francisco, though you will loves the views enough to spend a week.
You can book this day trip from San Francisco to Yosemite for the ultimate trip.
3. Universal Studios Hollywood
Getting behind the scenes of iconic movies or immersing yourself in the worlds of your favorite franchises is a recurring theme and a great starting point for your next vacation in California.
Get magical at the Wizarding World of Harry Potter or go prehistoric in Jurassic World. Sets from these and other famous movies are open to the public. Restaurants live shows, and retail stores here are dedicated to these and many other movies.
Get your Universal Studios General Admission ticket here.
4. The Hollywood Sign
A staple of the Los Angeles landscape is the iconic Hollywood Sign. Viewing the 45-ft tall sign on top of Mount Lee is guaranteed to happen regardless of where you are in the city.
Whether you are simply taking in the scenery of the mountain or getting up close and personal by hiking up through Griffith Park. The sign easily features as one of the top California tourist spots.
See the best Los Angeles has to offer with this full-day iconic LA tour. Did you know that there's a hike you can take to the Hollywood sign. See this and other great Southern California hikes.
5. Big Sur
A picturesque stretch of road, Highway No. 1 starts a few miles from Carmel and the great beaches of Monterey and winds its way to Salmon Cove. This piece of road-trip heaven bears the title of 'Big Sur'.
Driving this road with epic views of the coast will soon become your next favorite place to see in California. Set right in the middle of sandy beaches and teeming forests, Big Sur delivers epic scenes such as McWay Falls, Bixby Creek Bridge, and Pfeiffer Beach.
Make this part of a larger Northern California road trip to see it all.
6. Golden Gate Bridge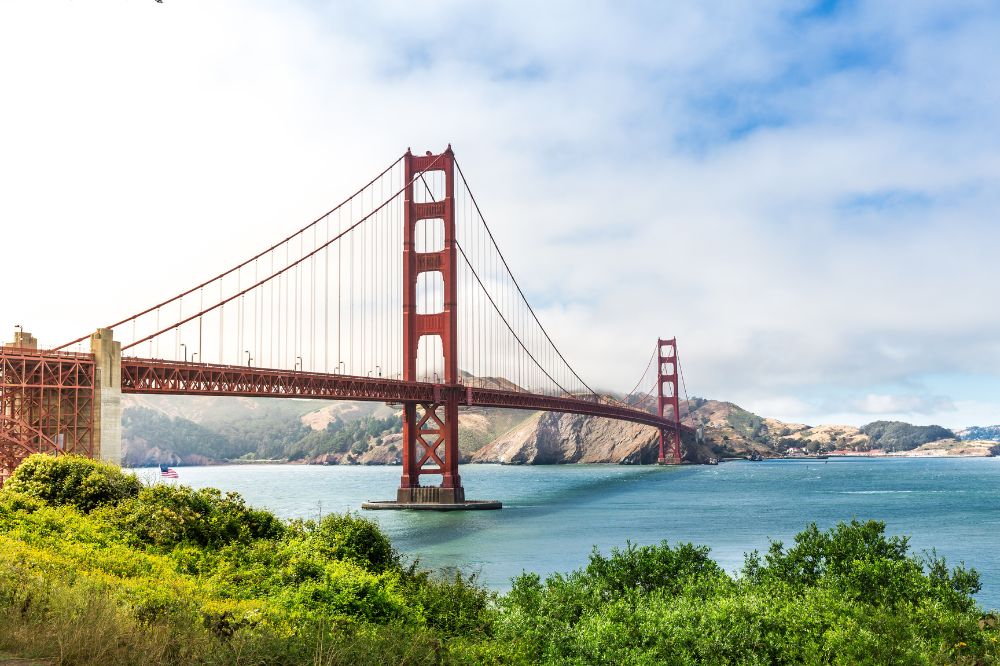 As one of the best cities in California, San Francisco does quite throw around its weight as one of the top tourist attractions in California already. The Golden Gate Bridge is California sightseeing at its best.
The bridge is so iconic a landmark that it instantly comes to mind whenever anyone thinks of America. Truthfully pictures of the bridge do not do it justice. The vermilion orange giant set against San Francisco Bay needs to be experienced firsthand.
With so many great things to do in San Francisco, it should definitely be on your California itinerary.
Book a tour of the bay around the bridge here.
7. San Diego Zoo
The San Diego Zoo holds the title of the most popular zoo in the entire US. It draws nearly four million people annually, and it's easy to see why.
The zoo is home to over 650 species of animals, which are displayed in the many varying sections of the zoo. These include Africa, Australia, the tropics, and the arctic.
Get your day pass tickets here.
As long as you're going to be in San Diego, you should add also see all the other things that make this city great for visitors.
8. Lake Tahoe
Lake Tahoe is the largest alpine lake in North America. Lake Tahoe offers you something to do no matter the time of year.
In and around the lake, you can look forward to activities like hiking, mountain biking, boating, and more. That's just for summer. During the winter months, skiing and snowboarding take the limelight.
Get the best Lake Tahoe experience with this 2-hour sailing cruise.
9. Aquarium of the Pacific
The Aquarium of the Pacific in Long Beach is home to a whopping 12,000 creatures native to the Pacific. With over 100 exhibits, you can look forward to seeing everything from frogs to giant deep-sea denizens such as Leopard sharks.
Considering the Pacific is the most diverse ocean, this aquarium showcases the widest variety of ocean life in the US, and you can book your admission ticket here.
10. Joshua Tree National Park
Joshua Tree is a massive 800,000-acre national park made up of giant boulders, rock formations, and desert landscapes. It's filled with a variety of places to visit, such as Keys View and the Cholla Cactus Garden.
The parks northern entrance is located in Twentynine Palms but it also spans the Colorado desert and the Mojave desert in parts of California, Arizona, Utah, and Nevada.
The landscapes within the park have made it a popular destination for music festivals, camping, hiking, and stargazing opportunities unlike any other. While in the park, be sure to check out Skull Rock, a huge boulder resembling an alien-like skull.
Explore the national park with this driving tour.
11. Hearst Castle
Officially called the Hearst San Simeon State Historical Monument, this incredible 165-room monument was built by newspaper mogul William Randolph Hearst in 1919.
This modern-day castle's construction was never completed, even after 28 years. The result of different architectural designers is a blend of different architectural styles, which makes it one of the top tourist places in the State. At one point, it was home to the world's biggest private zoo. There is still wildlife roaming on the property today.
12. Griffith Observatory
The stellar Griffith Observatory is the best place if you feel like getting unforgettable glimpses into space. It features a live narrated planetarium show and houses numerous giant telescopes which are open to public use.
Home to the Zeiss Telescope, you can catch unprecedented views of our solar system at the observatory. And, if you're done inside, Griffith Park surrounds the observatory, which delivers excellent views and hikes of the region.
13. Sequoia National Park
The national park is home to many giant sequoias, which happen to be the oldest living trees on the planet. Being between 2,000 and 3,000 years old, these trees are a must-see.
Inside the park, there is also Mt. Whitney, which is the highest mountain in the continental US. Whether you want to head there for a hike, to marvel at the massive sequoias, or just find some serenity, this park offers it all.
14. Venice Beach
Venice Beach is one of America's most famous beaches, with a world-renowned boardwalk. The beachfront stretches for miles, and there are many different recreational areas that line its edges.
Visitors to the beach can enjoy a number of activities as there are basketball courts, skate parks, and volleyball nets available. Venice Beach is also legendary among surfers, with pristine waters and giant waves—perfect for any extreme sports fan.
15. Napa Valley
Napa Valley is nothing less than stunning. The valley's many rolling hills, beautiful vineyards, and architecture are incredibly picturesque.
Speaking of vineyards, the Napa Valley is one of the best California wine regions, home to over 400 wineries. Although famous for its wine, there are many other things to do when in Napa. Taking a hot air balloon tour over the area is a must.
Enjoy this Napa Valley wine-tasting tour.
16. Six Flags Magic Mountain
Six Flags Magic Mountain will have your heart racing in the ultimate theme park dedicated to as much adrenaline as possible. The park boasts more than 100 rides, of which 19 are solely there to test your mettle and bravery.
The Goliath is one of the longest roller coasters in the world and has a 281-ft descent. The park also has a wide variety of live shows for some good entertainment and great restaurants for when you get hungry.
17. Walt Disney Concert Hall
Music lovers finding themselves in LA can delight in the most acoustically advanced music venue in the world—the Walt Disney Concert Hall.
Not only is the musical nature of the building unlike anything else, but the concert hall is visually stunning. The venue is the home of the Los Angeles Philharmonic Orchestra. Many internationally famous musicians have also performed intimate and amazing shows here.
18. Dodger Stadium
You can't experience one of the best states in America without the joy of going to a Major League Baseball game. Dodger Stadium in LA is the home ground for this national sport.
Get tickets to one of the many games hosted at the stadium, or opt for a tour of the stadium to delve into its history. With seats for 56,000 fans and scenery filled with towering palm trees around the stadium, sports fanatics and scenery-chasers will feel at home.
19. Hollywood Walk of Fame
The globally known 1-mile stretch along Hollywood Boulevard represents over 2,700 of the world's most famous celebrities. Tour the boulevard with an exciting hop-on-hop-off bus tour.
As if getting up close with the famous stars lining the boulevard isn't enough, you're bound to see your favorite celebrity strolling by. Well, technically, you'll be surrounded by impersonators—but you'd be hard-pressed to find the differences rather than similarities.
20. Dolby Theater
While you're 'stargazing' on Hollywood Boulevard, pay a visit to the Dolby Theater. The pioneer playground for modern innovations in sound and visuals, this theater is one-of-a-kind.
The annual host for the Academy Awards and a popular stage for artists such as Celine Dion, the theater also hosts international performances like Cirque du Soleil. Though you'll find impersonators on the street, inside the Dolby Theater is where you'll meet the real celebrities.
21. Santa Catalina Island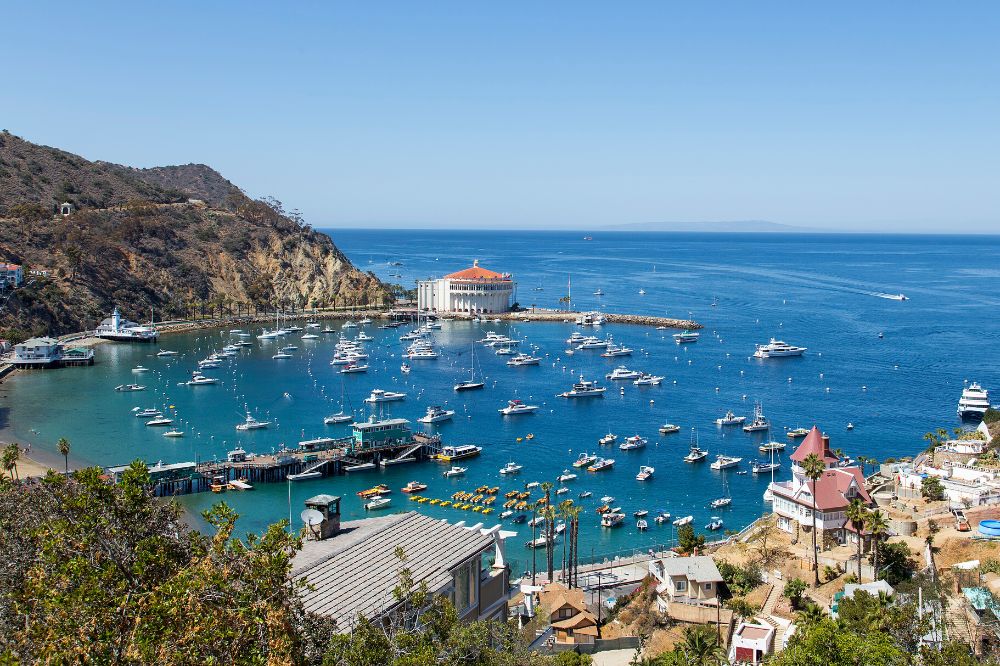 One of the smaller islands off the California coast, this little piece of paradise is a favorite for tourists looking for unique beaches and views.
The island has a rich history and various ways to explore this. Avalon Beach is where you'll head for crystal clear Pacific waters to snorkel and dive. Heading out onto the sea on a glass-bottom boat is truly fun. You can also visit the Avalon Underwater Dive Park for more fun.
22. Death Valley National Park
The notorious Death Valley is a premier spot for sightseeing in California. Salt fields, parched landscapes, sand dunes, mountains, and rock formations make this one of the most inhospitable terrains in the world.
Don't be scared off, though, as the national park has a distinct beauty to it. Numerous viewpoints and short trails flow through areas such as Stove Pipe Walls, Badwater Basin, and Dante's View.
23. Alcatraz Island
Escaping from Alcatraz was said to be impossible. Only three inmates were rumored to have done so, but nowadays, there are millions heading toward the prison rather than running from it.
As one of the most popular tourist attractions in California, you can head to the island via a ferry from San Francisco. Once there, you can choose a number of tours to explore the prison. There is much to explore, with locations such as the Warden's House and the lighthouse.
Book your tour of Alcatraz here.
24. Winchester Mystery House
If you love a good mystery and enjoy some good old-fashioned scares, the Winchester Mystery House in San Jose is perfect for you. It's one of the most haunted places in America, and sure to spook any who visit.
Beyond its structural beauty and completely crazy layout and design, the history of the house is what draws crowds. Try your hand at figuring out where all the ghosts come from, but be ready for goosebumps.
25. Cypress Tree Tunnel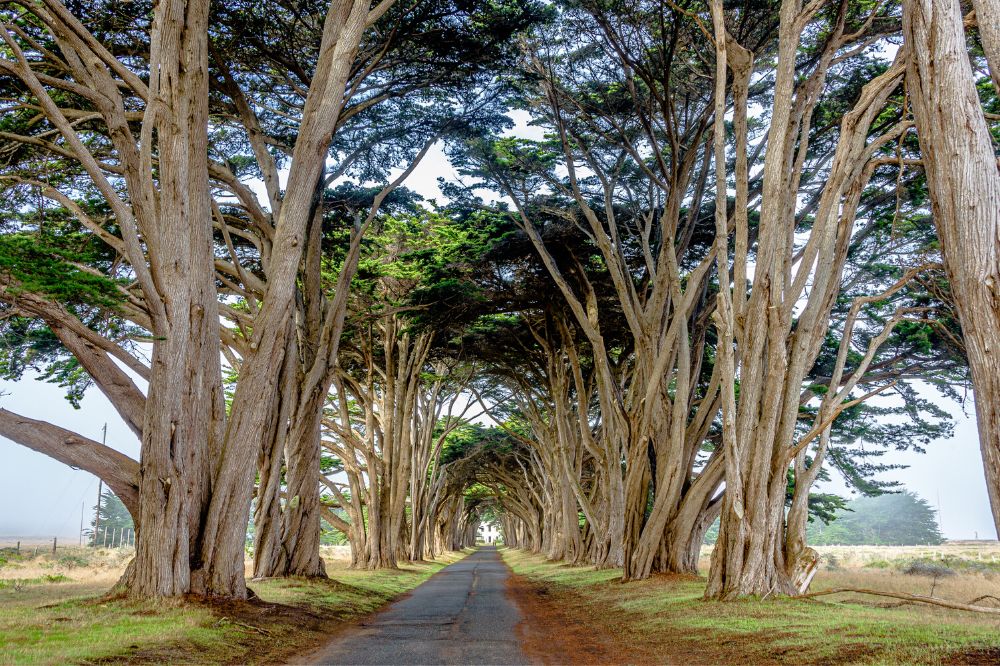 If you're after something straight from a fairy tale, Point Reyes is your go-to. Featuring locations such as the Cypress Tree Tunnel, where you might want to get some peace and quiet or snap the most striking social media shots, you'll be spoilt for choice.
The trees down this tunnel interlock, creating a perfect cove of tree trunks lining an eerily whimsical walkway.
Final Thoughts on these California Tourist Attractions
It's impossible to capture everything that makes California a traveler's paradise, and even more difficult to choose just a few highlights. No matter what you want to do or hope to experience during your trip to California, there is something for everyone.
Everything from sports, art, nature, science, and adventure, these must-visit California tourist attractions are only a taste of what you can expect. Get ready for a journey like you've never had before and head out to the wonderland that is California.
Like this article? Save it on Pinterest so you can find it again.
FOLLOW US on Pinterest and Facebook for more California travel inspiration and tips!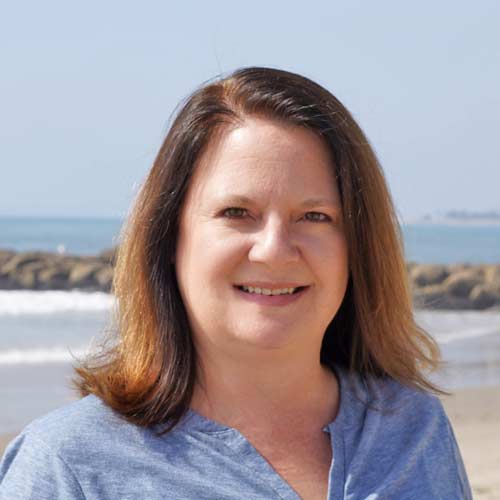 Laura is a travel fanatic who loves seeing and doing new things. She lives in Ventura, CA, and spends a lot of time exploring California's cities, beaches, and national parks.