There are many great beach towns in California, but some stand out above the rest. We've spent tons of time exploring California's beach towns, checking out the beaches and coves, wading in the water, and exploring the towns, so we feel especially qualified to make a list of the best beach towns.
If you're looking for somewhere new to explore or to add to your California road trip, you can't go wrong with these wonderful beach towns. The list is based on factors such as the quality of the beaches, the variety of activities available, and the overall vibe of the town.
Stretching 840 miles, California's coastline is as impressive as it is vast, with literally hundreds of iconic beach towns to visit. Don't get mad if your favorite isn't on the list. We didn't intentionally leave any off, we just only had room for 25 on the list. If you have another recommendation to make, we'd love to hear about it in the comments section.
» Looking for more inspiration along the route? Check out all our guides to San Francisco, Los Angeles, Santa Barbara and San Diego. Find the best beaches in Monterey, waterfalls in Southern California, and national parks.
Best Beach Towns in California
1. Santa Barbara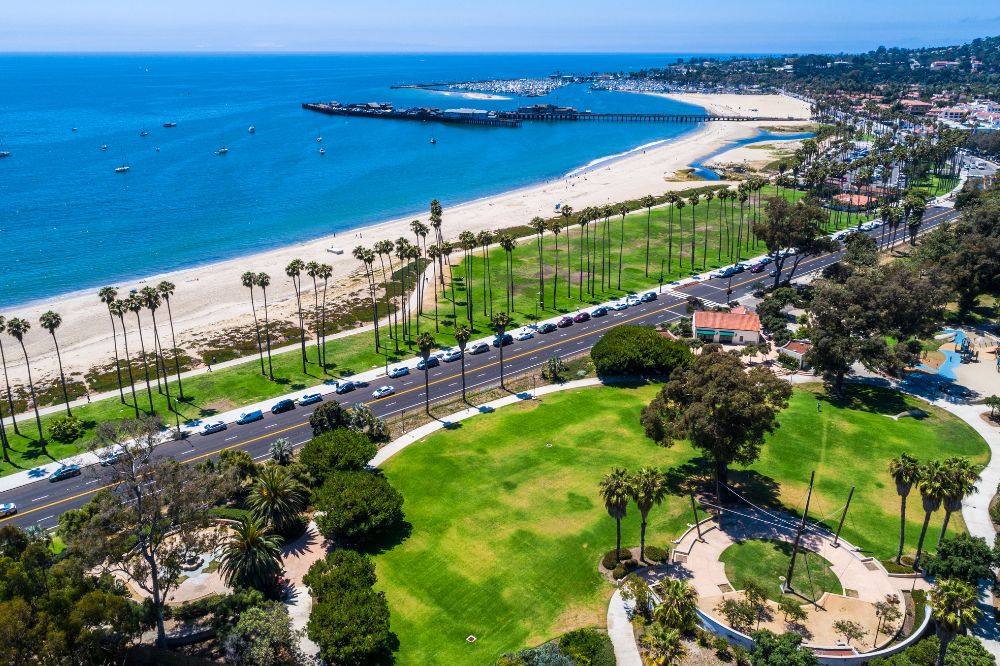 The city of Santa Barbara, which includes Hope Ranch and Montecito, has a population of approximately 90,000, and it receives millions of visitors per year thanks to its proximity to the beach and its upscale, laid back vibe.
We like to spend a day in Santa Barbara every once in a while, popping into wine tasting rooms in the Funk Zone, relaxing on the beach, and dining out with friends at one of the many excellent restaurants (many with outdoor dining).
State Street – the main street through town – is now pedestrianized, which makes it a true pleasure to walk along, stopping for a drink or a coffee while shopping at the high-end and boutique stores along the way. Tour the Mission, go sport fishing or whale watching, visit the Farmer's Market, rent a bicycle and ride the bike paths along the ocean.
» Try this tour: Downtown Santa Barbara Food Tour
2. Cayucos
Cayucos is a small beach town in Northern California that packs a big punch. It's a living time capsule where antique fairs are held in May and October, and artistic murals of the Old West line the walls of the town.
The town is only about 5-square miles, so it's easy enough to take yourself on a walking tour of this quaint location if you have a great pair of walking shoes. If a sea breeze is what you crave, head to the 950-foot pier and stroll along its wooden planks past the fisherman competing for their daily catch.
It's also an ideal place to grab some tubular waves (or a surf lesson or two if you're a beginner).
3. Morro Bay
With a protected harbor and marine sanctuary, Morro Bay is quite possibly one of the best Northern California coastal cities for wildlife encounters. Depending on the season, you'll find Humpbacks and giant Blue Whales passing through on their migratory routes. Orcas and dolphins can generally be seen year-round.
Bring your binoculars, because it's also recognized as a top spot for bird-watching. Gorgeous peregrine falcons nest on the prominent Morro Rock, an old volcanic plug that protrudes 576 feet from the mouth of Morro Bay.
But a trip to this bay isn't complete without visiting the Embarcadero, a waterfront strip replete with restaurants, cultural attractions, and retail stores. You'll even catch sight of otters and sea lions walking along its lengths.
Summer brings many tourists to the area, but the laidback vibe of the town is pervasive throughout the seasons. Experience the best of the area on a guided e-bike tour.
» Try this tour: Private Surf Lesson in Morro Bay
4. San Clemente
On the southern edge of Orange County lies one of the undisputed jewels of Southern California – San Clemente. Known as the "Spanish Village by the sea", cruising around town gives you a sense of Mexico, as red-tile roofs and white-stucco walls catch your attention, wherever it wanders. If you're interested in the why behind San Clemente's Spanish aesthetic, then a stop by Casa Romantica Cultural Centre and Garden's bluff-top vantage point is a must.
Like a lot of Californian's trendiest beach towns, surfing has shaped San Clemente's culture and still continues to this day. Surfing's "World Tour Finals" are currently held in the high-performance waves of Lower Trestles each fall, as the surf world focuses itself on San Clemente. From San Clemente Pier to T-street, Trestles, and San Onofre, San Clemente has a rich surfing history that can be discovered at its Surfing Heritage and Culture Centre museum.
For the shoppers amongst us who love nothing more than spending a day perusing this season's latest trends and threads, San Clemente's Outlets have got you. This open-air shopping complex is filled with chic designers, big-name brand outlets, a movie theatre, and a string of world-class restaurants waiting to take your order.
So whether it be cruisy beach days, a culturally-themed trip, or a shopping spree, the warm embrace of San Clemente is already whispering your name.
5. Laguna Beach
The craggy coves and cliffs that line Laguna Beach have been an artist's enclave of inspiration for over 200 years. Home to eight miles of coastline that is supremely unique to California, there is no mistaking Laguna Beach from the next town. Not only has its turquoise waters and white-sand beaches inspired countless artists over the years, but its ocean-view hilltops are where some of Hollywood's biggest stars take up residence.
The 22,000-acre natural expanse of Laguna Canyon Wilderness Park has been furiously protected by locals, from developers, since the 80s. One of the last remaining untouched coastal canyons of Southern California. The park boasts 100 miles of hiking and biking trails and is the perfect place to stretch and test the legs.
Laguna Beach boasts seven miles of coastline, coves, and beaches. Look for the many tide pools, marine sanctuaries, hiking paths, and sea caves to visit along the way. It's also a great scuba diving, body surfing, and snorkeling spot. And don't forget the art scene, which is particularly great here.
With a bounty of wilderness to the east and an ocean playground to the west, working up an appetite in Laguna Beach is an easy thing to do. Luckily, the town is known for its delicious eats and long-time local haunt Nick's Laguna Beach has your appetite covered.
Looking for somewhere to stay? Laguna Beach has it all. From super-luxe hotels like Hotel Joaquin to family-friendly RV parks and every lodging between. There's a reason why Laguna Beach is so revered, and that reason is waiting for you down at Treasure Island Beach. In the meantime, hold tight to your hat, and dream of Laguna Beach's salty sea breeze.
6. Malibu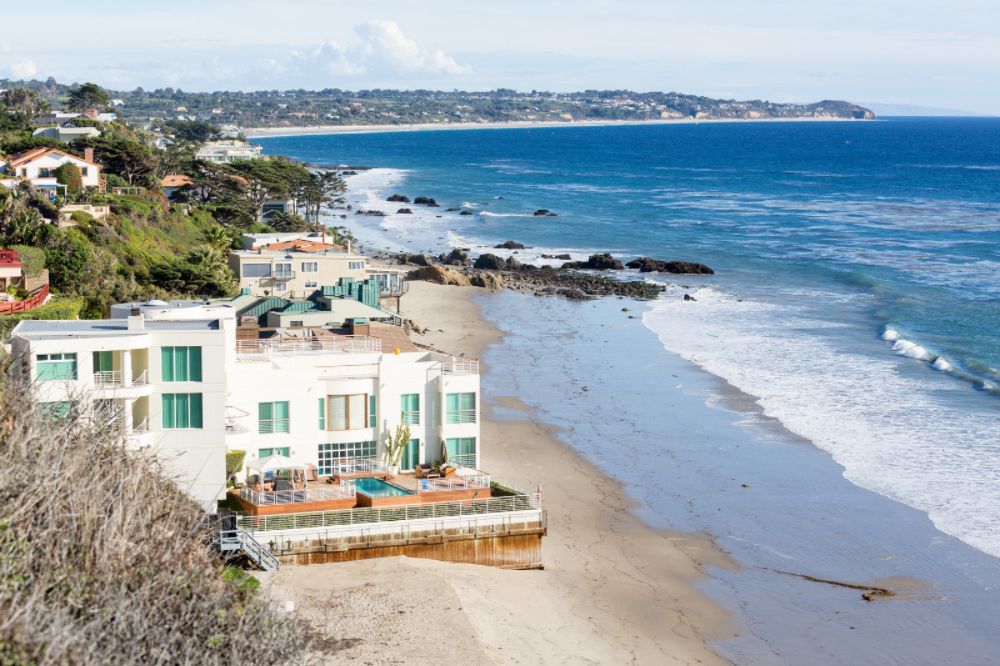 Another A-list celebrity hotspot, Malibu is where the world's movers, shakers, and makers reside. Known officially as "Surfrider Beach", Malibu's fabled right point break has stoked California's surfing fire since way back in the 50s. One of the most iconic surf spots in existence, it was, unsurprisingly, dedicated as the first "World Surfing Reserve" in 2010.
Out of the water, immerse yourself in the exquisite art/ artifacts of ancient Greece and Rome at the Getty Villa Museum. Prefer to check out Malibu's colorful history instead? Then head for The Malibu Lagoon Museum. If hiking is your digs, you'll be pleased to know that Malibu is super close by to the amazing canyons, waterfalls, and grasslands of the Santa Monica Mountains National Recreation Area.
If fishing is the game, and catching dinner is your aim, cast your eyes and lines toward Malibu Pier. With rough-hewn planks, sweeping coastal views, and a unique vantage point over Surfrider Beach, this charming fishing pier is certainly worth a visit.
Across the road from the mecca of Malibu, and aptly named "The Surfrider", a stay at this Californian beach house turned boutique hotel is as quintessentially Californian, as California gets. With plenty more postcard-worthy beaches to its name. Spots like Leo Carrillo and Zuma Beach, Malibu is where the filthy rich and filthy surfers mix in a melting pot of affluence and wave-riding passion, and it truly is a town to behold.
7. Venice Beach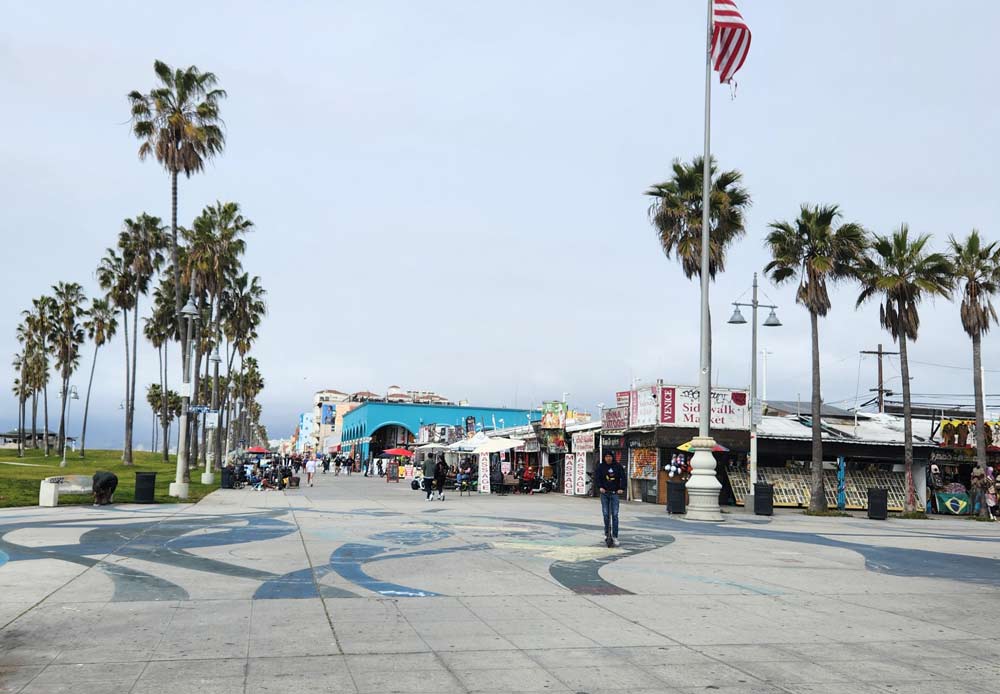 If there's one town in California that needs no introduction, it's Venice Beach. Technically a neighborhood of Los Angeles, Venice is the next town down from world-famous Santa Monica, on the south side.
Taking a stroll along the mile-long Venice Boardwalk is something that every person must do at least once in their life. A place where street vendors, performers, fortune-tellers, muscle men, and the weird and wacky rest converge. This is America getting stirred up to become Venice. Like we need to say it, but the people-watching potential is unrivaled here.
After grabbing a bite to eat at one of the Boardwalk's top-shelf food stalls, all paths lead to Venice Beach Skatepark. Arguably the beating heart of Venice, this skatepark is a direct result of the legendary, era-defining Z-Boys, circa the mid-1970s. Skaters from across America and the world come to cut their teeth on this challenging succession of bowls and ramps.
If you manage to pull yourself away from the sights, smells, and delights down by the beach, Venice's tightly packed streets are lined with designer boutiques, artist studios, and upscale retailers. The trend-setting, celebrity-befriending mad hatter that is Nick Fouquet has his flagship store down on Abbott Kinney Boulevard. From the boulevard to the beach, and the chic curbside shops and eats, Venice is a place where people come, and sometimes never leave.
8. La Jolla
Loosely translating to "the jewel" in Spanish, La Jolla is a luxury seaside village a stone's throw north of San Diego. Even with its close proximity to San Diego, this chic little village very much feels like its own thing. Famous for its culinary delights, La Jolla is home to a string of Michelin-star restaurants. For which the oceanfront Marine Room makes a good case for top honors.
Also along its shoreline, you will find a series of dramatic cliffs and quaint little bays. The jewel of the jewel "La Jolla Cove" is a heavenly nook of beach that's popular with swimmers. Don't be alarmed if you spot a few furry friends basking in the afternoon sunlight, as seals and sea lions often frequent La Jolla Cove's rocky outcrops.
It's almost as if we humans couldn't let the seals have all the underwater adventures, because La Jolla is also a very popular diving spot. If you like the idea of getting down with the critters of the deep, then La Jolla Dive is the place to head for lessons, tours, rental gear, and the rest.
In the heart of downtown La Jolla, Girard Avenue and Prospect Street are lined with high-end fashion brands like Cartier, contemporary coffee houses, and traditional "mall-style" shopping outlets. In a little surprise, Prospect Street is also where the rather regal hotel of Grande Colonial has been operating, in style, since 1913.
9. Santa Cruz
Leaving the confines of Los Angeles's big city limits behind, and traveling up the scenic Pacific Coast Highway (for six hours) will have you stepping foot on sacred Santa Cruz soil. Another name etched in both surf and skate cultures, Santa Cruz is a town that wears its heart on its sleeve. Known for its hardcore crew of local surfers who don't take too kindly to "blow-ins", it pays to show respect out at the town's prized locale – Steamer Lane.
Luckily for you and us, surf beaches like Pleasure Point, Manresa State, The Hook, and Waddell are less guarded by locals, with perfect surf for beginner/ intermediate surfers on the right days. Natural Bridges State Beach is another beautiful spot that features bridge-like rock formations, making for some mighty fine photo opportunities on sunset.
If you like eating good food, perusing good art, and flicking through racks of preloved vintage treasures, then Pacific Avenue, Downtown Santa Cruz is the place to be. Keeping with the vintage theme, Santa Cruz Beach Boardwalk's vintage fun rides like the Giant Dipper are ready to give the kids, and big kids at heart a weightless feeling of fun.
A short stroll from the boardwalk and you'll find yourself walking onto Santa Cruz Wharf. Measuring 2,745 feet, this 100-year pier holds the title for "Longest Wooden Pier" in the U.S. Fishing, dining, drinking, dancing, sea-lion gawking, gift shop browsing, boat tour booking – Santa Cruz Wharf is an experience all in itself. A spectacle that should not be passed up, if at all possible.
10. Monterey
On the same stretch of Central Cali as Santa Cruz (just an hour south), Monterey is known for its rugged coastline, abundance of sea life, and subsequently, super fresh seafood. Etched in American history by John Steinbeck's classic American novel of the same name, Monterey's Cannery Row is now a far cry from its sardine packing plant days.
The area's de-funked factories have been repurposed and given a new lease of life through an impressive assembly of good-time bars, shops, arcades, hotels, and nightlife venues. Monterey Bay Aquarium is another must-see attraction on Cannery Row, with over 1000 sea creatures waiting to be discovered.
If aquariums aren't your thing, and you'd prefer to witness the wild side of the sea, then jumping on a whale watching/ dolphin-pod spotting tour at Monterey Bay Whale Watch is your best bet. Just like Santa Cruz, Monterey's ocean temperature (even in the summer) rarely peaks over 57°F, which indicates that a wetsuit is advised all year round.
If cold water gives you the chills, then Adventures By The Sea has got your canoe, kayak, paddleboard, and E-bikes rentals covered. Sure, Monterey is considered a middle-class town by Californian standards. But, Monterey has a real and honest charm that the more affluent areas further south couldn't capture, even if they tried.
11. Pismo Beach
Pismo Beach is situated about midway between Los Angeles and San Francisco. You can get there by car or fly into San Luis Obispo.
There are no large amusement or theme parks, just 23 miles of beautiful, uncrowded beaches and sand dunes surrounded by golf courses, wooded areas, and small towns.
Accommodations are plentiful, with everything from campgrounds and RV parks, to inexpensive motels to hotels in various price ranges to luxury beachfront resorts and spas. There is no dearth of restaurants, you can find coffee shops, family restaurants, excellent seafood restaurants and fine steakhouses.
If you're considering taking a trip to Pismo Beach, you can find all kinds of fun things to do. Lie on a white sand beach soaking up the sun during the day and go for long moonlit walks along the oceans edge at night. Go whale watching, see huge colonies of giant elephant seals up close, dig your own clams for lunch or dinner, visit one of the most spectacular Monarch Butterfly Groves in the country, or spend a leisurely day fishing off the 1200 foot pier.
12. Half Moon Bay
Roughly an hour's drive south of the free-spirited city of San Francisco, Half Moon Bay is steeped in Northern Californian surfing folklore. Nearby to big wave surf spot "Mavericks", every winter the world's best big-wave riders flock to Half Moon Bay with the sole aim of staking their claim on the gnarliest waves at this spooky arena.
Thankfully, you don't have to be a daredevil waterman to enjoy yourself around Half Moon Bay, as it's also a prized California wine country. The area's rolling hillsides and temperate climate are perfect for wine-making, and you'll notice a bunch of vineyards and wineries on your drive into town. If you'd like to sample the fortified fruits of the area, booking onto long-time local Tommy John's Wine and Brew Tours is guaranteed to please.
If you'd rather do your wining and dining in town, then Harbor Village and Downtown are both worthy of your time, appetite, and camera. With a laid-back atmosphere, trendy breweries, fresh seafood joints, cafes, and historical-significant buildings, you can spend a very pleasant few days in the seaside village of Half Moon Bay.
13. Encinitas
Hightailing it back down to where the weather (and water) is warmer, Encinitas is where the cool kids hang. Once a sleepy surf town, Encinitas is now a hub for surf-centric creatives escaping the LA rat race. It is also home to plenty of perfectly peeling waves and quirky cafes, naturally. So happening is Encinitas right now, it was recently named among the "20 best surf towns in the world" by National Geographic.
As a result of its mellow surf, this six-mile stretch of coast is a beginner and intermediate surfer's paradise. Breaks like Swami's offer up playful waves most days of the year. After you've put in your time catching (or trying to catch) its perfect peelers, a stop by the iconic Swami's 101 Cafe is all in a day's work. Serving up a classic selection of honest cafe bites like breakfast burritos, three-egg omelets, soups, salads, and sandwiches, it's easy to walk through their doors ravenously and walk out merrily fed.
San Elijo is another popular Encinitas beach for all-day beach hangs, swimming, and surfing. Right opposite the break, you'll find San Elijo Lagoon Ecological Reserve and Nature Center. A well-maintained state park, this scenic spot features seven miles of easy-to-moderate hiking trails.
As a result of its proximity to the border and its vibrant Mexican community, Encinitas has an abundance of authentic Mexican eateries. Raul's Shack, Jorje's Mexicatassen, and Mexico Viejo are where the locals go for their all-flavor, no-fuss Mexican munch. Although Encinitas has changed a bunch in recent years, it's still a very chill place to live and visit. Perfect waves, warm weather, and great food – you'd have to try really hard not to slip into this town's laidback lifestyle.
14. Huntington Beach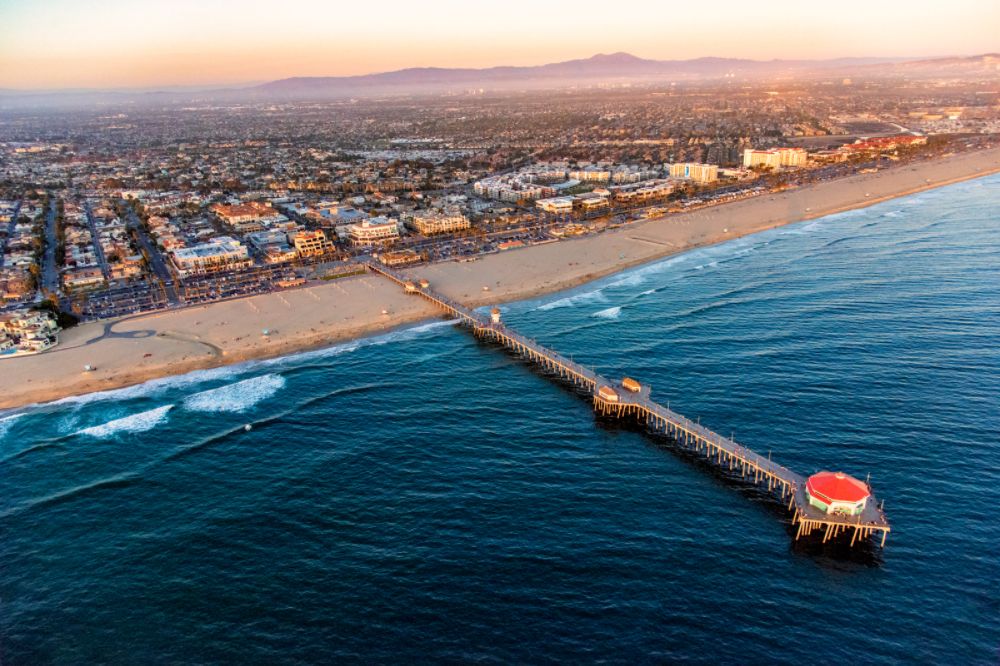 No list of California's best beach towns would be complete without the O.G of California surfing – Surf City itself, ladies and gentleman, without further ado, we give you Huntington Beach California. Hawaiian waterman and surfing pioneer George Freeth first surfed Huntington way back in 1907, which makes this hallowed stretch of sand ground zero for American surfing.
Home to the International Surfing Museum, Surfers' Hall of Fame, and Surfing Walk of Fame, if you have an interest in surf history, you head to Huntington. Not only that, but the town has played host to the U.S Open Of Surfing since 1959. Taking place in the summertime, this mammoth competition lights up the town with a festival-like atmosphere for two non-stop weeks of fun.
You didn't think New York City was the only place with a Central Park now did you? Orange County's largest city-owned park, Huntington Central Park is a lush 350-acre haven that is prime real estate for weekend picnics, exercise regimes, and dog walkers alike. Fun fact: the park also boasts the largest children's library west of Mississippi – getting book smart and playing in the grass, what more could the kiddies want?
From the uber-upmarket Paséa Hotel & Spa to the budget-friendly Travelodge, Huntington's beachfront is lined to the nines with places to stay. In the thick of it and right opposite Huntington Pier, you might as well join in on the chaos, mayhem, and fun that is Huntington Beach, California, and live your best "Californian Dreamin" life.
15. Ventura, California
You might not have heard of Ventura before. It's not as talked about as some of the other glitzy California beach towns, but that's exactly what makes it perfect for a quiet beach vacation without all the crowds.
The Ventura beach isn't nearly as crowded as others. You can usually easily find a place to park at the public parking lot that leads to the gorgeous stretch of beach that's right next to the famous Ventura pier, with MadeWest Brewery and Beach House Tacos available for refueling. Then you've got miles of pristine beach to explore.
The town of Ventura is also rather cozy. Along Main Street, which has been pedestrianized since Covid, you'll find all manner of restaurants, cocktail bars, and breweries to explore, like Rocks & Drams and Ventura Coast Brewing.
The best way to enjoy and explore the beach is to get an Airbnb or VRBO house right on the beach in Pierpont on Seaward Drive. It's steps from the beach and has a great old-time vibe that hasn't been ruined by commercial enterprises.
16. Carmel-by-the-Sea
I can't express how cute Carmel-by-the-Sea is as a beach town. It is almost completely unspoilt by chain stores and big resorts. Instead, the town has managed to keep itself very local and boutique.
If you're looking for a Marriott-type destination, this isn't it. The local beach vibe here is intermingled with a European sophistication that you can only find in Carmel-by-the-Sea. Think local, high-end boutiques and charming beach-side BnBs.
This enchanting coastal town has been a haven for artists, writers, and dreamers for over a century and offers many great things to experience.
One of my favorite things about Carmel is the plethora of wine tasting rooms, like Wrath Wines and Scheid Vineyards tasting room. There's a whole wine walk you can do within just a few blocks. There are many restaurants to go along with your wine, like Flaherty's Seafood Grill & Oyster Bar French fare at La Bicyclette.
17. Pacific Grove
Pacific Grove is a charming and historic town located on the Monterey Peninsula. It's known for its beautiful Victorian homes, as well as its close proximity to the Monterey Bay Aquarium and other attractions in the area. Pacific Grove is also a great place to go whale watching, and during the winter you can often see whales breaching just offshore.
With just about 15,000 residents, the town is small and quaint – a great place to visit when you're looking for a laidback place to hang out. The best way to enjoy the area when you first arrive is to start at the Monterey Bay Aquarium, drive Oceanview Boulevard to Lovers Point Park – one of our favorite parks for a picnic in the area.
Then continue on Sunset Drive to Asilomar Beach, where you can walk along the rocky coastline and enjoy the dunes. In Pacific Grove, there's a monarch butterfly grove, some great tidepools to examine, and a Museum of Natural History.
18. San Simeon
San Simeon is a small town located on Highway 1 in central California. It's well known for its proximity to Hearst Castle, one of the largest and most famous estates in the United States. You'll want to get tickets in advance (Adult $30, Child $15) and plan to spend about 2 hours exploring.
When you come back into San Simeon, stop by Hearst Ranch Winery for a wine tasting, take a walk out on the San Simeon pier, and along the gorgeous William Randolph Hearst Memorial Beach. If you're up for it, hike out the San Simeon Point for a spectacular view.
San Simeon is also a great place to go whale watching, and during the winter you can often see whales breaching just offshore. There's also a Friends Of The Elephant Seal Visitor Center and Gift Shop where you can observe elephant seals from the boardwalk and viewing areas.
19. Pacifica
Pacifica is a beautiful coastal town located halfway between San Francisco and Half Moon Bay. It's known for its rugged coastline and stunning views of the Pacific Ocean. Pacifica is also home to some of the best beaches in Northern California, and it's a great place to go surfing or whale watching.
With the 100+ miles of hiking and biking trails, and views like you wouldn't believe over the Pacific Ocean, Pacifica is a great place for outdoorsy types who want to spend their time exploring. Rockaway Beach is one spot not to miss, with many restaurant and shopping venues, plus trails to the bluffs on either side. Be sure to stop at Nick's Rockaway restaurant for some local seafood.
There are also some great hiking opportunities including Mori Point, Milagra Ridge, and Sweeney Ridge. You can also find great surfing and snorkeling opportunities if you're properly prepared to get in the water.
20. San Francisco
San Francisco is one of Northern California's best beach cities. Surrounded by water on three sides, this peninsula has many sun-bathed beaches perfect for soaking in some rays.
It's easy to succumb to the charm of the cable cars and architecture of the city though, so be prepared to take a lot of photos. There are dozens of things to do in San Francisco, like Fisherman's Wharf with some of the freshest seafood and clam chowder and visiting one of the great neighborhoods like the Castro or North Beach, or spend a whole day at Golden Gate Park.
Afterward, visit the Aquarium of the Bay and walk the 300-foot clear tunnel for a 180º view of leopard sharks, jellyfish, and 20,000 other marine creatures. To satisfy your touristy impulses, visit Alcatraz Island on a bay cruise or jump on a Hop-on Hop-off bus tour of the city.
For something a little more romantic, take a sunset cruise and enjoy panoramic views of the city lit up at dusk, with the sun setting behind the Golden Gate Bridge.
» Try this tour: Little Italy and North Beach Walking Tour in San Francisco
21. Fort Bragg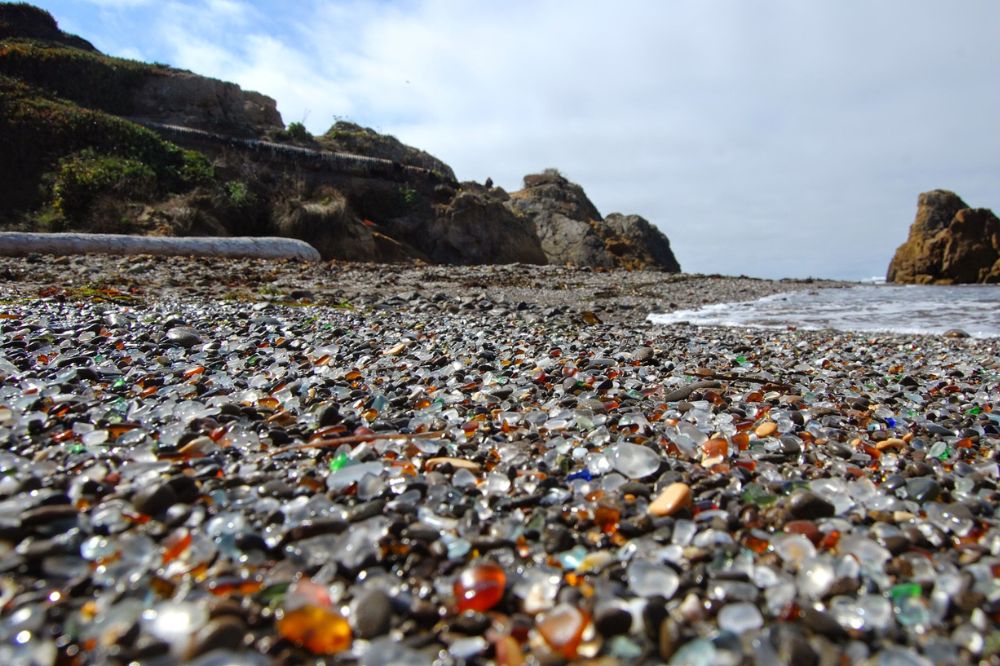 As you can tell by its name, Fort Bragg was once a military garrison founded in 1857. Since then, it has become a rather developed town thanks to the timber economy, with a decent assortment of restaurants and places to stay.
It's most famous for its glass beach, where you'll find yourself walking on rounded white, green, and amber-colored pebbles of sea-glass instead of sand. It's certainly one of the most unique beaches on the Northern California coast.
Other highlights include the blooming-beautiful Mendocino Botanical Gardens, where you'll find heritage roses from June to July and dahlias from August to October.
Hop aboard the Skunk Train for a ride through the majestic redwoods that cuts across Pudding Creek estuary. There are trails to be hiked and a rail bike experience to be had, so boredom won't be an option here.
This splendid black sand beach is a great place for Whale watching. Located north of the small hamlet of Shelter Cove in a remote region of the "Lost Coast", it's the trailhead for the famous King Range hike. This is a day only beach, so campers will have to head for the mountains.
22. Mendocino
Mendocino is one of the most beautiful coastal towns in Northern California and it feels a world away from other posh spots on the California coast.
It's known for the cliffside trails and beaches of Mendocino Headlands State Park, with stunning coastal scenery and Russian Gulch State Park where the 1909 Point Cabrillo Light Station is and waterfall loop trail. You'll also want to visit Glass Beach, north of Mendocino near Fort Bragg.
The town is a perfect weekend getaway for couples looking for romance, a camping adventure, or for a girls' weekend of wine tasting. Most of the wineries are located along Highway 128, called The Wine Road.
The coastline is dotted with natural sea caves that you can explore from a kayak. You can also visit the tidepools on land at Headlands State Park or go hiking on one of the many trails, especially the ones mentioned above. Enjoy a soak and some tranquility in the Orr Hot Springs located just outside of Mendocino.
23. Point Reyes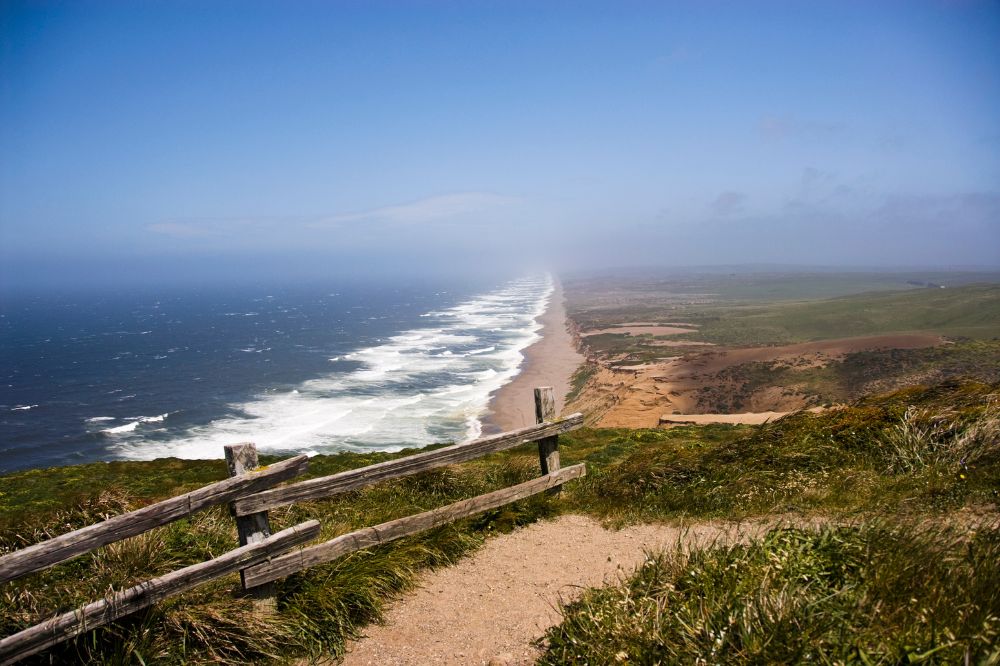 Located in Marin County, just 50 miles north of San Francisco, Point Reyes National Seashore is most known for the incredibly picturesque Point Reyes Lighthouse, fantastic hiking, and outdoor activities, plus the Ten Mile Beach.
There are many trails at Point Reyes National Seashore, but Tomales Point Trail should be the first you do. There are jaw-dropping views all along the route. At Point Reyes National Seashore there are lots of great beaches, but be sure to visit Drakes Beach. You can get to the beach via Drakes Beach Road, off Sir Francis Drake Boulevard.
Watch the elephant seals gather at Chimney Rock, then you can see the Point Reyes Lighthouse nearby. Rent a kayak or paddleboard so you can get a view from the water. It's epic.
24. Eureka
Eureka is a bigger city, above San Francisco that has a lot to offer. It's near the Redwoods, so if you're looking to visit those this is a great launching city. There's plenty of things to do as far as eating, shopping, and walking around as well.
This city has a one-of-a-kind culture. In the historic waterfront district, there are a large portion of the buildings in a Victorian style, making walking around a fun scavenger hunt for cool architecture. It contains 154 buildings in a Victorian architectural style, that have been well preserved since the 1800s. These buildings now house a group of museums, shops, cafes, antique stores, and more.
If you're looking for things to do outdoors, or natural sights to see, Eureka lies along the Redwood Highway, making it a good place to take a drive through the Redwoods. You can also go to the Sequoia Park Forest to walk among the trees, or take a picnic there and snack while enjoying the views.
25. Trinidad
If you're looking to go beach hopping, Trinidad is the perfect place. There are a lot of beaches to explore, and they range different stretches of the town, have different views, and are all around really nice beaches.
You can try them all and find your favorite beach to spend time at. The beaches also have a lot of sea stacks, which are large standing rocks that are in the ocean. This makes these beaches stand apart from some of the others in northern California.
Trinidad State Beach is the best beach in the area. It has a gorgeous view of the sunset, and has a smaller place called College Cove on the northern part of the beach. This is a more intimate and cozier atmosphere than the big beach.
Trinidad is also a huge fishing town. You can eat freshly caught fish at plenty of the restaurants in town, but you can also fish yourself. The Trinidad Harbor is a place where you can bring your own fishing gear to fish, and you can either rent a boat or bring your own boat if you have one. There's a harborside restaurant with fresh fish that has a fish cleaning station for if you caught your own.
Conclusion
Whether you prefer the quieter vibes of Half Moon Bay and Encinitas, or you are already picturing yourself where the action is at Huntington and Venice, you're going to love the beaches in California.
Like this article? Save it on Pinterest so you can find it again.
FOLLOW US on Pinterest and Facebook for more California travel inspiration and tips!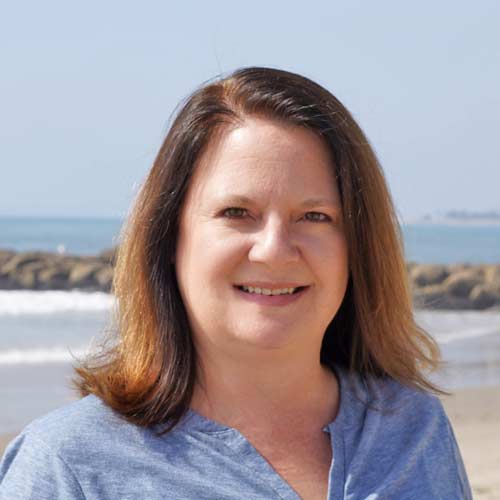 Laura is a travel fanatic who loves seeing and doing new things. She lives in Ventura, CA, and spends a lot of time exploring California's cities, beaches, and national parks.