If you're a wine drinker, you likely already know there are some incredible California wine regions to visit. In fact, more than 80% of the wine made in the U.S. is made in California. It's the fourth largest producer of wine in the world, behind Italy, France and Spain.
Doesn't that get you excited for a California wine trip?
We've spent quite a bit of time touring around California's wine regions to discover the varied types of wine produced in the state. I can say without a doubt that some of our favorite wine tasting moments were in California.
» See a few of these Ultimate California Bucket List places along the way!
» Try one of these 15 Best Hikes in Southern California and 50 Essentials for Your California Packing List.
The state is vast, but there are really just give wine-producing regions: North Coast, Central Coast, Central Valley, Sierra Foothills, and South Coast. However, each of those can then be broken into sub-regions, and when you get right down to it, there are over 100 AVAa throughout the many sub-regions.
That might sound overwhelming. Where do you start? But no worries. We're going to break down the regions and share a few of our favorite AVAs inside each, where you can enjoy a weekend of wine tasting.
» See the web story for 15 Gorgeous Wine Country Vacations in California.
California Wine Map
Before you try to understand California's wine regions, you should see it all laid out on a map. This will help you visualize where everything is and how it all nestles together. If you're doing a California road trip, you can build in a stop to a region you pass through.
The regions we'll be talking about are:
North Coast (blue)
Central Coast (orange)
Central Valley (yellow)
Sierra Foothills (purple)
South Coast (green)
» See a more detailed California wine region map with sub regions.
Planning a Wine Tour in California
I'd recommend choosing a single region, or finding regions that are close to each other, if you want to visit more than one in a trip. This is because distances between the regions is often quite large. However, you could do Sonoma and Napa in the same trip, or Paso Robles and San Luis Obispo.
It's most typical in California to plan your own itinerary, make any necessary appointments, and drive yourself around in wine country. However, there are also plenty of tour companies offering to do the planning, arranging, and driving for you. Choose whichever one suits your needs.
If you live near one of these areas, you can easily do a 3 or 4 wineries in a day trip. We often go for a day and fit in as many as we can. But if you're driving a long distance or flying in for wine tasting, you'll want to plan for at least 3 days in the wine region to really feel immersed.
Do I Need an Appointment?
You don't always need appointments at wineries in California, but it has definitely become more of a thing since Covid. Tasting rooms are now trying to manage the number of people visiting so you don't end up with a crowded bar, like it used to be. It is always a good idea to check the website of all the wineries you plan to go to, at least a week in advance.
We've found that some of the most popular wineries have packed schedules and it's hard to get in. But smaller wineries have openings. So it's best to choose a few smaller and a few larger wineries, to balance out.
How Much Does it Cost?
Wine tasting in California has gotten quite a bit more expensive in the past few years. Gone are the days of free tastings. In fact, many regions are charging $20-40 per tasting. With this fee, you'll get around 5 wine tasting pours. You can share a tasting at most places, which will cut down on the cost of it, and help you manage your intake.
California Wine Regions
All five of these California wine regions is quite different. You can expect to find a different climate, different soil types, and vastly differing terroir that will make the wines very different in style and taste.
North Coast
In the North Coast, you will find the grape growing regions that put California wine on the map, including the counties of Napa, Sonoma, Mendocino, Lake, Solano, and Marin.
More than half of the state's wineries are located here, and it is also a designated AVA. Many AVAs and growing regions exist within this enormous AVA, like the ones listed above.
If you have the chance to visit this region, you'll be rewarded with some of the best wineries and views in the state. Below are two of our favorite growing areas within the North Coast.
North Coast Sub-Regions
Sonoma Valley
Sonoma County is home to 13 AVAs and more than 500 wineries spread across a huge swath of the north coast of California. Some of these AVAs are Russian River Valley, Alexander Valley, Dry Creek, Chalk Hill, and Knights Valley.
Visit Adastra Wines if you want a real treat. They are well known for their Pinot Noir, but also offer Chardonnay, Syrah, and more. Next up is Alexander Valley Vineyards. This winery is perfect for the self-proclaimed connoisseur or the complete beginner.
Finally, wrap up your trip at Highway 12 Vineyards & Winery. They take true pride in the wine that they make and are knowledgeable in the different regions of their grapes. Their offerings include Cabernet Franc, Meritage, Zinfandel, and more.
Check out these guide to Sonoma wineries and nearby Healdsburg wineries.
» Try this tour: Small-Group Wine-Tasting Tour through Sonoma Valley
Napa Valley
It's no secret that Napa Valley is considered THE wine country of California. With gorgeous views and vineyards for miles, Napa is a must for wine lovers.
Begin your adventure at Castello di Amorosa. You can take a guided tour of the castle and taste their wines. From there, continue your journey to Markham Vineyards. It's one of the first wineries that was founded in Napa Valley and has been going strong since 1874.
Wrap up your day at Franciscan Estate. It was founded in 1973 and started by making their own Cabernet Sauvignon. During your tasting, you can sample some of their popular choices like Sauvignon Blanc or Cabernet Sauvignon.
If you're hankering for more wineries, check out our favorite Napa Valley wineries. We will make it even easier for you with travel information, check out the airports near Napa Valley.
» Try this tour: Experience Legendary Winemaking: Napa Valley Wine Tour from San Francisco
Central Coast
The Central Coast wine region stretches from San Francisco all the way to Los Angeles and can be divided into two smaller areas in the north and south.
The Northern Central Coast area encompasses Livermore Valley, Santa Cruz Mountains, Monterey, Carmel Valley, and a few smaller AVAs. Its cooler coastal climate is known mostly for its Pinot Noir and Chardonnay, though there are many white varietals being grown there.
The Southern Central Coast area encompasses the key wine regions of Paso Robles, York Mountains, Edna Valley, Arroyo Grande, Santa Maria Valley and Santa Ynez Valley. The grape varietals found in the south are Rhone varietals, like Syrah, Grenache and Mourvedre, Italian varietals like Barbera and Sangiovese, and Burgundian varietals. Zinfandel, one of my personal favorites, is also being grown here.
Central Coast Sub-Regions
Carmel-by-the-Sea Wine Tasting
Carmel is a beautiful area, with beaches, vineyards, and lovely ocean views. The entire area around Central California coast is a sight to see. That's what makes traveling there in an RV so fantastic. You can set up in an RV park near the beach, then set out for day trips to Monterey and Carmel-by-the Sea.
Carmel-by-the-Sea is a small European-style village that is well loved and maintained by the community. They don't allow big-box stores or chain hotels, so wherever you choose to stay will be a locally owned inn. There are many adorable shops and restaurants to visit, in between tastings.
If you're in town for a wine tasting weekend, visit the downtown tasting rooms for a charming weekend activity. See our full guide to wine tasting in Carmel-by-the-Sea for winery recommendations.
» Try this tour: Day Trip to Monterey and Carmel via California Coast
Paso Robles
This wine region is known for its dark, full-bodied reds. Located along Central California's beautiful coast, Paso Robles is the largest AVA in California. With 26,000 acres of vineyards and over 200 wineries producing premium wines, Paso Robles has steadily became recognized as a world-class wine-growing area and no longer takes a backseat to Sonoma and Napa Valley.
With its ideal climate and rustic wine country charm, it's the perfect place to enjoy a weekend of wine tasting, particularly in the spring before it really starts to heat up. The area has a perfect climate for growing Zinfandel and other hearty red grapes, like Cabernet Sauvignon, Merlot, and Syrah.
There are a couple of distinct tasting areas. The historic downtown area has more than 15 tasting rooms surrounded by local eateries, delis, cheese shops and olive oil producers, and can be enjoyed on foot. The westside wineries are scattered among the rolling hills to the west to town and are a bit harder to get to, with winding, narrow roads leading to some.
For a taste of award-winning 90+ point rated Zinfandels, plan stops at Turley Wine Cellars, Peachy Canyon Winery, Daou, and Adelaida Cellars. If you're searching for views, drive along Adelaida Road, stopping at Lone Madrone, Adelaida Cellars, Tablas Creek, and Oso Libre.
» See our full guide to the wine tasting in Paso Robles for winery recommendations.
» Try this tour: Paso Robles Wine Adventure with pickup from Paso Robles, CA
Santa Barbara Wine Region
The Santa Barbara wine region spans 50 miles, so be prepared with a plan before setting out in the car for a day of tasting. It encompasses 7 great AVAs, one of our favorites being Los Olivos, a small town with a big reputation for wine.
Our favorite Santa Barbara wine tasting areas are the downtown Funk Zone and the Foxen County wineries. These two areas tick all the boxes.
You'll get a feel for the town of Santa Barbara, where many of the top wineries have tasting rooms, and you'll get a chance to drive around the countryside and see the vineyards and wineries that are spread throughout the region to the northwest of Santa Barbara.
Downtown you'll find a collective of tasting rooms in areas called the Funk Zone and El Paseo. This enclaves have a variety of winery tasting rooms to enjoy without the need to drive around the countryside.
In the Funk Zone, you'll find tasting rooms like Riverbench and Santa Barbara Winery — both have some terrific Pinot Noirs to try — and The Valley Project, a modern tasting room with an incredible map of the region displayed on their back wall. It's a must for newbies to get the lay of the land.
» Try this tour: Small-Group Santa Barbara Wine Tour to Private Locations – Max 7 Guests
Santa Ynez
The Santa Ynez Valley AVA is located outside of Santa Barbara and it contains the largest concentration of wineries in Santa Barbara County. If you've watched the movie Sideways, this is where it was set. It's known primarily for Pinot Noir, Chardonnay and Syrah, among others.
Within the Santa Ynez AVA are 7 additional AVAs:
Santa Ynez Valley AVA is an east-west corridor with cool coastal temps that heat up as you go inland. This produces great conditions for both lighter varietals like Pinot Noir and more bold varietals like Cabernet Sauvignon and Merlot. Rhône varietals have also become quite popular in this area.
Sta. Rita Hills AVA stretches from Lompoc to Buellton, producing some of the areas best Chardonnay and Pinot Noir wines.
Ballard Canyon AVA, established in 2013, is focused primarily on Syrah, which grows well in this mixed climate with cool marine influences coming from Sta. Rita Hills and warmer air coming from Happy Canyon.
Los Olivos District AVA is the newest to be recognized, in 2016. We love visiting the cute town of Los Olivos for wine tasting. It's not overrun with visitors and it's a great place to spend a day. The wines are mostly Sauvignon Blanc, Cabernet Franc, Cabernet Sauvignon and Rhone varietals.
Happy Canyon of Santa Barbara AVA is on the eastern border of the valley and is a little more isolated than the rest of the region. There are no tasting rooms in the canyon. This is where most of the Bordeaux varietals are planted and some really high-quality wine is being produced there.
Santa Maria Valley AVA – I personally love this region because of the foggy coastal influence and the northernmost positioning, which creates complex soil conditions and diverse microclimates. You'll find great Chardonnay and Pinot Noir in this area.
Alisos Canyon AVA is the newest approved AVA near Los Alamos and it is a Rhone-focused wine region with great Syrah, Grenache, Cabernet Franc, and Viognier.
» Try this tour: Santa Ynez Valley Wine Tour
Ojai Valley
Of the dozens of impressive wine regions of California, the Ojai Valley (pronounced Oh-Hi) is one of the most beautiful and certainly one of the most charming for a weekend wine getaway.
Located 90 miles north of Los Angeles and only 30 miles from Santa Barbara (another great wine tasting region), Ojai is accessible as a quick day trip from nearby cities, but it also makes a fantastic weekend trip. Not only is Ojai packed full of great wineries, there's a lot of wonderful restaurants and shops to explore.
As you drive into the region, you'll be greeted by the looming mountain range and citrus groves that line the valley. There are olive orchards and sprawling family ranches. And vineyards surrounding it all.
» See our full guide to wine tasting in Ojai for winery recommendations.
Central Valley
Despite receiving most of the accolades for producing the best California wines, the Central Valley produces nearly three-quarters of the state's grapes, making it the backbone of the state's wine industry.
Wines from this region are often just labeled "California", rather than calling out a specific region, since many of these growing areas are not "popular" or well known.
The Central Valley is a huge area that encompasses Sacramento, Yolo, San Joaquin, Madera, and Fresno counties. However, now there is a division of this region to include Inland Valley regions that are further away from the coast.
Sierra Foothills
The Sierra Foothills Region is located more inland and so isn't influenced by the cool coastal climate. You might know it as home to the gold mining towns of California's Gold Rush history.
In this area, you'll find beautiful rolling hills, old vines, and much warmer temperatures that lead to top quality zinfandel, Italian varietals like Barbera and Sangiovese, and Rhone grapes like Syrah and Viognier.
You might not believe it, but the Sierra Foothills wine region is one of the largest AVAs in the U.S. It covers 2.6 million acres (1.05 million hectares). It also has more award-winning wines (mostly from Amador County) than any other region. Some of the largest wine producers are now moving into the area to try to capitalize on that.
The AVAs contained within this region are:
Amador County
Calaveras County
El Dorado County
Nevada County
Placer County
Yuba County
Southern California
The Southern California wine region encompasses grape-growing regions in five counties of Southern California: Los Angeles, Orange, Riverside, San Bernardino, and San Diego. As with other regions in California, the larger appellation includes a number of smaller sub-appellations.
One of the most prominent of the sub-appelations is Temecula Valley, which is at an elevation of 1,500 feet and has gaps in the coastal mountain range that allow cooling from the ocean that influences the wine. However, other parts of the Southern California region are starting to stand out as well, like Malibu and San Diego County.
Temecula De Portola Wine Trail
Temecula's De Portola Wine Trail is off the beaten path, about . Located in the more rural, equestrian side of the Temecula Valley, this route contains quite a few amazing wineries that you must visit. I picked this particular stretch of wineries because one of my favorites is actually located here.
Start your journey at the Cougar Vineyard & Winery. It's family owned and operated which mean that they truly care about their wine. They specialize in 100% Estate Italian varietals.
From there, travel down the road to Danza del Sol Winery. It's an Italian-countryside inspired winery that is both dog and horse friendly.
My personal favorite—Fazeli Cellars—is next. From just about anywhere, you can see a spectacular view of the valley. It was started in 2001 by the Fazeli family and has been going strong ever since. Their tasting offerings are Hafez, Saadi, and grape Shiraz. The Shiraz is to die for.
» Try this tour: All-Inclusive Wine Tasting Tour of Temecula Valley
Escondido
Settled in the coastal mountains of Southern California, Escondido offers both an urban and natural atmosphere with easy access to San Diego. There are many boutique wine tasting rooms and vineyards to visit, along with a variety of culinary experiences and farmer's markets.
If you're looking for a unique foodie vacation or a lesser-known California wine region to explore, Escondido has everything you could want right at your fingertips. After visiting once, it's likely you'll want to return again. The Lawrence Welk Resort Villas are a great way to do that in affordable-luxury style.
While many vacationers only consider hotels and Airbnb when looking for accommodations in their favorite destinations, like Escondido, it can be more economical and convenient to consider a timeshare instead. They provide you with very nice accommodations and the perfect home base for exploring.
» See our full guide to wine tasting in Escondido for winery recommendations.
CONCLUSION
With so many great California wine regions to visit, you'll be traversing the state for quite some time visiting wineries and going on wine country weekends. We love it in California and we know you're going to love it too.
Like this article? Save it on Pinterest so you can find it again.
FOLLOW US on Pinterest and Facebook for more California travel inspiration and tips!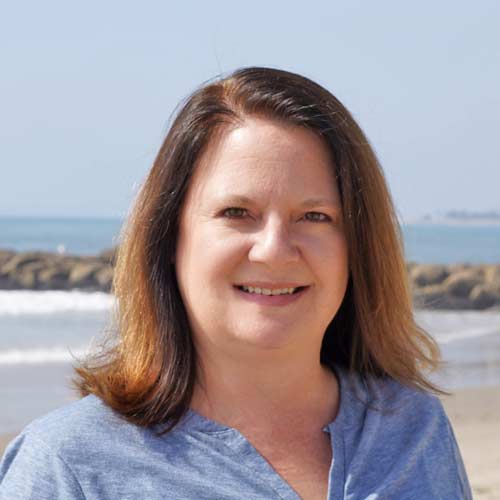 Laura is a travel fanatic who loves seeing and doing new things. She lives in Ventura, CA, and spends a lot of time exploring California's cities, beaches, and national parks.