There are many great reasons to do a wine tasting trip (or two or three) in Santa Barbara County, among them the world-class wine, the nearly year-round great weather, and the vast amount of choice you have for wineries to visit.
Santa Barbara County is one of my favorite wine regions in the United States and in California. It's fantastic for a wine tasting trip with enough AVAs and wineries spread throughout the region to keep you busy for a week or longer. These Santa Barbara wineries we've listed below are our favorites.
The Santa Barbara Urban Trail is great for a weekend getaway, since you can check into your hotel and then wander from winery to winery downtown, with no need for a car. Nearby Solvang, Los Olivos, and Lompoc also have concentrated centers where you can walk between wineries. But if you want to get the full glory of the region, head outside of town to the surrounding countryside.
Due to the various micro-climates, Santa Barbara has one of the most diverse wine regions in the world. There are two mountain ranges (Santa Ynes and San Rafael) between which the Santa Barbara valley is nestled, creating both an ocean-cooled and mountain-terrain climate where grapes experience vastly different growing conditions.
★ Plan ahead. Book your Santa Barbara wine tour here.
» Looking for more wine regions in California to visit? We personally love the Paso Robles area, as well as the classics Sonoma County, Napa Valley, Santa Barbara County, and even Lodi!
Santa Barbara Wine Tasting
There are currently seven recognized AVAs in the Santa Barbara wine region and you'll find quite a variety of different wines in each. The cool, moderate climate produces excellent Pinot Noirs, while the rolling hills produce varietals like Cabernet Franc, Syrah and Grenache.
It's worth your time to visit as many of the different AVAs in Santa Barbara as you can. They are:
Santa Maria Valley
Santa Ynez Valley, which is broken down into the following four sub-AVAs:
Sta. Rita Hills
Ballard Canyon
Happy Canyon
Alisos Canyon, the newest AVA, in Los Alamos
The tasting rooms located in Santa Barbara city are a conglomeration of wineries from all of these different AVAs, many of which have a winery in the hills and a tasting room downtown. That's what make wine tasting downtown so great. You can try a lot of different styles in one location.
How Much Does Wine Tasting Cost?
Wine tasting in California has gotten quite a bit more expensive in the past few years. Gone are the days of free tastings. In fact, many regions are charging $20-40 per tasting. With this fee, you'll get around 5 wine tasting pours. You can share a tasting at most places, which will cut down on the cost of it, and help you manage your intake.
Something I'm excited to tell you about is the Priority Wine Pass, which helps me tasting fees a lot easier to swallow. The Pass is simply the easiest way to save on wine tasting in California.
Show your card at any of the over 300+ wineries that accept the pass and start saving money. Many of the wine tasting discounts are 2-for-1. That means you and your tasting partner only pay for one tasting. If the winery usually charges $25 per tasting, you save $25. The pass is valid 365 days from the day you purchase it. It's pretty awesome. We buy a new one every year. It's good in California, Washington, and Oregon.
Wine Trails & Wineries in Santa Barbara
Now for where to go wine tasting in Santa Barbara. The Santa Barbara wine region spans 50 miles, so be prepared with a plan before setting out in the car for a day of tasting.
We can't go into detail on every wine region in this post, so we encourage you to check out the wine routes suggested by Santa Barbara Vintners. They include maps, wineries to stop at, and will keep you within range of what's doable in a day. They currently feature 9 different wine trails in the region. Each route can take a full day or more to explore.
The trails include:
Buellton
Foxen Canyon
Lompoc
Los Olivos
Santa Maria Valley
Santa Ynez
Santa Rita Hills
We think it's important to visit a few tasting rooms in Santa Barbara, then drive out to the countryside and see the vineyards and wineries that are spread throughout the region to the northwest of Santa Barbara.
To that end, below are the wineries we recommend visiting on a 2-3 day wine tasting tour in Santa Barbara.
Santa Barbara Urban Trail
In the downtown area, there are dozens of Santa Barbara tasting rooms to visit on foot, which is always a good idea when there's drinking involved. Downtown you'll find two distinct collectives of tasting rooms:
El Paseo
This area in the Presidio neighborhood has six wineries to visit: Happy Canyon for Bordeaux blends, Jamie Slone for Bordeaux, Rhône and Italian style blends, Grassini, and Au Bon Climat for Chardonnay and Pinot Noir. Kunin Wines just moved to the area, and across the street is Frequency Wine Company, where you can sit out on the patio with a Rose all day.
The Funk Zone
The Funk Zone is located right downtown and contains 20+ tasting rooms within just a few blocks and mere steps to the beach. With so many choices, you can go in with a plan, or just wander around and stop in where you want.
My suggested itinerary is Municiple Winemakers, Cork & Crowns which is just next door. Riverbench and Santa Barbara Winery — both have some terrific Pinot Noirs to try — and The Valley Project, a modern tasting room with an incredible map of the region displayed on their back wall, which showcases small-batch wines that representative the different areas in Santa Barbara County. Then stop by Area 5.1 and Paradise Springs Winery.
Tasting Room Areas
Once you've done the Santa Barbara Funk Zone, you can set off for other tasting room locations. There are quite a few.
The Los Olivos downtown has many wine tasting rooms. The wine sampling experience here is park and wander, within a few blocks you can try Qupé, Tensley, Alta Maria, Carhartt, Nielsen by Byron, and more.
The Lompoc Wine Ghetto is in an industrial park and home to more than 20 wineries, mostly artisan producers, like Fiddlehead, Samsara, Pali and Palmina. You can drop by here, park and sip to your heart's content. There are plenty of eating options nearby too.
Sta. Rita Hills Wineries
There are many wineries that we love along the route from Santa Ynez to Buellton in the Sta. Rita Hills. If you have just a day or two to explore the countryside wineries outside of Santa Barbara, this is the plan we recommend following.
Starting just outside of Los Olivos is one of those gorgeous rolling hillside vineyards, Beckmen Vineyards, which has Rhône-style wines and a gorgeous tasting room with gazebos you can rent and picnic tables. In Buellton, stop at Alma Rosa Winery's gorgeous tasting room in the town center for cool climate Pinots and Chardonnays, with lots of nearby restaurants for lunch.
Next stop at Pence Vineyards for a small estate vineyard and winery. The appointment-only tasting experience is second to none, led by a sommelier. Your next stop is Spear Vineyards & Winery. Their restored barn is an amazing feature of the winery, but be prepared to be wowed by their Pinot Noir. They have a beautiful tasting room with plenty of comfortable places to relax.
Peake Ranch is a little off the beaten path, but well worth a visit. This winery was featured in Sideways. It's a beautiful location and property with a variety of seated tasting experiences. Further down the same road is Lafond, which has a tasting room in the city, but the countryside winery is just gorgeous.
And finally, Sanford is just a little further down that road, which I highly recommend if you're looking for a personalized experience/ Pinot Noir is their speciality and the setting is stunning.
Foxen Canyon Wineries
One of our favorite wineries in the Foxen Canyon area (which also has a tasting room downtown) is Riverbench. They have some of the best Pinot Noir in the area, in my opinion. You'll also find the Foxen Canyon Winery in this area.
If you like spicy wines, you'll want to make a stop at Cambria Winery. Their coastal terroir and old vines lend a unique spiciness to the wine that livens up their Chardonnay and Pinot Noir. If you're looking for a good place to stop for a picnic, Fess Parker has a lovely outdoor area. They also have a tour and tasting experience.
Wine Tours in Santa Barbara
I'm always a fan of letting someone else do the planning and the driving on a wine tasting trip. That's why its ideal to book a wine tasting tour. Here are three that we recommend in the area:
How to Get to Santa Barbara Wine Country
You can fly directly in to the Santa Barbara airport, which is centrally located to the west of the city, in the direction of the other AVAs. It's a 15-minute drive into the city, or 45 minutes to Lompoc and 40 minutes to Solvang.
Santa Barbara is located 90 miles north of Los Angeles, a <2 hour drive, but if you're coming from LA or the LAX airport, you can also take the Amtrak Pacific Surfliner, which runs up and down the coast and drops you off directly in the center of downtown Santa Barbara. It's a fast and convenient way to go.
If you want to get out of the city center to the various AVAs to experience the countryside, you'll need a car, or you can book a wine tasting tour and let someone else drive.
Where to Stay in Santa Barbara
Be prepared for the high prices in Santa Barbara, even for the most basic hotel stay (seriously, even Motel 6 is over $200). The proximity to the beach and the perfect weather draws crowds, and prices tend to stay high year round. For more hotel information check out these 8 luxury hotels in Santa Barbara.
Our Recommended Santa Barbara Hotel
Where to Eat in Santa Barbara
In downtown Santa Barbara, there are endless choices for where to eat. Just walking along the main street introduces dozens of great casual choices you can stop off at whenever you get hungry.
For a more formal affair – tasting menu and pairings included – make a reservation at Bouchon. In the heart of the Funk Zone, you'll find The Lark with an outdoor space and a menu that will make choosing what to eat very difficult.
Near the El Paseo wine area, you'll find The Black Sheep, an unassuming little gem with impressive small plates to share. There are a couple of breweries that serve a good casual meal: The Cruisery and The Brewhouse. I really love the Tri-Tip skewers at Brass Bear Brewing.
I also love the Santa Barbara Public Market for either a quick bite on the go or a big bowl of ramen from Empty Bowl Gourmet Noodle Bar.
FREQUENTLY ASKED QUESTIONS ABOUT SANTA BARBARA
Is parking a problem in Santa Barbara?
Parking isn't terrible in downtown Santa Barbara, except on busy weekends. You can find street parking, if you look for it. There are also a ton of beach parking lots. On the street, you'll pay from to 9am to 6pm every day, but it's free after that.
Some spots are metered with limited time, some are free with limited time during the day. Most hotels will charge anywhere from $25 to $45 a night for parking.
What are some good wineries in Santa Barbara?
There are a ton of great winery tasting rooms in downtown Santa Barbara in the Funk Zone and Paseo Nuevo shopping center. Our favorites are Riverbench and Pali Wine Co in the Funk Zone; Happy Canyon and Jamie Slone in Paseo Nuevo.
Outside of Santa Barbara, we like to visit Solvang, Los Olivos, and the Foxen Canyon Wine trail for wine tasting, especially at E11even, Bien Nacito Winery, and SamSara in Los Olivos, and Zaca Mesa and Riverbench up in Foxen Canyon.
Is Santa Barbara worth the money?
Yes, Santa Barbara is a very expensive city, especially if you want to stay in 4- to 5-star hotels or right on the beach. Whether that expense is worth it to you is very subjective. I feel that Santa Barbara is definitely worth a visit, though you don't necessarily need to stay in the expensive downtown hotels.
The town has a lovely setting along the California Coast with beautiful surrounding mountains. The architecture is California Spanish Revival and there is year-round foliage of natural plants, flowers, and cactus to enjoy. If you like wine tasting, some of the best central coast wineries are located nearby.
Travel Planning Guide
🚙💨 Where should I book my rental car?
Renting a car is one of the best ways to get around in California, no matter where you're visiting. Public transportation can only get your so far, even in big cities. I always rent with Discover Cars, which checks the prices of all major rental car companies, so you get the best rates.
🛌 What's the best way to book my accommodations?
For hotels and vacation rentals, Booking.com or Expedia.com are the best sites, but you can also book through TripAdvisor. If you're considering renting a house instead, don't forget to also check VRBO, which is often cheaper than Airbnb.
🧳 What do I pack for California?
Head to the our California Packing List or Disneyland Packing List to get all the info on packing.
✈️ What's the best site to buy flights to California?
For finding cheap California flights from around the world, I recommend Skyscanner. I've also had pretty good luck with Kayak.com.
CONCLUSION
Have you been to any Santa Barbara wineries? Tell us what you love about it and where you've been for wine tasting.
Like this article? Save it on Pinterest so you can find it again.
FOLLOW US on Pinterest and Facebook for more California travel inspiration and tips!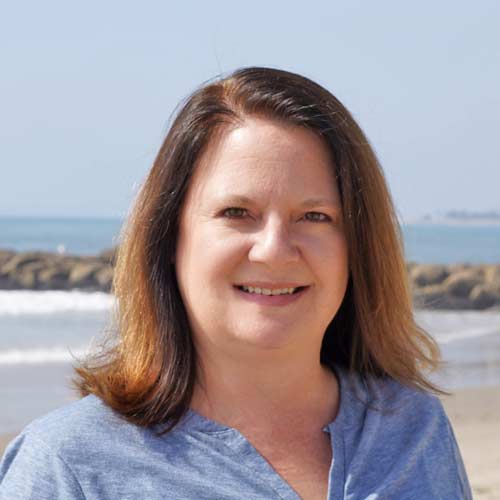 Laura is a travel fanatic who loves seeing and doing new things. She lives in Ventura, CA, and spends a lot of time exploring California's cities, beaches, and national parks.