Packing for a trip can be a daunting task. Trying to decide what you might need, while trying not to pack too much or the wrong things, can be tricky. That's why we have come up with this handy list of what to pack for Disneyland.
Once you get to the park you can simply enjoy the magic of your surroundings, knowing that you have the essentials covered. Checking off the items as you pack them will help ensure that your Disney vacation goes smoothly.
» Getting excited about your upcoming trip? Check out these 10 Best Desserts to Try at Disneyland.
Planning your trip? We've got tons of helpful Disney planning guides from our awesome list of 40 essential tips, to how to get to Disneyland, where to stay near Disney, what to pack, what to wear, where to park, and what to eat in both Disneyland and California Adventure.
» Also read How Many Days Do You Need At Disneyland?
What To Pack For Disneyland
The best way to start your packing is to read through the list below and decide what you need to purchase and what you already have. Then get your suitcase ready and start setting things aside.
You can also download our handy printable list to have next to you as you pack, if that's easier.
Small Backpack
I always suggest taking a day bag into Disneyland with you. In this bag, you can store all the things you'll need to make your day easy and stress free.
You don't want to carry anything too big, so I suggest a small backpack that can be worn over both shoulders and won't get in the way. Why not be festive and carry a Disneyland themed bag, like the one below.
In this day bag, you can pack all the things that will make your day easy and stress free. Remember that if you don't bring it and you end up needing it, it'll cost quite a bit to purchase the item in the park (like water, food, and a sweatshirt).
Always take these items with you into the park:
A change of clothes (if you go on water rides, you will get wet)
Snacks or meals (if you want to save money)
Medications you need
A reusable water bottle
Your camera/phone
Lightweight Jacket or Sweatshirt
You may need a jacket or sweater in the morning or at night when temperatures drop, especially in the spring and fall. While there are great options to purchase in the park, they can be very expensive. It's a good idea to take your own.
If you don't want to carry your jacket or sweater around all day you can rent a locker and keep it in there until you need it. Locker rentals are between $7 and $10 dollars depending on the size.
Here are matching Disney sweaters we like that you can buy on Amazon.
» Check here for the best times to go to Disneyland.
Camera / Phone
You can't go to Disneyland without a camera to catch all the fun moments. I wouldn't recommend bringing any expensive or large cameras, however. Keep it to small digital cameras or your phone camera, only. It will be difficult to hold on to these larger items, and you don't want the possibility of them getting stolen or broken.
Your phone will come in handy for many things in the park. The Disneyland app will be your sidekick for doing all kinds of things in the park. You can look at a map of the parks with wait times for each ride, order food, and book/manage your ride experience using Genie +, Disney Genie, and Lightening Lane purchases.
Portable Power Bank
Because you will be using your phone so much, bring along a portable charger or power bank. Try to take your phone fully charged, which is easier said then done sometimes. You don't want to be looking for an outlet to plug your phone in and wasting time for it to charge.
If you are using fuel rod chargers, there is a place to buy/swap them out for fully charged ones inside the park. In Disneyland look for kiosks at Main Street lockers, Tomorrowland Starcade, Frontierland Westward Ho pin shop, Fantasyland It's A Small World gift shop, and Critter Country Pooh's Corner.
At California Adventure, kiosks are located at Kingswell camera shop, Ramone's in Cars Land, Gone Hollywood Shop in Hollywood Land, and Knick's Knacks Shop in Pixar Pier.
Comfortable shoes
You're going to spend a lot of time on your feet in Disneyland. It is typical to stay from 10 to 14 hours at the park and that equates to about ten miles of walking per day. If you don't wear comfortable shoes, your feet will scream for mercy at the end of the day.
To avoid blisters, be sure to wear your most comfortable shoes. Make sure they've been worn plenty of times and are well broken in. I think it's a good idea to take an extra pair into the park, in case your feet get sore or blistered, so you can change them out. An extra pair of socks wouldn't hurt either.
Sunscreen and Sunglasses
There is not much shade around Disneyland. If you are planning a trip in the hotter months, be prepared because the sun will get you, and no one wants to get sunburnt while being on vacation.
Remember to protect your eyes and skin even in the cooler months, since you will be spending a lot of time in the sun. Bring sunscreen with at least SPF 30, and sunglasses or a large brimmed hat to keep the sun off your face. Make sure to also bring a chapstick with SPF in it as many people get sunburned and chapped lips.
A good trick is to check the UV radiation throughout the day and apply sunscreen accordingly.
Hand Sanitizer & Wipes
In our post pandemic world, it's especially important to be aware of hygiene in public spaces. Disneyland is full of people and you can't be sure they won't pass something on to you.
There is plenty of hand sanitizer stations in the park, but you should bring a small bottle of your own so you can use it whenever necessary. Wipes can also come in handy to clean off hand rails or safety bars on rides before you touch them.
Snacks & Meals
Disneyland allows you to take your own food into the park, which helps a lot when you are on a budget. Packing some treats and snacks will come in very handy for those pre-lunch and afternoon hours.
Soft sided coolers no larger than 6 pack size can be brought into the park. Re-usable ice packs are recommended as loose or dry ice is not permitted.
In addition, you can bring lunch and dinner, but these meals must be pre-made and in no need of reheating or refrigeration and must not be stored in glass containers. Think of ready to eat food such as sandwiches, chips, cereal, fruit and others.
There is a complimentary picnic area just outside of the main entrance to Disneyland. It is allowed to exit the park, have lunch, relax for a bit and get back in for more fun.
If you are not comfortable with exiting and reentering the park, there are quick service restaurants that have open seating areas where you can sit down and enjoy your snacks.
Reusable Water Bottle
Disneyland also allows you to bring your own nonalcoholic beverages. Reusable plastic water bottles are great because you will be able to fill them up around the water fountains in the park.
Pro Tip: Find fill stations and other essential services easily using the Disneyland app. Go to map, use the drop down arrow at the top of the screen and choose guest services. It will show you water fountains, first aid, wi fi, photo spots, hand sanitizer, character sightings and so much more.
There are a couple of great fill stations that we recommend finding while you are there. The Red Rose Tavern in Fantasyland has one big enough to fit a large water bottle under. In the seating area of the Rancho del Zocalo Restaurant you will find a fill station.
Disneyland offers complementary iced water cups at almost every quick service restaurant. If you ask nicely, there are cast members that will fill your water bottle or give you enough iced cups for you to fill it.
On the other hand, cold bottled water is sold in almost every snack cart in the park. The main difference with the free iced water cups served in counter service restaurants is the price; a single bottle costs around 4 dollars.
A Change of Clothes
If you are visiting the Splash Mountain and do not like the idea of walking with soggy clothes all day, you should consider taking some spare clothes and flip flops, because you will get soaked. Wear flip flops while you ride and change into your spare clothes and shoes after riding. Remember to pack some plastic bags for those wet clothes. Think about wearing quick dry fabrics that wick water way.
Pro Tip: Rent a locker when you enter the park. Store your extra change of clothes and shoes there until you need them. No reason to carry around extra weight.
Rain poncho
Be prepared for the climate, walking around the park in the rain can get really uncomfortable. You can bring an umbrella, but you will probably have to bother people to be able to pass through certain spots and it is difficult to store while riding.
For those reasons, many people go for the poncho instead. It will not save you from Splash Mountain though, your shoes will get soaked. Ponchos are sold within the park and Downtown Disney but they are expensive. Think about buying them before hand. They don't take up much room to pack and could come in handy.
As we were standing in line for Splash Mountain a family came off of the ride. It was their last ride of the night and they offered us their ponchos!
Personal Mini Fan
It can get really hot at Disneyland in the summer. You'll be standing in long lines that move very slowly and have very little air circulation. The best way to stay cool is with a personal mini fan. Don't worry, you can get a cute Mickey Mouse fan, and you'll look cute rather than silly. Everyone will be envious of your fan, that's for sure.
You can charge it with the portable charger you brought, so no need to worry about it running out of power right when you need it.
Cooling towels can be very helpful if it is hot out. You get them wet and wrap them around your neck.
First Aid Items
I like to keep a small Ziplock bag with a few quick first aid items that will come in handy if something happens. Bandages and antiseptic wipes are great for any scrapes or blisters you get on your feet.
Because of all the walking you may consider taking some pain meds such as Advil, Ibuprofen, or Aleve.
If you are in need of a first aid item such as a band-aid, sunscreen, or basic medicine there is a first aid area where you can get those items for free. The guest services first-aid building is located to the right of the Plaza Inn at the end of Main Street behind the Plaza Point.
Autograph Book and Pen
All of your favorite characters are back out to greet guests! Make sure to bring your autograph book and a pen with you to the park. Characters are giving hugs, signing autographs, and talking with guests.
For kids, this is one of the best things they will do in the park. And having a memory of the event in the form of an autograph book is a great keepsake.
What You Cannot Take Into Disneyland
When packing for Disneyland you should also remember there are many items that are prohibited in the theme park and you will not be granted entry should you not follow the rules and bring them anyway.
Any kind of weapons such as firearms, knives, explosives, smoke machines and toys that look like weapons
Any type of drugs or drug enriched products
Folding chairs
Coolers or backpacks larger than 24″ long x 15″ wide x 18″ high
Loose or dry ice
Strollers that are greater than 31″ in width and 52″ in length and stroller wagons
Artificial noisemakers, such as horns or whistles
Drones
Remote-control toys
Skateboards
Scooters
Inline skates
Bicycles or shoes with built-in wheels
Selfie sticks
Big tripods or monopod stands
» Looking for more inspiration along the route? Check out all our guides to San Francisco, Los Angeles, Santa Barbara and San Diego. Find the best beaches in Monterey, waterfalls in Southern California, and national parks.
FAQ
Can you bring food into the park?
Yes you can. Make sure food is wrapped up. You can bring drinks in as well. No glass and all ice must be contained. You can bring a cooler in with your lunch if you want. A soft sided cooler works best with reusable ice packs.
What are the food prices like?
Ice cream bars can be as low as $5, and popcorn around $5.50. While small cookies and treats range from $6-$12. Meals will run between $12-$14.
Are there any vegetarian, vegan, or gluten free options?
There are plant-based options on every menu. Look for the little leaf symbol to find those options quickly. Disney has been working on these options and many are quite tasty.
I would recommend looking through the Disneyland app at all of the restaurant menus before you travel. Most menus have a section at the bottom with all of the special dietary restriction menus. They have gluten/wheat allergy friendly, egg allergy-friendly, milk allergy-friendly, fish/shellfish allergy-friendly, peanut/tree nut allergy-friendly, peanut allergy-friendly, and soy allergy-friendly options.
Where to Stay Near Disneyland
There are many options for great places to stay near Disneyland, but we definitely recommend staying at a Disney hotel if at all possible.
The three Disney-owned on-site hotels are The Disneyland Hotel, The Grand Californian and Paradise Pier. All three offer early entry to both parks for their guests. The Disneyland Hotel and The Grand Californian offer wonderful dining options as well as character dining.
If you want to stay right across the street from the park, try the Park Vue Inn (3-minute walk) or the Best Western Plus Park Place Inn-Mini Suites (4-minute walk).
How to Get to Disneyland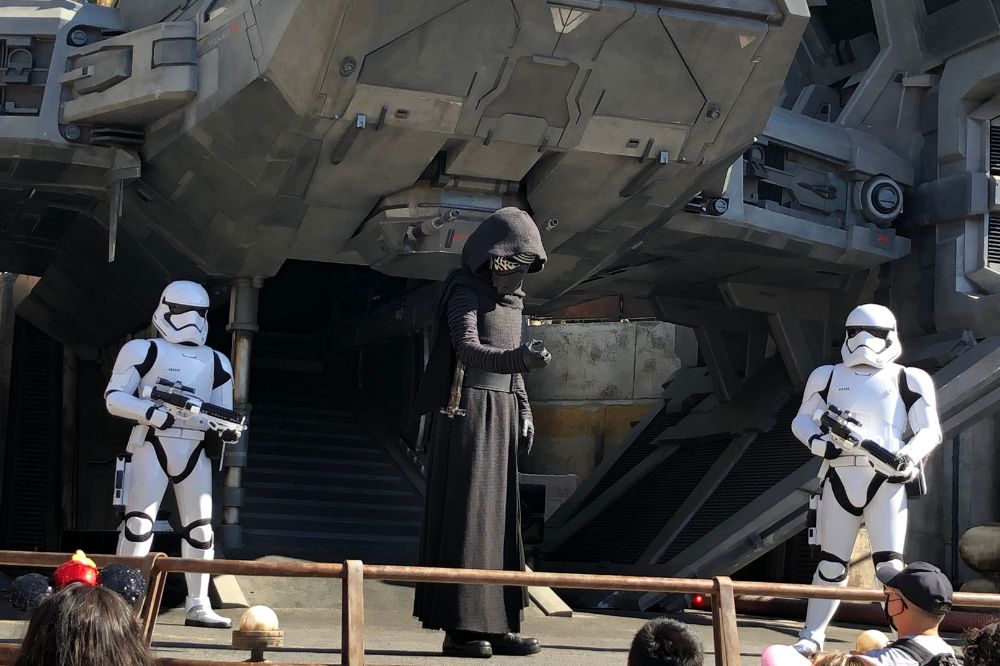 These are the main airports to choose from to get to Disneyland:
John Wayne Airport in Orange County (SNA) – 15 Miles from the park.
Long Beach Airport (LGB) – 25 Miles from the park.
Los Angeles International Airport (LAX) – 35 Miles from the park.
Hollywood Burbank Airport, Bob Hope Airport (BUR) – 45 Miles from the park.
Drive times vary depending on the time of day. On-site car rental, taxis, and rideshares are available at all airports.
Uber and Lyft are convenient options. Consider checking the price of both before deciding. Prices will vary depending on the time of day.
Shuttle services can be reserved in advance. Lansky shuttle car service has a complimentary 30 minute grocery/fast food stop on the way to the hotel and they provide car seats. Karmal Shuttle car service only goes to LAX and John Wayne Airport and they don't provide car seats.
Tips for Visiting Disneyland
Getting to and into Disneyland can be a challenge but not one that you can't master with a few of our top tips. Here are some of the things we recommend everyone do to make their trip to Disneyland exciting and smooth. Read all of our 40+ Disneyland Tips.
1. Download the Disneyland App
You can and will do everything from the Disneyland app (Apple Store | Android store) before you leave, while you are there, and even when you get home. Mobile ordering snacks and meals is super easy. Check ride times, use the map to get around, and reserve lightening lane passes through Genie+.
2. Get acquainted with the park map.
If you notice that a ride's line time is short and it is in a land that is close to where you are, you should head there.
3. Use the lockers
Take advantage of the lockers that are in the park. There is one set in the cul-de-sac between Market House and Disney Clothiers and another to the left of the ticket turnstiles before you enter the park.
4. Go on the popular rides first
The first 2-3 hours the park is open are the golden hours when the lines will be the shortest. Go on the most popular rides early to avoid long lines later.
Like this article? Save it on Pinterest so you can find it again.
FOLLOW US on Pinterest and Facebook for more California travel inspiration and tips!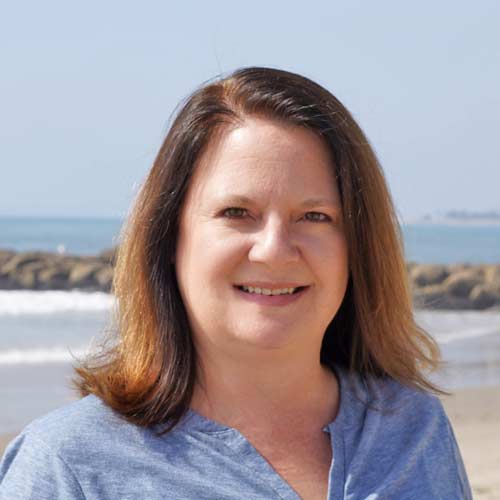 Laura is a travel fanatic who loves seeing and doing new things. She lives in Ventura, CA, and spends a lot of time exploring California's cities, beaches, and national parks.