Temecula Valley is a picturesque wine region with rolling hills and sprawling valleys, located in the heart of Southern California, just over an hour drive from San Diego, with nearly 50 wineries producing amazing wines. I'm sure you can imagine that this makes for one amazing wine tasting experience.
If you're planning a trip to Temecula Valley, you'll want to make sure you visit some of these wineries to get a feel for the terroir, taste the bounty from the region, and soak up the sun at the many sprawling estates and tasting rooms.
» Check out What to Do in Temecula: 10 Best Activities and Attractions and Old Town Temecula Sights.
Whether you're looking for a romantic weekend getaway or a fun day trip with friends, there are all kinds of wineries, from boutique wineries to large-scale operations. We love the fact that you can go back multiple times and have a different experience every time.
I think you'll be surprised, both at the variety and the level of experience you'll find there. It's not just your typical tasting rooms where you belly up to the bar and quickly down a few sips of wine. You will really get to relax and enjoy the experience.
» Like to travel with a dog? No worries, Temecula is a very dog-friendly place! These wineries offer a unique experience for wine enthusiasts who also love their furry friends.
» Looking for more wine regions in California to visit? We personally love the Paso Robles area, as well as the classics Sonoma County, Napa Valley, Santa Barbara County, and even Lodi!
Our Recommended Temecula Hotel
⭐️⭐️⭐️⭐️⭐️
Pechanga Resort & Casino
✔️ Great location near Old Town
✔️ Nice choice of rooms
✔️ Casino & many restaurants
✔️ The Cove pool complex
How Much Does Wine Tasting Cost?
Wine tasting in California has gotten quite a bit more expensive in the past few years. Gone are the days of free tastings. In fact, many regions are charging $20-40 per tasting. With this fee, you'll get around 5 wine tasting pours. You can share a tasting at most places, which will cut down on the cost of it, and help you manage your intake.
Something I'm excited to tell you about is the Priority Wine Pass, which helps me tasting fees a lot easier to swallow. The Pass is simply the easiest way to save on wine tasting in California.
Show your card at any of the over 300+ wineries that accept the pass and start saving money. Many of the wine tasting discounts are 2-for-1. That means you and your tasting partner only pay for one tasting. If the winery usually charges $25 per tasting, you save $25. The pass is valid 365 days from the day you purchase it. It's pretty awesome. We buy a new one every year. It's good in California, Washington, and Oregon.
Temecula Tours
If you don't want to drive yourself around to the wineries, you can choose to go on a wine tour in Temecula instead. This is a great way to have a carefree day with the joy of relaxed wine tastings and wine-paired lunch without worrying about driving.
Top Temecula Wineries
If you're planning a trip to Southern California's wine country, Temecula is home to some of the top wineries in the region. It's an elevated experience that you're going to love. Temecula Valley wineries each have their own unique charm and character.
I find it quite different than other California wine regions. It's not posh or pretentious. In fact, it's mostly still family-owned wineries. The wine might not be as refined as other areas either, but what it lacks it makes up for in charm and grandeur.
Leoness Cellars
Leoness Cellars is a family-owned winery that offers a wide variety of wines, including Rose, Sauvignon Blanc and Syrah. Their tasting room features two tasting bars and an exclusive outdoor area for club members. Their Vineyard Taste and Tour and The Perfect Wine Experience both include a tour of the winemaking facilities and a private patio tasting experience. These can be booked online in advance.
Another thing you should consider doing at Leoness is having a leisurely lunch with wine pairings. The restaurant has a nice patio for summer lunches and the farm-to-table menu features lots of local items. We had the Kenter Farms Caeser Salad and Creekstone Ranch Prime Skirt Steak. Both very good.
Address: 38311 De Portola Rd, Temecula, CA 92592
Hours: 7 days a week 10am – 5pm
Bottaia Winery
Bottaia Winery is a new winery built by the Ponte family to showcase the Italian varieties they've been farming since 1985. It's an absolutely stunning property with more amenities than you can imagine. One of the most standout features is the pool that you can buy a pass for, with private cabanas, chaises, and a pool-side bar.
While they reserve the best spots in the house for club members, even if you're just visiting you can enjoy their wines on the raised covered deck with a fabulous view of the vineyards, in the sophisticated living room lounge, at a seated tasting with charcuterie, in the barrel room where you can taste estate wines and one from the barrel, or in the wine blending lab where you'll become a winemaker for the day.
Address: 35601 Rancho California Rd, Temecula, CA 92591
Hours: 11am – 6pm, closed Monday and Tuesday
Monte de Oro
Spanning over 21,000 square feet, Monte De Oro's tasting room features cathedral ceilings, 3 tasting bars and a glass floor that looks down onto their barrel cellar, which houses over 900 barrels of wine. Although it wasn't our favorite tasting experience of the trip, it is a beautiful spot to relax and enjoy a glass of wine.
I would recommend asking for a small taste of something you think you'll like and enjoying by the glass rather than doing a tasting. We felt rather rushed and weren't able to enjoy the tasting outside, which would have made it more appealing.
From Wednesday to Sunday, their bistro is serving a variety of casual lunch fare, pizzas and appetizers.
Address: 35820 Rancho California Rd, Temecula, CA 92591
Hours: 12:00pm – 5:00pm Monday & Tuesday; 11:00am – 5:00pm Wednesday – Sunday
Robert Renzoni Vineyards
Robert Renzoni Vineyards is a boutique winery that specializes in Italian varietals, like Montepulciano and Sangiovese. Their tasting room features a beautiful Tuscan-inspired architecture that transports you to Italy – they even have the hillside view to back it up. If you're looking for a spot with a gorgeous view along with top notch wines, this is the winery to visit.
They were Southern California's first 100% solar-powered winery. If you're looking for a casual lunch, Mama Rosa's Trattoria serves Italian comfort food from Thursday to Sunday. They have a brick oven for pizzas! Be aware that this winery is not dog friendly, in case you were hoping to bring your dog along.
Address: 37350 De Portola Rd, Temecula, CA 92592
Hours: Daily 11am – 6pm
Doffo Winery
Doffo Winery is a family-owned winery, opened by Marcelo Doffo in 1997, that specializes in small-batch, handcrafted wines. They offer a variety of wines, including Malbec, Zinfandel, and Tempranillo. You can do a counter or seated wine tasting, or order by the glass. Walk-ins are fine most of the time, but it's wise to make a reservation for busier weekends.
The tasting room is quite unique in that it's the home of the MotoDoffo Vintage Motorcycle Collection, consisting of more than 200 motorcycles and scooters spanning 8 decades from manufacturers like Ducati, Moto Guzzi, Gilera, Honda, CZ, Vespa, and more.
Address: 36083 Summitville St, Temecula, CA 92592
Hours: Daily 11am-5pm
Akash Winery
Akash Winery is a family-owned and operated winery with a lovely open-air patio with stunning views of the surrounding vineyards. One thing we really like about Akash is that Saturday is 21+ only.
Akash Winery has an impressive selection of reds and whites, including their signature Parlez-Vous Rosé, which has received numerous awards and accolades. Visitors can indulge in a wine tasting experience that includes a flight of five wines for $30.
In addition to wine tasting, you can get woodfire pizza, salads and sandwiches from Friday to Sunday, or tacos Tuesday to Thursday. Just in case you also like beer, Akash Brewing shares the location. You can taste a few of their beers at the wine counter.
Address: 39730 Calle Contento, Temecula, CA 92591
Hours: Open daily – hours vary
Danza del Sol
Fazeli Cellars Winery
Fazeli Cellars has a very impressive winery, with dual staircases leading up to the tasting room that was designed with a tasteful mix of old-world elegance and contemporary charm, featuring breathtaking panoramic views of rolling vineyards and sun-kissed landscapes. Bizhan "BJ" Fazeli launched the first vintage in 2006 and they now have more than 20 varietals of boutique wines from Cabernet Sauvignon to Sauvignon Blanc, Petite Sirah to Mourvedre, and Viognier to Chardonnay.
We had a wonderful wine tasting here at the bar. While it was very busy with large groups, we were still able to have an in-depth discussion about the wines with our pourer.
Their on-site restaurant, Baba Joon's Kitchen, features Persian cuisine. The fusion of Persian flavors with modern culinary trends creates an exciting dining experience, making Fazeli Cellars not just a winery, but a gastronomic destination.
Address: 37320 De Portola Rd, Temecula, CA 92592
Hours: Daily 11am – 6pm
Oak Mountain Winery
Oak Mountain Winery is an award-winning winery that offers a unique experience, particularly in the Cave that's 104 feet below ground. It's the first and only subterranean mined wine cave in Southern California.
One of the highlights of Oak Mountain Winery is its tasting room, which offers a wide variety of reds and other wines to sample. The tasting room is open daily from 11 am to 5 pm and you'll get to try 6 wines for $20 ($25 on the weekends).
For those who want to enjoy a meal with their wine, you can dine underground at their Cave Café, with one of the most spectacular views in the valley. The Cave Café is open Monday-Sunday from 11am-5pm, reservations are not required but are highly recommended on the weekends. The winery also offers live music every Sunday.
Address: 36522 Vía Verde, Temecula, CA 92592
Hours: Daily 11am – 5pm
Ponte
Ponte Winery is one of the oldest in the Temecula Valley and certainly one of the most prestigious. They offer walk-in tastings as well as reserved tastings. The winery is surrounded by nearly 300 acres of vineyards and rolling hills. It's a very relaxing and inviting spot that's perfect for an afternoon wine tasting. The tasting room is 21+.
Their restaurant, The Restaurant at Ponte, is pretty great too. Serving up fresh, locally-sourced dishes that perfectly pair with their wines, it's one of the best spots for lunch. Trust us, their farm-to-table menu is very good. Be sure to get reservations early.
If you're staying overnight in Temecula, their boutique hotel, Ponte Vineyard Inn, is the perfect getaway. With rustic charm, cozy rooms, and more of those stunning vineyard views, it's the cherry on top of your wine-tasting adventure.
Address: 35053 Rancho California Rd, Temecula, CA 92591
Hours: Daily 11am – 5pm
Cougar Vineyard & Winery
Of all the wineries in Temecula that have awesome views, Cougar Vineyard & Winery is my favorite. Located up at the top of the hill on De Portola Road, this winery is a great place to enjoy the views and sip on some rare Italian varietals. It's a family-owned, boutique winery that focuses entirely on Italian varietals – some you've probably never heard of.
For a tasting, you can choose 6 wines to try, including whites, reds, dessert wines and sparking wine. Take your glass out to the patio and sit in one of the Adirondack chairs while you sip your wine. It's truly lovely.
While they won't have a full-service restaurant, Sangio's Deli is a great place to grab a cheese platter, a salad, or a hand-tossed pizza. They also have olive trees onsite and press their own olives, so be sure to give that olive oil a try too.
Address: 39870 De Portola Rd, Temecula, CA 92592
Hours: Daily 11am – 6pm
Are Reservations Necessary?
It's always a good idea to make a reservation before visiting these winery. Many tasting rooms have limited space and can get crowded, especially on weekends. Reservations ensure that you have a spot reserved and can enjoy your wine tasting experience without any hassle.
However, there are many wineries that offer drop-in tasting. We've popped in to each one of the wineries we listed above and were accommodated right away, so it's not necessary to make a reservation for a simple tasting. If you want to do a reserve tasting or special experience, or you want to have lunch, I would highly recommend a reservation.
Tasting Experience
The wine tasting experience in Temecula is unique and enjoyable. Most wineries offer a basic tasting that includes a selection of their most popular wines. Some wineries also offer reserve tastings, which include their premium wines. Reserve tastings are more expensive but provide an opportunity to taste some of the best wines that the winery has to offer.
Many of the wineries in Temecula have stunning views, and they take advantage of that with sprawling estates and beautiful architecture. Unlike many wine regions on California, almost every winery in Temecula has a restaurant and many of them also have hotels or guest rooms.
You'll also find that many of them have outdoor patios, lounge chairs, live music, and even firepits you can sit around while enjoying your tasting. I personally think that makes Temecula a particularly great place to do wine tasting.
Food and Restaurants
When visiting Temecula wineries, you'll find that the food and wine scene is just as impressive as the views. With on-site restaurants and trattorias, there are plenty of options to satisfy your hunger while enjoying the local wines.
Accommodations
If you're planning a visit to Temecula wine country, you'll want to ensure that you have a comfortable place to stay. Fortunately, there are plenty of options available to suit all budgets and preferences. Below, we've highlighted some of the top accommodations to consider during your visit.
A great option is the Pechanga Casino Resort, especially if you like gambling and want to add more activities to your itinerary than just wine tasting. They have a bunch of restaurants in the casino, as well as a huge and lovely pool area, called the Cove with private cabanas and adults-only areas.
One of the most popular options is the South Coast Winery Resort & Spa. This hotel features spacious rooms, a full-service spa, and a restaurant serving delicious local cuisine. Another great option is the Temecula Creek Inn, which offers a golf course, outdoor pool, and comfortable rooms with scenic views.
For a more unique and intimate experience, consider staying at a boutique hotel. One of the best options is the Inn at Europa Village. This charming hotel features just ten rooms, each with its own unique decor and style. It includes a complimentary breakfast each morning, as well as access to the hotel's beautiful gardens and outdoor pool.
If you're looking for a luxurious and relaxing experience, consider staying at the Carter Estate Winery and Resort. This beautiful property features spacious villas with private patios, fireplaces, and stunning views of the surrounding vineyards. They have a pool, spa, and on-site restaurant serving delicious farm-to-table cuisine.
Hot Air Balloon Rides
One of the most popular activities in Temecula Wine Country is a hot air balloon ride. You can enjoy breathtaking views of the vineyards and the surrounding mountains while floating in the sky. Many wineries offer hot air balloon rides as part of their special events. This is a great way to celebrate a special occasion or to enjoy a romantic getaway.
You can book your hot air balloon ride here. It cost around $189 and each flight ends with a celebration toast of sparkling wine, cider, or mimosas, to mark the outing as an occasion to remember.
Sustainable Practices
One way Temecula wineries are promoting sustainability is through the use of organic and biodynamic farming practices. These methods prioritize soil health and biodiversity, and avoid the use of synthetic pesticides and fertilizers. For example, Carter Estate Winery and Resort is certified sustainable by the California Sustainable Winegrowing Alliance, and uses cover crops, compost, and natural pest management techniques to maintain healthy vineyards.
Another sustainable practice is water conservation. Many wineries in Temecula use drip irrigation systems that deliver water directly to the roots of the vines, reducing water waste. For example, South Coast Winery Resort and Spa has implemented a water reclamation system that captures and recycles water used in the winemaking process.
In addition to sustainable farming and water conservation, some Temecula wineries are also using renewable energy sources. For example, Wilson Creek Winery has installed solar panels that provide over 70% of their energy needs, reducing their reliance on non-renewable sources.
Frequently Asked Questions
What is the biggest winery in Temecula?
The biggest winery in Temecula is Wilson Creek Winery & Vineyards, which has a large tasting room, a restaurant, and a beautiful outdoor space. The winery is known for its award-winning sparkling wines and has plenty of events and activities throughout the year.
Can you walk to different wineries in Temecula?
While it is possible to walk to some wineries in Temecula, it is not recommended to walk to all of them. The wineries are spread out over several miles, and some are located on busy roads without sidewalks. It is best to drive or take a shuttle to visit multiple wineries in a day.
What is the average cost of wine tasting in Temecula?
The average cost of wine tasting in Temecula is around $20-$25 per person. However, some wineries may charge more or less, and prices may vary depending on the day of the week and the type of tasting. Many wineries also offer discounts or waive tasting fees with the purchase of a bottle of wine.
What are best wineries & vineyards in Temecula for couples?
Temecula is a romantic destination with many wineries and vineyards that are perfect for couples. Some of the best places to visit include Leoness Cellars, South Coast Winery Resort & Spa, and Ponte Winery & Vineyard Inn. These wineries offer beautiful views, intimate tasting rooms, and luxurious accommodations.
Travel Planning Guide
🚙💨 Where should I book my rental car?
Renting a car is one of the best ways to get around in California, no matter where you're visiting. Public transportation can only get your so far, even in big cities. I always rent with Discover Cars, which checks the prices of all major rental car companies, so you get the best rates.
🛌 What's the best way to book my accommodations?
For hotels and vacation rentals, Booking.com or Expedia.com are the best sites, but you can also book through TripAdvisor. If you're considering renting a house instead, don't forget to also check VRBO, which is often cheaper than Airbnb.
🧳 What do I pack for California?
Head to the our California Packing List or Disneyland Packing List to get all the info on packing.
✈️ What's the best site to buy flights to California?
For finding cheap California flights from around the world, I recommend Skyscanner. I've also had pretty good luck with Kayak.com.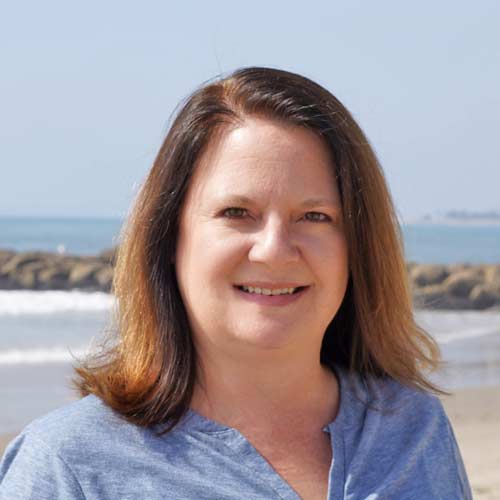 Laura is a travel fanatic who loves seeing and doing new things. She lives in Ventura, CA, and spends a lot of time exploring California's cities, beaches, and national parks.