One of the main reasons we love Big Bear Lake in Southern California is that it's a year-round, four-season mountain lake where you can take part in so many different activities – pick your season and you're set. Winter, spring, summer, or fall there's something fun to do there.
If you haven't been yet, you might have trouble deciding where to stay in Big Bear because the lake region is rather large and covers a lot of ground. No joking – there's Big Bear Center, West, East, and Fawnskin. All of these places have access to different activities.
In this article, we're going to give you a little rundown of each area and why you might choose to stay there, plus a few of our favorite and recommended places to stay.
As you start planning your adventure in Big Bear Lake, take a look at these 12 Great Things to Do in Big Bear, Where to Stay in Big Bear Lake, and our guide to some of the best Big Bear campgrounds. Want to know a little more about Big Bear? Here are some interesting facts.
Top Places to Stay in Big Bear Lake
If you already know which area around the lake you want to stay at, check out our interactive map that will help you pinpoint the right hotel, cabins, or vacation rental for you.
Big Bear Lake is home to a variety of cabins, lodges, condos, and vacation homes. Depending on your mood and preference, we're certain you'll find the perfect place for you and your family.
Big Bear Center
For first-time visitors, especially during the spring, summer, and fall, I always recommend staying near Big Bear Center, because it's – well, it's the center! A lot of the top activities to do in Big Bear are located near the center, as well as best restaurants, museum, and such.
It's also centrally located on the lake so no matter where you might want to go in the area, it won't be super far from where you're staying.
Big Bear East
My second choice for where to stay is Big Bear East. It's still really close to the village and all of the main amenities and activities, but it's also close to the mountain resorts. This is where Big Bear Chateau is located. It's a bit more affordable and great for families.
Big Bear West
Big Bear Lake West is a popular area for lake enthusiasts and is where you will find majestic lakefront properties surrounding Boulder Bay, Metcalf Bay, and Fisher Cove. If the lake is your main point of interest for your trip, then Big Bear West is a good place to base yourself. You'll find all kinds of water sports options, fishing, and great views from the rooms.
Fawnskin
This area is located a little more off-the-beaten-path, so there will be less other visitors to contend with. If you're looking for a quieter, more laidback vibe you might choose to stay in this part of town.
Our Top Recommendations
I personally think this is one of the better hotels to stay at in the center of it all. It's a quality hotel with a great location and it offers a few recreational amenities, along with being walking distance to a lot of restaurants and bars, and the marina.
It's a 3-star level hotel with a seasonal outdoor pool, free self parking, an arcade/game room, and laundry facilities. The rooms are a bit more modern than many of the hotels in the area.
---
Marina Riviera
While this hotel is probably the most expensive on our list, it's worth it in my opinion because it's also the most modern inside. There are lake views from each of the rooms, which have all been recently renovated. It's still being worked on, but by 2023 the grounds will include a heated pool and hot tub, outdoor fire pits, a sauna, outdoor deck seating, as well as food and beverage options.
Marina Riviera is in The Village, so it's a very walkable area in Big Bear Lake with good shopping. Pine Knot marina is a 2 minute walk away, and the main marina is just 6 minutes walk.
---
Robinhood Resort is a historic hotel that comes with a tavern and pub within the hotel's vicinity. In case you want to bring a pet along, the hotel also allows that, so long as you book a pet room in advance.
What sets this resort apart from others is its Nottingham's Tavern and Friar Tuck's pub, which are both on-site. The tavern serves classic California cuisine. Plus, you can enjoy happy hours, dancing, and a variety of live entertainment at the pub.
For those who are into skiing, Rim Nordic Ski Area is only a 20-minute drive from the resort.
---
Noon Lodge has one of the most picturesque old camp vibes in Big Bear Lake. The scenery is nothing short of breathtaking. The cabins have a more rustic appeal. Some of them have a fridge and a stove, plus a microwave.
Outside you'll find firepits, barbecue and picnic areas, and a seasonal pool. The Big Bear Lake city center is 1.3 miles away. Again, not the highest standard of modernity and comfort, but it's cute and it's a great spot for some fishing.
---
Another great place to stay with a nice view of the lake, the Lagonita Lodge is an apartment style hotel, located on the beach. There's free parking, wifi, fitness center and indoor pool.
If you're going for location and want a lakefront access, these apartments are a good choice. They aren't the most modern apartments, but they're clean and have everything you need for a good stay.
This family-friendly resort is right next to Big Bear Lake and offers a myriad of services. The resort's facilities include an indoor pool and spa, billiards, fishing docks, and the like.
---
Best Western Big Bear Chateau is considered one of the best hotels in Big Bear Lake. It offers a fitness center, game room, a seasonal pool, an outdoor jacuzzi, and many more.
It's only around a mile drive away from Snow Summit and Bear Mountain. This is an ideal location for those who fancy some skiing during the winter months. The rooms are fairly updated and nice.
---
If you're not interested in staying at one of the resort hotels in the area, then a VRBO is a great way to go. I always find, especially when staying for a week or longer, that a vacation rental is the best option because you have access to a whole house, with all the amenities.
This three bedroom, two bath lakefront home has a hot tub and a fantastic view of the lake. It's just a short drive from the village and the ski areas, and it's nestled right into the beautiful boulders along the coastline of the lake.
---
Embers Lodge and Cabins markets itself as California's mountain retreat escape. The historic lodge was built in 1950 and used by a few movie stars, such as Marilyn Monroe and Roy Rogers.
It still has the same traditional cabin charm it had back then, but with improved modern features. As for accessibility, the place is just minutes away from Snow Summit and Big Bear Mountain. Big Bear Lake and Big Bear Village are also just a mile away.
---
When it comes to activities and facilities, Wolf Creek Resort has a lot to offer. Their cabins are rustic, and the place is accessible to most Big Bear Lake attractions.
You'll certainly find yourself immersed in the resort's surrounding nature. Big Bear Lake, Pacific Crest Trail, and other hiking trails are within reach of the resort.
If those aren't enough, they also offer ping pong, billiards, a swimming pool, bird watching, and many more. Whether you prefer to stay in or are more outgoing, this place certainly has something good in store for you.
Big Bear Lake is one of the best dream destinations for vacationers, and rightfully so. The city has a lot of natural attractions that can give people their much-needed change in scenery.
You also have a variety of options to choose from when finding a place to stay in the four-season mountain lake. It all boils down to your budget and preference when it's time to decide where to book.
We know that there are many other great options, but these are some of the best to consider. Have a happy vacation!
Like this article? Save it on Pinterest so you can find it again.
FOLLOW US on Pinterest and Facebook for more California travel inspiration and tips!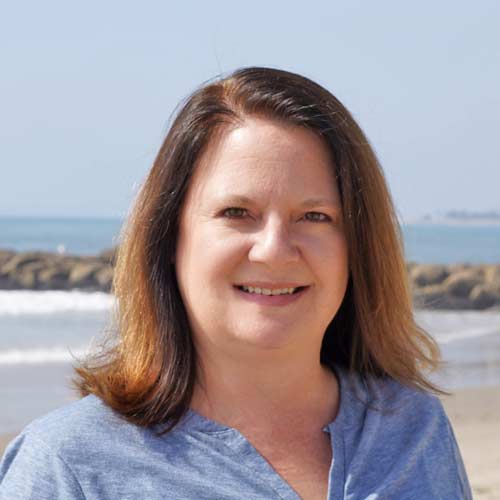 Laura is a travel fanatic who loves seeing and doing new things. She lives in Ventura, CA, and spends a lot of time exploring California's cities, beaches, and national parks.