Santa Monica is a great place to go hiking because of the plethora of dramatic views you're guaranteed to have. With the beach on one edge and the mountains on the other, it's like one of those pinch yourself moments when you realize you're immersed in amazing natural beauty.
Whether you want to get your blood pounding or take in the sights of Downtown Los Angeles and the Pacific Ocean, there are great Santa Monica hikes you can take. We've compiled some of our favorite hikes around Santa Monica, with information about how to get there, and tips on parking.
If you're looking for something fun to do around Santa Monica, I always recommend a hike because there are some great ones nearby with amazing views that you can't get anywhere else, and there are plenty of easier trails to enjoy.
» Looking for more inspiration along the route? Check out all our guides to San Francisco, Los Angeles, Santa Barbara and San Diego. Find the best beaches in Monterey, waterfalls in Southern California, and national parks.
Hiking Etiquette & Tips
It is essential to always be prepared for hiking by wearing the appropriate clothing, packing the right gear, and being aware of hiking etiquette whenever you're out on the trail. Here are some of our tips for ensuring your hike is a good one:
Park only in designated spots, not off-road or in unpermitted areas.
Wear the appropriate clothing for the time of year – bringing a layer in case of sudden temperature changes. Be sure to wear sturdy shoes (flip flops are never a good idea).
Do not feed or approach any wildlife. Be aware there might be bears mountain lions, bobcats, or rattlesnakes on the trail.
Bring a good amount of water, some food, and sunscreen with you.
Never leave trash behind.
It's best not to hike alone, but if you do tell a friend where you're going and when to expect you back.
» Find the perfect hiking clothes. I love these weather resistant, breathable shorts by Arcteryx (for women | for men) paired with a light performance shirt (for women | for men).
See our other options for Southern California hikes or easy hikes near Los Angeles for more options..
Santa Monica Hikes
1. Malibu Creek State Park, Malibu
Malibu Creek State Park is a beautiful place to hike. It's an excellent place for both beginners and experienced hikers alike due to it's extensive network of trails. The trails range from flat and sandy with moderate inclines to large hills with many, switchbacks. Some areas also call for a bit of bouldering, which makes for an adventurous hike.
The area is known for the many movies and films that were shot there, when 20th Century Fox Studios owned it. The 1968 "Planet of the Apes" movie featured the park in many scenes and M*A*S*H was also filmed there.
Here is a list of popular trails and hikes in the area:
Rock Pool (easy) – 3 miles round trip, easy to follow signs, grasslands and good scenery along the way.
Century Lake (easy) – Great place to go for a picnic by the lake. Mostly flat except for one moderately steep hill.
M*A*S*H site (moderate) – 4.75-miles round trip with a 200-foot elevation gain
Lookout Trail (moderate) – Steep and short. Beautiful view overlooking Malibu Lake and the surrounding mountains.
Parking fees range from $3 or 1 hour to $12 for all day.
2. Barbara's Lake Loop Trail
There are a few great hikes in the James Dilly Preserve area that you can tackle. The the Barbara Lake loop trail is pretty popular as it's an easy hike that families can enjoy together. It's 2.8 miles and relatively easy. If you go counterclockwise, you'll avoid a little steep climb towards the end. Instead you'll do the steep climbing near the beginning, with a gentle downward slope at the end.
This hike takes you through some spectacular scenery and wildlife habitats. Start at the James Dilley Preserve ($3 parking fee), with gorgeous views of the Palos Verdes Peninsula, Pacific Ocean, and Catalina Island. The loop trail is well-marked, comprehensive, and essentially flat, with a little incline.
All in all, it's an excellent choice for families with children who are interested in exploring nature or getting some exercise. At about 3 miles round trip, plan on about an hour of walking total.
3. Dana Point Headlands, Laguna Beach
The Dana Point Headlands are a favorite among locals, with picturesque views and many trails to explore. It's about three miles from the beach, so bring your water shoes if you're going during low tide. The hiking trail is generally considered moderate difficulty and will take roughly an hour and a half round-trip.
The headlands offer panoramic views of the coast and Laguna Bay on one side and sweeping 180-degree views from San Pedro Point to Long Beach to Point Fermin on the other. There are also many hiking trails to choose from – make sure you don't get caught by the low tide.
Parking for the Dana Point Headlands Trail is available at Strand Vista Park on Selva Road in Dana Point. There's also a nature center you can visit that's open Tuesday to Sunday 10am to 4pm.
4. Los Liones, Santa Monica
The Los Liones Trail is 4.4 miles long and is widely regarded as one of this region's most visually stunning routes. Because of the trail's proximity to the ocean (it's only a mile away! ), the scenery along it is very breathtaking. The trail is a fantastic spot to watch birds and is a moderately challenging climb.
The first part of the trail is well-shaded and straightforward – mostly uphill on a narrow path that can get quite crowded at peak times. Once the path becomes more open – where it hits the fire road – there is less cover, and the ascent becomes more strenuous. This trail can be hiked in around two and a half hours. The view from the top is worth the effort!
5. Chaminade Peak Trail, Topanga State Park
To get to Chaminade Peak Trail, you'll have to find the intersection of West Pico Blvd and Padua Street in Santa Monica. Then drive up the unpaved road and start walking. The trail is not well marked, so it's a good idea to bring a GPS or map.
It's approximately 1.9 miles long with an elevation gain of roughly 325 feet, and depending on your fitness level will take around 45 minutes to hike. You can also continue onto Big Sycamore Canyon Fire Road if you are feeling adventurous!
Chaminade Peak Trail is dog friendly, well-marked, and the parking is easy. This path can be linked with others in Topanga State Park to form a formidable day trek.
6. Mishe Mokwa Trail
Located at Yerba Buena Road, the Circle Ranch is home to one of the most well-known trails: the Mishe Mokwa Trail, which connects to many other popular trails, including Sandstone Peak, which can be added on for extra difficulty.
It takes around three to three and a half hours to trek the 2.7-mile trail, which is considered intermediate difficulty. You'll be able to see the beach and adjacent mountains thanks to the elevation gain. The trail winds around the hillsides of Boney Mountain with views of Triunfo Pass and the historic Chumash trail, then descends to Carlisle Canyon, with good views of Balanced Rock.
There's a picnic area, creek and a stream in the canyon, but then you'll rise up out of the canyon to a pyramid-shaped rock called Egyptian Rock and onward to where it runs into Backbone Trail.
7. Solstice Canyon Loop
Another great hike near Santa Monica is the Solstice Canyon Loop in Solstice Canyon Park. There is parking available at no cost at Solstice Canyon Rd, but there is limited space, so try to get there as early as possible. 
The trail is extremely popular among local hikers due to its excellent maintenance, views, shade as you stroll through the canyon, and historical remnants along the way. You will see the oldest stone house in Malibu, built over 100 years ago, the Solstice waterfall, and ruins of The Roberts Ranch house designed by architect Paul Revere Williams in 1952.
This hike is a 3.2 mile route with an elevation gain of about 770 ft. It's considered moderately difficulty. You can bring your dog along on a leash.
Conclusion
The majority of the trails in Santa Monica are relatively easy and perfect for beginners and kids. However, a few more challenging hikes in the area are more appropriate for experienced hikers. If you're visiting this coastal city, don't miss out on these seven best Santa Monica hikes.
Like this article? Save it on Pinterest so you can find it again.
FOLLOW US on Pinterest and Facebook for more California travel inspiration and tips!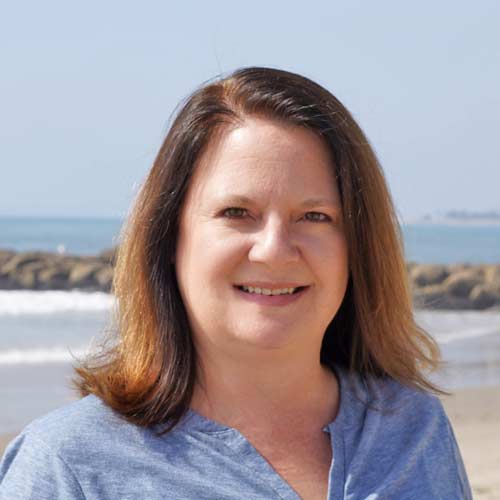 Laura is a travel fanatic who loves seeing and doing new things. She lives in Ventura, CA, and spends a lot of time exploring California's cities, beaches, and national parks.