Looking for some fun things to do in Los Angeles to fill your time in this exciting city? We have done it all, from cultural, historical, recreational, and natural attractions in Los Angeles. There is plenty to do, no matter how long you have to spend – just one day or a whole week.
For a city with a population of nearly 4 million, you really have your choice for things to do. You can check out museums, explore Hollywood and the movie biz, or take a few hikes in the surrounding area. It's a city full of possibilities.
» Also see Where to Find The Best View in LA: Top 11 Scenic Viewpoints.
Consider taking a tour while you are there like this city tour of Los Angeles. Food tours can be a lot of fun as well. This downtown Los Angeles food tour lets you sample food of 6 different eateries, bakeries and ethnic food destinations.
» Looking for more help with your Los Angeles trip planning? Check out our full Los Angeles travel guide as well as this useful 2-day LA itinerary. Here's where to find the best views!
Fun Things To Do In Los Angeles
1. Getty Center
The Getty center is one of the most famous attractions in LA. It's open every day except Mondays from 10 am to 5.30 pm.
You don't want to miss the gardens for an exquisite experience among bright flowers and beautiful plants. With free admission and only $20 for car parking, the center is open for everyone to enjoy great nature, art, and architecture.
2. Los Angeles County Museum of Art (LACMA)
LACMA is an art haven where you can appreciate unique art pieces and enjoy an impressive number of mini-exhibitions.
It features a collection of art about California's indigenous populations, showcasing the city's incredible diversity.
Admission is $25 for adults, $10 for children between 3 and 17, and $21 for seniors above 65. The museum is open every day except Mondays from 10 am to 5 pm.
3. The Griffith Observatory
The Griffith Observatory sits on top of a hill, which makes it an ideal place to view the stars. Visit the observatory to enjoy the planetarium's live narrations and stellar visuals.
The observatory operates from 10 am to 12 pm on Thursdays and Fridays and from 10 am to 10 pm on Saturdays and Sundays.
»You might enjoy this Private Tour of Griffith Observatory.
4. Angels Flight
For only $1, you can enjoy the Angels Flight, a railway operating since 1901 between Hill Street and Grand Street.
This world's shortest railway is open to the public from 6.45 am to 10 pm daily, even during weekends and holidays. Angels Flight is a 118 year old funicular and one of LA's hidden gems that even some locals don't know about.
5. Walt Disney Concert Hall
You can't leave LA without indulging in great music at the Walt Disney Concert Hall. The magnificent building, with its eye-catching curves, is a musical haven.
The concert hall features several symphonic concerts for classical music lovers. Operating from 10 am to 3 pm every day, it also offers free tours.
You can easily reach this attraction using public transportation. Simply take the Red Line subway from Hollywood to Grand Park Station and walk one block.
» See upcoming events and get tickets here.
6. Los Angeles Zoo
Open daily from 8:30 am to 5 pm, the LA Zoo is more than just a display of animals; it instead features a vast array of botanical gardens.
With a great blend of flora and fauna, the LA zoo is dedicated to the creation of a better future for wildlife.
7. La Brea Tar Pits
While in Los Angeles, explore La Brea Tar Pits and wander through natural history. This is a great place to witness scientists busy with their discoveries and take a peek into the lives of long-gone animals.
The park is open every day except Tuesdays from 9.30 am to 5 pm. Admission costs $15 for adults and $7 for students, seniors, and children.
8. Warner Bros. Studio Tour
When in LA, don't miss the Warner Bros Studio Tour, where you can enjoy a fun interactive experience. In this tour, you can see the set of Friends, the original Batmobile, and Wonder Woman's Lasso.
You can also visit the Friends Boutique and Café to buy souvenirs and take pictures as if on the show. The tour is open to the public Thursday through Monday from 9 am to 3.30 pm.
» Buy tickets here.
9. TCL Chinese Theatre
The TCL Chinese Theater is one of the biggest attractions in LA. You can visit the theater to watch a movie that has originally premiered there or see celebrities' hands and footprints in cement.
Admission to the theater is $23.75 for adults, $21.75 for children or military officials, and $22.75 for seniors or students.
» Walk the red carpet on this 30-minute VIP tour.
10. Sony Pictures Studio Tour
The Sony Pictures Studio Tour offers you a sneak peek into some of the most popular soundstages and game shows.
During the two-hour walking tour, you'll get access to the soundstages of films such as Spider-Man and The Wizard of Oz and the settings of game shows such as Wheel of Fortune and Jeopardy.
If you're 12 or older, you can take the tour only on Weekdays from 10.30 am to 2.30 pm for $50.
11. TV Tapings
You can be on TV during your stay in LA, no matter how short it is. Simply visit the Iota website and take part in the action.
This allows you to be among the audience in shows such as The Late Late Show with James Corden, Jimmy Kimmel Live, and Real Time with Bill Maher.
12. Universal Studios Hollywood
Universal Studios park is an adventurous amusement park that features different characters, sights, and shows that you can enjoy. It also offers great shopping and dining experiences.
The backlot tour is very popular at this park. It allows you to go behind the scenes and learn about filmmaking. There's also a VIP tour, in which you're escorted by a professional guide.
» Buy Skip the Line: Express Ticket at Universal Studios Hollywood here.
13. Paramount Pictures Studio Tour
Paramount Picture Studio Tour offers an idea about the golden age of Hollywood and how life was in one of the oldest studios in the city.
Located near the Hollywood Forever Cemetery, Paramount is a picture-perfect spot where you can get the greatest picture at the main gate.
You can enjoy regular two-hour tours on weekdays or go on weekends for a longer VIP tour.
14. Santa Monica Beach and Pier
You can access Santa Monica State Beach 24/7, either to enjoy its soft sands and gentle waves or to have fun at the pier. That makes it an ideal family beach, especially if you're traveling with kids.
The pier also features Pacific Park, where you can play carnival games and enjoy the spectacular view from the Ferris wheel.
» Try surfing with Surf Lesson 1.5 Hr Kapowui Santa Monica.
15. Manhattan Beach
Manhattan Beach is located in a lovely beach town that offers a great dining experience, a tranquil day by the beach, and a romantic getaway.
On top of that, you can enjoy surfing the gentle waves at this picturesque location or browse some local shops in the area. You may also visit the aquarium by the end of the 928-foot concrete bridge for free.
16. Hermosa Beach
You can chill out at Hermosa Beach between 6 am and 10 pm. In this fun surfing beach town, you can enjoy live music and amazing food and drinks day and night.
In addition to the fun vibes, there are guided audio walking tours for hardcore music fans. These tours help you truly reveal the hidden gems of this area and its history.
17. Venice Beach Boardwalk
Open from 5 am till midnight, Venice Beach Boardwalk offers its visitors full immersion in California's beach vibes. There, you may roam the place alongside street performers and souvenir shops.
Although it might not be ideal for children, this beach offers a one-of-a-kind experience for party lovers who seek exquisite bars and nightlife destinations.
» Try this Small Group Electric Bicycle Tour of Santa Monica and Venice Beach.
18. Hollywood Sign
No one leaves LA without visiting the famous Hollywood Sign, which is, interestingly, not in Hollywood. You can see the sign from almost everywhere in town.
However, for a closer look, consider the Official Hollywood Sign walking tour. The round trip is about four miles with a trail rated easy to moderate. It can be covered in about two and a half hours.
19. Hollywood Walk of Fame
Whether you're a visitor or simply new in town, the Hollywood Walk of Fame is one of the most authentic Hollywood experiences.
The most popular part of the boulevard is between Orange Drive and Highland Avenue.
20. LA Live
Open 24/7, LA Live offers sports fans a myriad of sports restaurants and bars. The Novo and Microsoft Theaters there host huge concerts and other performances.
This entertainment planet provides the entire city with a fun place to watch or play fun shows.
21. Grammy Museum
The Grammy Museum is open to the public every day except Tuesday from 11 am to 5 pm. However, operation hours are 10 am to 6 pm on Saturdays.
In this museum, you can browse the collections of music history since the beginning of recording sound.
The tickets to the grammy museum range between $18 for adults and $12 for children ages 5 to 17.
22. The Getty Villa
The Getty Villa is where the past meets the present. Once you set foot in the villa, you enter a world of classical luxury. It's built as a recreation for the biggest villa of pre-Vesuvius Herculaneum.
For only a $20 parking fee, you can walk through enchanting gardens, artifacts, and sculptures arranged in an ancient Greek style.
The villa is about 15 or 20 minutes north of Santa Monica, so you better rent a car for the day.
23. Mulholland Drive
In LA, you'll get an opportunity to cruise the scenic Mulholland Drive along the peaks of Hollywood Hills.
This is a curvy drive that offers broad views of spectacular scenes at every turn. If you plan to drive yourself, you should know that the curves are very sharp.
That's why we recommend that you take advantage of a group tour or even a private luxurious tour to enjoy the view, leaving the hassle for someone else.
24. Runyon Canyon Park
If you're into outdoor activities, you can visit Runyon Canyon Park for a hike. It offers you an hour and a half of panoramic vistas on a moderate trail. With a high elevation of 1.295 feet, this loop of the hike can be a bit challenging.
Despite being an urban trail, you may encounter some wildlife there, such as deer, rattlesnakes, and coyotes.
25. Fryman Canyon
Between 6 am and 7 pm, you can hike the peaceful and quiet Fryman Canyon for a serene day at a secluded park.
This three-mile trail is considered moderately challenging. It takes about an hour and 15 minutes to cover it on foot. You can also go running or mountain biking during this hike.
To get there, you should take Laurel Canyon Blvd North from West Hollywood. Then, turn left onto Mulholland Drive.
26. Griffith Park
Griffith Park is ideal for a day in the sun, where you can enjoy a myriad of activities with your family. In this park, you can picnic, hike, or simply play games in the wild.
Open daily from 5 am to 10.30 pm, this urban park caters to the tastes of every age. While you can play a game of tennis or a round of golf, your kids may enjoy the playgrounds, train rides, and pony rides.
» Try this tour: Griffith Observatory Hike: An LA Tour through the Hollywood Hills
27. Malibu Creek State Park
The Malibu Creek State Park offers several hiking trails that end up with rock pools, spectacular views, and gorges.
Only 25 miles away from downtown LA, Malibu Creek allows for bird watching, fishing, mountain biking, hiking, horseback riding, and rock climbing. On top of that, it also provides a campground with shower facilities.
28. Angeles National Forest
The Angeles National Forest offers the most diverse display of wildlife near LA. Accessible 24/7, this park allows nature lovers to enjoy 557 miles of hiking trails surrounded by native trees of different species.
You should be cautious, though, as this area has been affected by several wildfires in the past.
Angeles National Forest is about one hour away from central LA. Therefore, you should rent a car to easily reach this park through the 5, 210, and 405 freeways.
29. Point Mugu State Park
In Point Mugu State Park, you can enjoy beaches, sand dunes, river canyons, valleys, and rocky cliffs all in one place.
This park is about an hour and a half from LA, which makes it an easy drive. Open from 8 am to sunset, the Point Mugu State Park offers opportunities for hiking, watching spectacular sunsets, surfing, fishing, and swimming in chilly waters.
30. Echo Park Lake
Every day between 5 am and 10.30 pm, you can cruise Echo Park Lake in a swan boat. At $ 11 per person for an hour, you can paddle around this lake and enjoy an impressive sunset.
You can also relax on the vast lawn by the lake with geese and ducks waddling the grass around you.
» Paddle around the lake in a swan boat.
Conclusion
Los Angeles offers a vast array of activities for every member of the family. If you think of 30 fun things to do in Los Angeles, you'll find different categories.
There are activities suitable for those traveling with children, art enthusiasts, nature lovers, and sports fans.
Like this article? Save it on Pinterest so you can find it again.
FOLLOW US on Pinterest and Facebook for more California travel inspiration and tips!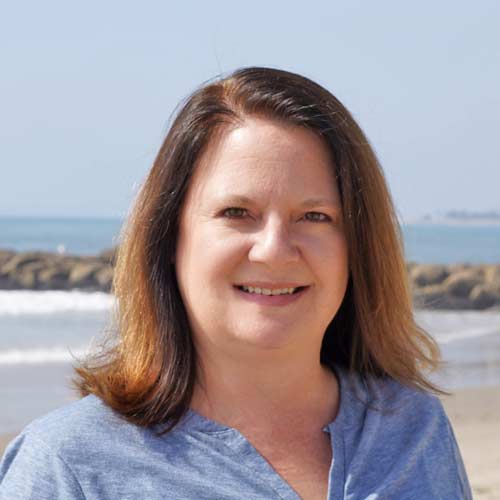 Laura is a travel fanatic who loves seeing and doing new things. She lives in Ventura, CA, and spends a lot of time exploring California's cities, beaches, and national parks.