When people visit California, they often flock to the same spots, like Los Angeles, San Francisco, and San Diego. While those places have a lot to offer, so do smaller cities like Santa Monica.
Santa Monica is located just outside of Los Angeles, but it has a distinct charm. With a population of around 94,000, Santa Monica is small but mighty. There are tons of things to do in Santa Monica that will keep you busy for a long weekend for starters.
» Check out these 7 Fun Santa Monica Hikes to Enjoy.
If you're looking to escape the fast-paced city of Los Angeles, you might find that Santa Monica has just the vibe you're looking for, along with amazing beaches, and views for days.
In this article, we want to share with you some of our favorite things to do in Santa Monica, so you can fill your vacation with fun. If you're looking for more, try these Santa Monica hikes.
» Looking for more inspiration along the route? Check out all our guides to San Francisco, Los Angeles, Santa Barbara and San Diego. Find the best beaches in Monterey, waterfalls in Southern California, and national parks.
Our Recommended Santa Monica Hotel
---
Things to Do in Santa Monica
1. Santa Monica Pier
The Santa Monica Pier is a landmark of the city, dating back to 1909 when it was opened for public use as part of President Taft's modernization effort. It was the first pier on the west coast to be made of concrete, and it stretches out into the Pacific Ocean, spanning more than one-quarter mile.
Surrounded by a gorgeous beach, the pier has an amusement park of its own, with an arcade, fair rides, restaurants, shops, and more. Even if you're not up for a ride on the Ferris wheel, it's worth a stroll down the pier. We like to just take in the sights, do some people watching, grab a snack, and soak up the views.
2. Santa Monica State Beach
While you might be tempted to spend most of your time on the pier, you have to also spend some time on the beach surrounding it. Santa Monica State Beach is enormous and stretches 3.5 miles, but most of the activity is surrounding the pier, where people congregate in groups, lay out in the sun, and just have a fun, relaxed time.
No worries, there are bathrooms nearby. Plus picnic areas, a lifeguard on duty, and lots of paths for walking. There are parking lots nearby. Since this is a very busy area, don't count on street parking.
3. Walk Around Venice Beach
Venice Beach is connected to Santa Monica along the beach, so you don't want to miss an opportunity to stroll along the boardwalk there as well. The Venice Beach Boardwalk is a one-mile street market that can get really packed with people in the high season – great people watching here.
Start at Windward or 17th Avenue where the Venice sign is and walk for a couple of blocks in either direction to see the main drag. Don't miss the skate park where you can sit for quite a while watching the crazy antics of the skateboarders.
You can also take the Venice Beach walking trail along the waterfront, or walk along the beach, stopping by Muscle Beach for a glimpse of bodybuilders working out, watch some of the street performers, or sit down at one of the cafés to grab an espresso.
» Try your hand at surfing with this: Private Surfing Lesson in Venice Beach
4. Heal the Bay Aquarium
Heal the Bay Aquarium is pretty unique. It's located right under the Pier and has over 100 species of marine plants and animals along with interactive exhibits which help educate the public about environmental issues affecting the ocean today.
This family-friendly aquarium is not just educational but also provides an opportunity for visitors to get up close and personal with magnificent sea creatures like sharks, octopuses, and whales.
Located at 1600 Ocean Front Walk, the aquarium is dedicated to preserving and restoring marine life within Southern California's coastal region.
5. Visit the Farmers Markets
The Santa Monica Farmers Markets – there are three of them – are open on Wednesdays, Saturdays, and Sundays from around 8 am to 1 pm, allowing local farmers and shops to share their produce, homemade foods, and other goodies.
There's the Downtown Farmer's Market, which is the oldest and is open Wednesday and Saturday. There's the Main Street Farmer's Market that's open on Sunday, and the Pico Farmer's Market that's open Saturdays.
If you're lucky, you'll catch some live music, cooking demonstrations, and get to see the community in action at the market. Plus it's a great way to enjoy the outdoors and learn a bit about the area.
6. Visit the California Heritage Museum
The California Heritage Museum is located in a restored 19th-century mansion. The museum offers a fascinating glimpse into the lives of families during that period in history.
Even though that wasn't really that long ago, a lot of things have changed in every day life and it's fun to see the exhibits with a variety of household items.
In addition, the museum's art gallery features an impressive collection of paintings, sculptures, photography, and modern media installations. Whether you're a history buff or simply looking for a unique and enjoyable outing, the California Heritage Museum is great.
7. Visit Third Street Promenade
This pedestrian-only street, just east of the pier, is filled with more than 200 stores, 17 restaurants, and 16 attractions. You'll find everything from clothing and jewelry stores to art galleries and souvenir shops.
The 3-block promenade is lined with fountains, palm trees, bike lanes, planters, and statues, so it's very nice, but it's also very crowded and you shouldn't go in unless you really want to get your shopping on.
For eating, you're spoiled for choice but most of the places are chain restaurants. You're not far from Stout, a low-key burger joint, or HiHo Cheeseburger, or Tumbi for Indian food.
8. Pico Boulevard
Pico Boulevard, on the Southern end of Santa Monica, was named after Pio Pico, the last governor to serve under Mexican rule in this region. Today it's a growing district that stretches the length of the city, ending at the beach, and is lined with beautiful palm trees and cafes.
It's a fun place to walk along to see some really great murals, pop into a café, or look through some of the small galleries. Just keep in mind that it's rather spread out, so it will be a lot of walking.
There are plenty of fun things on Pico Boulevard, such as biking along its paved bike path, grabbing an ice cream cone at Rita's, or visiting the Farmer's Market on Saturdays.
9. Bike Along the Marvin Braude Trail
The Marvin Braude Bike Trail is one of the most popular attractions in Santa Monica. Spanning 22 miles, the trail offers breathtaking views of the Pacific Ocean as it winds through some of the city's most scenic locations, including Venice Beach, the Santa Monica Pier, and the Third Street Promenade.
The Marvin Braude Bike Trail is a great way to explore the area. Best of all, the trail is relatively flat, making it perfect for a leisurely bike ride. If you don't have a bike, you can rent one from Boardwalk Bike Rentals by the pier.
You don't need a reservation to rent a bike, just show up and they'll get you set with all the equipment you need. And they'll show you the two popular bike trails in the area.
10. Palisades Park
Palisades Park is one of the best places for views of the Pacific Ocean. The park stretches for 1.6 miles along the coast, and there are plenty of grassy areas to relax in. The park has paved paths for walking and biking, plus a skate park and picnic area.
What I like to do is walk along the path for some exercise and to pass time. The only issue I have with this park is that there are quite a few homeless people hanging about. If you can look past that, it's a lovely walk.
11. Annenberg Community Beach House
The Annenberg Community Beach House is a state beach in Santa Monica, California, open to the public. The Beach House was developed on the site of a former estate, the 110-room Marion Davies Mansion.
The Annenberg Foundation acquired the property and worked with the City of Santa Monica to develop it into a public beach house. The Beach House opened to the public in 2009 and has since become a popular destination for locals and visitors.
It features a variety of amenities, including a swimming pool, spa, gym, sun deck, and event space. There is also a café on site that offers a variety of food and drink options. This is a great place to enjoy a day at the beach, whether you're looking to relax or get active.
It's open 9am to 6pm daily and you can take a tour of the historic beach house from noon to 2pm Friday through Monday. You don't need a reservation to get in, but there are fees for the various activities you might want to do.
12. The Broad Stage
The Eli and Edythe Broad Stage at Santa Monica College has been hosting world-class concerts in an intimate setting since 2008. This makes it the perfect place to go for a night out. You can enjoy musical, orchestral, dance, and symphonic performances all year round. The acoustics are fantastic!
Check out their calendar of events while you're planning your visit to see what's on while you're there. You can purchase tickets in advance. There's almost always something going on.
13. End of the Trail: the Route 66 Sign
The Route 66 Sign in Santa Monica is one of California's most iconic and photographed landmarks. It's also a popular spot for visitors to take selfies. But there's more to this sign than its popularity – it's also a reminder of a bygone era.
Route 66 was once the main highway connecting the east and west coasts of the United States. Today, the sign is a tribute to a simpler time when adventure could be found by getting in your car and driving.
Next time you're in Santa Monica, stop by and take a picture. It's not at all out of your way because it's located right in the middle of the pier, next to the Bubba Gump.
14. Santa Monica Mountains National Recreation Area
The Santa Monica Mountains National Recreation Area is a national recreation area that has many individual parks, campgrounds, hiking trails, and beach to discover. It doesn't matter what time of year, there are many things to do, from hiking, to horseback riding, to camping and wildflower viewing.
Camping is one of our favorite things to do in the area, with Topanga State Park and Point Mugu State Park being two of our favorites. From there, you can go on day hikes in the area. Even if you're not camping, there are 500 miles of trails across the Santa Monica Mountain. Check out some of them.
15. Santa Monica Camera Obscura
We've been to a number of different camera obscuras around the world. They're always entertaining and it's something unique to do. The one in Santa Monica was built in 1898 by Robert F. Jones and it spent 50 years capturing life on the Santa Monica beach. It's located in Palisades Park just north of the Santa Monica Pier at Ocean Ave & Broadway in the senior center.
You need to leave your ID behind in exchange for the key to the room where the camera is. It will project an image onto the table of whatever is going by outside on the beach.
Final Thoughts
Santa Monica is a beautiful seaside city and has a lot to offer both locals and tourists. The city is home to some celebrities, treasured landmarks, and top-notch restaurants.
While there is no one main attraction that everyone should go out of their way to see while they're in town, there are still plenty of activities to occupy your time once you get here.
A visit to Santa Monica is always a good idea as there will always be something new to discover about your favorite places or adventure in a new part of town.
Like this article? Save it on Pinterest so you can find it again.
FOLLOW US on Pinterest and Facebook for more California travel inspiration and tips!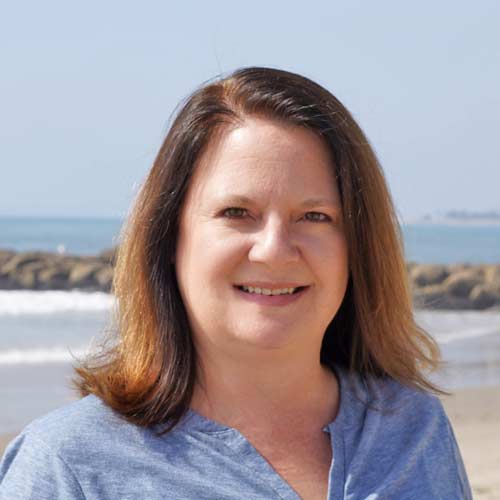 Laura is a travel fanatic who loves seeing and doing new things. She lives in Ventura, CA, and spends a lot of time exploring California's cities, beaches, and national parks.