If you're looking for a beautiful and unique destination in California, Monterey absolutely fits the bill. This coastal city offers stunning views of the Pacific Ocean, great seafood, a fun waterfront, and plenty of things to see and do.
If you've never visited Monterey, you're absolutely going to love it. We spend a lot of time walking around in Cannery Row, eating at seafood restaurants on Fisherman's Wharf, and checking out the many lovely beaches this area has to offer.
» You might be interested in the Best Times to Visit Big Sur.
Whether you're visiting for a weekend or a week, you can definitely fill your time in Monterey. We're going to give you 16 of our best ideas for things to do while you're visiting.
» Looking for more inspiration along the route? Check out all our guides to San Francisco, Los Angeles, Santa Barbara and San Diego. Find the best beaches in Monterey, waterfalls in Southern California, and national parks.
Fun Things to Do in Monterey, California
1. Visit The Monterey Bay Aquarium
A visit to the Monterey Bay Aquarium is a must. With over 75,000 animals on display, this world-renowned attraction is one of the best things to do in Monterey.
The best time to visit the aquarium is in the morning when it opens. This will give you plenty of time to explore all the exhibits at your own pace. The aquarium is open daily from 10 am to 5 pm. Admission is $49.95 for adults, $29.95 for children ages 3-12, and free for children under 3.
Visit the kelp forest, marvel at it's size, and find out why it grows so well along the Pacific coast. Watch sea otters play, eat, and interact. If you look closely while you are outside you may even see sea otters swimming in the bay.
Make sure to spend some time in the penguin area learning about the African Penguin residents. Next to the penguin area is the splash zone where kids can learn and play.
Try the behind-the-scenes tour where you will follow your guide through areas that only staff usually go. See what goes into making sure all the animals are taken care of and hear some great stories along the way.
2. Visit The Old Fisherman's Wharf
The Old Fisherman's Wharf is another one of my favorite things about Monterey. Cannery Row might be more popular, but this historic pier is just really fun to walk around. There are tons of shops, restaurants, and stuff to do. It's like walking along a boardwalk. Sights and sounds everywhere.
Whale watching tours, glass bottom boat tours, and fishing tours all leave from the end of the dock. There are variety of souvenir shops, albeit packed with mostly cheap tourist knickknacks.
We've still not tried all of the restaurants on the wharf, since there are so many, but I can definitely recommend Abalonetti Bar & Grill as well as Old Fisherman's Grotto. You can't skip a bowl of clam chowder from Crabby Jim's, either.
The summer months are the busiest at the Wharf, but it's still worth a visit. Be sure to make a restaurant reservation in advance.
Park in the big parking lot along Lighthouse Avenue and walk to Old Fisherman's Wharf along the Monterey Peninsula Recreational Trail that runs parallel to the ocean. You will walk past the Monterey sea lions so make sure you have your camera ready.
3. Go Whale Watching
Monterey is one of the best places in the world for whale watching. Several companies offer tours and it's pretty likely, though not guaranteed, that you'll see some of these majestic creatures up close. Be sure to go with a company that will follow the rules of ethical viewing.
You will likely see dolphins, porpoises, and orcas year around in the Monterey Bay. Gray whales frequent the area December-May, humpback whales March-November, and blue whales August-October.
Tours leave from the Fisherman's Wharf area multiple times a day. Most tours take 2 1/2 to 3 hours. Expect to spend between $70-$90 per person. Tours are for people 3 years and older. Make sure to dress in layers while out on the water, it can be cold and windy.
Princess Monterey Whale Watching gives a discount with proof of a Monterey Bay Aquarium ticket purchase.
Try this tour: Half-Day Whale Watching Tour From Monterey
4. Visit Cannery Row
This area was once home to many sardine canneries, made popular by John Steinbeck and his book entitled Cannery Row. Today, it is a popular tourist destination with shops, restaurants, and hotels lined up mostly along one street. The Monterey Bay Aquarium is also on Cannery Row.
The Bubba Gump Shrimp Co is a fun experience. Enjoy Forrest Gump movie props, good food, and a fun atmosphere. Make sure to try the hush puppies!
Stop in at Steinbeck Plaza. It is beautifully landscaped and includes a John Steinbeck statuary. Take some time to enjoy the ocean then go into the famous Ghirardelli Ice Cream and Chocolate Shop for an afternoon treat.
There is metered parking up and down both sides of the street. These spots fill up fast. Look for the Cannery Row parking garage on Foam street. The fee is low and it is in the middle of Cannery Row so it is a short walk to everything. Use Parking lot 7 on Irving Street if you are headed to the Monterey Bay Aquarium since it is only 2 blocks away.
5. Dennis the Menace Playground at El Estero Park
El Estero Park is a 45-acre park in the center of Monterey, across the street from the Old Fisherman's Wharf.
Dennis the Menace Playground is a must visit for families. It was first opened in 1956 with help from the creator of the Dennis the Menace comic strip, Hank Ketcham.
Kids will get hours of enjoyment on the play structures, slides, climbing wall, suspension bridge, hedge maze, giant ship, and more. When they get tired of that you can head to the El Estero Boating area and rent duck and goose shaped paddle boats and tool around the small lake the surrounds the playground.
Fun fact: There is a bronze Dennis the Menace statue in the Community Hospital of the Monterey Peninsula, the local hospital. It greets patients entering the birthing center. The toe is shiny and polished from expectant mothers rubbing it for good luck as they enter.
6. Drive Along 17-Mile Drive
If you are looking for a spectacular view of the Monterey coastline you really need to take a drive along 17-Mile Drive. This scenic route winds through Pebble Beach, which was the first public golf course to stage the U.S Open. Explore beautiful beaches, check out the many gold courses, and see the famous Lone Cypress tree which is the midpoint of the drive.
You can jump on 17-mile drive in Forest Grove and it ends in Carmel. Admission price to the Pebble Beach area of 17-mile drive is $11.25 per car. Here is a map of the drive and great places to stop. The drive takes about 1-2 hours, depending on how many stops you make along the way.
The best time to drive 17-Mile Drive is in the morning or evening when traffic is lighter. The gates are open to the public from sunrise to sunset. If you plan on making any stops along the way, be sure to allow for extra time.
Try this tour: 2.5-Hour Electric Bike Tour Along 17 Mile Drive of Coastal Monterey
7. Play Golf At Pebble Beach Golf Links
Pebble Beach Resorts is made up of Pebble Beach, The Links at Spanish Bay, Spyglass Hill Golf Course, Del Monte Golf Course, and The Hay.
Pebble Beach Golf Links is one of the most famous golf courses in the world. This 18-hole course has hosted the U.S. Open Championship several times and offers stunning coastline views. If you're a golfer or just interested in watching, a visit to Pebble Beach is worth it.
The best time to play golf at Pebble Beach is in the spring or fall when the weather is cooler. However, the course is open year-round, so that you can play anytime in town. Prices vary by season and reservations are required so check the website for availability.
8. Hike Through Garrapata State Park
Garrapata State Park is a beautiful coastal park located just south of Carmel-by-the-Sea. The park has absolutely breathtaking views of the Pacific Ocean and there are hiking trails through redwood and oak forests.
It is an ideal spot to view sea lions, harbor seals, and sea otters. During migration times you might even be able to spot California gray whales.
The best time to hike through the park is early morning before the crowds arrive. There are 2 hiking trails, Garrapata coastal trail and the Soberanes Canyon Trail.
You can also hike to the top of Garrapata Rock for an even more breathtaking view of the coast. The park is open from 8 am to a half an hour after sunset. Make sure to dress for the weather, in layers, as it can very considerably.
9. Visit Lover's Point Park
This community park has it all and in a beautiful area. There is a large grassy area that is perfect for relaxing with a picnic. The beach is perfect for swimming and building sand castles. There is also a children's swimming pool and beach volleyball courts located nearby.
On a sunny day consider renting a bicycle and ride down the Monterey Bay Coastal Trail. It is 18 miles of smooth paved trail that runs alongside the ocean from Lover's Point in Pacific Grove to Castroville, Ca. Paddle through the kelp in a kayak or rent a surrey for 2 or more. Rentals can be reserved through Pacific Grove Adventures.
If you are looking for places to eat nearby try The Grill at Lover's Point. It is a fun beach café with burgers, fish and chips, and sandwiches. You might also try the Beach House at Lover's Point. Casual dining with a wonderful view.
10. Shop At The Carmel-by-the-Sea Farmers Market
The market is open year round on Thursday, from 10 am to 2 pm, the Carmel-by-the-Sea Farmers Market sets up shop near Devendorf Park on 6th Avenue between Junipero and Mission streets.
This market features fresh fruits, vegetables, baked goods, flowers, and more. It's a great place to get a taste of the local produce and products.
While you are there for the farmer's market you really should stay awhile and explore the town of Carmel. It is full of art galleries, boutique shops, wineries, and restaurants.
A walk down to the beautiful Carmel beach is a must! It really is a sight to behold with it's white sand that is lined with Cypress trees. It is a dog friendly beach and beach fires are allowed, though please follow beach fire guidelines.
» If you are a wine lover you will want to make the short drive to the Carmel Valley!
A couple of fun facts about Carmel. There are no chain restaurants, instead it is full of a variety of award winning restaurants, casual dining and pubs. There are no addresses on the houses, instead the houses are known by legendary names such as Hansel and Sea urchin. There are no street lights, parking meters, or sidewalks outside of the downtown area.
If you are a wine connoisseur then the Carmel-by-the-Sea wine walk is for you.
Try these tours:
11. Visit The Carmel Mission Basilica
The Carmel Mission Basilica is a historic church that was founded in 1771. Today, it's a popular tourist destination known for its beautiful architecture and gardens. The mission is open daily from 9 am to 5 pm. Admission is free, but donations are appreciated.
The Mission has mass most days, make sure to check their website to confirm the schedule. Even if you're not religious, visiting the Carmel Mission is worth your time. The church is one of the most beautiful buildings in Monterey, and its grounds are peaceful and serene.
12. See The Monterey Symphony Perform
If you're a fan of classical music, you'll want to catch a performance by the Monterey Symphony. This professional orchestra has been delighting locals and tourists since its founding in 1937.
This world-renowned orchestra regularly performs at the Sunset Center in downtown Carmel-by-the-Sea. Tickets can be purchased online or at the box office. For more information check here.
You can go there for a serene and romantic experience or with a group of friends for a night out. Check the schedule in advance so you can plan your visit around one of their excellent performances.
13. Watch The Sunset At Point Lobos
Point Lobos is one of the most popular tourist destinations in Monterey. This state reserve is known for its dramatic coastline, beautiful tide pools, and abundance of wildlife.
Visitors can hike along the many trails, whale watch, and enjoy the stunning views.
Offshore is the Point Lobos State Natural Reserve Underwater Park that draws people to SCUBA dive and snorkel. Divers will see lingcod, rockfish, harbor seals, and sea otter in the 70 foot high kelp forest.
Point Lobos is also an excellent place to watch the sunset. The reserve is open from 8 am – 5 pm, and visitors can enjoy the beautiful colors as the sun sets over the ocean. Entry is $10.00 per car.
The best time to visit Point Lobos is from September to October when the weather is mild and the crowds are smaller. It is a reserve so make sure to stay on marked trails and not to disturb the animals.
Try this tour: Guided 2-Hour Point Lobos Nature Walk
14. Take A Wine Tasting Tour
There are many vineyards in and around Monterey, so if you're a wine lover like we are, you'll definitely want to look into visiting some of them or taking a wine tour. You can learn about the wine-making process, taste some amazing wines, and maybe even buy a bottle to take home with you.
You can obviously drive yourself around to some of the wineries – just be sure to sip and spit (no drinking and driving!). For me, I'd rather hire a driver or do a tour. I've taken this tour operated by The Wine Trolley that goes to Carmel Valley wineries with lunch included.
If you're spending most of your time in Cannery Row, you can stop by Bargetto Winery of Cannery Row, Pierce Ranch Vineyards, or go to the Wine Experience – a tasting room and wine lounge with classes.
Outside of Monterey, you have the entire Carmel Valley at your fingertips. Try Twisted Roots Winery and Big Sur Vineyards and Testarossa Winery. We also really like wine tasting in nearby Carmel-by-the Sea. There are some great tasting rooms in walking distance like De Tierra Vineyards, Scheid, and Talbott Vineyards.
15. Visit The Butterfly Sanctuary
Located in Pacific Grove, nicknamed Butterfly Town USA, is the Monarch Grove Sanctuary. Monarch butterflies migrate here every year to winter clustered together on pine, cypress, and eucalyptus trees. If you love nature and animals, the Butterfly Sanctuary is a must-see around Monterey.
The butterflies arrive in October and leave in February. The sanctuary is open sunrise to sunset and has free parking and entrance. To see the monarch clusters the best time to visit is in the morning. As the sun comes out and the day warms up the butterflies will start to fly.
It is an experience that you won't forget and definitely worth the time. Please be mindful of the animals. Stay on the marked paths, don't brings pets, and don't touch the butterflies.
16. Have A Picnic At Monterey State Beach
If you're looking for a breathtaking view with your significant other or want a quiet day surrounded by nature, look no further than Monterey State Beach.
This state beach has plenty of parking and is perfect for swimming, sunbathing, or merely basking in the peace. Don't forget to pack a lunch to enjoy while you take in the stunning scenery.
If you're a fan of paragliding, then Monterey is the place to be. Soar high above the coastline and take in the panoramic views of the ocean and beaches below. Several operators in the area will give you an unforgettable experience.
This beach is located near downtown Monterey and offers stunning views of the city. There are also plenty of restaurants and cafes nearby if you need to grab a bite to eat.
» Visit more beaches in the area with this guide to the 10 best beaches in Monterey, California.
Conclusion
Monterey, California, is a beautiful city with so much to see and do. Whether you're looking for an adrenaline-pumping experience or a relaxing day by the beach, you'll find it all here.
With so much to do, you might need more than just a weekend to explore everything Monterey offers. So what are you waiting for? Start planning your trip to Monterey today!
Like this article? Save it on Pinterest so you can find it again.
FOLLOW US on Pinterest and Facebook for more California travel inspiration and tips!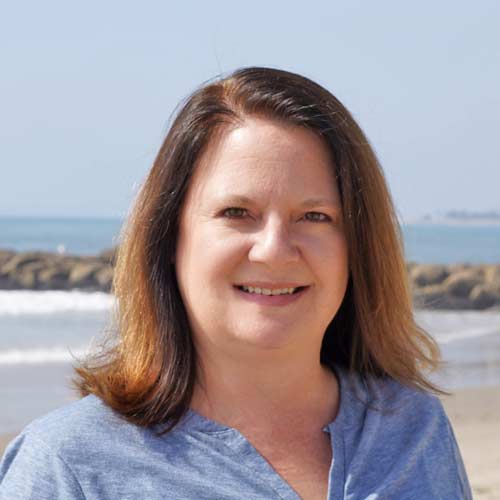 Laura is a travel fanatic who loves seeing and doing new things. She lives in Ventura, CA, and spends a lot of time exploring California's cities, beaches, and national parks.