As surprising as it may seem, San Diego residents do more than sit on their local beaches by day and hang out at bonfires by night. There is another type of outdoor activity that is popular among San Diegans, and it's hiking!
Are you planning your trip to San Diego?
If you're traveling to San Diego, ensure you have lodging and tours booked ahead of time! Below are some of our top picks to help you plan!
Where to Stay in San Diego:
Best Tours and Experiences in San Diego:
There are some unique and diverse hikes in San Diego for those set on getting outdoors and enjoying the fair weather. From walking the cliffs above your favorite beach to hiking through oaks and historical monuments, San Diego's hiking scene has a lot to offer.
Keep reading to find some of the easiest and most family-friendly hikes to try out next time you're in town. Don't forget to pack your hiking boots along with your flip-flops!
Need a little more planning advice? Start with our San Diego Trip Planner, then be sure to check out these 26 fun things to do in the city, some easy hikes in San Diego, as well as which beaches are great for families. Then head out on a few days trips or see which national parks are nearby.
Hiking Etiquette
It is essential always to be aware of hiking etiquette, so it is recommended to look up the laws of the land before diving into exploration. Some of which include:
Do not drive off of established roads.
Only create campfires in designated areas.
Do not feed or approach any wildlife.
Never leave trash behind.
» Find the perfect hiking clothes. I love these weather resistant, breathable shorts by Arcteryx (for women | for men) paired with a light performance shirt (for women | for men).
Our Recommended Hotel
⭐️⭐️⭐️⭐️⭐️
Embassy Suites by Hilton San Diego Bay Downtown
✔️ Great city views
✔️ Downtown
Hikes in San Diego
#1 Maple Canyon Trail
Maple Canyon Trail is a beautiful spot for San Diego hikers to experience some of the natural wonders that San Diego has to offer aside from its coastline. In the spring, Maple Canyon comes to life with fresh grass and wildflowers after the rainy season.
This trail is known for its two historic bridges that hikers walk over and under to complete their hike. Both are from the early 1900s and are attached to fascinating origin stories worth researching before visiting.
Maple Canyon Trail is mainly flat and just under a mile each way, making it a perfect option for those seeking an easy yet rewarding hiking experience.
#2 Sweetwater Trail
This trail is named after the Sweetwater River, which runs along the northwestern edge of the San Diego National Wildlife Refuge. The refuge includes most of San Miguel Mountain and the surrounding area, providing a habitat for a plethora of threatened and endangered species.
This opportunity to experience so many species native to San Diego is what draws many to this popular trail. This 2.5-mile hike also begins at a historic bridge that hikers get to walk across to start their trek. Dogs are welcome on the track as long as they are kept on a leash.
#3 Torrey Pines State Reserve
The Torrey Pines State Reserve is a very accessible and highly trafficked hiking area right along the coast of San Diego. The park is named after its famous pine trees, some of the rarest in the world, only occurring naturally in two locations.
Many residents of the area use this beautiful spot as an opportunity to get in quick day hikes in interesting terrain and enjoy stunning views.
The Torrey Pines trails offer both shorter and longer hikes for those visiting, both options being of low difficulty.
The most daunting part of these trails is that they can be pretty warm in the summer months, so be sure to pack water and sunscreen. You may also consider packing a swimsuit since trails can be taken down the cliffs and onto the beach.
#4 Coast Walk Trail
The Coast Walk Trail in La Jolla may be the most leisurely hike on the list, being more of a casual walking path. The trail stretches only 0.6 miles in each direction and remains close to level the entire time. However, this lack of rugged terrain does not make it any less beautiful than the others.
This is an excellent option for those looking to incorporate a quick walk into your visit to the beachfront park in La Jolla. We usually spend a bunch of time gawking at the sea lions and seals, and watching the big pelicans flying around, then we walk the trail, then go for lunch. This is also a perfect sunset walk as the path follows along the cliffs, looking out over the Pacific.
#5 Sunset Cliffs Natural Park
Sunset Cliffs Natural Park is another easy trail known for its position along the coastal bluffs of San Diego. As you wander this trail, you are sure to pass dozens of vehicles that park along the same cliffs to enjoy the sunset or head down to the beach.
We recommend this trail at low tide because it's easy to spot creatures in the tide pools below. If you're the more hands-on type, there are plenty of stairways down to the rocks as well. This is also a popular spot for surfing, so there is always something going on regarding mid-hike entertainment.
When you're finished, pull some picnic supplies out of your car and set up a scenic spot on the cliffs to enjoy your post-hike reward.
#6 Oaks Canyon Trail
Oak Canyon Trail is full of historical landmarks for hiking history buffs. This moderate 3.2-mile trail brings you past the Old Mission Dam, which was built in 1803. Its water was used to supply the Mission San Diego de Alcala.
Hikers also get to enjoy the shade of large oak trees and the thrill of several wooden bridges and two waterfalls in the wet season. This trail is family-friendly, with a few rocky spots that keep it interesting but never too difficult.
#7 Scripps Coastal Reserve Biodiversity Trail Loop
Scripps Coastal Reserve covers close to one thousand acres in La Jolla. The reserve is split into its shoreline with a protected marine area and bluffs. Both are accessible to hikers through the Reserve's network of trails open to the public.
The University of California, San Diego, uses this land for much of its research, and there is a ton of information on the land and the species it houses. This is an excellent visit for anyone interested in the natural sciences.
#8 Los Penasquitos Canyon Preserve
Los Penasquitos Canyon Preserve's main trail is a level path known for its low difficulty level, which makes it highly accessible for all sorts of visitors. The trail follows along a river bed and even leads to a waterfall for those looking to take their hike to more moderate difficulty.
Many visitors get a kick out of stopping along the path to wave hello to friendly goats on a nearby ranch. The low level of difficulty and fun extras this trail offers make it a popular choice for those looking to get their children outside.
#9 Cowles Mountain
Cowles Mountain is a 3-mile out-and-back trail near La Mesa in San Diego and is often referred to as the most popular hiking destination in the county. The mountain is a common destination for hiking, running, and mountain biking. Because of this, the area is known to get very busy and parking particularly difficult, so many veterans recommend visiting on off days or early in the morning.
When hikers reach the summit, they are rewarded with 360 views of Downtown San Diego. Although terrain can get a bit rockier and steep near the summit, this hike is still considered easy to moderate. The whole trek is typically reported to take just under two hours for most.
#10 Cabrillo National Park Bayside Trail
Cabrillo National Park is choc full of historical monuments that are great to visit on a day off. The park also offers a great trail for those searching for an easy hike with some excellent views.
Bayside Trail is about a 2.5-mile round trip hike with minimal and gradual elevation change while offering superb views of San Diego Bay. This is a great trail to get acquainted with the city from afar.
This trail functions as a self-guided tour, marked by frequent signs noting the area's history and role in World Wars I and II and information on its native plant and animal life.
Like this article? Save it on Pinterest so you can find it again.
FOLLOW US on Pinterest and Facebook for more California travel inspiration and tips!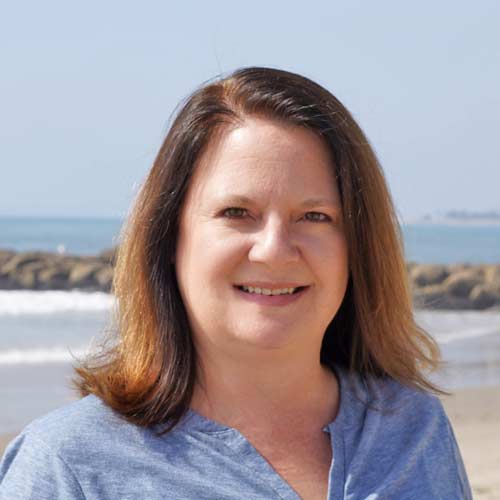 Laura is a travel fanatic who loves seeing and doing new things. She lives in Ventura, CA, and spends a lot of time exploring California's cities, beaches, and national parks.