San Diego is well-known for its many beautiful beaches. Afterall, it has 31 beaches and over 70 miles of beachfront all to itself. With so many to choose from, it can be hard to decide which ones are the best for families – with the best sand for building sandcastles and the calmest surf for little ones to wade in.
Here are 10 of the best beaches in San Diego for families, based on amenities, safety, and activities. Near most of these beaches, there are also plenty of restaurants and shops nearby, as well as a playground and a grassy area for picnicking. These features together are why we picked these particular beaches.
» Check out these 10 Fun Beach Games to Play with Friends and 7 Great San Diego Food Tours You Should Book.
Are you planning your trip to San Diego?
If you're traveling to San Diego, ensure you have lodging and tours booked ahead of time! Below are some of our top picks to help you plan!
Where to Stay in San Diego:
Best Tours and Experiences in San Diego:
Year-round sunshine, tons of things to do, and generally fantastic weather are the main features of San Diego and the reason why so many families choose San Diego as their destination, not just in the summer but any time of year.
The beaches in San Diego are actually divided up into six different regions, since the coastline is so vast. These are Coronado, La Jolla, Mission Bay and Beaches, North County Coastal, South Bay and Point Loma, Harbor Island and Shelter Island.
» Check out the web story!
Need a little more planning advice? Start with our San Diego Trip Planner, then be sure to check out these 26 fun things to do in the city, some easy hikes in San Diego, as well as which beaches are great for families. Then head out on a few days trips or see which national parks are nearby.
Beach Etiquette & Tips
To make the most of your time at the beach and ensure that you and your family have a wonderful time, without any snags along the way, we recommend following these easy tips:
Lifeguards are staffed year-round at the permanent lifeguard stations in San Diego. They are there from 9am to dusk. However, avoid being too reliant on lifeguards. Always watch your kids and be aware of the tide.
When going to a beach with your family, always watch out for signs that indicate if the area is meant for swimming or surfing.
Glass containers are not allowed on the beach and dogs are not allowed between 9 am and 4 pm from Nov 1 through March 31, 9 am and 6 pm from April 1 through Oct 31.
Keep your kids close and bring your own beach gear to save some time and avoid hassle. 
Best Beaches in San Diego for Families: At a Glance
| | | | |
| --- | --- | --- | --- |
| Beach Name | Location | Parking | Nearby Attractions |
| Mission Beach | Mission Blvd & Ventura Place, San Diego View maps | Free | Belmont Park, Giant Dipper Roller Coaster, Mission Beach Boardwalk |
| La Jolla Shores | Camino Del Oro and Calle Frescota La Jolla View maps | Street parking | La Jolla Mount Soledad, The Children's Pool |
| Moonlight Beach | Encinitas Boulevard, San Diego View maps | Paid parking | San Diego Botanic Garden, Moonlight Movie Theatre, Encinitas Library |
| Coronado Beach | 919 Ocean Boulevard, San Diego View maps | Free parking | USS Midway Museum, Petco Park, Seaport Village |
| Del Mar City Beach | 1660 Coast Boulevard Del Mar, San Diego View maps | Free but limited | Del Mar Race Tracks, Del Mar Dog Beach, Sea grove Park |
| Solana Beach | 635 Hwy 101, South Sierra Avenue, San Diego View maps | Street parking | Annie's Canyon Trail, Electric bike beach tour |
| Torrey Pines State Beach | North Torrey Pines Road, San Diego View maps | Paid parking | Torrey Pines Golf Course, Ellen Memorial Pier, Birch Aquarium |
| Pacific Beach City Beach | Mission Boulevard, Grand Ave, San Diego View maps | Free parking | Tourmaline Beach and Surf Park, Crystal Pier, Palisades Yoga Park |
| Silver Strand State Beach | Highway 75, Coronado, San Diego View maps | Paid parking | San Diego Bay, Living Coast Discovery Center, Coronado Island |
| Ocean Beach | 1950 Abott Street, San Diego View maps | Free but limited | Ocean Beach Farmers Market, Murals of OB, Newport Avenue Beach |
Our Recommended Hotel
⭐️⭐️⭐️⭐️⭐️
Embassy Suites by Hilton San Diego Bay Downtown
✔️ Great city views
✔️ Downtown
Beaches in San Diego for Families
#1 Mission Beach
Ideal For: Families, Sports-enthusiasts
Best Time to Visit: 9:30 A.M.-2:30 P.M.
One of the most popular beaches in San Diego, Mission beach has everything you would want during a weekend family excursion. This is one of the longest beaches in San Diego and stretches all the way to Pacific beach.
If you want to learn surfing, there are plenty of classes in the neighborhood to do so. Mission beach also provides an option for fun activities like biking, drinks & gourmet and riding the giant dipper!
Brownie points if you are going with toddlers as the beach has a boardwalk themed amusement park (Belmont Park) attached to it. There are myriads of interesting shops along the beach where you can buy souvenirs and explore local food.
If you are looking for good camping spots, checkout Campland in Mission Bay and South Carlsbad State Beach Campground.
#2 La Jolla Shores Beach
Ideal For: Families and large groups
Best Time to Visit: Before 10 A.M. and after 4 P.M.
This is a mile long family-friendly beach in north San Diego. Framed by rocky promontories, this is a sandy beach which is great for beginners. The water is quite shallow and gentle in the southern end, making it an ideal spot for children to play and explore activities like snorkelling and kayaking.
Kellog Park, which is next to the beach, is a fantastic spot for families to have a picnic and have a calm breather under the sun. Those looking for a luxurious escape can also visit the famous La Valencia Hotel, also known as 'The Pink Lady'.
» Check out the 5 Best Spots to See the Sea Lions and Seals in La Jolla.
#3 Moonlight State Beach (Encinitas)
Ideal For: Camping lovers and families
Best Time to Visit: 3:00 P.M. to 5 P.M.
Third on our list of family beaches is Moonlight State Beach in Encinitas, which is known for its volleyball courts and excellent picnic spots. This is a slightly slanted beach filled with grassy sides and plenty of space to stretch out. You can also rent beach chairs, boogie boards, surf boards and more.
We really like the huge playground, that there is plenty of parking nearby and only a short walk to the park, and that you can also visit the snack bar and char some marshmallows in fire pits!
The area is bifurcated into a swimming-only area and a dedicated area for surfers to minimize accidents. Moonlight State Beach also has a permanent year-round lifeguard station.
#4 Coronado Beach
Ideal For: Families with kids. Showers and public restrooms also available
Best Time to Visit: Early morning
Even though this beach is outside of San Diego, it rightfully deserves a spot in this list due to its wholesome environment and budget-friendly stalls. This stretch is full of soft, clean sand surrounded by calm waves and is also stroller-friendly.
One of the best resorts in San Diego, Hotel Del Coronado, is also located nearby. It was built in 1888 and is a National Historic Landmark. If you ever take your four-legged pal, the north end of this beach also has a dog-friendly area.
Did you know? Coronado beach was ranked as the 7th best beach in the United States.
#5 Del Mar City Beach
Ideal For: Families with toddlers, popular activities include beach walking, picnics, whale watching and surfing
Best Time to Visit: 10 A.M. to 4 P.M.
This beach can be accessed from local side streets and is a popular summer attraction in San Diego. This beach is close to tiny shopping stalls and several grassy areas. It also includes a playground with lots of swings and slides for toddlers. The Coastal Powerhouse Park hosts free concerts at sunset.
Aside from a permanent street lifeguard station, you get public restroom availability and plenty of parking space here. The only downside is that this beach gets crowded on a sunny day, so going in the early hours is what we will recommend.
If you are a dog owner, you will be happy to know that there is also a beach section especially for dogs alone in the north end. Dogs can run and play on this beach from 29th Street north to the border of Solana beach.
#6 Solana Beach
Ideal For: Families and groups
Best Time to Visit: Early morning
Though technically this is not a San Diego beach, it deserves a mention because it is so nice. To start off, it is just a 15 minute drive from San Diego's north coast and is nestled between the eclectic Encinitas and glitzy Del Mar.
A recent survey by 24/7 Wall St. named this coastal city one of the best places to live in America. There are plenty of restaurants, bars and shops nearby. But the main draw is the gorgeous beach. We also find that it's less crowded here, so you can find your spot and enjoy.
Bonus: Planning a trip to San Diego? Here's your San Diego trip planner.
#7 Torrey Pines State Beach
Ideal For: Families and large groups
Best Time to Visit: 1 P.M. to 4 P.M.
This is a state-owned beach and is situated at the southernmost end of Del Mar, at the foot of Torrey Pines State Natural Reserve. Pets are not allowed on this beach in order to protect the surrounding wildlife. There is a lagoon area where the water of Los Penasquitos Lagoon flows into the Pacific, children particularly like to play there.
The stretch of beach along Camino Del Mar is another spot where you can spend the day with kids as this area is constantly monitored by lifeguards.
Its close proximity to the Torrey Pines Gliderport means that this beach often plays host to hang gliders and paragliders. Popular activities include surfing, sunbathing, beach walks and hikes at Torrey Pines State Natural Reserve.
#8 Pacific Beach City Beach
Ideal For: Families and those interested in beach photo shoots
Best Time to Visit: 9 A.M. to 2 P.M.
This is a very mellow and scenic beach ideal for families with teens since it has a younger demographic and the restaurants are more beachy casual. This place is also home to one of San Diego's most developed nightlife scenes with myriads of eateries and clothing stores nearby.
The beautiful sandstone cliffs in the background and the white sand make it a picturesque place for photo shoots as well.
#9 Silver Strand State Beach
Ideal For: Camping & RVs, families and groups
Best Time to Visit: 10 A.M to 4 P.M.
The Silver Strand is a lengthy stretch connecting Coronado Island to mainland San Diego and is known for its beautiful sand and greens. If you are someone who enjoys greenery, this is the best option for you. Rental shops are quite limited but you can get chairs and umbrellas from the Loews resort that caters to day trippers and guests.
The southern end of the beach has limited amenities and no bars or restaurants, which makes it a great quiet spot if you want to bask under the sun quietly.
#10 Ocean Beach
Ideal For: Dog beach, surfers and families
Best Time to Visit: Early Morning
This is one of the best beaches in San Diego for dog owners. The northern end has a huge dog beach whereas the central part is ideal for swimmers and surfers. The view from the pier is also quite serene and the vibe altogether is chill and relaxed.
This beach has distinct sections for dogs, surfers and swimmers and also has amenities like toilets, showers and a boardwalk.
Summing Up
» Looking for more inspiration along the route? Check out all our guides to San Francisco, Los Angeles, Santa Barbara and San Diego. Find the best beaches in Monterey, waterfalls in Southern California, and national parks.
That was a roundup of some of the best beaches in San Diego to take your family for the day or for your summer vacation. You really can't go wrong with any of the beaches, but if you want to make sure to choose a good one, these are your spots!
Like this article? Save it on Pinterest so you can find it again.
FOLLOW US on Pinterest and Facebook for more California travel inspiration and tips!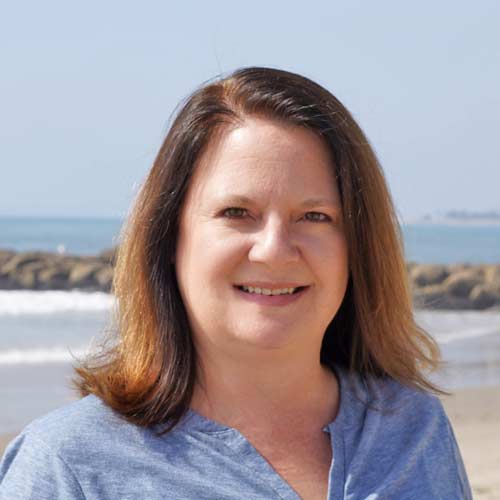 Laura is a travel fanatic who loves seeing and doing new things. She lives in Ventura, CA, and spends a lot of time exploring California's cities, beaches, and national parks.