San Diego is the perfect place for a getaway—its beaches are warm, its people are friendly, and there's always something to do!
I've been to this great city so many times and while we hit up some of our favorites each time, it's not difficult to find something new and exciting.
Are you planning your trip to San Diego?
If you're traveling to San Diego, ensure you have lodging and tours booked ahead of time! Below are some of our top picks to help you plan!
Where to Stay in San Diego:
Best Tours and Experiences in San Diego:
For your next trip to San Diego, check out our list of 26 of our favorite fun things to do. Surely there are some you've already done, but others that you didn't even know about.
Whether you're a local or just visiting, these activities will provide hours of entertainment and make your trip truly memorable.
Need a little more planning advice? Start with our San Diego Trip Planner, then be sure to check out these 26 fun things to do in the city, some easy hikes in San Diego, as well as which beaches are great for families. Then head out on a few days trips or see which national parks are nearby.
Our Recommended Hotel
⭐️⭐️⭐️⭐️⭐️
Embassy Suites by Hilton San Diego Bay Downtown
✔️ Great city views
✔️ Downtown
Things to Do in San Diego Today
There are many amazing things to do in San Diego that you might not have known about. So if you're planning a trip to San Diego, be sure to check out these fun things to do there:
1. San Diego Zoo
If you've ever wanted to visit the San Diego Zoo, now is your chance!
The zoo is home to more than 3,000 animals representing 650 different species!
From rare cheetahs and polar bears to exotic birds and reptiles, it's an excellent place for kids and adults alike.
And if you're looking for some relaxation after all that excitement?
There are also many different types of gardens on site, including a desert garden and a beautiful orchid house filled with aromatic flowers.
» Get your San Diego Zoo 1-Day Pass Ticket here.
2. La Jolla Shores
Though San Diego has over 70 miles of beaches, some are more welcoming to families than others. The best happens to be La Jolla Shores, where surfers, swimmers, beachcombers, and sunbathers flock throughout the year. Humans aren't the only ones who enjoy the coastline either.
There are seals and sea lions that gather nearby too. In the early morning, you have visit the protected cove at the northern end of the beach to check out the sea life gathered in the tide pools before the waves roll in.
Afterwards, you can rent snorkel equipment or have a picnic at the nearby Scripps Park, or rent a kayak and take a journey out to see the La Jolla Underwater Park, where brilliantly colored fish swim by underneath you.
» Try this All Day Snorkel Package with Wetsuit Rental.
3. Watch a Game at Petco Park
We all know that baseball is one of America's favorite pastimes. And we all know that San Diego is America's finest city. So what would happen if you combined the two?
Well, if you're a baseball fan, it means you've got an incredible opportunity to watch a fantastic team —the San Diego Padres— play right in front of you! Check here to see if a game will fit into your travel plans.
Petco Park opened in 2004 and has been graced by some of the best players in baseball history. It's also hosted some pretty epic events—like when singer Taylor Swift performed there during her 1989 tour.
» Take this Behind-the-Scenes at Petco Park Tour.
4. San Diego Safari Park
Just a few miles north of the San Diego Zoo in Escondido is another world-class animal kingdom known as San Diego Safari Park. There are over 2600 African animals roaming around.
You can go on an actual safari using the Africa Tram tour or use the Skyline Safari zip line. In the afternoon, be sure to watch the cheetah sprint down a 330-foot long raceway. Plus, there is the educational element.
Not only does San Diego Safari Park have the largest condor breeding program, it also runs educational programs that teach about endangered animal species.
»Get your San Diego Zoo Safari Park 1-Day Pass Ticket here.
5. Catch the Sunset at Sunset Cliffs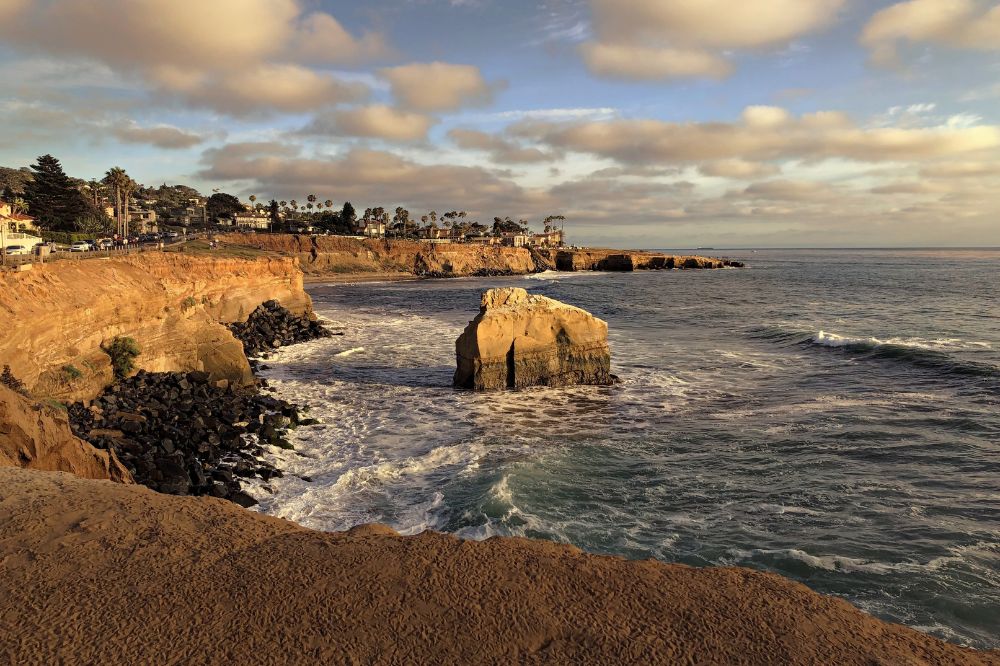 Whether you're a local or just visiting, Sunset Cliffs Natural Park is one of the best places to catch a sunset in San Diego. The park is right on the coast, so it has some spectacular views of the Pacific Ocean.
But more than that, it's a beautiful place to take a walk and enjoy nature.
Whether you want to spend some time just taking in the scenery or getting some exercise while you're out there, this is the place for you!
6. San Diego Breweries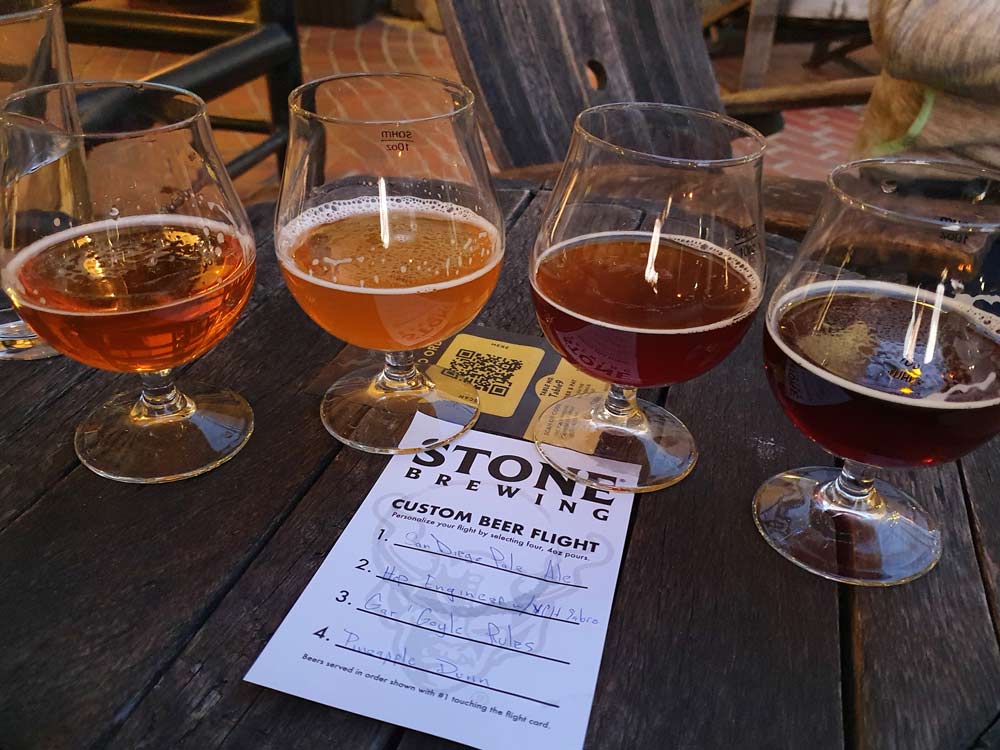 No trip to San Diego would be complete without a brewery trip or two. With one of the best craft beer scenes in the country, it would almost be a crime not to try something new. There are currently more than 200 craft breweries and tasting rooms in San Diego. This number is on a steady climb and has no signs of slowing down.
If this is your first time in San Diego, there are a handful of breweries that should be on your absolute list. This includes Ballast Point, Stone, Coronado Brewing Company, and Karl Straus. Now, this is just a starting off point; there are MANY more that could be named on this list.
Regardless of how long your San Diego vacation is; you likely won't be able to try the entire catalogue. However, experiencing the craft beer culture is a must.
7. Eating Fresh Seafood
San Diego is a coastal city with a wide variety of seafood markets and restaurants. Freshness is key here. You'll find the best fish at The Fish Market on North Harbor Drive. This San Diego staple is located next to the USS Midway Museum and overlooks the Bay.
There's also The Fishery north of Mission Bay and El Pescador Fish Market in La Jolla, where you can eat or buy fish that's brought in straight from the boat. Most everything you'll eat is caught just a few miles from where you're ordering it.
Fish tacos are one of the city's most popular seafood dishes. Casual taco shops and restaurants serve fried or grilled white fish tacos topped with cabbage, pico de gallo salsa, and lime crema sauce. Try the fish tacos at The Taco Stand, which has locations in Downtown, North Park, and La Jolla or at Puesto in Mission Bay (also try the Guacamole Nogada).
See Eater's guide to where to find and eat the freshest seafood in San Diego.
» Consider taking one of these 7 Great San Diego Food Tours while you are there.
8. Visit the San Diego Museum of Art
The San Diego Museum of Art is where art, history, and science come together to tell a story.
You'll find everything from ancient artifacts to contemporary paintings by some of the world's most famous artists—and everything in between. Check here to see what's going on at the museum.
The museum welcomes visitors interested in strolling around on their own or with a guide who can help them explore the museum's exhibits.
Whether you're an art aficionado or just curious about what makes this museum so unique, you'll find something to delight you.
9. Go to SeaWorld
If you're in the mood to get up close and personal with some of the world's most amazing creatures, you can't miss SeaWorld in San Diego.
SeaWorld is home to some of the most iconic marine animals in the world. You'll get to see blue whales, orcas, dolphins, sea lions, and penguins swimming around their habitats.
You can learn all about these creatures and how they live in their natural environments at SeaWorld's educational programs.
10. Walk Around Downtown
Old Town
Just four miles north of downtown San Diego is Old Town. Old Town is a historic district that's fun to explore on foot, so you can get a feel for what life was like in California during its early days.
In fact, there are even some buildings that date back to the mid-1800s! When you visit, you'll see Colonial-style buildings with red-tiled roofs and plenty of restaurants, shops, and museums to explore.
The Kumeyaay people had been living in this area on the San Diego River for thousands of years. Old Town San Diego is called the birth place of California because Father Junipero Serra and some Spanish soldiers established the first permanent European settlements here in 1769. Father Serra also built the first of 21 missions in California.
A great way to see San Diego hot spots is on an Old Town Trolley tour that lasts about 2 hours and takes you through Old Town, Embarcadero Marina, Seaport Village, the downtown marina, Gaslamp Quarter, Coronado, Little Italy, and Balbao Park.
Little Italy
One of the best ways to explore the best of Little Italy is on foot. The neighborhood is full of authentic Italian food, fun shops, and beautiful architecture. For a taste of Italy in San Diego try this food tour.
You can take pictures of the beautiful buildings or try out delicious gelato at one of the many shops on the streets.
Little Italy is a popular tourist destination because it offers so much to do in such a small area. You can dine at an Italian restaurant, shop at one of the many stores, or enjoy some musical entertainment at one of the bars or restaurants!
Gaslamp Quarter
The Gaslamp Quarter is a vibrant neighborhood in San Diego that offers a unique blend of history, culture, and entertainment.
With its bustling streets and eclectic shops and restaurants, the Gaslamp Quarter is an attraction in San Diego that shouldn't be missed.
Over time, it became a popular place for San Diegans to gather with friends for drinks or dinner at one of the many bars or restaurants in the area. Today, visitors can see this history come alive as they explore the Gaslamp Quarter's many attractions.
11. Explore the Stunning Hotel Del Coronado
The Hotel Del Coronado is a Victorian-era beauty that has welcomed guests since 1888. It's situated on the tip of a peninsula in San Diego, just a short walk from the beach.
The hotel is considered one of the most beautiful buildings in California, with its ornate architecture and stunning views of the ocean.
It's known for its luxurious amenities, where you can enjoy the heated pool, spa, and fitness center.
12. Sunbathe on Coronado Beach
After you explore the stunning Hotel Del Coronado, you can sunbathe on Coronado Beach. The beach is known for its calm and gentle waves, which makes it perfect for families with children.
It's one of the few beaches in San Diego that allows dogs off-leash in a designated area.
The beach has a number of amenities, including fire rings and picnic areas. There are also showers and changing rooms if you want to get cleaned up before heading back into town.
13. Head to Fashion Valley for Great Shopping
Fashion Valley is a huge shopping center in San Diego, California. It's home to hundreds of stores, including Neiman Marcus and Dior.
Fashion Valley has something for everyone. There are high-end clothing shops such as Versace and Gucci alongside high-end department stores like Louis Vuitton and Burberry.
You can also find brands like H&M and Forever 21 if you're looking for something more affordable or less expensive items from your favorite stores or designers.
14. Visit the San Diego California Temple
The San Diego California Temple is a temple of the Church of Jesus Christ of Latter-day Saints. It was built in San Diego, California, and was dedicated in 1993 by Gordon B. Hinckley.
The temple is one of the most beautiful temples in all of California, with its arched windows and golden spires. The majority of the temple is made up of white marble with gold accents that shine brightly in the sunlight.
It sits in a beautiful park area surrounded by palm trees, flowers, and fountains. The grounds are well-kept and beautiful, with lush green grass and flowers everywhere you look.
15. Explore the Natural History Museum
The Natural History Museum in San Diego is a place of discovery. The museum features seven floors of exhibits that showcase the diversity of life on Earth through a variety of interactive experiences.
It's the perfect place to spend an afternoon with your family or friends as you explore other worlds and discover new creatures that are both strange and familiar.
There is something for everyone there—from dinosaur fossils and real animal specimens to hands-on activities, educational programs, and much more.
16. San Diego Bay National Wildlife Refuge
It's time to get away from the hustle and bustle of everyday life.
The San Diego Bay National Wildlife Refuge is a beautiful sanctuary where you can relax and reconnect with nature.
Located on the Pacific coast in Southern California, this refuge is home to a variety of wildlife, including fish, birds, reptiles, amphibians, and mammals.
Visitors can take guided tours or explore on their own while they enjoy the fresh air and natural beauty of this pristine environment.
17. USS Midway Museum
San Diego is home to a number of amazing museums, but if you're looking for something that's truly unique, you can't beat the USS Midway Museum.
The USS Midway (CV-41) served as an aircraft carrier for over forty years, and now she's docked in San Diego Bay.
This former warship has been converted into a museum with over 60 exhibits, including an interactive ship tour and a display of naval artifacts and uniforms.
The museum also houses a collection of memorabilia from World War II and other conflicts that the ship has lived through.
» Get your Skip the Line: USS Midway Museum Admission Tickets here.
18. Watch a Movie Under the Stars
San Diego is a city of many charms, but one of the most charming is its old-fashioned drive-in movie theaters. There are several different theaters in San Diego County, each with its unique style.
The theaters have been around for decades, so they're definitely an element of the city's history that you should check out if you get the chance.
The South Bay Drive-in has movies playing Thursday through Monday with showtimes varying from 7:30 to 9:40. Check here for movies and showtimes. Then on Wednesday, Saturday, and Sunday there is a world famous swap meet with over 300 vendors from 6 am – 2 pm.
Other area drive-in theaters are Mission Tiki in Montclair and Van Buren in Riverside. All three have swap meets weekly.
19. San Diego Model Railroad Museum
The San Diego Model Railroad Museum is a place for people of all ages to connect with history, imagination, and wonder.
At the museum, you can see model trains from the past and present that have been painstakingly recreated in exquisite detail.
The model railroad features everything from freight trains to passenger trains in action.
You'll also find miniature towns complete with buildings and people. There's even a section of the museum where you can watch model trains run through tunnels and over bridges!
20. Botanical Building In Balboa Park
The Botanical Building in Balboa Park is a historic building that's been home to the beauty of plants since it was built in the 19th century.
You'll find one of the most beautiful gardens in San Diego—and maybe even California!—at this location. There are flowers, trees, and shrubs from all over the world here. It's a great place to go if you want to enjoy nature.
If you'd like to see something specific while you're there, check out their website before you go so you can plan your visit accordingly.
21. Sesame Place
Sesame Place San Diego is the ultimate destination for families with young children, and it's a great day trip for teenagers, too.
Whether you're looking for a fun getaway or just some time off from your regular routine, Sesame Place has something for everyone.
With rides like Count's Splash Castle and Elmo's Rockin' Rockets, Sesame Place is sure to please even the most finicky of kids!
22. Ghost Hunting at the Whaley House Museum
The Whaley House Museum is one of the most haunted places in America, and if you're looking for a good scare, this is the place to be.
The museum has been around since 1960 and has seen many strange and inexplicable events over the years.
If you visit the museum, you'll be able to see all sorts of artifacts from the past, including furniture, clothing, and art from all different eras in history!
23. Go Hiking at the Torrey Pines State Natural Reserve
Hiking is one of life's great pleasures. The feeling of being one with nature is unparalleled, and the fresh air and open space are a breath of fresh air after a long day at work.
The Torrey Pines Natural Reserve offers all of this and more.
Located just north of San Diego, it's packed with trails that offer something for everybody. So, whether you're looking for a short walk in the woods or a full-day hike through nature's beauty, this park has it all.
» If you want to hike at Torrey Pines State reserve read about it in this 10 Easy Hikes in San Diego post.
24. See the Mission Basilica San Diego de Alcalá
The Mission Basilica San Diego de Alcalá is one of the most beautiful places in the world.
Located in downtown San Diego, the basilica was founded by Father Junípero Serra in 1769 and has been a place of worship ever since.
It's easy to see why this is such a popular destination for visitors from all over the world.
The architecture is stunning, with its bright white façade and tall arches, but it's also home to some of California's most powerful history. Many people visit this site every year to learn more about its past. Book your tour here.
25. Enjoy You Time at Belmont Park
If you're looking for a fun and exciting day out in San Diego, Belmont Park is the perfect place to go.
Belmont Park is located in Mission Beach and has been around since 1925. They have over 20 rides and attractions, including thrill rides, kid-friendly rides, water rides, games, and more.
The park also has an arcade where you can play games like Skee Ball or win tickets that you can use to get prizes at the prize center.
And, If you're hungry after all that excitement, they have plenty of food options available at various kiosks throughout the park—everything from hot dogs and pizza slices to ice cream cones and funnel cakes!
26. Sit On Potato Chip Rock
The Potato Chip Rock is a place that makes you want to sit down and stay awhile, even if it's not quite what you expected.
It's hard to believe that this rock—which looks like it's been carved out of a giant potato chip and sits in the middle of nowhere—is actually a popular tourist attraction in California.
But it is! The Potato Chip Rock attracts thousands of visitors each year who want to see the natural wonder and experience what it's like to sit on something so unique.
In a Nutshell
San Diego is a great place to visit, no matter what time of year you're planning to go.
If the weather is nice, don't be afraid to get out and enjoy all that this beautiful city has to offer. Go hiking in Torey Park Reserve, watch a movie in a drive-in theatre, or rent some bikes and ride along Coronado Beach.
Lastly, we hope you enjoyed this list of 26 fun things to do in San Diego and have a wonderful time in the city!
Like this article? Save it on Pinterest so you can find it again.
FOLLOW US on Pinterest and Facebook for more California travel inspiration and tips!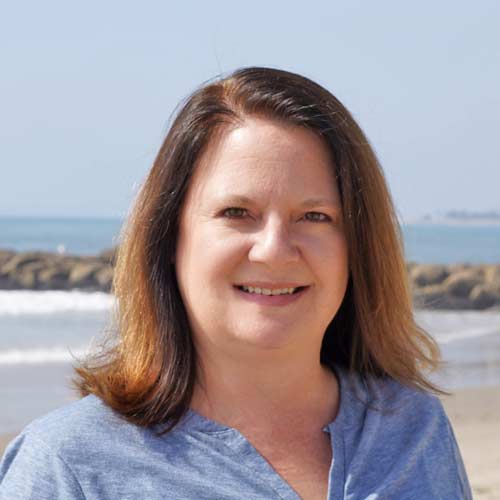 Laura is a travel fanatic who loves seeing and doing new things. She lives in Ventura, CA, and spends a lot of time exploring California's cities, beaches, and national parks.