San Diego is known for its vibrant culture. It is a heaven for outdoorsy people as it lies in close proximity to plenty of national parks, monuments, recreational areas and beaches. Most of these parks are less than a half a day's drive away. 
Tighten up your seatbelts as you leave the bustle of the city behind and get ready to wander into the 7 best national parks near San Diego.
How to Choose a Camping Spot
There are dozens of options available for camping in California, including the relative comfort of RV parks, National Park campgrounds, and even open forest land that's dedicated to walk-in camping.
Consider whether you would want to hike in to a spot or whether you'd like to have your car nearby with some creature comforts. Do you want to tent camp or RV camp?
Do some online research to find a spot that you like. There are websites dedicated to providing photos of campsites and the National Park Service website has photos of many campgrounds as well.
What Gear to Pack
I always recommend pulling out all your camping gear and having a look over everything before you pack it, just to be sure everything's in order.
The last thing you want is to find the poles for the tent didn't get packed! A few days before leaving, be sure to pull out all the gear and take an inventory. You can do that that with the help of this handy camping checklist.
For comfort: Tent, sleeping bag, mattress, pillow, tarp for under the tent
Practicalities: Lantern, first aid kit, bug spray, camp chairs
For cooking: Camp stove, pot/pan, cups, utensils, ice cooler
We will also share tips for visiting a national park.
Best National Parks Near San Diego: At a Glance
| | | | |
| --- | --- | --- | --- |
| National Park Name | Distance From San Diego | Drive Time | Park Area |
| Joshua Tree National Park | 163.9 miles | 3 hours | 795,155.85 acres |
| Sequoia National Park | 247.6 miles | 7 hours | 404,064 acres |
| Pinnacles National Park | 387.5 miles | 4.5 hours | 26,606 acres |
| Death Valley National Park | 285.8 miles | 5 hours | 3,373,063 acres |
| Santa Monica Mountains National Recreation Area | 155.3 miles | 2 hours | 157,700 acres |
| Mojave National Reserve | 238.2 miles | 4.5 hours | 1,542,776 acres |
| Yosemite National Park | 430.4 miles | 8 hours | 759,620 acres |
National Parks Near San Diego
#1 Joshua Tree National Park
More than 800,000 acres in size, Joshua Tree National Park is a veritable paradise with a seemingly infinite canopy of yucca trees. Aside from that, you get to see many interesting rock formations and boulders which glitter when sunlight hits them. 
» Explore the park with this self-driving audio tour.
The park's low humidity levels and absence of light pollution provide for a stunningly clear view of the Milky Way after dark. You can even plan your visit such that it coincides with a meteor shower!
Orionids in October
Leonids in November
Geminids in December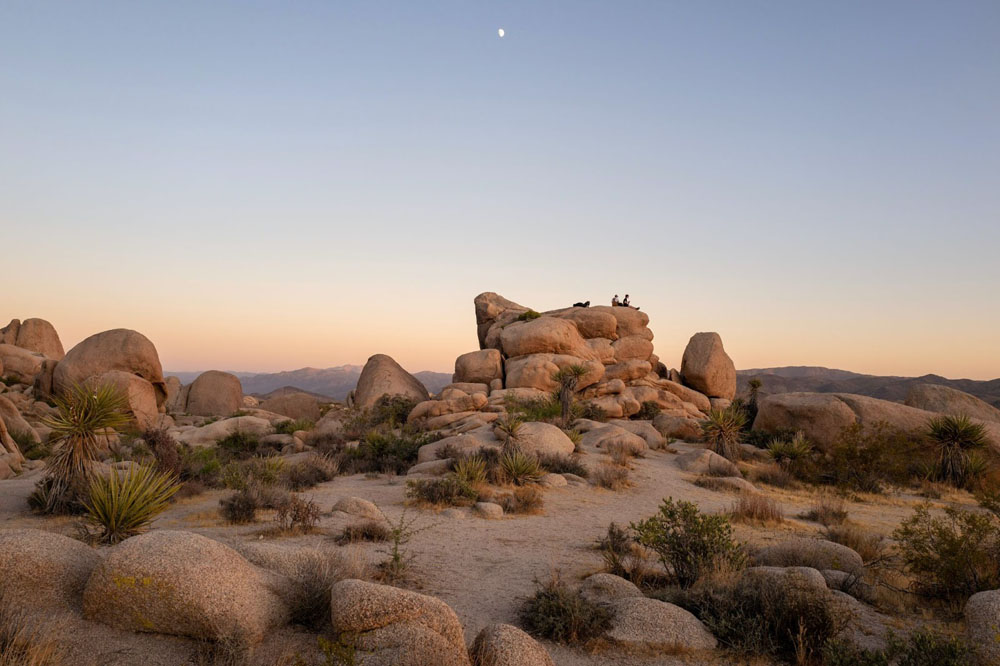 The best time to go is around late fall and winter. The Colorado desert occupies the southern end of the park where countless movies and music videos have been shot. Hiking lovers can also visit the Lost palms Oasis Trail which is quite close. If you're new to hiking, it's best to go on a guided hike in the park.
Glamping is definitely the way to enjoy Joshua Tree overnight so you can see the stars.
Note: Only two of the park's nine campsites have access to running water, and neither of them are suitable for RVs since they lack hookups.
» Try this tour: Joshua Tree Small Group Scenic Tour from Palm Desert
Beginner Group Rock Climbing in Joshua Tree National Park
#2 Sequoia National Park
This park is known for its giant sequoia trees and also has the General Sherman tree- the largest tree on earth by volume.
This region has an abundant population of bobcats, foxes, rattlesnakes and mule deer. The trails in this park are suitable for all abilities and ages. There is a 2-mile loop in the Giant Forest, which is a big hit among kids.
Other trails in this park include:
7-mile Marble Falls Trail
1-mile General Sherman Tree Trail
4-mile Tokopah Valley Trail
Half-mile More Rock Trail
More popular attractions in the park are Tokopah Falls, Crystal Cave, Hume Lake, Sunset Rock and Kings Canyon Scenic Byway.
#3 Pinnacles National Park
This is the fifth-newest park in the States and only became a park in 2013. If you choose to travel by car, a nonstop drive will take around 6.5 hours. However, we would recommend you to add a buffer for rest stops and food along the way.
An ideal itinerary would be to drive for about 1.5 hours, stop in Laguna Beach followed by Six Flags Magic Mountain and an overnight stay in Bakersfield. 
The park consists of an East and West entrance and there is no way that connects the two. Thus, you can only visit half the space in a single day. The peak-season to visit Pinnacles National Park is mid-February through early June. Private vehicle entrance fee is $30 and walk-in fee for the park is $15 per person.
Attractions include:
Visitor center
High Peaks
Bear Gulch Cave
Balconies Cave
California Condors
#4 Death Valley National Park
Death Valley National Park is among the most visited national parks in America. It is quite a long drive from San Diego but the attractions and the scenic ambience more than make up for the trip.
A park with the most morbid name has some of the most beautifully dune fields in North America, as well as snow-capped mountains and a year-round waterfall. Crazy, right?
This park is home to more than 400 species of animals and several cultural landmarks in addition to Badwater Basin, the hottest spot on the continent. Other attractions include Scenic Artists Drive, Dante's View, Zabriskie Point, and the Mesquite Flat Sand Dunes.
This place is also a treat for astronomy lovers since it's an international Dark Sky Park where you can get some stunning views of the Milky Way.
#5 Santa Monica Mountains National Recreation Area
This region is located near the greater Los Angeles region and provides a welcome escape from city life. From animal watching to visiting historic landmarks, there is plenty to do here. In terms of size, it easily ranks in the top ten biggest urban parks in the USA.
The world famous Malibu beach is also nearby. Two-thirds of the SMMNRA's parklands are in northwest Los Angeles County, while the remaining third, including an expansion to Simi Hills, are in southeastern Ventura County, both within the greater Los Angeles area.
Camping, climbing, hiking, mountain biking, and wildflower sightings are just a few of the many outdoor pursuits available. This park is 155.3 miles away from downtown San Diego.
#6 Mojave National Reserve
240 miles from San Diego is the Mojave National Reserve, which is ideal for those looking for a peaceful and calm national park. Canyons, mountains and mesas await tourists at this 1,6,000,000 acre park.
The Mid Hills campground and the Hole-in-the-Wall campground offers picnic tables and is equipped with vault toilets, fire rings and accommodations. As for wildlife, you can expect to see golden eagles, desert bighorn sheep, mule deer and coyotes.
The old rock-walled military outposts and ruined homesteads further add an antique vibe to this place.
#7 Yosemite National Park
About 430 miles from San Diego lies a park with a history stretching back 3 million years, when giant glaciers carved out the incredible landscape and ice covered all but the topmost heights of the Sierra Nevada.
Besides being a testament to life's tenacity, this place is known for beautiful waterfalls and hosts four million visitors annually. It's great to visit year round, but you might find there's a best time for you to visit based on the activities you want to do. 
A great way to see the park is on a guided tour. This tour includes lunch, stories, and facts about the park. We usually drive ourselves to see all the popular attractions, then we spend a day or two hiking the trails.
Yosemite National Park provides a variety of lodging and camping. Official discounted Yosemite National Park lodging ranges from basic tent cabins with nearby toilet facilities to the more luxurious lodging in The Ahwahnee Hotel is a distinctive hotel that is the pride of Yosemite National Park.
This park stays closed from mid-November until late spring. Popular activities and attractions include:
Cross-country and backcountry skiing
Tuolumne Meadows
Sentinel Dome and Taft Point
Vernal and Nevada Falls
» Check out this Perfect Yosemite 2-day itinerary.
Additional Tips
Choose the right time to go: Some parks are not open year round, so you will need to check beforehand. Secondly, if you are looking for solitude, then going during summer might not be the best idea. On the contrary, families with kids are quite common during summers as it is the only time their kids get time away from school.
Double check the parks website: It's always good to check the park website for restrictions, closures, and requirements before you leave. That way there will be no surprises.
Bring the proper gear: This includes refreshments, a daypack, hiking boots, water (LOTS), sunscreen, etc.
Booking at the right time: Parks such as the Yosemite National Park draw massive crowds and are pre-booked for months in advance. Hence, book ahead of time and plan your trip accordingly.
Plan your time correctly: One day is typically not going to be enough for visiting the entire park. Have at least two days before you set out.
Befriend the Friendly Folks in Hats: Park rangers can help you with insider information such as best spots to hit and short hiking routes. They also know the perfect places to capture pictures, stargaze, picnics, etc.
Utilize Tech: When going outdoors, download some apps such as weather, camping apps, GPS and offline maps. You can also consider a guided tour if you are new to the area.
That was a roundup of some of the best parks near San Diego. Keep the tips we have shared in mind and plan your trip accordingly. Thanks for reading!
Like this article? Save it on Pinterest so you can find it again.
FOLLOW US on Pinterest and Facebook for more California travel inspiration and tips!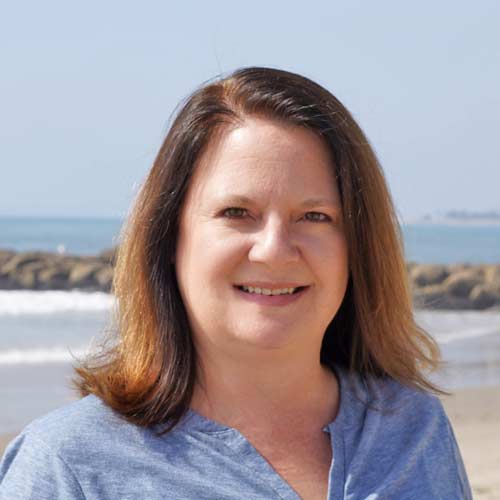 Laura is a travel fanatic who loves seeing and doing new things. She lives in Ventura, CA, and spends a lot of time exploring California's cities, beaches, and national parks.