Northern California is full of breathtaking beaches, with a shoreline that extends from Oregon all the way to San Luis Obispo County. While the beaches in Southern California tend to be more popular, there are some excellent beaches in Northern California that are worth a visit.
In this article, we've prepared a list of the 15 best beaches in Northern California that will provide white sand, quaint beach town amenities, and a laid-back surf culture and beach vibe. These are the tell-tale signs that you're in Northern California – a unique and fun place to explore.
You might also want to check out our guides to Northern California coastal towns and mountain towns.
» Looking for more inspiration along the route? Check out all our guides to San Francisco, Los Angeles, Santa Barbara and San Diego. Find the best beaches in Monterey, waterfalls in Southern California, and national parks.
Beach Etiquette & Tips
To make the most of your time at the beach and ensure that you and your family have a wonderful time, without any snags along the way, we recommend following these easy tips:
Always watch your kids and be aware of the tide.
Glass containers are not allowed on the beach and dogs are not allowed between 9 am and 4 pm from Nov 1 through March 31, 9 am and 6 pm from April 1 through Oct 31.
Keep your kids close and bring your own beach gear to save some time and avoid hassle.
Best Beaches in Northern California
#1 Rodeo Beach
Rodeo beach is one of the most unique-looking beaches out there. The beach is covered with extraordinary green, red, and blue pebbles. If you're lucky enough, you might spot jade, carnelian, or black agate among those pebbles!
Rodeo beach is perfect for picnics and barbecues, as it has tables already on-site. Also, it's sheltered by cliffs and has a splendid lagoon that you can't get enough of.
Additionally, the Rodeo lagoon is an amazing bird-watching location. It's home to the famous harlequin and tufted ducks.
It's a remarkable spot to chill and relax with your family. And if you're looking for fun activities, the beach is a well-known surfing spot.
#2 Santa Cruz Beach
Santa Cruz is one of the most popular beaches in California. The beach is full of fun activities for you and your kids.
The main beach, also known as the boardwalk beach, is a popular location for surfers. However, this isn't the biggest attraction of Santa Cruz beach.
The Santa Cruz beach boardwalk amusement park is an iconic place with the famous, old-fashioned Looff Carousel and the Giant Dipper Roller Coaster.
Besides, you can find all sorts of delicious snacks and foods that you can enjoy on the beach. To add, you can find arcade games, carnival games, and various types of shops all over the mile-long boardwalk.
#3 Carmel by the Sea
Carmel by the sea is one of the most peaceful places you can visit in California. The crescent-shaped beach has soft white sand and a long line of Cypress trees. You can feel serenity and peace once you step foot on the beach.
Carmel by the sea is one of a kind experience. Visit this quaint little town and do some wine tasting while you are there.
What's best about that place is that it's dog friendly. So, you and your dog can have a wonderful time there.
» Check out the best beaches in Monterey, California.
#4 Glass Beach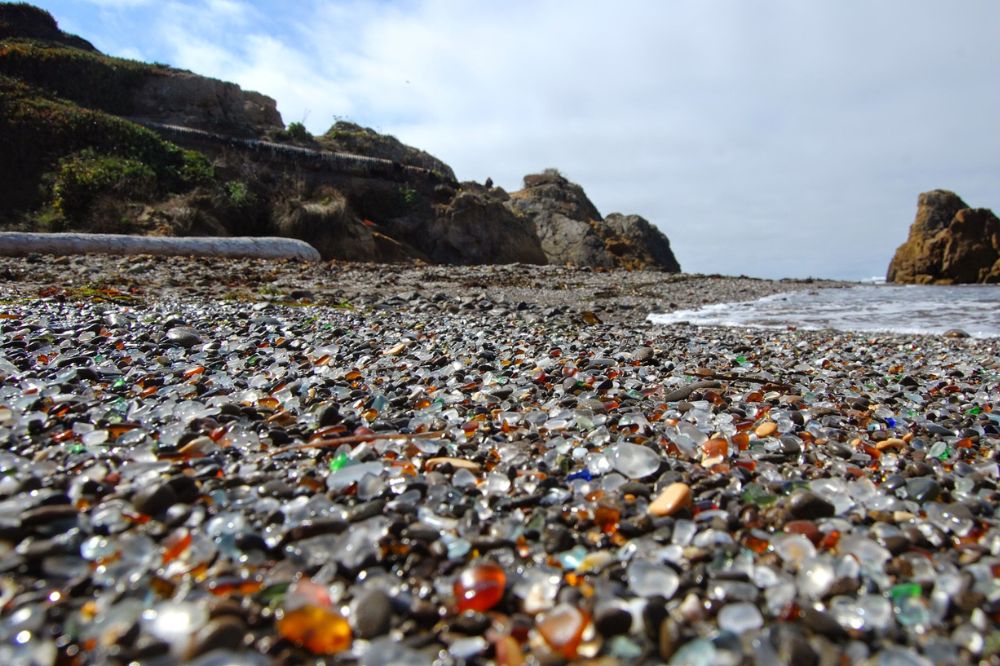 Glass beach in Fort Bragg makes for a mesmerizing experience. As its name suggests, Glass beach consists of plenty of colorful glass pebbles as a result of once being a trash dump.
While many visitors expect this beach to be a giant dumpster, it isn't that way at all. In fact, the rounded glass is so beautiful that thousands of visitors take some home!
Sadly, though, this practice caused the glass supply to greatly diminish, so taking even one glass pebble as a keepsake is now prohibited.
#5 Capitola Beach
In the north of Monterey Bay lies the fascinating sandy Capitola beach. Its popularity is unrivaled due to the wide selection of activities you can do there. Not only can you go for a swim, but you can also enjoy all the great restaurants by the sea.
Additionally, there are many stores where you can enjoy a shopping trip and a beach day. And if you need to update your Instagram, you can take many artsy pictures in front of colorful buildings.
There are many experiences and adventures you can enjoy there other than lounging on the beach. For instance, you can enjoy riding bikes with the entire family around the beach. You can also enjoy whale watching!
Capitola beach is far away from the crowd and bustle of the city! So, if you want even more laid-back activities, you can simply walk around the beach to enjoy the colorful Venetian houses and beautiful scenery.
#6 Seacliff State Beach
Seacliff state is an amazing location where you can hike alongside your dog. There, you'll notice the abandoned USS Palo Alto, which is definitely a sight you don't want to miss. However, it's closed, so you can only watch it from afar.
There are picnic tables and bathrooms at Seacliff state, so you don't need to worry about any unexpected problems. You also don't need to worry about crowds as this marvelous beach is huge.
There aren't many activities to do on Seacliff State beach. It's simply a perfect spot where you can perfectly enjoy a quiet, peaceful day.
#7 Natural Bridges State Beach
You can find Natural Bridges state beach in west Santa Cruz, away from the crowded city. This is by far the most beautiful beach on the list, containing breathtaking scenery. For starters, the natural arc that inspired the name of the beach is a must-see.
Not only does this beach have a beautiful rock arch, but you can also enjoy the low tide pools where you can watch all the different sea creatures, such as starfish, shore crabs, and sea anemones.
Additionally, this beach is home to breathtaking monarch butterflies. You can find thousands of blue butterflies in their peak season from October to January.
#8 Crescent City Beach
The main beach in Crescent City is just to the south of the city. It's long, wide, and mesmerizing. The best thing about this beach is that it's calm, and the water is so smooth. Also, there are a lot of sand dollars on that beach.
The Battery Point Lighthouse and Museum are a must-see if you plan to visit this beach. Note that shores stretch on either side of the lighthouse.
#9 Shark Fin Cove
Located in Davenport, this small beach can be hard to enter as it's steep and rocky. However, the gorgeous secluded view is completely worth it.
If you love scenic, natural views, this place is for you. Shark Fin Cove is calm and far away from the noise of Santa Cruz. Additionally, it's totally free from any urban restaurants or shops. Shark fin is a place where you can be one with nature.
#10 Wilder Ranch State Park
Another Santa Cruz beach is the Wilder Ranch State Park. This is where you'll find the bluest, clearest ocean view. This park is great if you want to hike by the ocean, as the trail is soft and flat.
Besides the beautiful sea view, you can also find rare flowers, succulents, and small animals around the park.
On top of that, if you head to the park during the holidays, you might get to attend the special events the ranch organizes.
#11 New Brighton State Beach
If you're looking for a camping spot by the beach, look no further than the New Brighton State beach. It's perfect for both camping and RVs, with many facilities to keep your camping trip as smooth as possible.
This beach is straight out of a movie scene, as you can see the clear ocean in front of you, with a deep forest behind you.
New Brighton state beach is also pet-friendly, so you can bring the whole family for a relaxing beach day.
#12 Coast Dairies State Beaches
Coast Dairies State beaches are small pocket beaches in Santa Cruz. The beaches include Bonny Doon, Yellow Bank, Sharktooth, Panther, and Laguna creek. The rock formations on those shores are magnificent. You can hike through the dunes and enjoy the view.
Unfortunately, dogs aren't allowed in the coast dairies. On the flip side, though, parking is free for everyone!
#13 Steamer Lane
Steamer Lane is a popular surfing spot in northern California. Still, you can also enjoy this beach if you're not a professional surfer. In fact, Steamer lane is known for its beautiful panoramic ocean view, where you can watch the perfect sunset.
Steamer Lane witnesses many nightly events, from concerts to fire shows. In addition, you can take a short walk to Lighthouse Point for a serene view you won't soon forget.
#14 Bodega Dunes
This beach is famous for its sand dunes that extend over miles. There, you can enjoy one of the best views of the Pacific Ocean.
At Bodega Dunes, you can enjoy watching the tiny, harmless mole crabs all around the beach. You can also find a lot of unique driftwood structures that change every time you visit the beach!
Overall, Bodega Dunes is a tranquil beach you shouldn't miss if you're around the area.
#15 Drakes Beach
You'll need a relatively long drive to reach Drakes beach in Point Reyes. It's totally worth it once you witness the glorious sand cliffs, though. Maybe make a weekend out of it and check out these other things to do in the Point Reyes National Seashore.
All beaches in Point Reyes house elephant seals. So, if you're lucky enough, you might enjoy playing with the seals while watching the sunset. You can also watch dolphins and collect unique seashells on the shore. There are hikes for all skill levels and each one gives you a different view of Point Reyes.
There are many rangers in the area to help you. Yet, you should be careful to check the local website before visiting the beach to ensure it isn't closed.
Final Words
Our list of the 15 best beaches in Northern California is full of unique beaches that await you! You can't go wrong with any of the beaches on our list. You'll definitely enjoy your time on any of these beaches.
Like this article? Save it on Pinterest so you can find it again.
FOLLOW US on Pinterest and Facebook for more California travel inspiration and tips!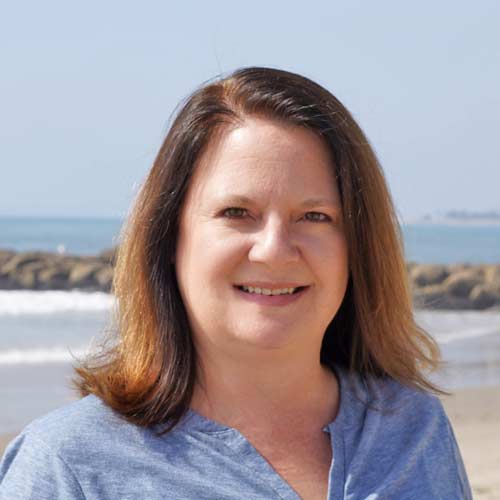 Laura is a travel fanatic who loves seeing and doing new things. She lives in Ventura, CA, and spends a lot of time exploring California's cities, beaches, and national parks.