Living in California, you have your pick of all the ocean views and outdoor adventures, and we've done them all, but Big Sur will always be at the top of my list for the most stunning places to visit in California. No matter how many times we've been there, it will never lose its appeal.
This is not just another breathtaking road trip with stunning ocean views, towering redwoods, and untouched beaches… Oh wait – yes it is! In fact, it's exactly that. And that's exactly what you want when you take this journey, so there you go.
» Looking for more inspiration along the route? Check out all our guides to San Francisco, Los Angeles, Santa Barbara and San Diego. Find the best beaches in Monterey, waterfalls in Southern California, and national parks.
I'm going to say, you can totally wing a Big Sur road trip. You can absolutely get in the car and just drive along the route and see what you see, stop where ever you want to stop, and have a good time. But if you do a little pre-planning, you will get the most out of the trip.
From hiking trails and waterfalls to sea lion colonies and historic landmarks, you do kind of need to know what you're in for and how to find it, so you don't just blow by it on the road and reach the end wondering why you didn't see as much as you thought you should have.
In this post, we'll give you all our top tips and recommendations for where to stop, and near the bottom, you'll find other info like packing info, where to stay, and where to eat.
Our other Big Sur content:
Best Viewpoints in Big Sur | Big Sur Hiking Guide | When to Go to Big Sur
Key Takeaways
The Big Sur Road Trip can be a couple hours long or a whole week long, depending on your preference.
There are numerous lookout spots, hikes, camping and lodges in Big Sur.
Be prepared for breathtaking ocean views, towering redwoods, and pristine beaches.
Planning Your Big Sur Road Trip
When planning your Big Sur road trip itinerary, start by deciding how many days you want to spend in the area. This will help you determine how much ground you can cover and what sights you'll be able to see. I recommend spending 2 days, starting early on the first day.
Keep in mind that Big Sur is a popular destination, particularly in the height of summer, so if you want to stay overnight, book accommodations in advance.
The route you'll take for a Big Sur road trip is Highway 1, also known as the Pacific Coast Highway. This scenic route runs along the coast with stunning views. The Big Sur part of it spans from Carmel-by-the Sea in the north to San Simeon in the south. It's a lot of ground to cover.
Map and Driving Time
Before you hit the road, it's important to have a good map of the area and an understanding of the driving time between destinations. This is because the cell reception there is not good. You will be lucky to find a few bars now and then.
Big Sur's winding roads also make for slower driving, so be sure to factor that into your itinerary. It will take hours to drive what you think might take minutes.
Also bear in mind that the road is often partially closed in areas due to landslides and other issues. Always check highway conditions before going. It's actually quite rare that you can drive all the way through on Route 1.
Direction
When planning your Big Sur road trip, you'll need to decide which direction to travel. We always start from the north because the road is open for more of it that way. Head south towards Big Sur, through Monterey and Carmel, then into Big Sur. You can go as far south as Lucia Lodge.
If you come from the south, you will be able to travel north for only 47 miles from Cambria on Hwy. 1 until you get to the turnaround at Limekiln State Park. There is currently no date for reopening the road at that point.
Key Stops Along the Route
Here are the key stops along the route. These are the must-visit places to include in your itinerary, divided into sub-sections for your convenience.
Carmel and Monterey – Carmel-by-the-Sea and Monterey are two charming coastal towns that are worth exploring. Carmel is known for its art galleries, boutiques, and wineries, while Monterey is home to the famous Monterey Bay Aquarium, Cannery Row, and some great beaches.
State Parks and Natural Reserves – Big Sur is home to several state parks and natural reserves. The most popular ones are Point Lobos State Natural Reserve, Garrapata State Park, Andrew Molera State Park, and Pfeiffer Big Sur State Park.
Iconic Landmarks – McWay Falls, Bixby Bridge, and Point Sur Lighthouse are some of the most famous ones.
Beaches and Coastline – Some of the best beaches include Pfeiffer Beach, Sand Dollar Beach, and Garrapata Beach.
Viewpoints and Hiking Trails – The best viewpoints include Nepenthe, Rocky Creek Bridge, and Limekiln State Park. The Soberanes Canyon and Partington Cove hiking trails are great.
Wildlife and Natural Beauty – Julia Pfeiffer Burns State Park and Henry Miller Memorial Library are great for spotting wildlife including sea lions, seals, whales, and sea otters, Rocky coastlines and redwood forests.
2-Day Big Sur Itinerary
For more in-depth explanations of each of these destinations, see our post about the best viewpoints and stops to make in Big Sur.
Day 1: Point Lobos to Mid Big Sur
Morning:
Point Lobos State Natural Reserve

Activity: Kick off your journey by exploring the Cypress Grove Trail. You'll get great ocean views and might spot some sea lions. Hit up Bird Island trail, if you have time. (2-3 hours)

Note: Parking fills up quickly, so aim to get there early.
Lunch:
Hike to Calla Lily Valley (30 mins)

Activity: Park your car at Gate 18 or 19 in Garrapata State Park. There is a trailhead by mile marker 63. Walk for about 5 minutes and you'll find a set of stairs descending to Doud Creek. This is Calla Lily Valley, where you should see the bloom. The hike in and back is about half a mile roundtrip.

Picnic at Garrapata State Park (1-1.5 hours)
Afternoon:
Stop at Castle Rock Viewpoint

Activity: Photo opp (15 mins)

Stop at Bixby Bridge

Activity: Stop for some photos at one of California's most iconic bridges. (30 mins)

Andrew Molera State Park

Activity: Take the Beach Trail to a usually less crowded beach. (2 hours)
Dinner:
Big Sur River Inn Restaurant (1-1.5 hours)
Overnight Options:
Camping at Pfeiffer Big Sur State Park
Stay at Deetjen's Big Sur Inn or Big Sur River Inn
---
Day 2: Mid to South Big Sur
Morning:
Breakfast: Stop at Big Sur Bakery to grab some coffee and pastries.
Pfeiffer Big Sur State Park

Activity: Hike to Pfeiffer Falls to start your day. Check out the Redwood Deck before leaving the park (2-3 hours)
Mid-morning:
Partington Cove

Activity: Hike through a tunnel to a secluded cove. (1-2 hours)
Lunch:
Nepenthe (1-1.5 hours)

Note: They don't take reservations, so there might be a wait.
Afternoon:
Julia Pfeiffer Burns State Park

Activity: Now's the time to see the iconic McWay Falls through the Overlook Trail. (1 hour)
---
Best Time to Visit
The best time to visit Big Sur is from April through October. During these months, the weather is mild, and you can enjoy all the outdoor activities without worrying about snow or rain. Early Fall is a particularly great time to visit as the crowds have thinned out, and the foliage is at its most colorful.
If you're planning to visit Big Sur during the summer months, be prepared for larger crowds and higher prices. The summer months are peak tourist season, and the roads and attractions can get crowded. However, if you're willing to brave the crowds, you'll be rewarded with long days, warm weather, and plenty of outdoor activities.
If you're looking to avoid the crowds, consider visiting Big Sur during the winter months. While the weather can be unpredictable, you'll have the opportunity to enjoy the stunning coastline without the crowds. Winter is also a great time to visit if you're interested in whale watching, as many species of whales migrate along the coast during this time.
Accommodation Options
Hotels and Inns
There are several hotels and inns located throughout Big Sur, ranging from budget-friendly options to luxurious ones. Some popular choices include the Post Ranch Inn, Ventana Big Sur, and the Big Sur River Inn. Keep in mind that these options tend to be on the pricier side, so be sure to book in advance and check for any deals or promotions.
Camping
If you're looking to immerse yourself in nature, camping is a great option. There are several campgrounds located throughout Big Sur, including Pfeiffer Big Sur State Park and Andrew Molera State Park. Keep in mind that some campgrounds require reservations in advance, so be sure to plan accordingly.
Essential Services and Amenities
When embarking on a road trip, it's important to make sure you have access to essential services and amenities. Here are some things to keep in mind when planning your Big Sur road trip itinerary:
Car Services – Before you hit the road, make sure your car is in good working order. Check your oil, tires, and brakes, and top off your fluids.
Gas Stations – Gas stations can be few and far between along the Big Sur coastline, so it's important to plan ahead and fill up when you can. Some of the gas stations in the area include: Big Sur Chevron, Big Sur River Inn Gas Station, Lucia Lodge Gas Station
Water – Bring plenty of water with you, and consider purchasing a reusable water bottle to refill along the way. There are several water stations and fountains throughout Big Sur, including at many of the state parks and beaches.
Restaurants – There are plenty of great restaurants and cafes in Big Sur to keep you fueled up during your road trip. I've included our favorites in the itinerary: Nepenthe, Big Sur Bakery, Deetjen's Big Sur Inn.
Packing for Your Trip
Packing for your Big Sur road trip can be daunting, but with a little bit of planning, you can make sure you have everything you need for a comfortable and enjoyable trip. Here are some things you should consider packing:
Snacks: The drive is long and winding and you won't come across many places to eat or even grab snacks along the way, so be sure to bring your own.
Water bottle: Bring a reusable water bottle filled each morning.
Sunscreen: Even if it's overcast, the sun's rays can still be harmful to your skin.
Warm layers: The weather in Big Sur can be unpredictable, so it's a good idea to pack some warm layers like a sweater or jacket.
Comfortable shoes: You may want to do some hiking or exploring, so make sure to pack comfortable shoes.
Car charger: The drive is long, so make sure to pack a car charger to keep your devices charged up.
Driving Tips for the Pacific Coast Highway
Driving along the Pacific Coast Highway is an unforgettable experience, but it can also be challenging if you're not prepared. Here are some tips to help you have a safe and enjoyable trip:
Choose the Right Car
Make sure you have a reliable car that can handle the twists and turns of the Pacific Coast Highway. A small or mid-sized car is usually sufficient, but if you're traveling with a larger group or a lot of luggage, you may want to consider renting an SUV or minivan.
Plan Your Driving Time
The Pacific Coast Highway is a beautiful drive, but it's not a fast one. The road is winding and narrow in some places, so you'll need to take your time to enjoy the scenery and stay safe. Plan for an average speed of around 40-50 miles per hour, and factor in extra time for stops along the way.
Know Where to Refuel
Gas stations can be few and far between along the Pacific Coast Highway, so make sure you know where to find them. Some stretches of the highway can go for over 50 miles without a gas station, so plan your stops accordingly. You can use apps like GasBuddy or Google Maps to locate gas stations along your route.
Get a Park Pass
If you plan on visiting any of the state parks or beaches along the Pacific Coast Highway, you'll need to purchase a park pass. You can buy a pass at any of the park entrances or online in advance. The pass is good for one day and allows you to visit multiple parks.
Be Prepared for the Weather
The weather along the Pacific Coast Highway can be unpredictable, so make sure you're prepared for all conditions. Bring layers, as temperatures can vary greatly from one area to another. And if you're driving during the rainy season (November to April), be prepared for wet and slippery roads.
By following these driving tips, you'll be well-prepared for your Pacific Coast Highway road trip. Just remember to take your time, enjoy the scenery, and stay safe on the road.
Frequently Asked Questions
How many days should I plan for a Big Sur trip?
The length of your Big Sur trip depends on how much time you have and what you want to see and do. A minimum of two days is recommended to cover the highlights of Big Sur, but if you want to explore the area more thoroughly, you should plan for at least three to four days. This will allow you to take your time, enjoy the scenery, and visit some of the lesser-known spots.
Is it safe to drive on the Big Sur coast?
Driving on the Big Sur coast can be challenging due to its winding roads, narrow bridges, and steep cliffs. However, with proper precautions, it can be a safe and enjoyable experience. Always obey traffic laws, stay alert, and avoid distractions while driving. Be sure to pull over at designated turnouts to take in the views and avoid stopping on the road. It is also important to check road conditions and weather forecasts before embarking on your trip.
What are the current road closures or construction on the Big Sur scenic drive?
Road closures and construction are common on the Big Sur coast due to its rugged terrain and exposure to natural disasters. Before your trip, check the official Caltrans website for the latest road closures and conditions. As of October 2023, the Pfeiffer Canyon Bridge has been replaced and is open for traffic. However, the Mud Creek Slide area is still under construction, and some sections of Highway 1 may be closed due to rockslides or other hazards. Stay informed and plan your route accordingly.
Travel Planning Guide
🚙💨 Where should I book my rental car?
Renting a car is one of the best ways to get around in California, no matter where you're visiting. Public transportation can only get your so far, even in big cities. I always rent with Discover Cars, which checks the prices of all major rental car companies, so you get the best rates.
🛌 What's the best way to book my accommodations?
For hotels and vacation rentals, Booking.com or Expedia.com are the best sites, but you can also book through TripAdvisor. If you're considering renting a house instead, don't forget to also check VRBO, which is often cheaper than Airbnb.
🧳 What do I pack for California?
Head to the our California Packing List or Disneyland Packing List to get all the info on packing.
✈️ What's the best site to buy flights to California?
For finding cheap California flights from around the world, I recommend Skyscanner. I've also had pretty good luck with Kayak.com.
Like this article? Save it on Pinterest so you can find it again.
FOLLOW US on Pinterest and Facebook for more California travel inspiration and tips!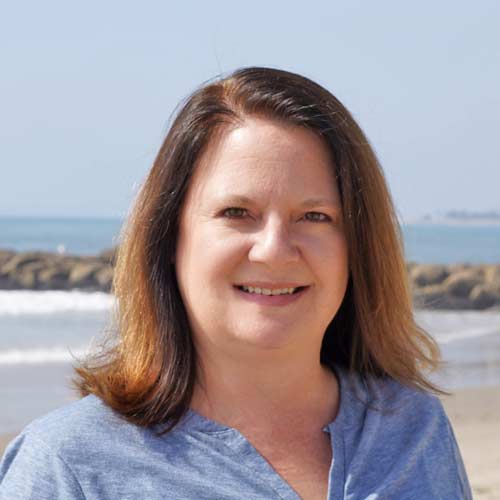 Laura is a travel fanatic who loves seeing and doing new things. She lives in Ventura, CA, and spends a lot of time exploring California's cities, beaches, and national parks.