The Point Reyes National Seashore is one of the most impressive spots in Northern California. This protected coastline park stretches over a space of 100 square miles, boasting a total of 150 miles of trails with tons of options to enjoy a hike, along with a lighthouse, and lots of other activities.
In this article, we'll lay out 17 great things to do in Point Reyes National Seashore so you can start building your itinerary and dreaming of the natural wonder you're about to see.
» Looking for more inspiration along the route? Check out all our guides to San Francisco, Los Angeles, Santa Barbara and San Diego. Find the best beaches in Monterey, waterfalls in Southern California, and national parks.
If you're looking for somewhere to go on a weekend trip, or to add to your vacation bucket list, this national seashore is a winner every time. I can't even express how beautiful it is and how many really cool things there are to see, like migrating gray whales along the shore, extensive grasslands, and pine forests, and that's not even mentioning its long history.
Hiking Etiquette & Tips
It is essential to always be prepared for hiking by wearing the appropriate clothing, packing the right gear, and being aware of hiking etiquette whenever you're out on the trail. Here are some of our tips for ensuring your hike is a good one:
Park only in designated spots, not off-road or in unpermitted areas.
Wear the appropriate clothing for the time of year – bringing a layer in case of sudden temperature changes. Be sure to wear sturdy shoes (flip flops are never a good idea).
Do not feed or approach any wildlife. Be aware there might be bears mountain lions, bobcats, or rattlesnakes on the trail.
Bring a good amount of water, some food, and sunscreen with you.
Never leave trash behind.
It's best not to hike alone, but if you do tell a friend where you're going and when to expect you back.
17 Things To Do In Point Reyes National Seashore
#1 Point Reyes National Seashore Visitor Center
The main visitor center in the park is Bear Valley Visitor Center and it's definitely worth a stop when you enter the park, especially if this is your first time here. It will help you get acquainted with the park, learn about the trails that are available and get the current status of what's open and not.
Even though you have a ton of suggestions on this list to do already, you might find it helpful to ask the park staff for additional suggestions. We've only listed 17 of the many, many things to do there.
There's also a video you can watch to learn more about the history of the park and its first inhabitants, as well as the wildlife and natural ecosystems of the park.
#2 Visit Point Reyes Lighthouse
Starting off with one of the most iconic areas of the Point Reyes National Park. This historic and picturesque lighthouse was built in 1870 and was in service for 105 years.
There is a free visitor parking lot near the lighthouse, but it only has 38 parking spots, so it's best to get there early in the day (peak time is 12pm to 4pm), or even go on weekdays rather than busy weekends. RVs can't park in the lot.
To reach the lighthouse from there, you'll need to take a half-mile walk (mostly uphill), and then the daunting 300-step staircase that leads down to the lighthouse, which was built near the water on a cliff. It's quite steep, and remember that you'll also have to climb them back up.
#3 Pierce Point Ranch
It's completely unexpected to see cattle ranches in the middle of a national park, but you're going to see them in Point Reyes. The area has been used to raise cattle for a very long time and some of the old ranches still exist, like the Pierce Point Ranch.
This ranch is a great way to see how things were done back in the early days of cattle ranching. It was established in 1858 and continued as a working ranch until 1973. You can walk around the property and read the interpretive signs to near the structures that remain like this old barn.
#4 Swim at the Bass Lake
Bass Lake is one of the few spots in the Point Reyes National Park where you can enjoy swimming without worrying about unforgiving waves and water currents, though it's an unofficial swimming spot – so swim at your own risk.
To reach the spot, you'll need to take a moderately challenging 6-mile hike that starts from the Palomarian trailhead and continues northwest along the Coast trail to the lake.
#5 Earthquake Trail
We like the earthquake trail because you can learn about the San Andreas Fault Zone on the interpretive signs along the route that starts at the Bear Valley Visitor Center trailhead. The trail is an easy 0.7-mile loop on paved path that only takes about 15 minutes to complete path.
The facts about earthquakes in the area will leave you fascinated, with tons of educational information about the geology and earthquake nature of the region along the way, but you'll also see some wildlife and fantastic views.
#6 Kayaking Around Tomales Bay
Tomales Bay is probably the most popular spot for kayaking in Point Reyes National Seashore. It's a 15-mile long body of water that is great for kayaking, canoeing, and boating in general.
There are six locations where you can launch your kayak in Tomales Bay: Millerton Point and Hearts Desire Beach. There's also Chicken Ranch Beach, but you have to carry your kayak quite a ways to get to the water's edge. These are for day use only.
Three of the launch points also offer overnight parking. These are from Tomales Bay Resort, if you're staying as a guest – there is a launch fee and a parking fee. Miller Boat Launch is a public launch with both day use and overnight parking. And Lawson's Landing campground has a boat launch.
Always check the weather and marine forecasts before kayaking
#7 Kule Loklo Trail
Difficulty Level: Very easy
Total Distance: 1.6 miles
Elevation Gain: 144 ft
The Kule Loklo trail is an easy hike of about 1.6 miles with very little elevation gain. What's great about this trail is that it combines hiking and education, with a replica village exhibit of the Miwok coastal tribe that used to inhabit the area.
The trail takes around 45 minutes, but it takes you around the Miwok culture exhibit, so you'll have to veer off an extra 0.1 mile to visit the replica Miwok village.
#8 Alamere Falls
Alamere Falls is among the few tidefalls in the country. A tidefall is one that flows directly into the ocean. To see Alamere Falls, you can take one of three trailheads: from Bear Valley (7.3 miles), from Palomarin (6.5 miles and strenuous), and from Five Brooks (7.1 miles).
Keep in mind that some of the path is slightly difficult and with steep drop points. For that reason, always make sure that you stay on marked trails. Be on the look out for poison oak and ticks, which are prevalent in the area.
The path to Alamere Falls fills up very quickly on weekends thanks to the amazing scenery and landscape, so make sure that you arrive early in the morning.
#9 Cypress Tree Tunnel
I love taking photos of these type of natural occurrences that just seem too good to be real. The Cypress Tree Tunnel is one of those spots that you really can't miss. These Monterey cypress trees were planed in 1930 and today create this amazing canopy of trees that extends over the road.
To get there, you drive along Sir Francis Drake Boulevard towards the Lighthouse. The cypress trees are located about 10 miles down that road just after the "North District Operations Center" sign.
At the end of the long driveway under the cypress trees is the KPH Maritime Radio Receiving Station that's open on Saturdays. The best time to come to the trees for photos is in the morning on a day that's not too foggy.
#10 Sir Frances Drake Boulevard
This road, at 42.8-miles long, is the main route through the park, leading all the way from the I-580 to the Point Reyes Peninsula, where you'll find the Point Reyes Lighthouse.
Since this is the main road you'll be taking to see all other things in the park, it's not necessarily something you'll go out of your way to do, but it must be mentioned on the list of things to do.
Even if you don't have time to stop at all things along the route, it's worth it to take a drive on this road through the park. You'll see so much along the way.
#11 Abbotts Lagoon
If you want a relatively untapped spot where you can admire the beautiful scenery, watch the amazing birds of the area, and pick some unique wildflowers in the spring, you should go to the Abbotts Lagoon.
This area is also pretty close to the ocean, but it's not recommended to swim here because of the current and water contamination.
You can reach the lagoon by taking its trailhead from the Lagoon parking lot. The trail starts with level ground, but as you go deeper into the trail, you'll notice that a tiny strip of sand separates the lagoon from the ocean.
#12 Woodpecker Trail
Difficulty Level: Easy
Total Distance: 0.8 miles
Elevation Gain: 147 ft
The woodpecker trail is one of the shortest and easiest hiking trails in Point Reyes National Seashore.
It's a loop trail that starts near Point Reyes Station, and it's an excellent choice for beginners who want to enjoy a short hike while bird watching and enjoying the great weather.
With that being said, make sure that you watch out for foxes, as they have multiple dens around the area to hunt for birds.
#13 Fishing on McClures Beach
The McClures Beach area isn't big, but it's an amazing spot to spend time because you can explore the ancient cove with an amazing view of the ocean, set up a little picnic, and most importantly, you can go fishing.
You can access the beach by taking a small undeveloped trail that takes around 35 minutes to cross on foot. However, it's an easy road with a lovely view of the nearby wildlife, especially tule elks.
Swimming in the area is typically not recommended at the beach because the waves are pretty powerful and crash hard on the shore.
#14 Chimney Rock Trail
Difficulty Level: easy
Total Distance: 1.92 miles
Elevation Gain: 269 ft
This one is an out and back trail that is relatively easy to complete and should take around 50 to 60 minutes depending on your pace.
To reach the trail, take the Chimney Rock Trailhead and follow its path northeast, heading to Drakes Bay. Keep in mind there's a 50 feet descent along that path.
However, a lot of people stop to enjoy the amazing view of Drakes Bay and the Elephant Seal Overlook, although there isn't access to the little beach strip from this trail.
#15 Climb Mount Wittenberg
If you don't mind the challenge, you should consider climbing the Mount Wittenberg trail. This is the highest peak in Point Reyes, standing at a height of 1,400 feet.
To start climbing, you'll need to take the Bear Valley Trail path and start ascending through the grassy meadows and dense forests.
After reaching the summit, you can either go back through the same path or go on the path labeled "Meadow-Sky Trail" to complete the hike, which is also not as steep of a descent.
#16 Muddy Hollow Trail
Difficulty Level: Easy
Total Distance: 4 miles
Elevation Gain: 203 ft
The Muddy Hollow Trail is quite popular and it also extends and branches into several coastal hiking trails where you can enjoy watching tule elk roam around occasionally, as many elks were relocated here from Tomales Point Trail.
In fact, this is one of the easiest hikes where you get to observe these amazing creatures!
Make sure that you check the official Muddy Hollow Trail Webpage before planning the hike because the path gets rerouted frequently.
#17 Laguna – Coast Trail
Difficulty Level: Easy
Total Distance: 6 miles
Elevation Gain: 501 ft
This beautiful hike has breathtaking coastal views. It begins and ends at the Laguna trailhead and leads you through coastal grasslands, along the coastal bluffs, and even down to the beach, if you want. About halfway through there's the Coast Campground with toilets and access to water From here you can also access Santa Maria Beach.
While this trail can be done in both directions, the most popular is clockwise. It's a moderate hike will take you about 2 hours 15 minutes to complete.
Final Thoughts
This wraps it up for today's guide that walks you through the best hikes that you can enjoy in Point Reyes National Park!
Remember to always check with the park's authorities for updates on hikes rules and regulations and make sure that you follow all the safety tips on the National Parks Service's website.
Like this article? Save it on Pinterest so you can find it again.
FOLLOW US on Pinterest and Facebook for more California travel inspiration and tips!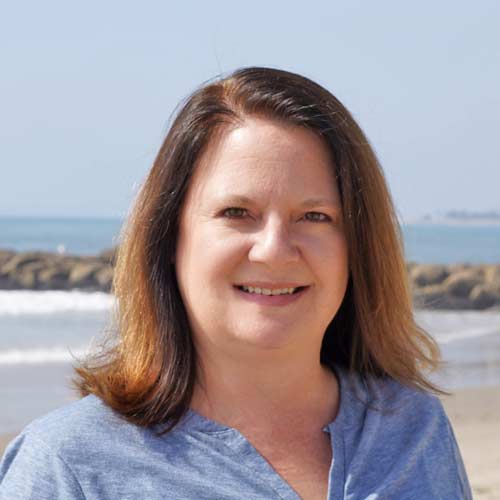 Laura is a travel fanatic who loves seeing and doing new things. She lives in Ventura, CA, and spends a lot of time exploring California's cities, beaches, and national parks.