Joshua Tree National Park in the Southern California desert is an incredible place to visit with a diverse landscape of rocky hills and towering Joshua Trees. It's open to the public all year round and no matter when you decide to explore Joshua Tree, you'll be wonderstruck by the lush scenery and stunning rock formations.
However, that isn't likely to stop you from asking when is the best time to visit Joshua Tree. The problem with this questions is that there isn't just one best time to visit Joshua Tree, because there are various activities throughout the year that might make it more appealing to you.
So when it's suggested that the best time is in the spring or fall, that might not be the best way to look at it. Several factors should come into play when you're making this decision.
Maybe you're looking for less crowds, better weather, blooming wildflowers, a fantastic glamping experience, or perfect photography conditions. Factoring this in will help you find the best time based on your personal preference.
To help you decide, we've put together an overview of each of the seasons and what makes it appealing for visitors.
» Planning a trip to Joshua Tree? Check out this comprehensive guide to visiting Joshua Tree. Then read about the best time to visit and see our guides to the best hiking and the best glamping spots.
Best Time to Visit Joshua Tree
1. Early to Late Spring
Joshua Tree National Park is a sight to behold during the spring season, which is considered one of the best times to visit. Wildflowers bloom throughout the park in late spring and early summer, adding a splash of color to the stark desert landscape.
In addition, sweeping views of lush green foliage frame the jagged rocks that characterize this unique environment. The days are filled with moderate to cool temperatures and turn into delightfully chilly nights.
Since outdoor activities like hiking and climbing are popular reasons to visit Joshua Tree, you'll want to visit when those things are still fun and not torturously hot. Summer brings scorching temperatures that make hiking difficult to enjoy, but spring has mild temperatures that only reach mid 70s in March to mid 80s in May, with cool nights, plenty of sunshine, and long nights for stargazing.
Another reason to visit in spring is the annual Joshua Tree Music Festival which takes place twice a year, in May and October. It's a 4-day event held just outside the park and it brings in a huge influx of visitors.
The months of March to May are fantastic for weather, but there can be downsides to planning a trip to Joshua Tree Park in the early spring. Visitation tends to rise tremendously during this season. Everyone wants to go when the weather is perfect, so the number of monthly visitors reaches 150,000+ in the spring. In comparison, summer brings in only about 60,000 to 70,000 people monthly.
If you do visit in spring, remember that weekdays are relatively less crowded, weekends and holidays can see the crowds triple in number. You should book in advance if you're planning to camp during this time.
2. Early to Late Summer
Summer is the least popular time to visit Joshua Tree. It being a desert probably gives you a clue as to why. The average high temperature is around 100°F during the day and around 75°F at night, with an extremely dry, desert heat and very little shade to escape to.
The temperatures can soar as high 115 degrees F, which can be quite unbearable and makes for dangerous conditions for hiking and outdoor activities. If you do visit in summer, you'll want to bring plenty of water and sun protection while exploring the park during these months.
In summer, outdoor activities that are otherwise fun become uncomfortable and even dangerous due to the potential risk of heat stroke. This season includes June, July, and August but may sometimes drag on to early September.
On the other hand, summer provides the perfect opportunity to explore without the inconvenience of navigating through huge crowds. While the weather does limit your movement during the afternoon, you'd still have plenty of time in the morning, evening, and late night to enjoy the landscape.
You can get out for a hike in the early morning, drive the Geology Tour Road in comfortable air conditioning during the day, and do some stargazing at night.
If you decide to visit during late summer, you'll might get to experience the annual Perseid Meteor Shower from mid-July to late August.
3. Mid to Late Fall
As we mentioned earlier, summer can sometimes drag right into early fall and September is still quite hot in the park. If you're wanting to do some hiking and exploring, you should wait until mid to late fall to go. The end of fall brings lovely weather to the park and is considered a great time to visit for many reasons.
Fall is the perfect season to capture the park's beauty, especially if you're a photographer or a nature-loving person. The vibrant red, orange, brown, and yellow hues completely transform the park into something out of a fairytale.
In October or November, you'll be met with beautiful weather, breezy days with temperatures from 70-80 degrees F, and chilly nights. The park is a little less crowded compared to early spring. There are night photography workshops, and a Farmer's Market on Saturdays.
To top it all off, the Joshua Tree Music Festival also takes place in early October.
4. Winter Nights
The chilly temperatures during the winter season drive away most of the crowd, but it's actually not that bad most of the winter, with daytime temperatures fluctuating around 60°F. While most outdoor activities, including hiking, cycling, etc., might be restricted due to the occasional winter flurry, most of the rock climbing, treks, and horseback riding trails are still accessible.
It might dip toward freezing at night, but if you plan well enough, you can still get out for some winter camping, which affords you the best possible stargazing opportunities, as well. And in winter, you can still enjoy the snow-covered rocks and greenery throughout the park.
Final Thoughts
While the sights are beautiful all year round, you should pick the perfect time to visit the place for several reasons. For starters, you'd want the perfect weather so you can enjoy every activity while you're there. Secondly, you'll want to avoid peak crowd seasons to make the best of your trip.
Like this article? Save it on Pinterest so you can find it again.
FOLLOW US on Pinterest and Facebook for more California travel inspiration and tips!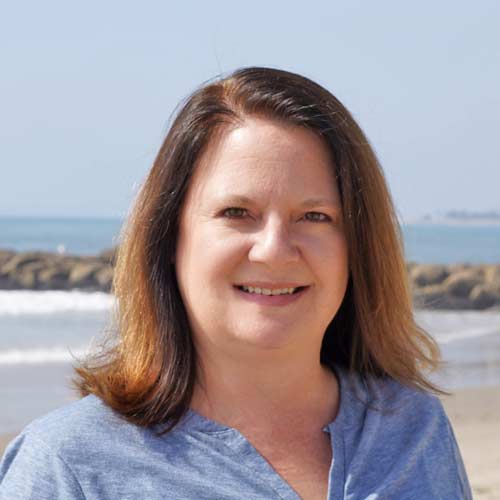 Laura is a travel fanatic who loves seeing and doing new things. She lives in Ventura, CA, and spends a lot of time exploring California's cities, beaches, and national parks.