One of the most interesting national parks in California is Joshua Tree National Park, known far and wide as a haven for the strange and eccentric. From its unique rock formations to its Mars-like landscape, and lest we forget its famous Joshua trees. Artists, adventurers, and hikers flock to the desert to explore the territory and their minds.
A remarkable result of all this creative freedom and energy turns out to be a variety of one-of-a-kind places to stay, particularly glamping spots, which have become quite popular in Joshua Tree in recent years.
» Check out these 15 Top Day Trips From Palm Springs.
From family-friendly finds to lovers' paradises, in this post, I will take you on a tour through the six most gorgeous glamping spots in Joshua Tree and help you determine which may be your perfect stay.
» Looking for more inspiration along the route? Check out all our guides to San Francisco, Los Angeles, Santa Barbara and San Diego. Find the best beaches in Monterey, waterfalls in Southern California, and national parks.
» See our guide to the best Joshua tree hikes while you're here.
How to Choose a Camping Spot
There are dozens of options available for camping in California, including the relative comfort of RV parks, National Park campgrounds, and even open forest land that's dedicated to walk-in camping.
Consider whether you would want to hike in to a spot or whether you'd like to have your car nearby with some creature comforts. Do you want to tent camp or RV camp?
Do some online research to find a spot that you like. There are websites dedicated to providing photos of campsites and the National Park Service website has photos of many campgrounds as well.
What Gear to Pack
I always recommend pulling out all your camping gear and having a look over everything before you pack it, just to be sure everything's in order.
The last thing you want is to find the poles for the tent didn't get packed! A few days before leaving, be sure to pull out all the gear and take an inventory. You can do that that with the help of this handy camping checklist.
For comfort: Tent, sleeping bag, mattress, pillow, tarp for under the tent
Practicalities: Lantern, first aid kit, bug spray, camp chairs
For cooking: Camp stove, pot/pan, cups, utensils, ice cooler
Glamping Spots in Joshua Tree
#1 The Castle House Estate
The Castle House Estate may be the most famous glamping experience in Joshua Tree in terms of its notoriety online. It can seem like a different friend or celebrity is constantly posting aesthetic Instagram photos of their stay in the white towers.
While considered "glamping" by many, this option is definitely on the more luxurious side, including a seasonal swimming pool, room service, and a sun terrace for guests. The estate consists of several other glamping options as well.
Guests can choose from large tents, a container home, and a trailer for their stay. Because of the possibility of sleeping so many, the Castle House Estate has become a popular destination for desert weddings and other events.
Each tower has a rooftop seating area perfect for stargazing and sunbathing with a fantastic view of the surrounding mountains and landscape.
#2 AutoCamp Joshua Tree
If you are looking for an amazing getaway, AutoCamp may be the perfect place. With 5 airstream suites to choose from there are accommodations to fit every need. Fully functional kitchenettes, modern bathrooms with walk-in showers, and heat and air conditioning provide style and comfort.
This stay is 9 miles from the Maze Loop Trail and 10 miles from Eureka Peak, so if you are up for a day hike, you are in the right place. When you return from your walk, enjoy the seasonal pool or relax by the outdoor fire pit. Free Wifi is also available if you need to get any work done or just watch a movie before bed.
Brush up on your constellations beforehand because, with little light pollution, the desert provides a clear view of the milky way. There are few places around with views of the night sky that can compete.
#3 28 Palms Ranch
Located in Twentynine Palms, California, 28 Palms Ranch offers such comfortable living that it may be hard to leave. Defining itself as a "yurt village," the ranch is also a great way to meet fellow desert visitors.
Wake up to beautiful mountain views from the patio and make breakfast using your tent's fully equipped kitchenette. After breakfast and coffee, Boy Scout Trail (a popular hiking destination) is only 6 miles away and offers an excellent option for those trying to experience Joshua Tree's famous natural elements.
You may end up tired and a bit sticky from your day hike, but 28 Palms ranch offers each guest a private bathroom and solar shower to clean up in – a true luxury in the desert dirt.
If you are hungry after a long day of exploration, a communal grill sits outside the "luxury tent" and is a perfect spot to grill some hotdogs or veggies for dinner. If you're looking to make friends, an easy hack is to bring ingredients for smores and share them with surrounding glampers.
Happy and full, crawl into your handcrafted Mongolian yurt and enjoy the quiet of the desert. Each yurt comes with a luxurious queen bed waiting inside for an amazing restful night.
#4 Family Style Stargazing Yurt
Another great yurt experience is that of Family Style Stargazing Yurt. This glamping destination offers air conditioning and heat depending on the time of year and a bathroom and shower for each guest as well.
Each yurt also holds a king-size bed, adding further to the comfort of the experience. Optional heat and a shower make this stay a great option for winter in the desert as the conditions become frigid.
The property is located 10 miles from Willow Hole and 5 miles from Boy Scout Trail, two popular hikes you can read more about in our 7 Best Joshua Tree Hikes blog post. With activities nearby and the luxuries of this stay, it is often a recommendation for those traveling with their children or other family members.
Shaded picnic tables and fire pits outside of each yurt provide great options for playing games or telling spooky stories after dinner.
#5 Flying Point Homestead
Flying Point Homestead is a rustic getaway that offers two homes as well as a vintage camper for those looking for a glamping experience. The various stays make this a great option for family or group stays. Even your friend who hates camping will love this stay!
Each unit on the homestead provides a full kitchen, including a refrigerator, a microwave, and a coffee machine. Enjoy mountain views from the patio as you barbeque dinner on one of each unit's grills.
Flying Point Homestead is just 6.5 miles from Fortynine Palms Oasis Trail if you're looking for a scenic way to spend your day. Pack a picnic lunch and enjoy it in the shade of the palms. Be sure to pack plenty of water still as the oasis does not typically offer much of that despite its name.
#6 Desert Bubble
The Desert Bubble glamping experience is one of the most unique glamping stays you will find worldwide. This eccentric, otherworldly stay places campers in their own clear bubble that gives them surrounding views of the desert and stars at night.
In its secluded location on a 30-acre lot, the Desert Bubble offers some of the best views of the night sky. You'll surely be the first to spot any incoming flying saucers from your transparent bubble walls.
A large deck provides an outdoor seating area for those looking to cook and spend time outside. If guests feel like eating out, this stay is only 13 miles from Joshua Tree National Park, outside of which restaurants and shops can be found. The park is also full of hiking trails and other camping opportunities for anyone who would like to plan an extended trip.
Tips for Visiting Joshua Tree
For those unfamiliar with Joshua Tree and the surrounding desert, it is essential to note that the weather can be very extreme, from heat to frigid temperatures. Because of this, hiking and camping are usually not recommended in the summer months, and it is important to pack plenty of warm clothes in the winter months. Read here for the best times to visit.
Any hiking done in warmer months should be saved for early mornings and evenings and include plenty of water and snacks.
Additionally, most of the National Park is not dog-friendly in an effort to preserve natural habitats, so a trip to Joshua Tree may require you to leave your furry friend at home.
Remember that Joshua Tree is a desert and it can get quite hot. Inside the park there is no water or electricity and no cafes or restaurants. So bring your own water and food.
To avoid lines at the park entrance, buy a park pass online in advance. See here for fees. A private vehicle pass for 7 days is $30. An individual pass for bikers, hikers, etc is $15. An annual pass is $55.
Conclusion
With so many fun places to stay, like these glamping spots in Joshua Tree, it's super fun to explore the park and have a unique weekend away. Try one of these spots rather than doing your own camping or driving outside the park for a hotel. I'm sure you'll love the experience.
Like this article? Save it on Pinterest so you can find it again.
FOLLOW US on Pinterest and Facebook for more California travel inspiration and tips!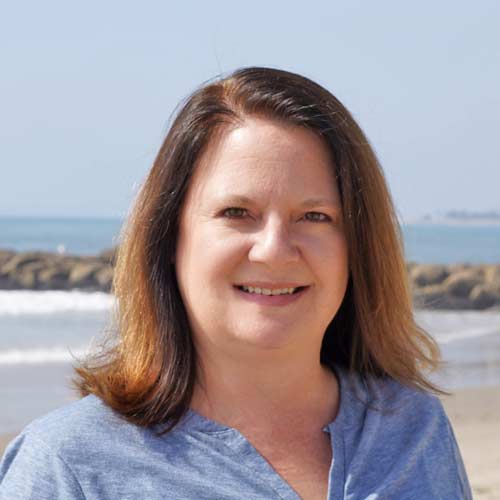 Laura is a travel fanatic who loves seeing and doing new things. She lives in Ventura, CA, and spends a lot of time exploring California's cities, beaches, and national parks.