This article was originally published on Savored Journeys.
Crowds can have a huge impact on your Disneyland Anaheim experience. If you're putting valuable time and money into your trip to the theme park, you should make sure you understand the best times to go to Disneyland and when to avoid it, if possible.
Light and manageable crowds will make your day more enjoyable and magical, due to low ride wait times and manageable lines for food and other services.
Planning your trip? We've got tons of helpful Disney planning guides from our awesome list of 40 essential tips, to how to get to Disneyland, where to stay near Disney, what to pack, what to wear, where to park, and what to eat in both Disneyland and California Adventure.
On the other hand, a super crowded park takes away a bit of the magic of Disney. Riding all the rides would not be possible and you might have to decide to skip that delicious treat or that beautiful souvenir.
It is key to have a strategy when you are planning your vacation. Following a few guidelines can help you avoid the stress and irritability of crowds.
The information below should help you plan which for your visit, whether it's choosing the best month or seeing what you'll be dealing with when you go. Then check out what to wear to Disneyland to help when you are packing.
» Also read our Disneyland Trip Planner for all the details of planning your trip, and our guide on what to take with you into Disneyland.
Best Time of Year to Visit Disneyland Anaheim
Here is a month-by-month breakdown of the crowd conditions at Disneyland in California.
January
The first days of January come with huge crowds due to the Holidays at Disneyland Resort. Christmas decorations are still up and all the fun and magic of the season lasts until January 6. The holiday crowds start dropping after this point. Skip those days of the month along with the ones surrounding MLK Jr. festive day.
If you love Splash Mountain and you are planning on visiting in January, check the dates of refurbishments for this ride, since its seasonal closure is around the last days of the holiday season. It generally opens back up in the middle of February because of the cold weather.
February
The second month of the year is a great time to visit. Not many people go to the park in February due to schools being in session and the chilly weather. Crowds will start to pick up the weekend before President's day and they will ease up after this holiday.
March
The only recommended time of the month to hit the park is the first week when schools are still in. Later in March, Spring Break season starts, schools are out, and many families decide to come to Disneyland because of the nice weather. The park gets super busy this holiday season.
April
Spring break season finishes with Easter Sunday, until then, Disneyland is very crowded. April is a beautiful time to hit the park, the weather is warm and sunny, but to avoid a very busy Disneyland consider visiting a few days after Easter.
May
The first three weeks of May are safe to visit the park due to its lack of special events. Nevertheless, the final stage of the month brings multitudes to the park, since families take advantage of Memorial Day weekend to travel. Furthermore, summer break starts in most schools, and during this holiday crowds start to boost.
June and July
These months are the busiest of the year along with the first two weeks of August and the Christmas season. All schools are out and families plan their vacation around these dates. During June and July and the start of August, expect wait times of at least 1 to 3 hours for every ride and similar lines for food ordering and shopping. All this in the very heat of summer.
August
Consider traveling to Disneyland during the last two weeks of August. By this time, schools are going back in session. Crowds will slowly start to decrease as families go back to their normal routine and summer goes into fall.
September
September is one of the best times of the year to visit Disneyland because kids are back to school, the summer holidays are over, and it is very difficult for families to travel around this period. The only few days in September to avoid, are those surrounding Labor Day, especially the weekend before the holiday. The rest of the month should have light crowds.
October
The crowds will start picking up, as it gets closer to Halloween. People love visiting Disneyland in October because of the family-friendly Halloween events around the park. Along with hundreds of spooky jack-o-lanterns and beautiful fall decorations, there are characters in costumes, an overlay for Haunted Mansion, and the night spectacular "Halloween Screams". 
November
The main event that draws people to Disneyland this month is Thanksgiving. Disneyland will remain busy until the first days of December, after Thanksgiving and Black Friday. Expect light crowds in the first weeks of November.
December
December is one of the busiest months in the park because of the Christmas and New Year's season. Around the second week, the park starts to pack up. The crowds will not get any lighter until the holidays are over, in fact, the week following Christmas into the New Year is the busiest week of the month.
Usually, this season has the same wait times as the summer holidays, ranging from 1 to 3 hours to ride, and great delays when you are ordering food or shopping for souvenirs.
Despite the swarm of people, December is the most magical time of the year at Disneyland. The Christmas decorations, activities, merchandise, and treats are a couple of explaining factors to why the park is so popular in this season.
Moreover, there is a magical "Christmas fantasy parade", where the Disney characters join Santa, ride overlays for Haunted Mansion and It's a Small World, "Believe" the nighttime spectacular with fireworks and snowfall, the "Wintertime Enchantment" at Sleeping Beauty's Winter Castle and so much more.
How to Get to Disneyland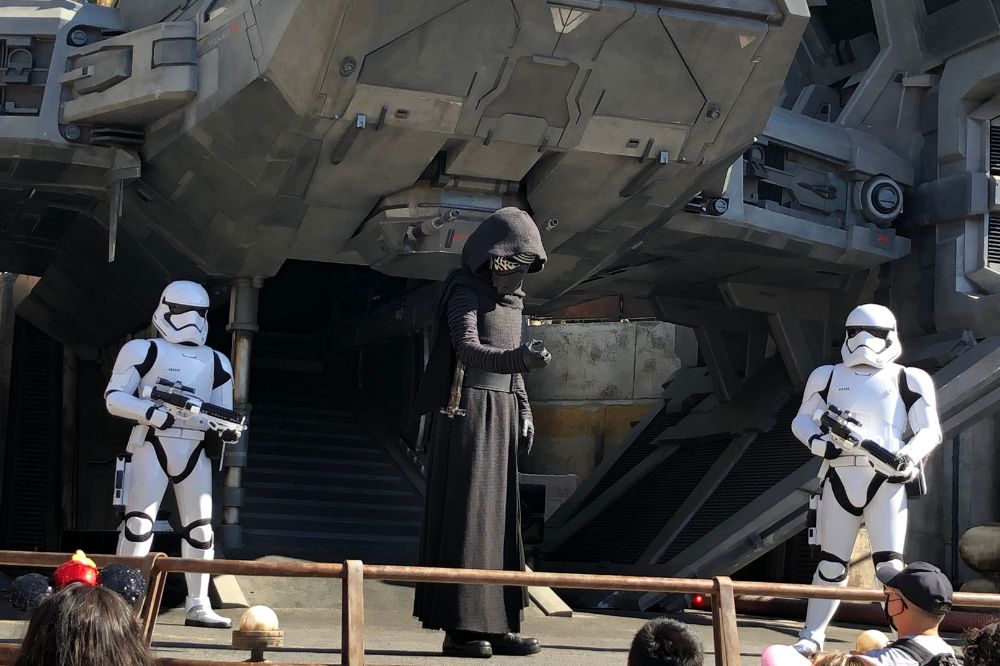 These are the main airports to choose from to get to Disneyland:
John Wayne Airport in Orange County (SNA) – 15 Miles from the park.
Long Beach Airport (LGB) – 25 Miles from the park.
Los Angeles International Airport (LAX) – 35 Miles from the park.
Hollywood Burbank Airport, Bob Hope Airport (BUR) – 45 Miles from the park.
Drive times vary depending on the time of day. On-site car rental, taxis, and rideshares are available at all airports.
Uber and Lyft are convenient options. Consider checking the price of both before deciding. Prices will vary depending on the time of day.
Shuttle services can be reserved in advance. Lansky shuttle car service has a complimentary 30 minute grocery/fast food stop on the way to the hotel and they provide car seats. Karmal Shuttle car service only goes to LAX and John Wayne Airport and they don't provide car seats.
Tips for Visiting Disneyland
Getting to and into Disneyland can be a challenge but not one that you can't master with a few of our top tips. Here are some of the things we recommend everyone do to make their trip to Disneyland exciting and smooth. Read all of our 40+ Disneyland Tips.
1. Download the Disneyland App
You can and will do everything from the Disneyland app (Apple Store | Android store) before you leave, while you are there, and even when you get home. Mobile ordering snacks and meals is super easy. Check ride times, use the map to get around, and reserve lightening lane passes through Genie+.
2. Get acquainted with the park map.
If you notice that a ride's line time is short and it is in a land that is close to where you are, you should head there.
3. Use the lockers
Take advantage of the lockers that are in the park. There is one set in the cul-de-sac between Market House and Disney Clothiers and another to the left of the ticket turnstiles before you enter the park.
4. Go on the popular rides first
The first 2-3 hours the park is open are the golden hours when the lines will be the shortest. Go on the most popular rides early to avoid long lines later.
Where to Stay Near Disneyland
There are many options for great places to stay near Disneyland, but we definitely recommend staying at a Disney hotel if at all possible.
The three Disney-owned on-site hotels are The Disneyland Hotel, The Grand Californian and Paradise Pier. All three offer early entry to both parks for their guests. The Disneyland Hotel and The Grand Californian offer wonderful dining options as well as character dining.
If you want to stay right across the street from the park, try the Park Vue Inn (3-minute walk) or the Best Western Plus Park Place Inn-Mini Suites (4-minute walk).
Final Thoughts
Overall, to outsmart the crowds, skip going to Disneyland on any holiday or within a range of one to two weeks before and after this season, depending on the length of the festivity.
Avoid weekends, visit always during the week. Passholders tend to hit the parks on Friday evening, Saturday and Sunday. If you start your vacation on a Monday and are going to visit both Anaheim parks, Disneyland, and Disney's California Adventure, visit California Adventure first and Disneyland afterward.
Changing your park order can make a huge difference because most people want to start with Disneyland first. Following these guidelines and the crowd calendar, you will be able to score the cheapest and lighter days at Disneyland.
Like this article? Save it on Pinterest so you can find it again.
FOLLOW US on Pinterest and Facebook for more California travel inspiration and tips!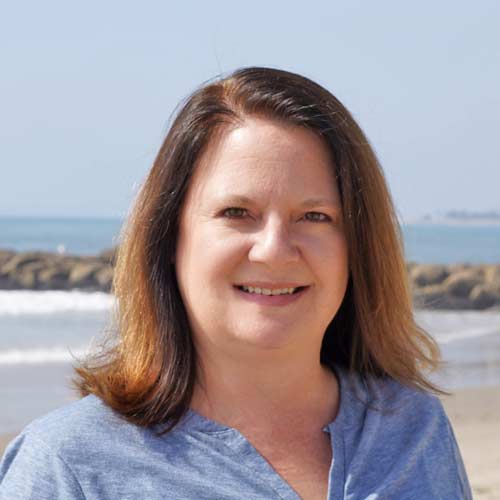 Laura is a travel fanatic who loves seeing and doing new things. She lives in Ventura, CA, and spends a lot of time exploring California's cities, beaches, and national parks.