One of my favorite things about visiting the Disney parks is the food. I know most people go for fun rides and themed areas, and I love those things too, but the food is particularly exciting because there are year-round favorites as well as seasonal foods throughout the year to discover.
If you love trying fun foods too, you're going to want to read our guide on all the Disney California Adventure foods you must try.These range from breakfast items, to snacks you can find throughout the park, to our favorite drinks and larger meals.
In my opinion, California Adventure has some of the best food with more exciting options and experiences than Disneyland, but both parks have really fun food to try.
This list doesn't include any food from Disneyland. We've got a whole other post on foods you should try in Disneyland, as well as a guide to the best desserts at both parks.
PRO TIP: Magic Key holders get discounts on food ranging from 10-20% based on the type of pass they have. These discounts are good every day. Check this list for the actual discounts.
Planning your trip? We've got tons of helpful Disney planning guides from our awesome list of 40 essential tips, to how to get to Disneyland, where to stay near Disney, what to pack, what to wear, where to park, and what to eat in both Disneyland and California Adventure.
Best Things to Eat and Drink at Disney California Adventure
1. Lobster Nachos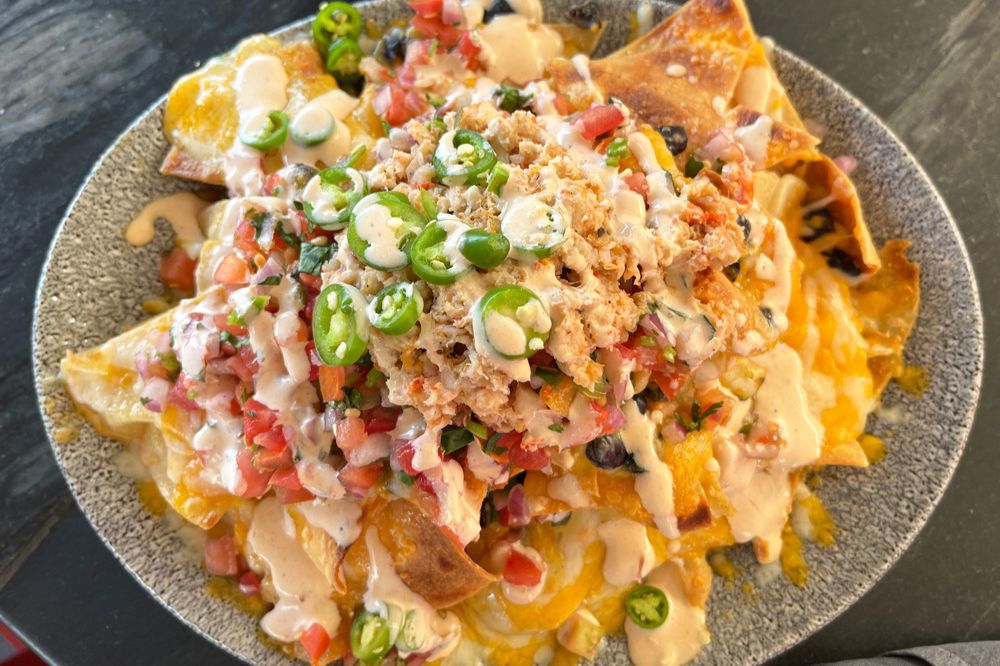 Where to find it: Lamplight Lounge in Pixar Pier
Price: $23.00
I am still dreaming about these amazing nachos. The nachos are piled high with lobster, black beans, cheddar-Oaxaca cheese sauce, pico de gallo, serrano chilies, and chipotle crema.
We were seated on the patio and it was the perfect place to enjoy a cocktail and these nachos overlooking the water.
2. Lamplight Lounge Donuts
Where to find it: Lamplight Lounge in Pixar Pier
Price: $10.00
The doughnuts at the Lamplight Lounge are so delicious. They make a great dessert after you've finished the nachos. They come with fun dipping sauces and the flavor changes with every season.
We had the seasonal pumpkin spice donuts with hot buttered rum and orange cream cheese dipping sauces. In the winter, they have peppermint donuts.
PRO TIP: Reservation are recommended at the Lamplight Lounge, but they accept some walk-up reservations. Put your name on the walk-up list with a cast member at the door. We had no problem getting a reservation, we just had to wait. They will text you when your reservation is ready so you don't have to wait around.
3. Snowman Frosted Treats
Where to find it: Pixar Pier between The Lamplight Lounge and The Incredicoaster
Price: $5.79 – $7.49
This treat is straight out of the Monsters Inc. movie. Sully and Mike Wazowski are offered snow cones by the abominable snowman. These vegan-friendly soft serve cones come in flavors like lemon, mango, or swirl and you can get it in a cone or cup.
If you are feeling adventurous try the chili lime mango with chamoy, chili lime seasoning, and diced mango.
4. QuesaBirria Tacos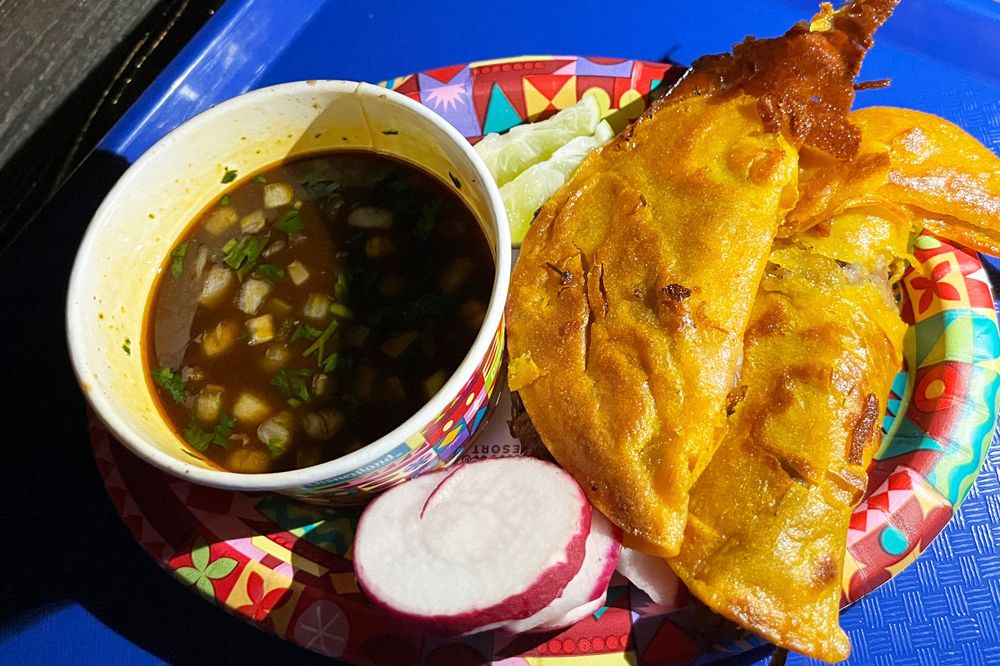 Where to find it: Cocina Cucamonga Mexican Grill in the Pacific Wharf Food Court Area
Price: $12.49
I could eat these every day! These tacos have so much flavor. Each order contains 2 braised beef and cheese tacos with tomatillo salsa and a bowl of consommé for dipping. Because they are so popular you are limited to 2 orders per transaction.
Mobile ordering is the way to go here. The standby line can get really long. Make sure to click "prepare my order" as soon as your window opens because it can take a while. This was our longest wait time in the park.
5. Cookie Crumble Hot Fudge Sundae
Where to find it: Ghirardelli Soda Fountain and Chocolate Shop in Pacific Wharf
Price: $16.50
Satisfy your sweet tooth with the many sweet treats that Ghirardelli has to offer, including this Cookie crumble hot fudge sundae. There are scoops of both vanilla and cookies and cream ice cream, topped with hot fudge, whipped cream, and chocolate chip cookie crumbles. I don't think you can go wrong with any treat from this shop. Everything looks amazing.
6. Clarabelle's Hand-Scooped Ice Cream
Where to find it: Buena Vista Street
Price: Prices range from $5.29 – $17.19
If you are looking for more ice cream treats, Clarabelle's Hand-Scooped Ice Cream shop has many awesome sundaes and ice cream bars to try. You choose your bar, then choose your toppings. The sundaes are triple-scoop, so bring someone to share it with. You can get a mint chocolate chip sundae or a strawberry sundae. They are huge.
7. Grilled Chicken Sandwich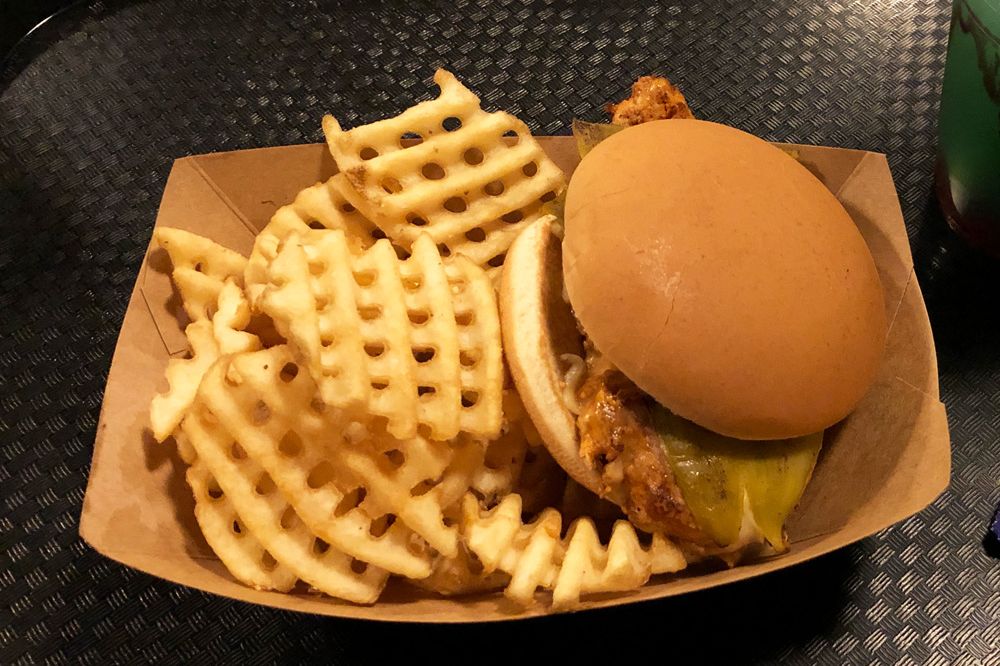 Where to find it: Smokejumpers Grill in Grizzly Peak
Price: $12.99
After a long day of rides and walking, we stopped for one of these chicken sandwiches and it was just what we needed. It is a grilled chicken breast topped with smoked provolone cheese, green chilies, tomato, lettuce, and garlic aioli. It is served with fries or onion rings.
There is plenty of indoor and outdoor seating at the Smokejumpers Grill, so you can sit and relax while you eat. Smokejumpers is located right next to Soarin'.
8. Soft Serve Ice Cream Cones
Where to find it: Cozy Cone Motel #2 in Cars Land
Price: $5.29
It's hard to resist a great soft serve cone. The Cozy Cone Motel is the place to get one. They have chocolate, vanilla, and swirl cones and nothing is better on a hot day.
If you find yourself there around sun down, find a seat on a bench and wait. You will be in the perfect place to watch all the neon lights come on to Cars Land and hear "Life could be a dream" play.
Just as a side note, The Cozy Cone Motel is mobile order only. They will turn you away if you try and walk up to the window to order.
9. Bacon Mac 'n' Cheese
Where to find it: Cozy Cone Motel #3 in Cars Land
Price: $9.99
This yummy treat was made to be eaten while walking around the park. It is the perfect grab-and-go meal because it comes in a handy bread cone.
This mac and cheese is super creamy and served with bacon on top. If you love the idea of this grab-and-go style food, you'll want to try the other bread cone offerings too. The chili cone queso has beef chili, cheddar cheese, and corn chips.
10. Jack-Jack Cookie Num Nums
Where to find it: Pixar Pier where you exit the Incredicoaster
Price: $7.50
If you've seen The Incredibles 2 you know that the Par family has to entice baby Jack-Jack with cookie num nums to behave. Well, this is the theme park version of that treat. These large chocolate chip cookies are warm and melty right out of the oven. It is definitely big enough to share.
11. Cosmic Cream Orb
Where to find it: Terran Treats Cart in Avengers Campus
Price: $6.25
These cream orbs are crispy cream puff with a fruity sweet and sour raspberry cheesecake mousse filling and they are served cold. This is a super fun treat that we really liked. Don't go in thinking it is a chocolate treat, even though it does look like it.
The choux pastry has a crumble on the outside that is not overly sweet, but just really refreshing.
12. Quantum Pretzel
Where to find it: Pym Test Kitchen in Avengers Campus
Price: $12.99 – $10.49
This humongous pretzel is served with a sharp cheddar-beer dipping sauce. It is bigger than your head and perfect for sharing.
13. Elote Pretzel
Where to find it: Pym Test Kitchen in Avengers Campus
Price: $12.99 – $10.49
If you love pretzels, I think one of the best things to get is the elote pretzel. It is topped with corn three ways, cilantro, radish and cotija cheese and flavored crema. It's like a whole meal, instead of just a pretzel.
14. Not So Little Chicken Sandwich
Where to find it: Pym Test Kitchen in Avengers Campus
Price: $15.49
This sandwich is both tasty and fun! The chicken is super crispy but juicy and is served on a teeny tiny bun. On it are tasty teriyaki and red chili sauces and fresh pickled coleslaw, and it's served with a side of well seasoned crispy tater tots.
We really enjoyed this sandwich and the atmosphere surrounding Pym's. You can enjoy the fun of Antman and The Wasp.
15. Cocktails & Non-Alcoholic Drinks at Pym Test Kitchen in Avengers Campus
Where to find it: Pym Test Kitchen in Avengers Campus
Price: $15-30
Avengers Campus is a great place to sit with a cocktail and people watch. Characters walk by on their way to the catwalk overlooking the campus while Spiderman leaps off the building around the corner. We spent a little bit of time there ourselves, attempting to try as many cocktails as we could. Here are a few of our favorites.
The X-Periment Cocktail is made with Patrón Silver Tequila, mango and habanero syrups and is topped with mango flavored boba. That's the one pictured above.
You might also like the Honey Buzz Cocktail, pictured above. It's gin, lemon juice, and honey, along with a honey straw (basically a stick of honey). Both of the above cocktails are served in plastic Pym Technologies beaker cups that you can take home.
If you are looking for some non-alcoholic drinks, Pym Tasting Lab and Pym Test Kitchen have some fun options. Popping particle punch is a carbonated pineapple soda with grenadine and flavor bursts. Proton punch is lemonade with berry puree and cherry boba. The fun part about this drink is that it is served with a grenadine filled pipette to add more flavor.
16. New York's Tastiest
Where to find it: Shawarma Palace in Avengers Campus
Price: $13.99
New York's Tastiest is a grab and go wrap filled with seasoned chicken, pickled vegetables, and coconut yogurt-tahini sauce. We ate ours while waiting in line for the Radiator Springs Racers ride. A very tasty way to pass time in a long ride line!
They also have an Impossible Victory Falafel, which is plant based, a cauliflower wrap, and a breakfast wrap as well.
17. Celestial-sized Candy Bar: Choco-Smash CANDY Bar
Where to find it: Pym Test Kitchen in Avengers Campus
Price: $7.99
If you are looking for an afternoon chocolate fix, get one of these Choco-Smash bars. This candy bar is enormous! It has layers of brownie, nougat, caramel, peanuts, and dark chocolate. I highly recommend sharing it with a few of your friends!
18. Clam Chowder in a Bread Bowl
Where to find it: Pacific Wharf Café on Pacific Wharf
Price: $11.99
You definitely won't leave hungry after this wonderful clam chowder served in a sourdough bread bowl. It is creamy and delicious, just as clam chowder should be. You can watch the bread bowls being made and even sample the bread at The Bakery Tour right behind the Café.
19. Asada Fries
Where to find it: Award Wieners in Hollywood Land
Price: $11.99
These asada fries were a pleasant surprise. The fries are called filmstrip fries. They are a perfectly crispy swirling ribbon of potato that is crispy on the outside but fluffy on the inside. They are piled high with marinated carne asada, guacamole, onion, and cilantro.
20. Coffee!
Where to find it: Cappuccino Cart in Pacific Wharf
The cappuccino cart is a quick and easy way to grab a coffee in the morning or your afternoon caffeine fix while walking around the park. Look for seasonal coffee items along with pastries and breakfast burritos. Mobile order early as pick-up times can get pushed out past an hour during busy times. The coffee tasted better here than any other place in the park.
A Little About Mobile Dining
This is one of our favorite tips. Mobile ordering is so fast and easy. From the park map in the Disneyland app simply click the plus icon at the bottom of the screen and select order food. From there you can choose the restaurant and pick-up time, choose your food and pay.
You will receive a notification when you are within your order window. Then you press the button for "make my order" and pick it up at the mobile order pickup window they assign you.
You need to be aware that the pick-up time may be out an hour or two during busy times of day. It is a good idea to check times in advance in case wait times are longer than expected. You don't want to wait until you are hungry to find this out.
Pro Tip: Once you have placed your order, and are within the window of time chosen, you will receive a push notification that your order is ready to be prepared. Even if you are still walking to your destination, start the preparation process by clicking "I'm here".
During busy times it can take quite a while to prepare your food. You will receive a notification when the food is actually ready to be picked up at the window once. Save time by starting the preparation while you are on your way to the restaurant.
How to Make Dining Reservations
Reservations open 60 days in advance at 6 am pacific time. This is the best time to get the dining reservations that you are hoping for. If you miss the 60-day window, there are websites, such as mousewatcher.com you can subscribe to that will send you alerts when a reservation becomes available.
If you miss out on that window to make reservations don't give up. Reservations may become available because of cancellations so keep checking back. Also, many restaurants will take walk-up reservations the day of. Check the app to join walk-up lists or check with the restaurant in person.
Top Tips for Dining in Disney California Adventure
Share portions – If you want to try a lot of different things, you will need to save space and the best way to do that is to share a snack or food item amongst your group.
Use mobile ordering: Mobile ordering allows you to order food in advance for a specific pick up time. This can save you a ton of time and help you plan ahead. The best way to use it is to spend a few minutes looking at it about 1-2 hours before you want to eat. Find what you like and choose a time. Sometimes a particular place fills up and you can't get a time, so planning in advance will help avoid that.
Pacific Wharf – This food court is located on the water and it has all kinds of restaurants, bars, and options to make everyone happy. If your group can't decide on one thing to eat, go there and everyone can get what they want.
Make Dining Reservations – You can make table service reservations up to 60 days in advance and for some restaurants the slots get booked up within minutes of being available. It's usually better to use mobile ordering and be okay with quick serve items.
Frequently Asked Questions
Are there any vegetarian or vegan options?
Yes, there are vegan and vegetarian options, though the choice is obviously way less. Look for the leaf on menus that shows the item is meat, dairy, egg, and honey free.
You can find plant-based menu items like the Philly Dog at Award Weiners and Spaghetti with Impossible Meatballs at Boardwalk Pizza & Pasta. For dessert, try the It's Lemon soft serve or Vanilla Coconut non-dairy ice cream at Ghirardelli's soda fountain.
Are there gluten free options?
There are quite a few gluten free options on menus throughout the park. If you're gluten free, you'll know best which items don't contain gluten on the menu.
As for items that are served on gluten-free bread, the roast beef & cheddar sandwich at Flo's V-8 Cafe is served on a gluten free bun. At Smokejumpers Grill, many of the items are gluten free, including the chili cheese fries.
I would recommend looking through the Disneyland app at all of the restaurant menus before you travel. Most menus have a section at the bottom with all of the special dietary restriction menus.
They have gluten/wheat allergy friendly, egg allergy-friendly, milk allergy-friendly, fish/shellfish allergy-friendly, peanut/tree nut allergy-friendly, peanut allergy-friendly, and soy allergy-friendly options.
Like this article? Save it on Pinterest so you can find it again.
FOLLOW US on Pinterest and Facebook for more California travel inspiration and tips!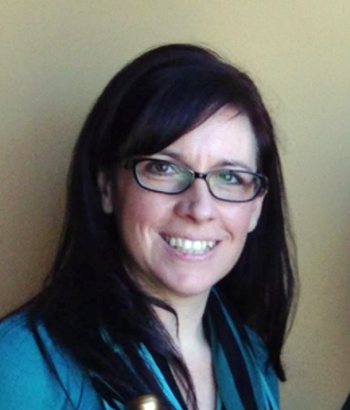 Angie is a long-time California fan, having lived in the Monterey area for many years. She loves reading, cooking, and hanging out with her two kids.