If you're looking for a warm beach in California, check out our list below, which has 12 of the warmest beaches in Southern California.
Not surprisingly, most of the warmest beaches in California are located in Southern California, which is generally much warmer than the rest of the state. The farther south you go, the higher the temperature, regardless of the time of year.
While Southern California's beaches are the warmest in the state, offering a dry and sunny atmosphere pretty much all year long, some beaches get hotter than others because of the way they are oriented – where the land juts out forming south facing beaches that get a few degrees warmer than other beaches.
»» Read more about Southern California's waterfalls, hikes, beaches, and camping spots.
» Looking for more inspiration along the route? Check out all our guides to San Francisco, Los Angeles, Santa Barbara and San Diego. Find the best beaches in Monterey, waterfalls in Southern California, and national parks.
Warmest Beaches in Southern California
1. Long Beach
* Warmest daytime temperatures, topping 84 in August
The average high temperature at this beach is 84 degrees in summer and 68 degrees in winter, making it the warmest beach – for daytime temperature – on our list. Long Beach is only half an hour from Los Angeles and has 11 miles of shoreline, much of which is soft sandy beaches.
Because of the temps and the great recreational activities in Long Beach, it's also quite family-friendly, so it also tops our list of the most popular beaches in Southern California.
We've often watch the kitesurfers on Belmont Shore, where there's also the opportunity to go paddleboard and rent kayaks. When the weather's at its nicest, we like to just hang out at Alamitos Bay Beach and stay to watch the dramatic sunset.
Alamitos Park Beach is great for swimming, since it's well-protected by the breakwaters. The waters are relatively calm and the sun beating down really makes you glad you can get in. perfect for average swimmers and supervised children because of the relatively calm waters there.
Long Beach also offers paved bike and walking paths, showers, and restrooms. The only thing we don't love is how busy it can get in the heat of summer, and you have to get really lucky to snag a parking space.
2. Seal Beach
One of the best things about Seal Beach is that you can take a sunset walk on the pier and enjoy the breathtaking views. You can see seals and dolphins, watch the surfers on either side of the pier, and enjoy the dramatic sunsets. Long Beach will also be in your scope of sight, because Seal Beach is located between it and Huntington Beach.
You can expect the average high temperature to be around 83 degrees in summer and 67 degrees in winter at Seal Beach.
You can enjoy several activities like volleyball and surfing, and of course, sunbathing and swimming. The warm atmosphere makes it an ideal fishing and bodyboarding location.
The beach offers numerous amenities, including play areas for children, fishing piers, parking spaces, volleyball courts, showers, and restrooms. You'll also find several restaurants and shopping places on the beachfront.
3. Manhattan Beach
High temperatures of 75 degrees in summer and 65 degrees in winter make Manhattan Beach one of the warmer beaches, though certainly not the warmest. Long Beach and Seal Beach are warmer, but we actually enjoy Manhattan Beach a bit more in the summer because it's a little more low-key.
Manhattan Beach's soft and smooth sandy beaches are perfect for those long walks on the beach we always talk about (wink wink) and, of course, for playing beach volleyball. The water is great for swimming and surfing, as well. When you're done with the beach, there's a cute village area with restaurants and shopping.
Manhattan Beach offers numerous amenities, including restrooms, showers, bike paths, concession stands, and restaurants. The beachfront also has an access ramp and beach wheelchairs.
4. Avalon Beach, Catalina Island
* Warmest water
Avalon Beach is located on Santa Catalina Island, which can be reached by ferry from the mainland. This is where you'll find the warmest water on the beach in Southern California. The water here can get up to 70 degrees F in August.
If you're vacationing on the island, it's likely you'll have a hotel near Avalon Beach. We like to stay at the Hotel Vista Del Mar because it's overlooking Avalon Bay and has an incredible view.
Check out our list of all the great things to do on Catalina Island. Spending time in the warm water is definitely on the list, kayaking, windsurfing, swimming, paddleboarding, it's all possible here and even more fun because the water is so inviting.
5. Newport Beach
* Warmest water
The ocean water near Newport Beach has temperatures that peak at about 72°F around the beginning of September, which is some of the warmest on the Pacific coast.
The beach's location is one of the main factors in why it stays warm most of the year. It gets shelter from the Balboa Peninsula. And that's where all the fun is at too! Families especially love Newport Beach because there are a lot of varied activities to do there.
I personally love walking on the pier, laying out and playing on the beach, and capping it off with a messy seafood dinner at The Crab Cooker.
6. Laguna Beach
The average high temperature in summer at Laguna Beach is 79 degrees and 67 degrees in winter. It has a warm Mediterranean climate that can become a bit oppressive during the hottest month of August, largely because the beach is pretty packed that time of year.
Located just an hour south of Los Angeles, this town is popular because of its location, but also because of its seven miles of coastline, coves, and beaches. Laguna beach offers tide pools, marine sanctuaries, hiking paths, and sea caves. It's also a great scuba diving, body surfing, and snorkeling spot. And don't forget the art scene, which is particularly great here.
One of the places we like to stay when we visit is the Surf & Sand resort. It's right on the oceanfront and all the rooms have an ocean view. It's like being on a cruise ship – all you see is water when you look out the window.
7. La Jolla Shores Beach
La Jolla, just to the north of San Diego, is one of those special places that draws you in with its beautiful beaches and views. Being a small community, it has an appeal that other larger beach areas don't have. This beach averages high temperatures of 79 degrees in the summer and 66 degrees in winter.
We particularly like La Jolla Shores Beach, a mile-long beachfront of clean, soft sand. Other beaches in La Jolla are small and rocky, and/or covered in barking sea lions, so we always head to La Jolla Shores to enjoy the sand.
The ocean in La Jolla Shores is perfect for scuba diving, surfing, and swimming. The soft sand also makes it a prime location for family activities and beach volleyball.
The great thing about this beach is that it has separate areas for swimming and surfing. There are also designated boat launches, fire pits, and volleyball locations. You can find free parking spots on that shoreline, if you're lucky. It's a very popular beach in summer. There are also several restaurants around.
La Jolla is a great place to view seals and sea lions. Here are the 5 best spots to view them.
8. Solana Beach
The average high temperature in Solana Beach is 77 degrees during the summer and 65 degrees during the winter. The word "solana" is Spanish for sunshine, which we think is a perfect way to describe this beach.
Solana Beach is on San Diego County's northern coast, only 30 minutes away from downtown. There are many amazing beaches to explore like Tide Beach Park, which is popular for its tide pools and enormous reef. And Fletcher Cove Beach – the main beach – that's ideal for swimming and surfing, and has a spectacular sunset.
You can enjoy live music performances as you eat and shop around. If you like festivals, make sure to be there in May, when the community celebrates the annual Fiesta del Sol. And save some time to explore the numerous scenic trails.
9. Oceanside
With average high temperatures of 77 degrees in summer and 65 degrees in winter, Oceanside definitely earns its place as one of the warmest beach in Southern California. It is home to three miles of beaches, including the largest, Harbor Beach, which is a favorite with surfers.
During the summer, Oceanside Boulevard Beach has a designated spot in front of the lifeguard stand for swimmers, waders, and bodyboarders only. The beachy areas on either side of the pier are the most popular, especially to the south where many competitions are held, along with events at the amphitheater. I prefer the beach to the north though, because it's less crowded.
Tyson Street Beach doesn't accommodate the surfers because it's a bit rocky. It's better for picnics.
Oceanside is known for hosting endurance events and international surfing competitions. The place offers parking, volleyball courts, picnic areas, restrooms, showers, and fire pits.
10. Imperial Beach
The average high temperatures at Imperial Beach are 75 degrees in summer and 66 degrees in winter. It is situated in San Diego's South Bay region, which is only five miles away from Mexico's border!
Because of its endless activity options, you can visit Imperial Beach any time during the year. Horseback riding, beach volleyball, fishing, surfing, and swimming are only a few examples of the things you can do there.
If you enjoy bird-watching, you'll be thrilled to learn that the Tijuana River National Estuary is located in Imperial Beach. It is also home to the Outdoor Surf Museum. If riding horses along one of California's most beautiful beaches isn't enough, you can catch a sight of the outstanding Los Coronados Islands.
You'll find showers and restrooms at all the beaches. There are also plenty of restaurants near Imperial Beach.
11. Avila Beach
* Warmest beach in winter
Avila Beach is actually more Central Coast, if we're being technical, but it's where you'll find one of the highest daily temperatures on the coast, with an average 82 degrees in summer and 61 degrees in winter.
If you're going with children, they will enjoy searching the sand for shells and other unique finds. The warm climate also makes it a great location for surfboarding and swimming.
Avila Beach is also home to Avila Hot Springs, which was discovered in 1907. There are various activities, including tent camping, cabin camping, an arcade, heated pools and waterslides, and a hot thermal soaking pool that you can enjoy there.
The beach offers picnic spots, a children's play area, showers, and restrooms. It is also not far from Pismo Beach and San Luis Obispo, so you can enjoy the many restaurants and activities.
12. Santa Barbara
The average high temperature in Santa Barbara is 78 degrees during the summer and 66 degrees in winter. Some of California's best and sunniest beaches are in Santa Barbara.
There are actually 4 miles of beaches there, and the waters are calm and suitable for surfing. Each beach has its unique traits. Leadbetter Beach, for instance, is among Santa Barbara's most renowned beaches, particularly when it comes to surfing.
East beach, on the other hand, is known for being a great candidate for volleyball and similar family activities. Butterfly Beach serves as a great location for relaxation and enjoying the sunset. Most beaches have showers and restrooms.
Final Thoughts
It's no surprise that California's warmest beaches are located in the state's southern region. Not only are South California's beaches sunny and dry, but they're also home to a wide array of activities, amenities, and facilities. Most beaches are well-rounded and family-friendly and offer breathtaking views.
Like this article? Save it on Pinterest so you can find it again.
FOLLOW US on Pinterest and Facebook for more California travel inspiration and tips!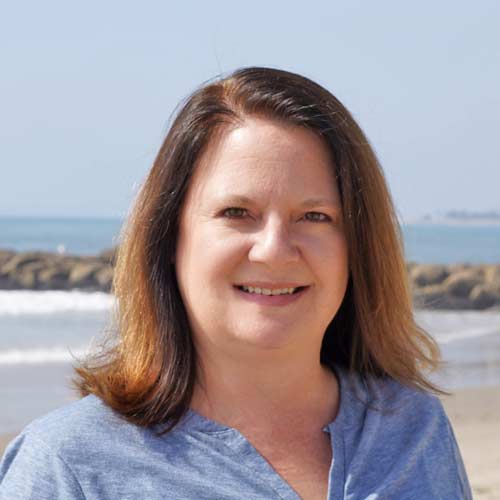 Laura is a travel fanatic who loves seeing and doing new things. She lives in Ventura, CA, and spends a lot of time exploring California's cities, beaches, and national parks.