One of California's most famous draws is the opportunity to experience the magic of Disneyland and Disney's California Adventure. For many families, getting to visit either of these Disney park is the highlight of the year or even the most beloved memory of childhood.
We know that many of those who choose to visit these parks put in months of saving, planning, and traveling. And some visitors will need to choose between the two parks due to time constraints or budget. A one-park-per-day ticket currently costs between $134 and $164, depending on which day of the month your visit is booked.
» You might be interested in Is Disney Genie+ Worth It?
Because of this, we want to help you make the right choice when planning your Disney vacation. Both parks are immersive experiences full of unique attractions that anyone is sure to enjoy, but some key differences may determine which park is a better fit for you or your family.
Keep reading to learn more about what makes Disneyland and California Adventure so amazing, as well as what makes them unique from each other. Then check out how many days you need to spend at Disneyland.
Planning your trip? We've got tons of helpful Disney planning guides from our awesome list of 40 essential tips, to how to get to Disneyland, where to stay near Disney, what to pack, what to wear, where to park, and what to eat in both Disneyland and California Adventure.
Disneyland Versus California Adventure
Disneyland
Disneyland's original theme park was opened in 1955, decades before California Adventure existed. Because of this, some of Disneyland's most significant appeal comes from this historical charm and the nostalgia that it gives.
When you enter the park, you'll be transported back in time through Disneyland's first themed land, Main Street, modeled after small American towns in the early 20th century. Aspects of Disneyland's founder, Walt Disney, and the park's early history are kept alive throughout Main Street. Some examples include the authentic gas lamps that still line the streets or the flame that is kept lit above the fire station.
Main street was created with the goal of taking you back to simpler times with its candy shops, arcades, and hometown feel. Large parades can take over Main Street, right before the park's fireworks display.
Once you've made your way through Main Street, you'll find yourself face to face with the fantastic sight of Sleeping Beauty's Castle: the park's most famous attraction and the symbol of Disney as a whole.
Below the castle are various entrances to the park's nine themed lands: New Orleans Square, Frontierland, Critter Country, Fantasyland, Tomorrowland, Mickey's Toon Town, Main Street, Tomorrowland, and the newest land Star Wars: Galaxy's Edge. Each land is an entirely different immersive experience that makes you feel as though you've landed somewhere completely different. Each themed land offers specialized food, characters, and rides.
Many of the park's original rides are still found throughout these lands, and while tweaks are made to keep them updated and safe, most of their original features are preserved and remain a huge draw to visitors who value the park's history. Some of these rides include Autopia, The Jungle Cruise, and the Mad Tea Party, among others.
While history is of great value to Disneyland and its keepers, it does not mean the park is outdated in any way. New rides and attractions are constantly being added to the park's offerings.
The newest lands to be found is Star Wars: Galaxy's Edge and there are several rides that come with it. To Star Wars fans, this alone is often plenty enough reason to choose one park over the other.
Another benefit of choosing Disneyland over California Adventure is enjoying some fine dining in the Blue Bayou or the adjacent secret members-only Club 33. Both of which are found on Royal Street in New Orleans Square.
Here are some other features that are specific to Disneyland:
Pirates of The Caribbean Ride
Haunted Mansion
Splash Mountain
Indiana Jones Ride
Space Mountain
The Matterhorn
Big Thunder Mountain Railroad
The opportunity to paddle canoes, ride a steamboat or ship on the River of America
» Read here for how to do Disneyland in A Day.
California Adventure
Being built about 50 years after Disneyland, California Adventure is less rooted in its history and more modern in creation and theme. The younger park also remains focused on celebrating the state of California and its many wonders, rather than the entire world, as Disneyland does. This is clear through the prominent palm trees and old Hollywood motif, which many visitors see upon entering the park.
The two parks remain so different in what they offer that they are difficult to compare, but some other aspects make California Adventure unique from its predecessor.
A massive perk of California Adventure, to many, is the larger rides and rollercoasters and the option to purchase alcoholic beverages throughout the park. Because of these two differences, the demographic in this park can sometimes be slightly older.
Some of the larger rides found in California Adventure include The Incredicoaster and Guardians of the Galaxy – Mission: BREAKOUT! that has replaced the original Tower of Terror Ride. While this park does offer some more thrilling rides, there are still plenty to enjoy for smaller children or those who don't consider themselves adrenaline junkies.
There is a fun obstacle course and interactive activities for small children that are not found in Disneyland, such as the Redwood Creek Rope Course.
While Disneyland attracts Star Wars fans, the same can be said for Marvel fans and California Adventure. The Park's collection of Marvel attractions is constantly growing and now includes an entire themed land called the Avengers Campus. Inside the Avengers campus, visitors can find the popular ride Web Slingers: A Spiderman Adventure ride, and a live show based on the marvel hero Doctor Strange.
Avengers campus is only one of eight themed lands throughout California Adventure; the others include Cars Land, Buena Vista Street, Grizzly Peak, Pacific Wharf, Hollywood Land, Pixar Pier, and Paradise Gardens.
Disney California Adventure is often the favorite park of Pixar fans as it is home to attractions celebrating all of the world's favorite Pixar films. Cars Land is a newer addition to the park and has become a quick fan favorite, transporting visitors to Radiator Springs, where they can enjoy Cars-themed restaurants, rides, and shops.
In our opinion California Adventure has some of the best food with more exciting options and experiences than Disneyland, but both parks have really fun food to try.
Pixar Pier is another recent addition with rides and games themed around The Incredibles and Toy Story, among other Pixar movies.
There seems to be a more fluid mindset regarding attractions in California Adventure, as there are often new activities based on the latest Disney and Pixar films. In contrast, changes in Disneyland typically tend to be more extensive and more planned out. This can be a perk to those who return often and are looking for changes in scenery.
Here are some other features unique to California Adventure:
Ariel's Undersea Adventure
The Beast's Library
Monsters Inc Mike and Sulley to the Rescue Ride
Redwood Creek Challenge Trail
Soarin' Around the World
World of Color Show
» Read here for how to do Disney's California Adventure in One Day.
Which Should You Choose?
While no true Disney fan could claim that one park is superior over the other, there are no doubt some perks to each that may stand out to visitors. We hope that this post has made it a bit easier to make your choice, and if not… looks like you'll just have to visit again!
Where to Stay Near Disneyland
There are many options for great places to stay near Disneyland, but we definitely recommend staying at a Disney hotel if at all possible.
The three Disney-owned on-site hotels are The Disneyland Hotel, The Grand Californian and Paradise Pier. All three offer early entry to both parks for their guests. The Disneyland Hotel and The Grand Californian offer wonderful dining options as well as character dining.
If you want to stay right across the street from the park, try the Park Vue Inn (3-minute walk) or the Best Western Plus Park Place Inn-Mini Suites (4-minute walk).
How to Get to Disneyland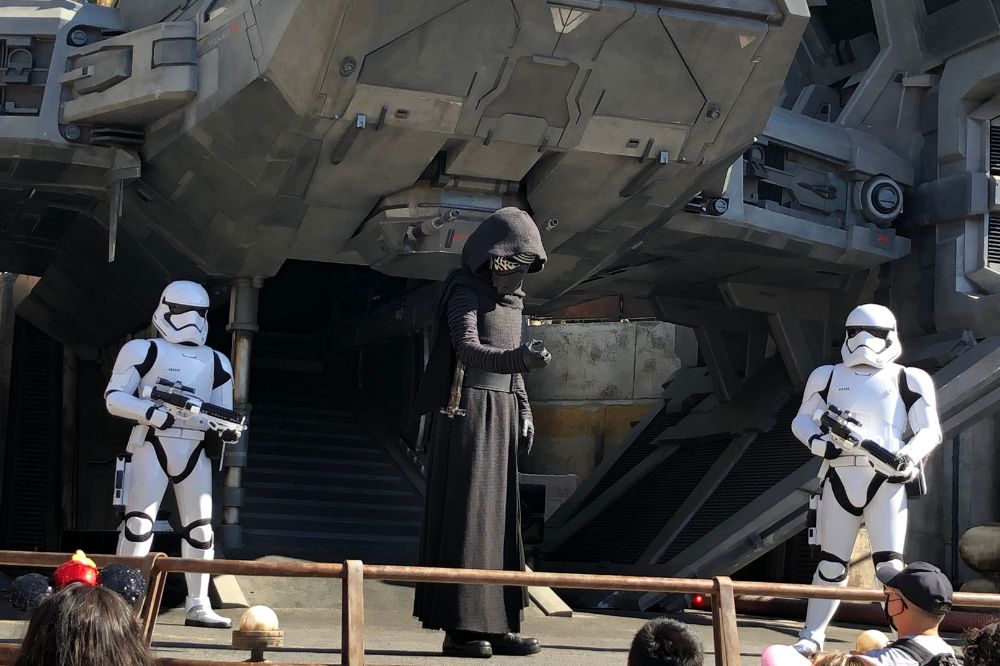 These are the main airports to choose from to get to Disneyland:
John Wayne Airport in Orange County (SNA) – 15 Miles from the park.
Long Beach Airport (LGB) – 25 Miles from the park.
Los Angeles International Airport (LAX) – 35 Miles from the park.
Hollywood Burbank Airport, Bob Hope Airport (BUR) – 45 Miles from the park.
Drive times vary depending on the time of day. On-site car rental, taxis, and rideshares are available at all airports.
Uber and Lyft are convenient options. Consider checking the price of both before deciding. Prices will vary depending on the time of day.
Shuttle services can be reserved in advance. Lansky shuttle car service has a complimentary 30 minute grocery/fast food stop on the way to the hotel and they provide car seats. Karmal Shuttle car service only goes to LAX and John Wayne Airport and they don't provide car seats.
Tips for Visiting Disneyland & California Adventure
Getting to and into Disneyland can be a challenge but not one that you can't master with a few of our top tips. Here are some of the things we recommend everyone do to make their trip to Disneyland exciting and smooth. Read all of our 40+ Disneyland Tips.
1. Download the Disneyland App
You can and will do everything from the Disneyland app (Apple Store | Android store) before you leave, while you are there, and even when you get home. Mobile ordering snacks and meals is super easy. Check ride times, use the map to get around, and reserve lightening lane passes through Genie+.
2. Get acquainted with the park map.
If you notice that a ride's line time is short and it is in a land that is close to where you are, you should head there.
3. Use the lockers
Take advantage of the lockers that are in the park. There is one set in the cul-de-sac between Market House and Disney Clothiers and another to the left of the ticket turnstiles before you enter the park.
4. Go on the popular rides first
The first 2-3 hours the park is open are the golden hours when the lines will be the shortest. Go on the most popular rides early to avoid long lines later.
Like this article? Save it on Pinterest so you can find it again.
FOLLOW US on Pinterest and Facebook for more California travel inspiration and tips!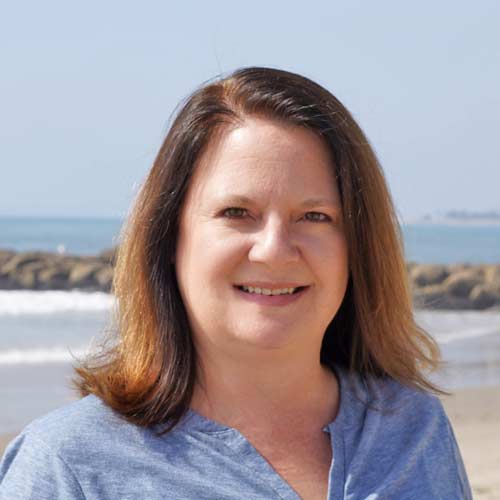 Laura is a travel fanatic who loves seeing and doing new things. She lives in Ventura, CA, and spends a lot of time exploring California's cities, beaches, and national parks.