Considered one of the top food cities in the United States, with tons of iconic dishes and foods to try, San Diego is definitely somewhere you're going to want to take a food tour.
There is a plethora of unforgettable food options to partake of in San Diego. Whenever we go, we're finding new foods to try, from burritos to tacos, and some of the freshest seafood around.
I would definitely say that one of the best parts about visiting this coastal city is exploring its diverse culinary scene, whether you're looking for fine dining or simple street food. Trust me when I say that the best way to sample many iconic foods in San Diego food tours.
I've hand-selected all the tours below for their uniqueness, great ratings and value for the price. There's a mix of tours available, from tacos to Italian food, and in many different neighborhoods so you can find the one that fits you best.
Need a little more planning advice? Start with our San Diego Trip Planner, then be sure to check out these 26 fun things to do in the city, some easy hikes in San Diego, as well as which beaches are great for families. Then head out on a few days trips or see which national parks are nearby.
What Are San Diego's Iconic Foods?
Fish Tacos: Fish tacos are a must-try when visiting San Diego. The tacos come with fresh fish fried or grilled, topped with cabbage, pico de gallo, and creamy sauce all wrapped in a soft corn tortilla. You can find these delicious tacos on almost any street corner in San Diego!
California Burrito: California burritos are an iconic dish found all over Southern California but are especially popular in San Diego. These burritos tend to be larger and fattier than traditional burritos and often contain french fries as well as other fillings like carne asada, guacamole, salsa and cheese.
Carne Asada Fries: Carne asada fries is a popular snack served at many restaurants in San Diego. This dish typically consists of french fries topped with carne asada meat and melted cheese and then sprinkled with hot sauce or sour cream for extra flavor.
Birria Tacos: Birria tacos are another traditional Mexican street dish that originated in Mexico but is now very popular in San Diego. These tacos consist of tender stewed meat (often beef) that has been simmered in a flavorful broth along with diced onions, cilantro, and lime juice – all wrapped up inside two corn tortillas and topped with salsa verde or roja.
Best San Diego Food Tours
Let's dive in and explore some of San Diego's top food tours, starting with the best tour on the list: Tequila, Tacos and Tombstones!
#1 Top Pick
#2 Pick
#3 Pick
Editor's Pick: Best San Diego Food Tour
1. Tequila, Tacos and Tombstones Culinary Tour of San Diego
⏰ 2 hours 30 minutes | 🏆Badge of Excellence | 🕤 Departure Time: 4:30 PM
Get your fiesta started in San Diego on a food and walking tour through historic Old Town. Visit some of the district's finest Mexican restaurants to sample tasty dishes, tequila cocktails, and hear mariachi music. Learn about the history of California and the Native Americans, Spanish, Mexicans and gold rush prospectors that influenced Old Town's growth.
You even hear some ghostly tales at Whaley House and an old cemetery. Get insider tips from your guide about authentic Mexican cuisine and other great places to visit on this fun tour.
On this tour you'll:
Enjoy authentic Mexican cuisine in some of San Diego's best restaurants
Try cocktails made with tequila
Bring your appetite for hearty samples that make up a meal
Hear entertaining commentary on Old Town's history and rumored ghost sightings
---
2. Taste of Little Italy in San Diego
⏰ 3 hours | 🏆Badge of Excellence | 🕤 Departure Time: 4:00 PM
With an abundance of restaurants in San Diego's Little Italy, it can sometimes be hard to differentiate between the tourist traps and the authentic local gems. Avoid the guesswork and get great local advice with this guided food tour. As well as having delicious tastings along the way—the tour is also a great way to learn about the architecture and history of the local area.
On this tour you'll:
Get the lowdown on Little Italy's best eats in San Diego
Avoid tourist traps and try dishes at locally-owned restaurants
As well as foodie insights, learn about history and architecture
No need to stop and buy food: Tastings are included
---
3. Gaslamp Quarter Downtown San Diego Food Tour
⏰ 3 hours | 🏆Badge of Excellence | 🕤 Departure Time: 11 AM
Learn all about San Diego's food scene in the Gaslamp District in the downtown area of the city. Your guide will take you to five different places to try five different large-size portions of local foods. You'll learn about the history and culture of the area, too, and how that relates to food. Make sure to wear comfortable shoes, since you'll be walking for around three hours.
On this tour you'll:
Enjoy 5 large portion tastings from several spots
Lunch and water are included
Alcohol is an additional expense
This is a small group with 6 max
---
4. Brothels, Bites, and Booze: A Culinary Tour of San Diego's Questionable Past
⏰ 2 hours 30 minutes | 🏆Badge of Excellence | 🕤 Departure Time: Varies
Explore the best eats in the Gaslamp Quarter of San Diego on a walking tour with an expert guide who shares the inside scoop on the district's hopping restaurant and bar scene.
Sample delicious dishes at several eateries, sip drinks, and learn about the history of the district as you discover its latest incarnation as a top nightlife destination. Colorful stories shared by your guide make the history of San Diego come to life on this 2.5-hour tour.
On this tour you'll:
Discover the seedy history of the Gaslamp Quarter
Enjoy food samples at four restaurants
Sample drinks at three stops
See where the early 'women of the night' worked
2.5-hour food and walking tour of the Gaslamp Quarter in San Diego
---
5. North Park Beerucation Tour
⏰ 3 hours | 🏆Badge of Excellence | 🕤 Departure Time: Varies
Beer is the backbone of San Diego and North Park is a beer mecca. The goal of the Beerucation Tour is to dive deep into San Diego's beer world trying a multitude of different styles, from a multitude of different breweries.
We order all of these crazy beers at bars etc. but do we really know what we are drinking, what food we can pair it with, and what makes it so delicious. While sipping on some of these there will be some great knowledge to be found in an area that is filled with art and culture.
On this tour you'll:
Walk into 3-4 local craft breweries and get a chance to taste and learn about a variety of different beer styles, the brewing process, food and beer pairing and what it takes to start a successful brewery
Learn how to pair beer with food while munching on some delicious snacks
Learn about a neighborhood that went from an area filled with street cars to a land of hipsters and famous restaurants
This is NOT only for beer nerds. (Other options will be available)
---
6. Taco Tuesday Hop in Tijuana From San Diego
⏰ 5-6 hours | 🏆Badge of Excellence | 🕤 Departure Time: 10:30 AM
Celebrate Taco Tuesday authentically, any day of the week, in Tijauna, with this small-group tour from San Diego. You'll head south of the border, where your guide will show you around town and take you to try birria, carne asada, adobada, and seafood tacos with. You'll also make stops for craft beer along the way.
On this tour you'll:
Go taco tasting in Tijuana with a professional guide
Round-trip transportation is included
Tacos and drinks are included in the price of the tour
Group sizes capped at 12 participants for a personal experience
---
7. Libations on the East Side: A Food and Drink Journey Through the East Village
⏰ 3 hours | 🏆Badge of Excellence | 🕤 Departure Time: 5:30 PM
Discover San Diego's most evolving foodie neighborhood the East Village. Previously a warehouse district, the East Village is now home to an array of eclectic eateries, award winning restaurants, breweries, and cocktail bars.
Now bordered by the bay and unified by the famous Petco Park the East Village is becoming one of the best neighborhoods for worldwide local cuisine. Throughout this tour you will learn about the evolution of San Diego's culinary underground and how an area loaded with warehouses and factories like Wonderbread became the "new downtown" in San Diego.
Meawhile, you'll be eating and drinking some of the best booze, food, and brews San Diego has to offer.
On this tour you'll:
Walk into 4-5 local restaurants, cocktail bars, and breweries
Eat an eclectic variety of cuisine from award winning Michelin restaurants, cocktail bars and unique breweries
Sip on multiple libations
Learn how an area filled with warehouses and factories turned into the hot spot for local eateries
Tipping on a Tour
You might be wondering what the etiquette is for tipping when you take a tour. Tipping is almost always expected and appreciated by the tour operator, but just like any other service-based experience, it is at your discretion.
It of course isn't necessary to tip if you didn't have a good time or didn't think the service was good on your tour. However, on guided food tour, it's expected that you tip your guide, as well as your driver if there is one. A standard tip is 15 – 20% of the tour price, matching the level of service you believe you received. You would hand this tip directly to the guide at the end of the tour.
A tip is typically included at each restaurant you visit on a food tour, so it's not necessary to tip restaurant staff or leave a tip on the table at a restaurant.
Our Recommended San Diego Hotel
San Diego Frequently Asked Questions
Where can I rent a car in San Diego?
Most travelers will fly into San Diego International Airport and want to rent a car there, because while you can get around San Diego by public transportation and ride-share services, it's much easier to see everything with a rental car.
We suggest booking your car rental in advance through Discover Cars. They search all rental car companies, so you get the best deal. Then you can pick up your car at the Rental Car Center in the airport.
What clothes should I pack for San Diego?
The weather is really nice year round in San Diego, but that doesn't mean you should only pack shorts and flip flops. Here is our California packing list to help you make great packing choices. We recommend a variety of options – beach wear, jeans, and something nicer for dinners out. Layers are key to handling weather changes.
How long will it take me to drive to various places around the San Diego region?
People often say everything is "20 minutes away" in San Diego. While that's not always true, most everything is conveniently located and will only take you 10-20 minutes. There can be heavier traffic, especially if you get on the freeway.
La Jolla – 20 minutes
Mission Bay – 15 minutes
San Diego International Airport – 10 minutes
How do I find accommodations in San Diego?
Travel Planning Guide
🚙💨 Where should I book my rental car?
Renting a car is one of the best ways to get around in California, no matter where you're visiting. Public transportation can only get your so far, even in big cities. I always rent with Discover Cars, which checks the prices of all major rental car companies, so you get the best rates.
🛌 What's the best way to book my accommodations?
For hotels and vacation rentals, Booking.com or Expedia.com are the best sites, but you can also book through TripAdvisor. If you're considering renting a house instead, don't forget to also check VRBO, which is often cheaper than Airbnb.
🧳 What do I pack for California?
Head to the our California Packing List or Disneyland Packing List to get all the info on packing.
✈️ What's the best site to buy flights to California?
For finding cheap California flights from around the world, I recommend Skyscanner. I've also had pretty good luck with Kayak.com.
Like this article? Save it on Pinterest so you can find it again.
FOLLOW US on Pinterest and Facebook for more California travel inspiration and tips!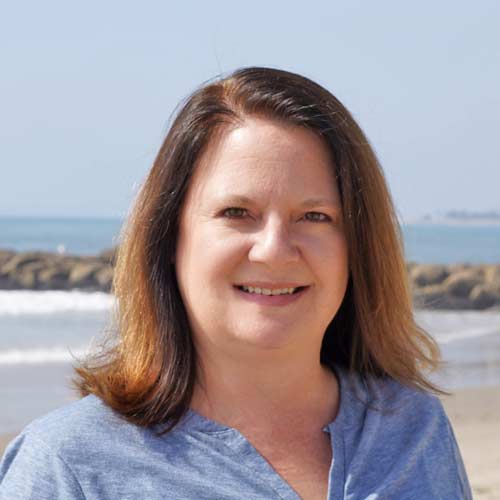 Laura is a travel fanatic who loves seeing and doing new things. She lives in Ventura, CA, and spends a lot of time exploring California's cities, beaches, and national parks.