There's nothing quite like the feeling of setting out for a road trip, especially in California, where the terrain varies as quickly as your playlist's tempo. If you're visiting Palm Springs, you really can't miss the road trip from Palm Springs to Joshua Tree. This road trip offers a blend of luxury, outdoor activities, and magical desert scenery.
Almost nowhere else on earth will you find the type of alluring desert landscape that you'll encounter between these two destinations. In Joshua Tree, there's a confluence of two unique desert ecosystems that are as unique as they are enchanting. You can witness a lot of this along the route.
» Planning a trip to Joshua Tree? Check out this comprehensive guide to visiting Joshua Tree. Then read about the best time to visit and see our guides to the best hiking and the best glamping spots.
In this post, we're going to walk you through a road trip itinerary that will get your from Palm Springs to Joshua National Park, which is only about an hour-long drive. It might be one of the shortest road trips you've ever taken where there are so many things to see along the way.
» Also check out our guide to the 14 best day trips from Palm Springs, in case you need more options!
How to Get There
If you're flying into California, Palm Springs International Airport is your best bet for this road trip. Rent a car from the airport because you'll want the flexibility to explore at your own pace.
Alternatively, you can drive to Palm Springs from various California locations. It's about a two-hour drive from Los Angeles and a bit more if you're coming from San Diego. See our article about the closest airports to Palm Springs to make the best choice for your situation.
Need to rent a car? We recommend checking out Discover Cars to find the best deals from all the top rental agencies in one place. It's our go-to for booking car rentals.
How Far is Joshua Tree from Palm Springs?
The distance between Joshua Tree and Palm Springs varies depending on your starting and ending points within each area, but generally, they're about 40 to 50 miles apart.
The most straightforward route is usually via the I-10 East and CA-62 East, which takes roughly an hour to an hour and a half, depending on traffic and exact locations. It's a relatively short and scenic drive, making it easy to explore both places in a single trip.
Palm Springs to Joshua Tree NP Itinerary
Starting Point: Palm Springs
This city is a cocktail of modern architecture, golf courses, and a nightlife that can be as laid-back or as wild as you prefer.
Skip the generic stuff and check out the Palm Springs Art Museum to appreciate some fine art and cold A/C.
If you're into hiking, the Indian Canyons offer trails that are easy on the eyes and challenging enough to give you a decent workout.
And if you want the desert views without the legwork, the Palm Springs Aerial Tramway will whisk you up 8,500 feet for panoramic scenes you won't easily forget. Trust me; the ride alone is a thrill.
Stop One: Cabazon Dinosaurs
About 20 miles out of Palm Springs, you'll find the Cabazon Dinosaurs. Think of it as a mini Jurassic Park without the terror. It's a quirky, kitschy pit stop that offers an excellent photo op with massive, roadside dinosaurs.
Sure, it's not everyone's cup of tea, but it's a fun break from the drive. And believe it or not, the Cabazon Dinosaurs have long been regarded as one of the most iconic roadside attractions, featured in cult classics such as Pee Wee Herman's Big Adventure and The Wizard.
Stop Two: Pioneertown
Another 20 miles down the road and you'll hit Pioneertown, an intriguing blend of Old West charm and modern-day quirkiness, originally built as a movie set in the 1940s.
This town transports you to the days of cowboys and saloons. Main Street is lined with period-accurate wooden buildings, some of which have been converted into shops, art galleries, and eateries. The iconic Pappy & Harriet's Pioneertown Palace is a must-visit, serving up live music along with its famous mesquite-grilled fare.
Whether you're a history buff, a music enthusiast, or just someone looking for an off-the-beaten-path adventure, Pioneertown offers an experience that's both nostalgic and refreshingly unique.
Stop Three: Joshua Tree National Park
Now we're talking—Joshua Tree National Park. This is why you did the drive, right? The park's eerie, otherworldly landscapes offer a myriad of hiking trails that range from leisurely walks to challenging multi-day treks. Now we'll get into the details of Joshua Tree National Park. Read this guide for best times to visit Joshua Tree.
Visiting Joshua Tree
Park Entrance and Fees
Joshua Tree National Park requires an entrance fee for visitors, which helps maintain the park and fund various programs and services. The fees are as follows:
Vehicle Entrance Fee: $30, valid for 7 days
Motorcycle Entrance Fee: $25, valid for 7 days
Individual Entrance Fee: $15 per person, valid for 7 days
Joshua Tree Annual Pass: $55
The annual pass allows unlimited entry to the park for 12 months from the month of purchase. For frequent visitors, it's a great investment.
Additionally, the America the Beautiful National Parks and Federal Recreational Lands Pass is accepted at Joshua Tree National Park. This annual pass, priced at $80, grants access to more than 2,000 federal recreation sites across the United States, including all national parks.
Joshua Tree Hikes
Ryan Mountain Trail
If you're looking for a challenging hike with breathtaking views, Ryan Mountain Trail is a must-visit. This 3-mile round trip trail takes you to the top of Ryan Mountain, which stands at 5,457 feet. The trail is steep and rocky, but the panoramic views of the park are worth the effort. Be sure to bring plenty of water and wear sturdy shoes.
Lost Horse Mine Trail
The Lost Horse Mine Trail is a 4-mile round trip hike that takes you through some of the park's most scenic areas. Along the way, you'll see abandoned mines and stunning views of the surrounding mountains. The highlight of the trail is the Lost Horse Mine, which produced over 10,000 ounces of gold during its operation. This hike is rated as moderate and is suitable for most skill levels.
Hidden Valley Trail
The Hidden Valley Trail is a 1-mile loop that takes you through a picturesque valley surrounded by towering rock formations. This trail is perfect for families or those looking for a short, easy hike. Along the way, you'll see unique rock formations and learn about the park's history and geology. This trail is also a great spot for rock climbing and bouldering.
Mastadon Peak
For more experienced hikers, Mastadon Peak Loop is a great hike that's 3 miles long, starting at Cottonwood Spring. It leads you up to the the gorgeous rock peak, which is a standout feature in the park.
The Peak is located in the Colorado desert area so it doesn't have the Joshua Trees, but it's a great place to see the wildflower bloom in spring.
Cottonwood Spring
There's a parking lot at Cottonwood Spring where you can start a few different hikes. This spot is one of the best kept secrets of the park. It's just seven miles from the southern entrance. You'll start out by going down into the Cottonwood Spring oasis, where you'll see the awesome Cottonwood trees.
The hikes you can do from here include
Easy walk down Cottonwood Wash
Three-mile loop trail to Mastodon Peak
Eight-mile round trip Lost Palms Oasis trail
There's also a campground at Cottonwood Spring, located half mile from Cottonwood Spring via a signed trail.
Joshua Tree Top Sights
Skull Rock
Skull Rock is one of the unique and iconic rock formations found within Joshua Tree National Park. The distinct skull-like shape of the boulder has captivated visitors for generations, with its head and two eyes carved out by nature's winds and rains.
Just a short walk away, you can also explore another interesting rock formation called the Jumbo Rocks, named due to its large size. Around them lie vast open expanses of desert scenery: sweeping vistas of rock and sand, surrounded by the majestic hills of the park. If you're looking to experience this incredible landscape in all its glory, a visit to Skull Rock is essential.
Arch Rock
The Arch Rock Nature Trail is a beautiful and easy hike located in Joshua Tree National Park. Along the 1.5 mile loop, you can explore the diverse flora and fauna of this iconic desert landscape, as well as stunning rock formations like Arch Rock.
The trail meanders along a sandy path, with plenty of stops for visitors to take in sweeping views of the desert and nearby mountain ranges. Along the way, you might spot wildlife such as tortoises, roadrunners and various species of birds.
Cholla Cactus Garden
The Cholla Cactus Garden is home to numerous species of cacti, including Beavertail and Teddy Bear varieties; this area is alive with life and beauty. From the gorgeous blooming flowers that adorn the cacti, to the vibrant colors of their needles and stems, it's a sight you won't soon forget.
There are plenty of trails winding through the garden for visitors to explore. Whether you're looking for some peace and quiet or an educational experience about desert ecosystems, the Cholla Cactus Garden is a fantastic stop.
Accommodations
Palm Springs
In Palm Springs, you've got a range of options from luxury resorts to budget motels. For a touch of glam, the Ace Hotel and Swim Club offers a cool, retro aesthetic and a happening pool scene.
Joshua Tree
Camping or glamping in Joshua Tree gives you a genuine desert experience, but it does require some prep. Alternatively, there are some hotels nearby, but they're about 10 miles outside the park. We usually stay at the Holiday Inn Express in Indio.
What to Pack
Since you're going to experience both the glam of Palm Springs and the ruggedness of Joshua Tree, you'll want to pack a versatile bag. Think casual clothes that can easily transition from hiking boots to poolside flip-flops. Don't forget your camera, a solid playlist, and of course, some hiking essentials like water bottles and sunscreen.
Here's a list for you, so you don't forget anything:
Clothing:
Lightweight, moisture-wicking shirts
Long-sleeve shirts for sun protection
Hiking pants or shorts
A light jacket or fleece for cooler evenings
Underwear and socks suited for hiking
Hat or cap for sun protection
Footwear:
Sturdy hiking boots with ankle support
Comfortable sandals or flip-flops for lounging
Outdoor Gear:
Daypack for hikes
Refillable water bottle
Sunscreen
Bug repellent
Wrapping Up
This Palm Springs to Joshua Tree road trip might not be long in terms of distance, but it packs a punch in experiences. From the eclectic and sophisticated vibes of Palm Springs to the serene, awe-inspiring landscapes of Joshua Tree, this route delivers a true taste of what Southern California deserts offer.
And hey, if you're into grilling like I am, consider bringing along a portable grill for a sunset BBQ amidst the iconic Joshua Trees. There's nothing like it. Safe travels!
Travel Planning Guide
🚙💨 Where should I book my rental car?
Renting a car is one of the best ways to get around in California, no matter where you're visiting. Public transportation can only get your so far, even in big cities. I always rent with Discover Cars, which checks the prices of all major rental car companies, so you get the best rates.
🛌 What's the best way to book my accommodations?
For hotels and vacation rentals, Booking.com or Expedia.com are the best sites, but you can also book through TripAdvisor. If you're considering renting a house instead, don't forget to also check VRBO, which is often cheaper than Airbnb.
🧳 What do I pack for California?
Head to the our California Packing List or Disneyland Packing List to get all the info on packing.
✈️ What's the best site to buy flights to California?
For finding cheap California flights from around the world, I recommend Skyscanner. I've also had pretty good luck with Kayak.com.
Like this article? Save it on Pinterest so you can find it again.
FOLLOW US on Pinterest and Facebook for more California travel inspiration and tips!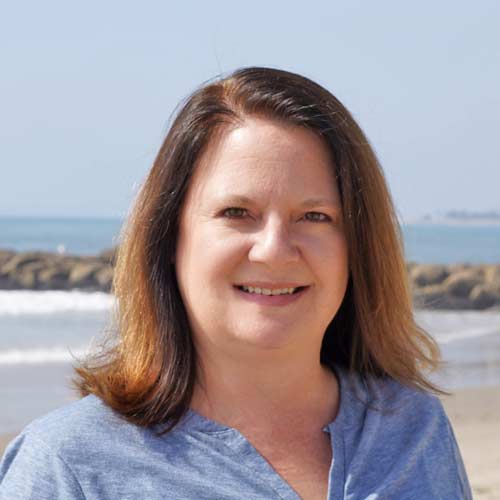 Laura is a travel fanatic who loves seeing and doing new things. She lives in Ventura, CA, and spends a lot of time exploring California's cities, beaches, and national parks.