There's no doubt that Disney parks are awesome destinations for both adults and children. But waiting in long queues to get into rides can be a real downer. Wouldn't it be great if you could skip the line and get right on to your favorite rides? That is where Disney Genie+ comes in.
» You might be interested in Disneyland Versus California Adventure: Which One To Choose
Genie+ is a great way to get onto rides quicker, but it does come with a price tag. You do have to pay additional fees to have this service. And tickets to Disney parks are already really expensive. So the question we're answering today is whether Disney Genie+ is worth it.
Planning your trip? We've got tons of helpful Disney planning guides from our awesome list of 40 essential tips, to how to get to Disneyland, where to stay near Disney, what to pack, what to wear, where to park, and what to eat in both Disneyland and California Adventure.
The Short Answer
The short answer here is yes. Disney Genie+ is definitely worth getting, but there are a few caveats. I would say you should get Genie+ if you:
In this article, we'll dive deeper into what this service can offer you and compare it to visiting the park without Genie+.
Something to keep in mind – We are going to be talking about Genie+ in Disneyland Parks. Genie+ is a great tool that works similarly in Disney World and Disneyland, but there are some differences. These differences include when you can purchase Genie+ as well as the amount of rides that are included.
What Is Genie+?
Genie+ is an optional paid service that you can purchase on My Disney Experience app. It allows you to book a time in advance and skip the line at 20+ attractions in Disneyland Parks.
From the Disney app you can decide what ride to choose, and what time slot is available. When you get to the ride within your scheduled time, you can go straight into the Lightning Lane, skipping the standby line all together.
Lightning Lane refers to the line you will enter to bypass the main stand-by line and enter the ride. There will be signs clearly marking the stand-by line, Lightning Lane line, and sometimes a single rider line. There is also an individual lightning lane which we will talk about later.
When Can I Buy Genie+?
You can buy Disney Genie+ at the time you purchase your park tickets or when your ticket is scanned into the park on the day of your visit. Unfortunately, these are the only two ways to purchase Genie+. You may consider adding it when you initially purchase your ticket so that if the price increases before you get to the park you don't have to pay the difference. As an example, the price increased $5 per person from the time we purchased our tickets until be were able to purchase Genie+ in the park.
How Much Does Genie+ Cost?
The price of Disney Genie+ varies according to park attendance and time of year. At Disneyland Genie+ starts at $25 per person, per day.
The starting price for Genie+ increases during high seasons like Christmas and New Year's, and may also fluctuate depending on demand on the day you purchase it.
How Does Genie+ Work?
At Disneyland, you can make your first Lightning Lane reservation as soon as you enter the park. Then, to book your next Lightning Lane ride of the day, you'll have to wait until you use the ride you reserved, or wait 2 hours from when you booked your first ride (whichever comes first.)
When your reservation time comes up simply scan your tickets or Magic Bands at the kiosk and enter the ride.
By using the tip board you can see a list of all the attractions and restaurants you will find at your park. The tip board gives wait times for the rides and gives you the opportunity to book your reservation to Lightning Lanes.
Pro Tip: If you end up booking a lightning lane reservations out past 2 hours, set an alarm on your phone to remind you when 2 hours is up so that you can go in and schedule your next lightning lane selection. If you enable notifications you will receive a push notification from the app when you can make your next selection.
What's The Difference Between Free Genie Service And Genie+?
Disney Genie is a free service provided by Disney that helps you plan your trip. Both Disney Genie and Genie+ consists of two main features: Tip Board and My Day.
The tip board includes a feature where you can see the forecasted wait time for each ride as a bar graph so that you can know the ideal time you should head to a specific ride.
Another great feature is My Disney Genie Day. It creates a personalized itinerary for you depending on the preferences you select on the My Disney Experience app. The Genie tells you ride operating hours, showtimes, and even wait times!
Disney Genie is continuously updating your itinerary depending on where you are at the park and the current waiting times at different rides. All of that is free.
In comparison, Disney Genie+ is a paid service that adds an additional fee to your ticket. You get all the features of Disney Genie, but it also includes PhotoPass and Lightning Lane selections.
What is PhotoPass?
This is a fun way to get amazing photos of your experience in the park. It is included when you purchase Genie+ or you can purchase it per day. You also have the option of purchasing individual photo downloads.
Watch for park photographers that are located throughout the park at designated photo spots. You can also download ride photos from your favorite rides. All you need to link the ride photos to your account in the code that is shown on the screen when you view your photo.
Pro tip: In order to link all of your photos to your Disneyland app, you can use a QR code generated by the app or ask a photographer to give you a card that you can link to the app. Take a screenshot of the QR code and keep it in your photos or as your wallpaper for easy retrieval.
We used the PhotoPass service and trust us, it is a pretty cool perk and definitely worth it.
What's The Difference Between Individual Lightning Lanes And Genie+ Lightning Lanes?
As great and as helpful as Genie+ is, it doesn't allow you to access a Lightning Lane for every ride in the park. There are some rides that don't have a high enough volume to warrant the lightning lane or just isn't available.
On the flip side each park has one ride that is in such high demand that Disney created a special add-on service called Individual Lightning Lane. In Disneyland this ride is Star Wars: Rise of the Resistance and in California Adventure it is Radiator Springs Racers.
Individual Lightning Lanes can't be accessed via your regular Genie+ purchase, you have to pay an additional fee for them. They don't have a set price, like Genie+ the price to ride can vary based on park attendance. Where they used to be $7-$9 now it can be upwards of $25 per person. Even if you didn't purchase Genie+ you can still purchase Individual Lightning Lanes through Disney Genie Service.
If you're staying at a Disney Resort Hotel, you can purchase Individual Lightning Lane tickets for the day at 7 am sharp. However, if you're staying elsewhere, you can only purchase these tickets when the park opens for the day.
What Is A Multiple Experience Pass
These are like a golden ticket if you are lucky enough to get one. If you happen to have a lightning lane reservation and your ride goes down within your scheduled ride time, don't worry. You will be eligible for a multiple experience pass. This pass shows up automatically in the Disney app along with a notification saying, We have made some changes to your lightning lane. This is Disney's way of saying sorry.
So, what is it? It is a free lightning lane that can be used any time and on any ride listed, including rides you may have already ridden using a lightning lane that day. When you click into the multiple experience pass it will list the rides available.
Fun Fact – there are even some rides that are not included in the Genie+ purchase that are included in the Multiple Experience Pass. Sadly, Peter Pan is not on the list but Pirates of the Caribbean and many others are. The same is true for California Adventure. What's not included: the Individual Lightning Lane rides – Star Wars: Rise of the Resistance and Radiator Springs Racers.
If the ride that you received the pass for was one that you really wanted to experience just wait until the ride is operational again and simply scan your Multiple Experience Pass at any time. No reservation required. This is true for any ride you choose to use the pass for. That's the beauty of this pass and what makes it so special.
To reiterate, if you receive a Multiple Experience Pass you may use it any time, without reservations for any ride listed on the pass.
The Pros And Cons Of Genie+
Pros:
Free PhotoPass Photos.
Wait time reduced significantly. Many rides were open to immediately walk on, but our average wait time 8 minutes.
You can ride more rides.
If you are with a large party, small children, or have a small amount of time this helps you maximize how many rides you experience.
It is really fun to skip an extremely long line.
Cons:
You are glued to your phone all day.
If the park is busy the afternoon selections may get pushed out hours or even run out.
You may end up walking more if your selections aren't near each other based on what is available.
It's expensive, especially if you have a large party as the cost is per person.
If you like spontaneity this is not the plan for you. In our opinion, it takes the joy out of wandering the park.
One person in your party will be responsible for making all the lightning lane selections. Make sure they are up for the task.
Is Disney Genie+ Worth It?
If you don't mind waiting in lines, you can plan your trip using the free Genie service. It will tailor your attractions and dining experiences according to wait times and your preferences. We have found this to be quite helpful in avoiding longer lines. While it's really nice to be able to make a reservation and skip more lines, it's not absolutely necessary.
If you choose to pay the extra fee to purchase Genie+, you can have an easier time getting on some rides, but you do have to be on your game. You will be constantly watching the app to make the next reservation so you get the most out of it. You can spend the whole day making reservations.
With either option, you can pay to access the Individual Lightning Lanes to skip the line at the most popular attractions. Ultimately, it's up to you to decide.
Our final decision is that Genie+ is worth the extra money during times when the park is very busy. It gives you the most flexibility to skip long lines. If the park isn't that busy, it's likely not necessary and won't even help you that much. Look for our post on Disneyland in a day: How to spend 1 day in the park. We give sample itineraries for how to maximize your day.
Like this article? Save it on Pinterest so you can find it again.
FOLLOW US on Pinterest and Facebook for more California travel inspiration and tips!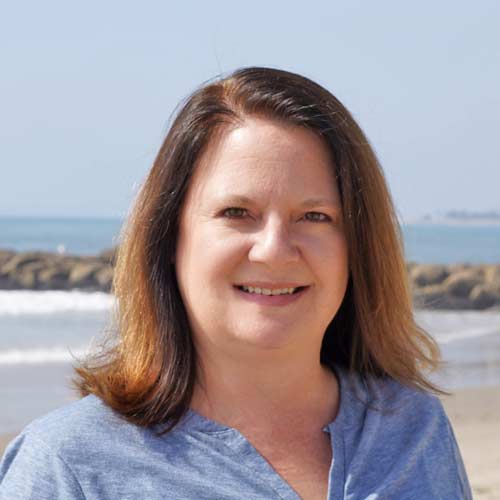 Laura is a travel fanatic who loves seeing and doing new things. She lives in Ventura, CA, and spends a lot of time exploring California's cities, beaches, and national parks.